Jim Bramble judges an ideal landfill compactor by the three "C's": cleats, cab and customer support.
Jim manages the Otero Greentree Regional Landfill. It's a 162-acre spread, dropped in the southeastern New Mexico desert and administered by the city of Alamogordo, an hour's drive away.
Today, over 60% of U.S. waste still diverts to landfills, where it is tightly compacted into lined cells, then covered with soil to responsibly isolate it from the surrounding environment and allow to decompose. "We take in 45-55 tractor trailer loads of waste each day, totaling about 250 tons. One-third of that is C and DR (construction, demolition and recycling) and two-thirds is municipal," says Jim.
A Volvo LC450H landfill compactor trawls over the sea of waste for 10 continuous hours a day. From a birds-eye view, it appears to be a David versus Goliath-sized effort. But the real work is happening under the wheels as the LC450 methodically packs the waste into airtight layers in order to minimize ecological impact as much as possible. It's this unique design-build that stamped Volvo's entry into the landfill compactor market in 2018.
Says Jim, "The LC450 is a good fit for us because of how it is configured. I really like the wheels - the way the cleats are built and staggered. I also like the straight, flat blade. We don't want to do rework, so we are always building the next floor the trucks will drive on. We want to get it as level as we can while compacting the waste. Volvo does fantastic job leveling and finishing, while other machines have a tendency to fluff up the material."
Ironclad Design
The 90,000 pound LC450 is a medium-sized landfill compactor that can process up to 1000-1200 tons of waste per day.
"With landfill compactors, you are balancing the weight of the machine, size of the wheels and cleat configuration. You don't want to create ruts by compacting too much, which can happen with an oversized machine, or leave air voids by under-compacting," says Todd Cannegieter, product manager for Volvo. "We partnered with Terra Compactor Wheel Corporation to design a thicker wrapper and extra hard-facing on the wheel tips and edge of the drum. After 8000-10,000 hours, most landfills will rebuild their wheels, so the goal is to extend their life and save on total ownership costs," he says.
The Terra wheels come standard with weld-on rolling guard wire to prevent wrapping around the axles and horizontal and vertical hard-facing on the wheel edges. Two striker bars cover both the front and rear wheels to keep material away.
The cleats are each 8 ½ inches tall with hard-facing on the tips. Customers can choose from two cleat patterns and three cleat configurations, based on their site.
"Another key product differentiator with the LC450 is the 13-liter Volvo engine, which is seeing 15-30 percent less fuel consumption than competitor machines," says Todd.
The LC450 comes with the premium Volvo cab.
The seat is heated/cooled and air-adjustable, enabling the operator to "glide" over the uneven landfill floor. The seat pairs with the joystick steering option. The joystick controls are ergonomically positioned and move with the seat to alleviate any strain on the operator's wrists.
Comfort Drive Control (CDC) allows the machine's steering to be controlled by a joystick. The machine's single-lever control with integrated forward/neutral/reverse and first gear kick-down gives the operator the choice to control the transmission using the left or right hand
The LC450 comes standard with a Respa cab filtration system. The system includes a powered precleaner, filter and pressurizer in one unit to screen out dust and odor before reaching the cab.
Sales and Service Savings
Initially, Jim was looking for a used competitor brand compactor. He met with Tito Marquez, his account manager at dealer Sierra Machinery. Tito introduced Jim to the LC450H, which Volvo launched in 2018. After researching, Jim went to county officials with a recommendation to purchase the Volvo landfill compactor. He supported his recommendation with details on how its lifetime value offsets higher front-end costs.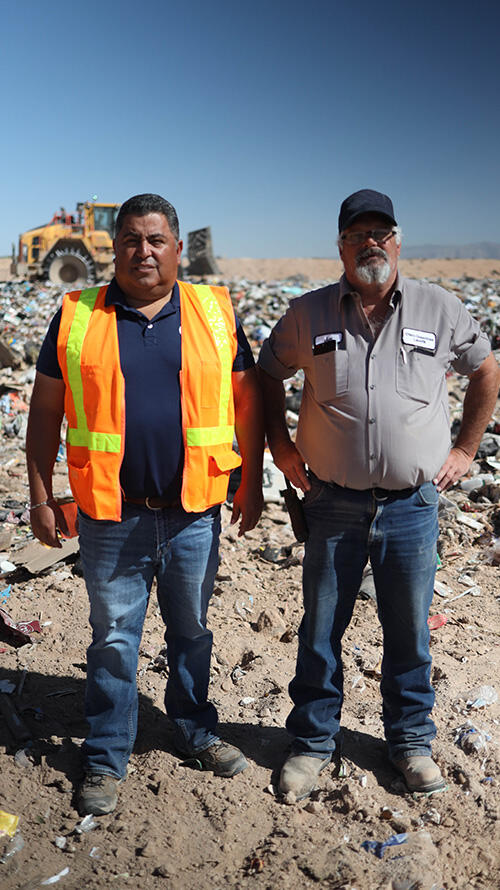 Key points were the productivity gains from the LC450's design, along with greater uptime and fuel savings from the Volvo Tier 4 final engine. Sierra also bolted on a five-year, 7500-hour service agreement to provide routine maintenance and inspections.
Another plus was ease of purchase. The LC450H is included in the Sourcewell cooperative purchasing program, of which the City of Alamogordo is a member. Sourcewell gives municipalities and government entities access to competitively solicited contract pricing for a range of products, including heavy equipment. Buying from the contract expedites the purchasing process, versus traditional open bidding.
Says Tito, "We are seeing more municipalities moving toward buying contracts for equipment purchases. They really help shorten the length of time to procure the equipment and save taxpayer dollars."
The landfill does not have the luxury of a back-up compactor. With the Sierra dealership 70 miles away in El Paso, Texas, it is vital to Jim that a service tech and parts be available when needed. Sierra has a proven track record over their 33-year relationship with the landfill and history of servicing their other Volvo loaders. The five-year service agreement allows Jim and Tito to tailor the level of support and gives Jim an extra layer of assurance that their LC450 will stay running.
Says Jim, "Tito and Sierra have been excellent. They are there the same day if we have issues. We are very impressed."
LC450H Specifications
Engine: Volvo D13J
Gross power: 416 hp
Max. torque: 1,728 lbf
Operating weight: 90,000 lbs
Drum width: 3 ft. 11.5 in.
Diameter with tips: 6 ft. 6.5 in.
Ground clearance @ articulation joint: 2 ft. 2.5 in.