When a natural disaster occurs, the leading automotive insurance carriers in North America rely on Insurance Auto Auctions, Inc. (IAA) to act quickly and recover vehicles. IAA, in turn, relies on the members of its Catastrophe Team and dependable equipment, particularly tow trucks and front end loaders, to get the job done. It's rarely easy.
"With a catastrophe, you simply cannot predict how big it's going to be or where exactly it's going to hit," says Gonzalo Quiroz, IAA corporate services manager. "Our Catastrophe Response Team learns something with every event, and in recent years we've put an increased focus on being proactive in anticipation of potentially severe weather events."
IAA handles the recovery, transport, storage, remarketing and auctioning of damaged vehicles on behalf of their clients. And they do it well, allowing IAA, a business unit of KAR Auction Services, to grow to 2,800 employees across 170 facilities in the U.S. and Canada.
But managing such a large fleet — approximately 525 front end loaders — that is spread across a continent and must be ready to be deployed on a moment's notice is challenging. IAA has found that support from equipment manufacturers, and dealers, as well as advanced fleet management technology, can help make them more proactive in what is mostly a reactive industry.
"We have processes in place now that allow us to act more quickly and efficiently than we have in the past," Quiroz says. "An example is using telematics to see online where machines are after they're deployed from our main branch facility. If we didn't have that, we'd be scrambling to locate them."
Preparing for a disaster
Their processes were put to the test during the 2017 hurricane season. In late August, Hurricane Harvey struck the Houston area and eventually became the costliest natural disaster in U.S. history. A little more than a week later, Hurricane Irma made landfall in Florida.
More than 422,000 insured vehicles were damaged in Harvey, surpassing the 300,000 claims that resulted from Hurricane Katrina, according to the National Insurance Crime Bureau. Irma generated another 215,000 claims, according to NICB.
The severity of the storms and their proximity stood out even for a company as experienced in responding to natural disasters as IAA, whose been in operation for more than 30 years. IAA processes vehicles damaged in collisions and deemed a total loss, but it's the work in areas hit by natural disasters that takes particular planning, execution and ingenuity. Part of the preparation includes acquiring properties in strategically identified areas so that IAA can respond more quickly. In early August 2017, IAA announced that it had secured 22 properties across 10 states, including three locations in Houston and seven in Florida. The Houston and Florida sites would be needed almost immediately.
The IAA Catastrophe Response Team is activated when a storm is named, which for Hurricane Harvey was mid-August. Their mobilization included procuring more front end loaders, which are used to move vehicles around in salvage yards and to load them onto car haulers. Although they already had a large fleet, a storm the size of Harvey, coming at the start of hurricane season, prompted them to purchase 28 new L90H front end loaders from Volvo Construction Equipment, and rent another four to send to Houston.
And a couple of weeks after that, IAA acquired another seven Volvo L90H front end loaders to use in Florida in response to Hurricane Irma. The challenge? They had less than two weeks to procure the 39 total L90H Volvo wheel loaders and get them to their respective sites with operators ready to work.
IAA worked with Volvo, and local dealer ROMCO, to get the wheel loaders, which needed a fork attachment in order to lift vehicles.
"Working internally and with our dealer network, we at one point had 62 loaders earmarked for Texas if needed," says Tony den Hoed, national account director for Volvo Construction Equipment. "To amass that type of volume in the configurations IAA needed, and to do it in just a couple of weeks, is not easy. I was very proud of how our dealer network communicated and pulled together to support IAA."
In a flood event like what Houston experienced, IAA starts retrieving vehicles once the water recedes and roads are passible. IAA tow trucks — they had over 1,000 in Houston — bring them to strategically placed holding yards. Each yard is organized by insurance carrier to make the process simpler.
Frontend loaders move vehicles to spots where insurance adjusters can inspect and process them and then to sales pads or pick-up spots, depending on the extent of the damage. Nearly all of IAA's wheel loaders are Volvo units. In addition to the fork attachment, they are outfitted with a boom suspension for a smooth ride. Even a totaled vehicle has value with its parts, so it's of vital importance that they are not further damaged.
"We like Volvo wheel loaders because of the price, service and longevity we get out of these machines," Quiroz says. "But it's performance more than anything. A perfect example is two years ago we were testing a competitive machine, and when it was lifting a dually truck onto a 10-car hauler, it started losing its strength when it reached a certain height and dropped the vehicle."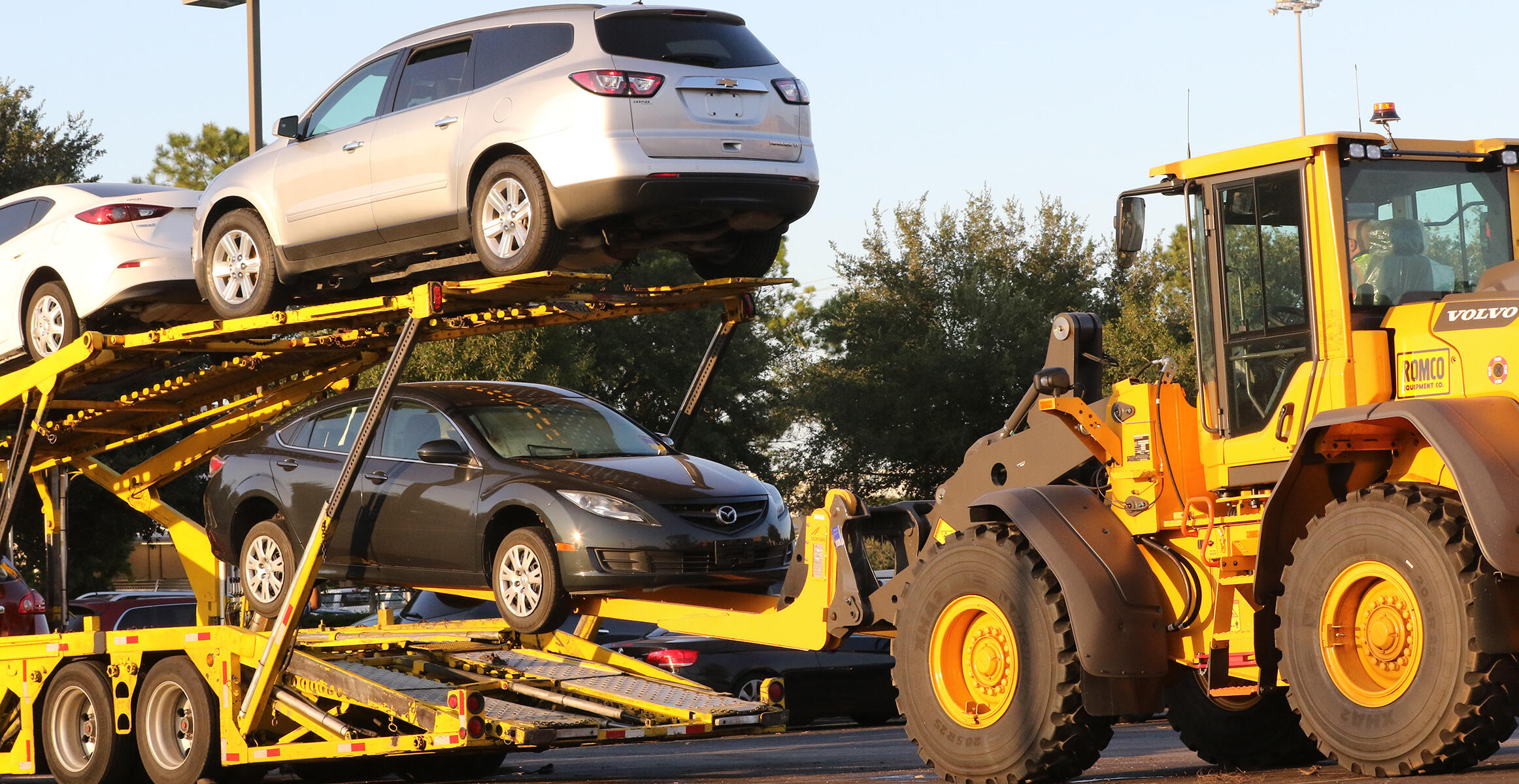 Phase II telematics: OEM-managed
With such a large footprint, fleet management has always been important to IAA. And they're no stranger to telematics, using the technology to track vehicle location and maintenance and service needs.
But in the past, telematics have presented them some challenges, including the sheer amount of data they received and the commitment required to review what were not always critical alerts. IAA was even exploring establishing a central housing area for a telematics management team, almost like a national command center. But around the same time, they were approached by Volvo Construction Equipment about piloting a new OEM-managed telematics program, now known as ActiveCare Direct.
"With as large a fleet as we have — and as spread out as it is — it's a considerable challenge to analyze all the incoming fault codes from telematics and then decide how to react to them," Quiroz says. "When we're alerted through ActiveCare Direct, it tells us exactly what the issue is, the potential cause and even the solution. Plus, the local Volvo dealer in that area is looped in and will let us know if they need to send someone out, which takes that burden off our folks."
With data overload being a known challenge to telematics adoption, OEMs, including Volvo, are working to develop solutions that take the burden off the customer. And in that regard, ActiveCare Direct is unique.
"What we've come up with is the culmination of years of data collection and systems development," says Dave Adams, Volvo Connected Services Sales Manager for Volvo Construction Equipment. "Our Uptime Center collects tens of thousands of data points from our machines each month, and filters them to only a couple hundred actionable case alerts (error codes) for our customers. That way, when we alert the customer and local dealer, they know it's something that needs acted upon. This is really the way the industry needs to be moving — giving customers all the benefits of telematics, without putting any additional burden of data analytics and management on their shoulders."
That's been IAA's experience over the past two years. They use the ActiveCare Direct service on nearly half of their 525 wheel loaders, and are adding it to more machines as they acquire new units. Besides saving them time, Quiroz says five data points in particular have been beneficial to their bottom line:
Machine utilization — When you have 525 machines operating across two countries, it's important to track where they are and how they're being used. For IAA, they especially want to know if a machine is being underutilized during a catastrophe event because, if it is, they'll deploy it to another area that has a need. The monthly ActiveCare Direct reports allow them to monitor each machine's idle versus working times in order to make those decisions.
Fuel efficiency — Fuel is a major expense for a fleet of IAA's size, and better understanding its consumption can help identify ways to conserve fuel. For example, if the ActiveCare Direct report data shows that a machine is idling excessively, training could help operators recognize when to shut down a piece of equipment.
High-speed shifting — This operator action causes extra wear on a transmission. Quiroz estimates they were doing 10 repair jobs — at up to $40,000 each — a year before they started using ActiveCare Direct. They've been able to catch instances of high-speed shifting and work with the operators to avoid those issues in the future — thereby avoiding transmission repairs, a potential $400,000 annual savings if implemented across their entire fleet.
High temperature in the axles — A higher-than-normal temperature in an axle indicates that an operator is braking too frequently, which can wear out the axles and lead to more frequent brake repairs. Without the ActiveCare Direct report data they receive, Quiroz estimates they would do an additional 15 to 20 brake changes per year at a cost of $10,000 to $15,000 each — yielding an annual cost savings potential of up to $300,000.
Hot turbo shutdowns — Shutting an engine off while the turbo is still hot is very hard on the turbo. IAA was performing up to $30,000 a year in engine repairs due to operators doing this prior to using ActiveCare Direct.
"All those repairs add up, but instead we've caught them well in advance," he says.
IAA gets plenty of other benefits out of ActiveCare Direct, and operators have been "very receptive," Quiroz says. IAA uses the data they receive to talk to individual operators about an issue and to supplement their training programs.
"Knowing that we can get this information has changed the mentality of how our operators treat the loaders, but they see it as a benefit to themselves, as well," he says.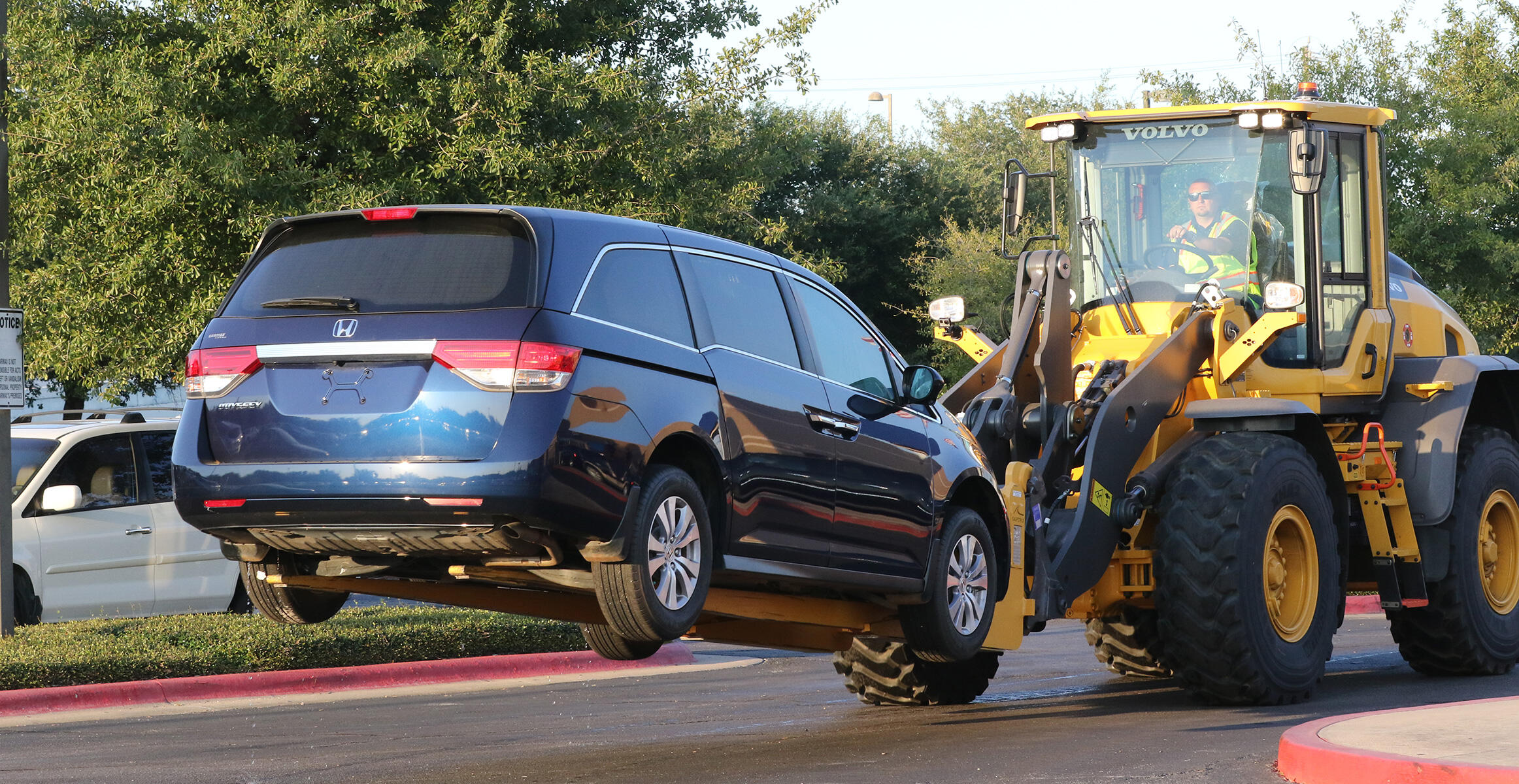 Being proactive
Quiroz and another member of the IAA fleet management team receive the ActiveCare Direct case alerts, but typically the dealer is the one reaching out to explain the issue and the recommended solution. Staying on top of maintenance issues is critical in helping IAA manage one of the biggest trends in the salvage auto auction industry: growing volumes.
Total-loss percentages, meaning the vehicles that have been totaled and not repaired, are at a historic high. If IAA cannot move vehicles through its system fast enough, it has to increase its real estate footprint so it can hold more inventory, which is costly. Loaders factor into that equation because they're the piece of equipment moving vehicles around in yards. A loader that is not in operation slows down the process of receiving inventory and pushing it out.
"With a telematics service like ActiveCare Direct, you can be proactive, whereas in the past we were very reactive," Quiroz says. "It may be capturing something small before it turns catastrophic, or it may be scheduling routine maintenance at the time that best fits a location's schedule."
And IAA knows that anything that can help them be proactive can have a significant impact on their ability to respond to natural disasters and to better serve their customers.