Now imagine accomplishing that feat in just 10 short years. That's exactly what Mesa, Arizona-based Rango Inc., which was founded by Rodney George and Tim Rosengren, has done — and their path to success has efficiency written all over it.
"Back in 2012, our team specialized in supporting young mining companies who needed help safely ramping up production," says Rango COO Jeff Logan. "Many of these companies were trying to make it on their own, and sometimes they didn't know a lot about mining. When things like safety and maintenance became too difficult to manage, we stepped in with our expertise and proved that efficient, safe earthmoving on a contract basis was a mutually beneficial endeavor — and as a result, more and more companies called on Rango."
Today, the company is operating on more than 22 active sites in five states, including mine material transport at about 70% of the mines in the Permian Basin in western Texas. Other services they offer include reclamation work, construction jobs, heavy transport and mine management.

For Rango, growth hasn't come without its challenges — but armed with the knowledge that efficiency is the critical factor to a lower cost per ton, the company has been open to new site setups, utilizing different equipment options, and using telematics and fleet monitoring services to move more material as efficiently as it can.
One of the company's biggest moves to improve efficiency came with investments in 60-ton articulated haul trucks. For every four 45-ton-class haulers, three 60-ton haulers could take on the same amount of work. That optimization in overall efficiency allowed Rango to realign its staff and significantly reduce maintenance costs.
"When you're out working in remote areas like West Texas, it's all about high productivity and maximizing performance and efficiency," Logan says. "We currently own the largest 60-ton articulated hauler fleet in the world. The efficiencies we're experiencing with these Volvo A60s help simplify estimating, bids, fleet utilization, future planning and scheduling, and a lot more."
A typical haul road for Rango is about half a mile, but some are just over a mile one way — and the company doesn't run any grades over approximately 18 percent. The 60-ton haulers can handle the roads at optimum speeds to keep production moving efficiently, whether in soft, mucky or rough terrain.
Matching Haulers with Excavators
With more and more 60-ton haul trucks to fill, excavator cycle times became a new focus for the company. On high-volume sites like the one in West Texas, matching excavators to haulers is important to get cost per ton down.
To achieve optimal cycle times with high-volume, shallow digging, Rango purchased a 95-ton excavator. Their Volvo EC950F crawler excavator can fill the 60-ton haul trucks in four bucket passes with an average cycle time of just over a minute. It's improved their cycle times by about 20–25 percent.
The 95-ton excavator has also been able to nearly match the productivity of their previous 130-ton excavator — but at a lighter weight, it transports in two loads versus seven, saving the company significant money during machine transport from site to site.
Cost-effective machine transport has also been a big advantage for Rango for quick-turn job requests.
"Finding machines that can get the jobs done and are easier to transport has been huge for us," Logan says. "We can literally move into a property overnight. We've started jobs in less than 12 hours — we come in with the heavy haul division, bring in all the equipment, and we can achieve results over the weekend. It's incredible."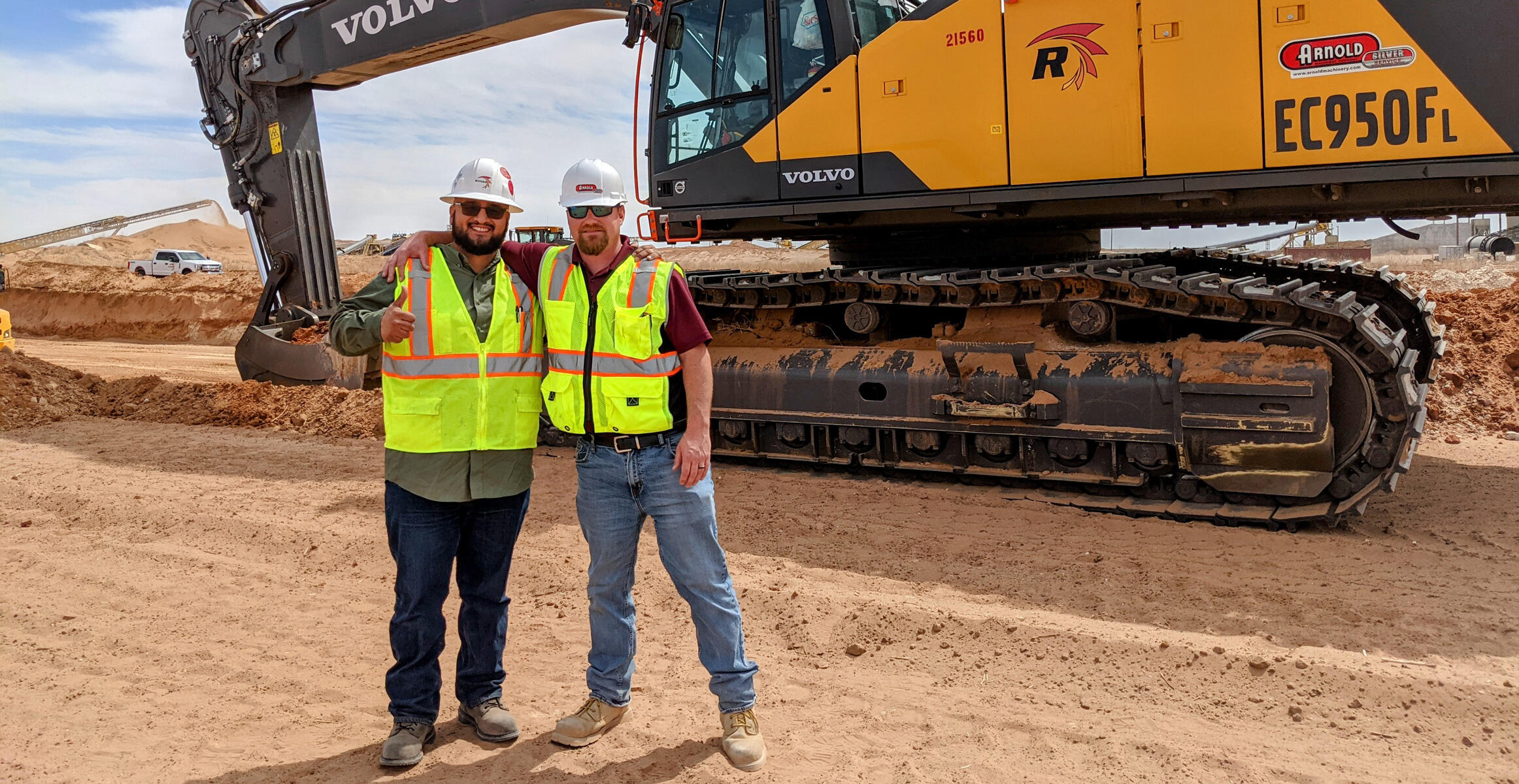 Ricardo Hernandez - Production Superintendent | Rango, Inc. (left) and Jake Zayas - Branch Manager | Arnold Machinery (right).
Maximizing Productivity, Efficiency with Telematics
New technology is another aspect of mining equipment that Rango has taken advantage of.
"One of the biggest changes I've seen in the mining sector is how technology has evolved over the past few years," Logan says. "GPS controls, telematics, the ability to use drones — these advanced technologies in the mining industry are helping improve site productivity, efficiency and safety."
Telematics in particular has proven beneficial for Rango. With hundreds of machines working on multiple remote sites, machine management and utilization is a challenge. Having the ability to receive real-time machine data to make timely, informed decisions helps with everything from operator training to preventive machine maintenance.
Rango is utilizing the Volvo ActiveCare® Direct telematics service. Now, in addition to taking immediate action on critical issues that could put a machine down, fleet managers — along with their dealer, Arnold Equipment — can monitor and address issues that drive up costs like excessive idle times, increased fuel consumption, operators putting unnecessary wear and tear on machines and more. By using a telematics system that weeds out the non-critical alarm codes, Rango fleet managers can better monitor what really matters — helping prevent costly downtime.
"In this business, it's all about keeping your machines up and running, and maximizing productivity and efficiency," Logan says. "When you focus on that, you can build your way up from the ground floor and create a profitable company you're proud to be a part of."