Connected Load Out is designed to improve the efficiency and productivity of the load out process by connecting the loader operator, site office and trucks. It is a digital solution for Volvo wheel loaders with Load Assist and On-Board Weighing and Volvo excavators with Dig Assist On-Board Weighing.
The traditional load out process includes a lot of unplanned work, manual handling and administration, something that affects the work in a non-productive way. Connected Load Out addresses the pain points that truck drivers, machine operators and quarry managers face with the current load out process. It reduces administration and miscommunication by digitalizing orders and load tickets as well as improving visibility, enabling sites to become more productive. And with a more efficient load out process, fuel consumption is lowered, which results in both cost savings and reduced CO2 emissions.
Cecilia Jonsson, Product Owner, Global Load Out Services at Volvo CE, says: "We at Volvo CE continue to develop intelligent solutions that help our customers streamline operations and maximize efficiency. With Connected Load Out, our customers can increase the productivity of their operations by digitalizing the load out process, connecting the site office, loaders and trucks. This enables the site to plan ahead and match incoming orders with available loaders, delivering shorter wait times for trucks and ensuring the loaders are utilized in the most efficient way."
How it works
Connected Load Out is connecting and sharing information digitally between the wheel loader, site office and trucks in a quarry. Load orders can be sent directly from incoming trucks via the Connected Load Out app to the loader's Volvo Co-Pilot. The loader operator can see an estimated arrival time and what materials to load, helping them to plan their work more efficiently and reducing stress and the risk of errors. Once the truck enters the site, the loader operator receives a notification on the Volvo Co-Pilot and can call the truck forward for loading and dispatch. A load ticket is created and sent to both the truck and site office making the entire flow visible in the Connected Load Out Office Portal.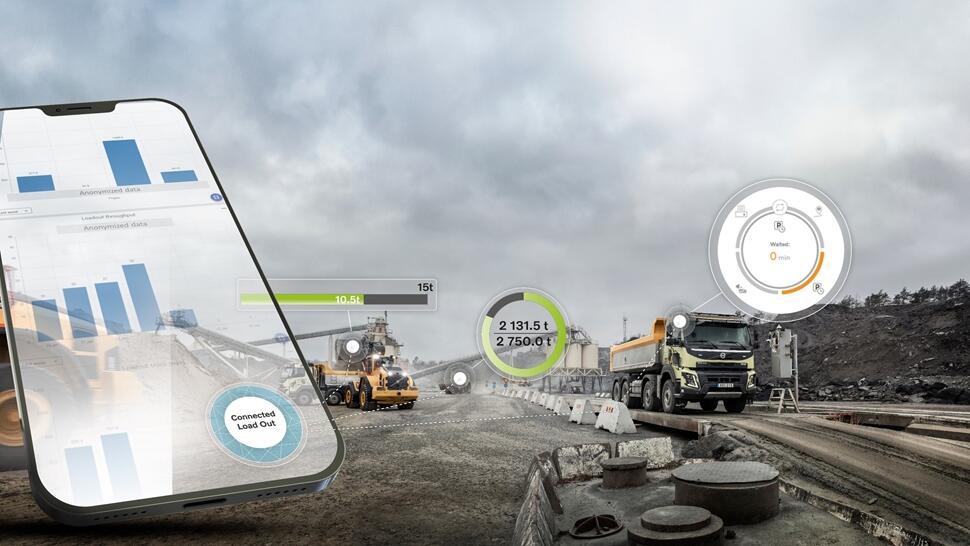 Connected Load Out shares information digitally between the wheel loader, site office and trucks in a quarry
A must for jobsite visibility
Accessed via a cloud-based web application, Connected Load Out is available to view anytime and anywhere, providing a real-time view of the load out process on the worksite. Load tickets and orders can be viewed on the Office Portal and the dashboard can be customized to show the most relevant information for your site and reports can be created.
What's more, by digitalizing the process there's less risk of human error, less paperwork and more control, reducing stress and allowing everyone to work smarter.
Connected Load Out is currently available on subscription in select markets in Europe and North America.
It is accessed via a cloud-based web application