The EX03 by Volvo Construction Equipment (Volvo CE) is the company's first electric prototype in the mid-size excavator range and with low noise, zero exhaust emissions and reduced maintenance, it represents the future for safer and more environmentally responsible construction sites on the larger end of the scale.

Based on tried and tested technology and product design, the prototype is the next natural stage in Volvo CE's electromobility journey, following on from previous iterations of the smaller fully electric EX02 concept electric excavator. While still in the concept stage with no current plans to bring it to market, the company is exploring the possibility of eventually trialing a similar version of the EX03 in customer pilots.

An exciting feature, on display exclusively for the China International Import Expo (CIIE) 2020 and bauma China 2020, is a video screen fixed to the rear of the EX03, which has three configurations:
A real-time video stream from the front of the machine allowing vehicles behind to clearly see clearly ahead when driving on public highways
A text-based safety screen alerting workers on site to left and right movement or reversing; and
A safety communication live stream enabling the operator to make eye contact with pedestrians and workers, minimizing misunderstandings and increasing safety.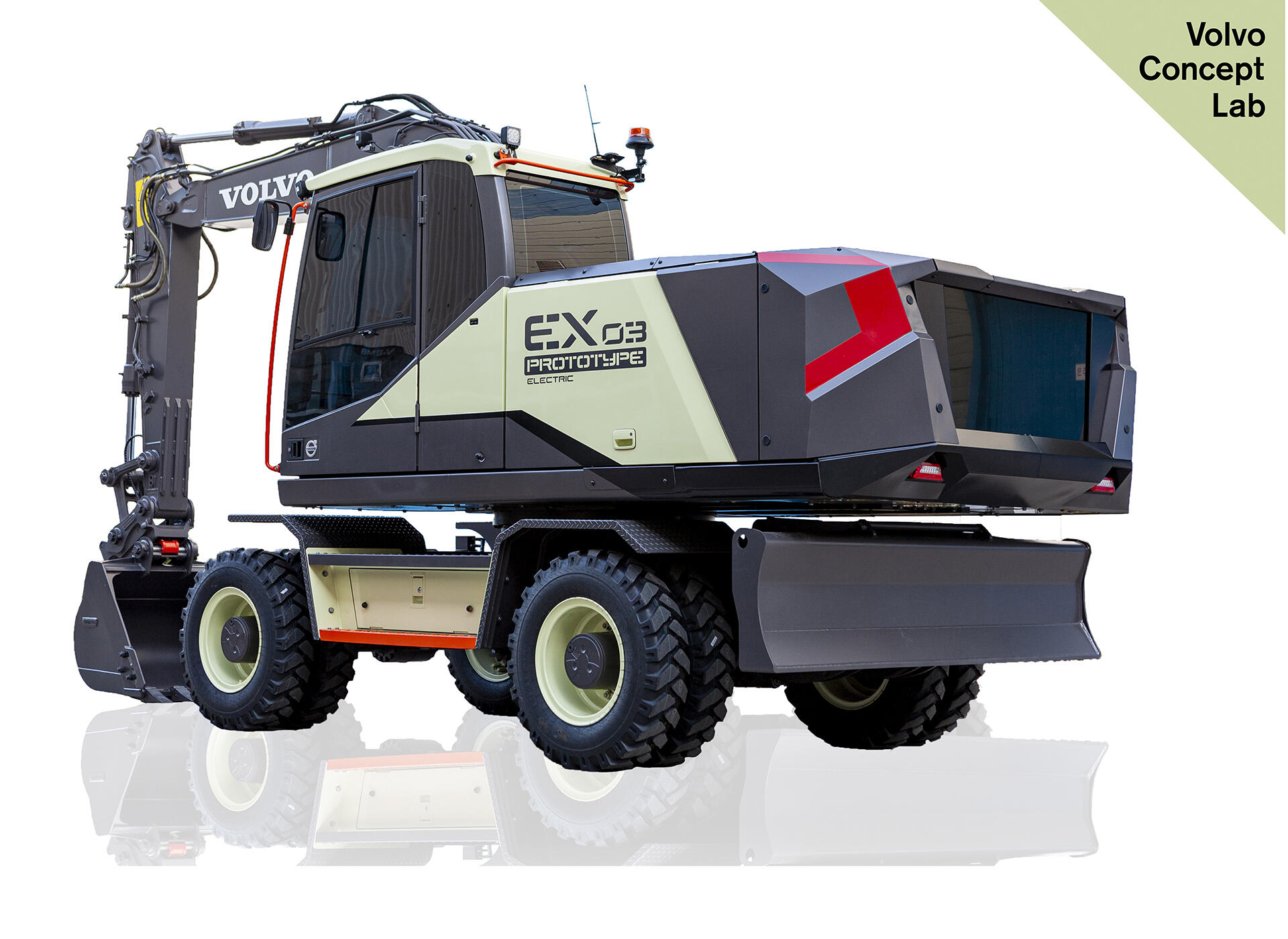 The EX03, the new electric wheeled excavator concept.

Inwoo Kim, program manager for Advanced Engineering at Volvo CE, who oversaw the project, says: "This prototype is a significant step forward in the evolution of medium electric construction machines. As our first electric excavator concept in the mid-size range, we have been quick to build and expand on our existing electromobility technology. With the same power and force as a diesel machine of the same size, there has been no compromise on performance."

Supported by technology from across the Volvo Group, the 14-tonne EX03 is equipped with a battery pack from Volvo Trucks and boasts the same performance level as a diesel machine of the same class. The electric wheeled excavator prototype aims to deliver zero emissions, higher efficiency, lower noise levels and reduced total cost of ownership compared to its conventional counterparts.