Volvo Construction Equipment (Volvo CE) has unveiled its latest electromobility project, a 5.5-t electric excavator developed specifically for the needs of the Chinese market. This is the first time the company has introduced any sort of concept machine in China, let alone a mature pilot machine ready for customer testing.

"China is the largest e-mobility market globally and is moving quickly as the country strives for sustainable power and clean, emission-free vehicles," says Mats Sköldberg, Head of Technology at Volvo CE China. "This, combined with the large local supply of e-mobility components, makes China the perfect place to innovate and test ground-breaking electric solutions."


Quiet, sustainable power
The EC55 Electric is based on its diesel-powered counterpart the EC55D and will deliver even better performance and controllability with the added benefits of quiet operation and zero emissions. Since the energy running costs are 50% lower and the maintenance requirements simpler, the EC55 Electric also achieves higher uptime and a lower total cost of ownership.


Made in China for China
The machine has been designed and built at the Volvo facilities in Jinan, China, using as many Chinese-sourced components as possible. Two lithium battery packs of 350 V – the same voltage found in Chinese homes and electric cars – and a standard Chinese charging solution allow operators to plug and play.

Typical applications for this class of excavator include materials handling, site preparation in the building and construction industries, landscaping, and light utility work. The EC55 Electric will be able to work continuously on these tasks for four and a half hours without charging or nine hours with a lunch-hour fast charge.

Fast commercialization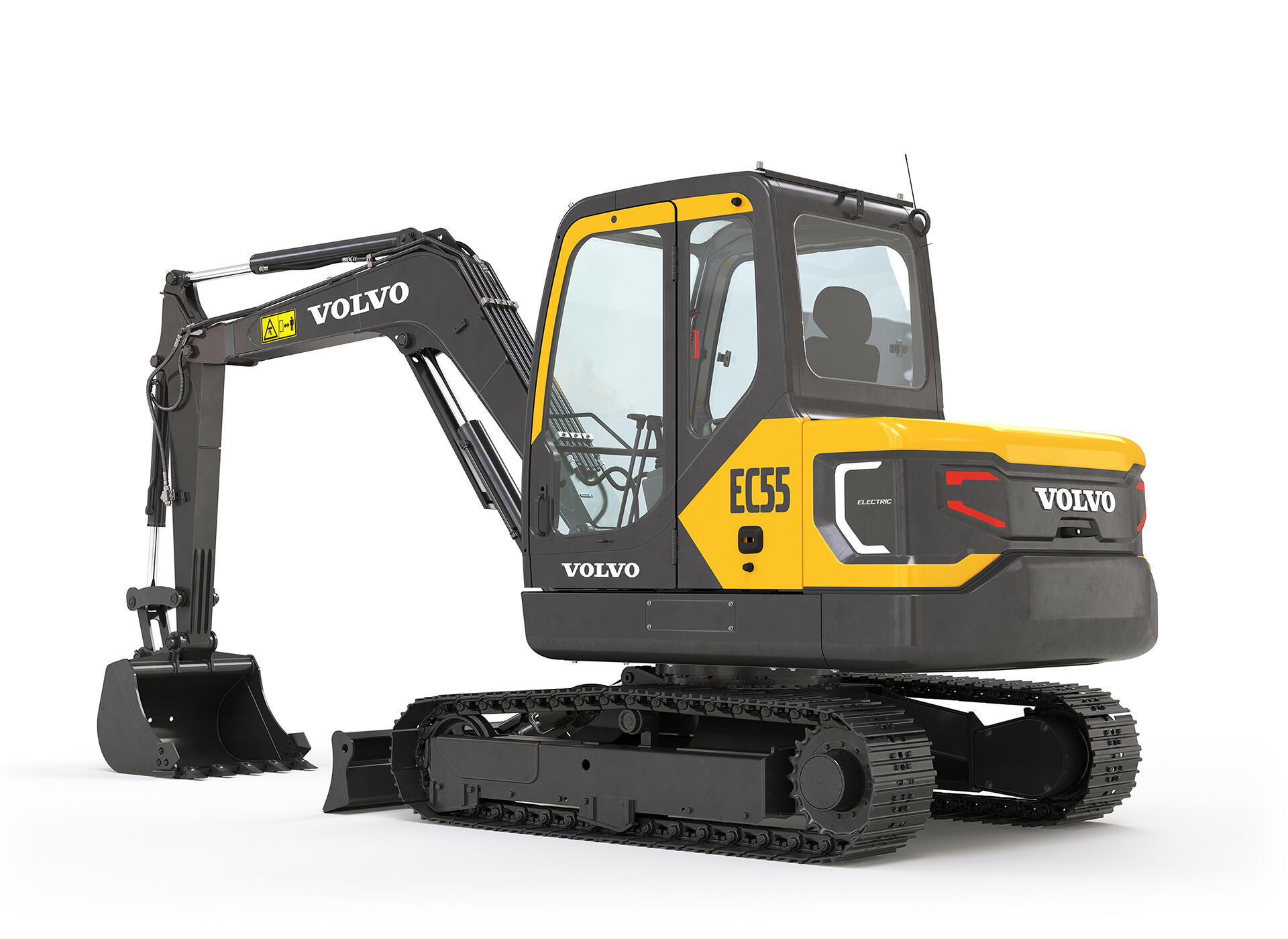 EC55 Electric customer pilot

Volvo CE has also included the latest telematics system in China, enabled by Volvo ActiveCare proactive monitoring, to fulfil Chinese electromobility data regulations and meet aftermarket service requirements. These in-built telematics will provide instant feedback, accelerating the company's understanding of the excavator's operation and performance for faster maturation and commercialization.

"We have used local solutions to put together a competitive machine that we believe reaches a high maturity level already. By combining the technology of electrical propulsion with connectivity, we offer an attractive overall package of low noise, zero emissions, high efficiency, high uptime, reduce operating cost and reduced total cost of ownership. We have full confidence in the success of this customer pilot," concludes Sköldberg.