At bauma China 2020, taking place November 24-27, Volvo Construction Equipment (Volvo CE) is presenting a comprehensive and interactive demonstration of the three core pillars of the Volvo Service Commitment: Professionalism, Uptime and Customized Solutions.
Professionalism Commitment: through five major points of professionality – quick solutions, regular inspections, smart tech, comprehensiveness and standarization – Volvo begins with the needs of customers to help solve issues efficiently and ensure the optimal performance of their equipment.
Uptime Commitment: through two major customer care guarantees – service response commitment and extended coverage– Volvo CE uses targeted solutions and high-quality service resources to ensure customer peace of mind during their service experience.
Customized Solutions Commitment: through five Volvo experiences – customization, Volvo ActiveCare, Customer Care Campaign, Volvo customer club, and quality – Volvo CE delivers integrated, strategic and outstanding service.
Volvo Financial Services (VFS), as part of the Volvo Service Commitment, is introducing the latest financial services to the China market and providing fast and easy solutions tailor-made for Chinese customers. VFS offers a convenient one-stop shop experience for customers through its online account management and insurance systems.

The Volvo Service Commitment builds on the Volvo integrated solutions launched at bauma China in 2018, which provide customers with nine major services covering the entire product lifecycle.

Bessy Jia, Vice President of Aftermarket Support for Volvo CE China, says: "We will showcase how Volvo CE continues tirelessly to create value for customers by having satisfaction as our core aim, leading the way with our service, and providing assurance through quality."
Six months of progress
Volvo CE is also illustrating at bauma China 2020 the results it has achieved since the Commitment was announced on May 25 this year.

"In the six months since we announced the Volvo Service Commitment, Volvo CE has achieved practical results through activities such as the 'BEside YOU' customer care campaign and the 'Top 10 Popular Technicians Website Vote Campaign," says David Chen, Deputy President of Volvo CE China. "In the future, we will mold a strong reputation for service through increased systemization and higher product quality – and we will promote our enhanced aftermarket services."
An insightful and interactive experience
The mobile service containers in the outdoor area at bauma China will recreate the service environment, allowing visitors to experience the company's one-stop integrated solutions, including equipment lifecycle components and remanufactured products and services. LED displays will show customer case studies highlighting the impact of the Volvo Service Commitment over the past six months.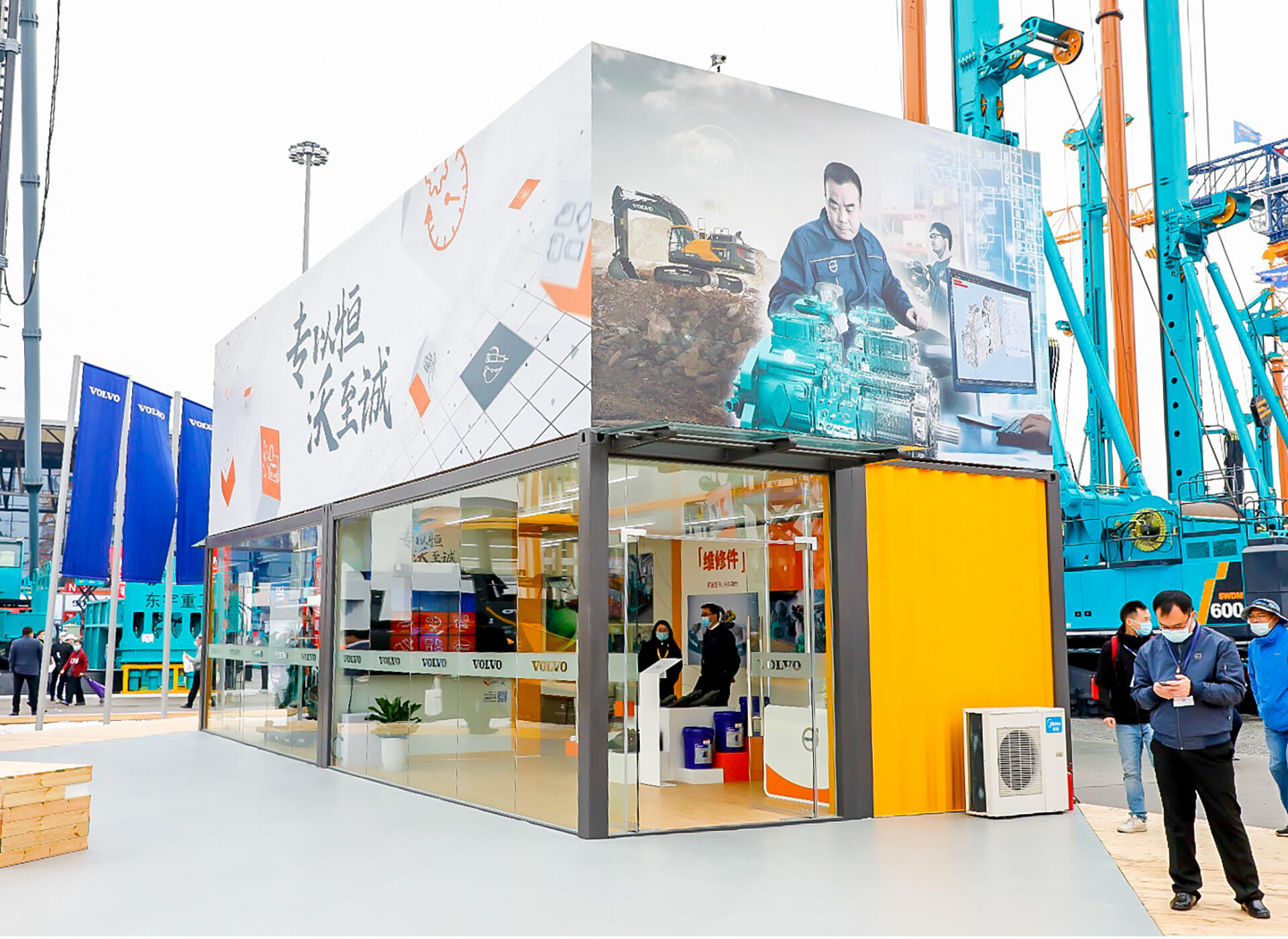 The indoor stand will feature an exhibition display for Volvo Service Commitment along with Volvo CE and Volvo Financing Services' robots, delivering an interactive experience for visitors.

During the exhibiton, Volvo aftermarket service experts are giving talks, both in person and online through live streamings, sharing best practice examples from the company and helping customers to gain a deeper understanding of the services on offer.
Aftermarket growth and innovation
Volvo CE is one of the world's leading construction equipment manufacturer and integrated solutions provider with more than 180 years of service experience, a keen grasp of the future and insight into local market demand. Customer service is embedded at the very heart of the company, which guarantees the operation of customers' equipment through continuous service product innovation that helps customers increase their productivity.

In the 18 years since Volvo CE entered the Chinese market, the company has achieved long-lasting and stable development. Today, as China experiences rapid growth with new patterns emerging in both domestic and international economic cycles, service-style manufacturing innovation and development will become increasingly important. Volvo CE is looking to the future as it continues to maintain a firm grasp on service speed, service quality and integrated tailored solutions. The company is seeking out new areas of growth in the aftermarket area to assist in its improvement and development and ensure customer's business growth throughout the product lifecycle.