The newly updated
EW60E wheeled excavator
from Volvo Construction Equipment is now even more versatile and powerful than ever before. Now with greater fuel efficiency and improved hydraulics, the EW60E makes light of a wide range of excavator tasks.
Among the new features is a new hydraulic main control valve that offers additional functionality. When a higher hydraulic flow is required for a particular movement, the main control valve is able to combine the flow of several pumps to optimize the machine operation. Particularly for grading, flow can be combined into the arm cylinder to make arm speed faster. Not only is the EW60E now more versatile, it is also more efficient. This comes courtesy of a new engine management feature – ECO mode. Fitted as standard, ECO mode lowers the engine speed – but without any impact on performance, resulting in reduced fuel consumption.
Go with the flow
For high controllability, productivity and a comfortable operating experience the EW60E is equipped with responsive controls that ensure smooth movements, as well as adjustable hydraulic flow. Four-wheel drive and a top speed of 30kmph guarantee excellent mobility on and off road. Well-balanced driveline, and the front axle locks while working for optimum stability. An optional fixed boom and offset boom provide versatile performance in a range of operations from confined jobsites to major construction areas.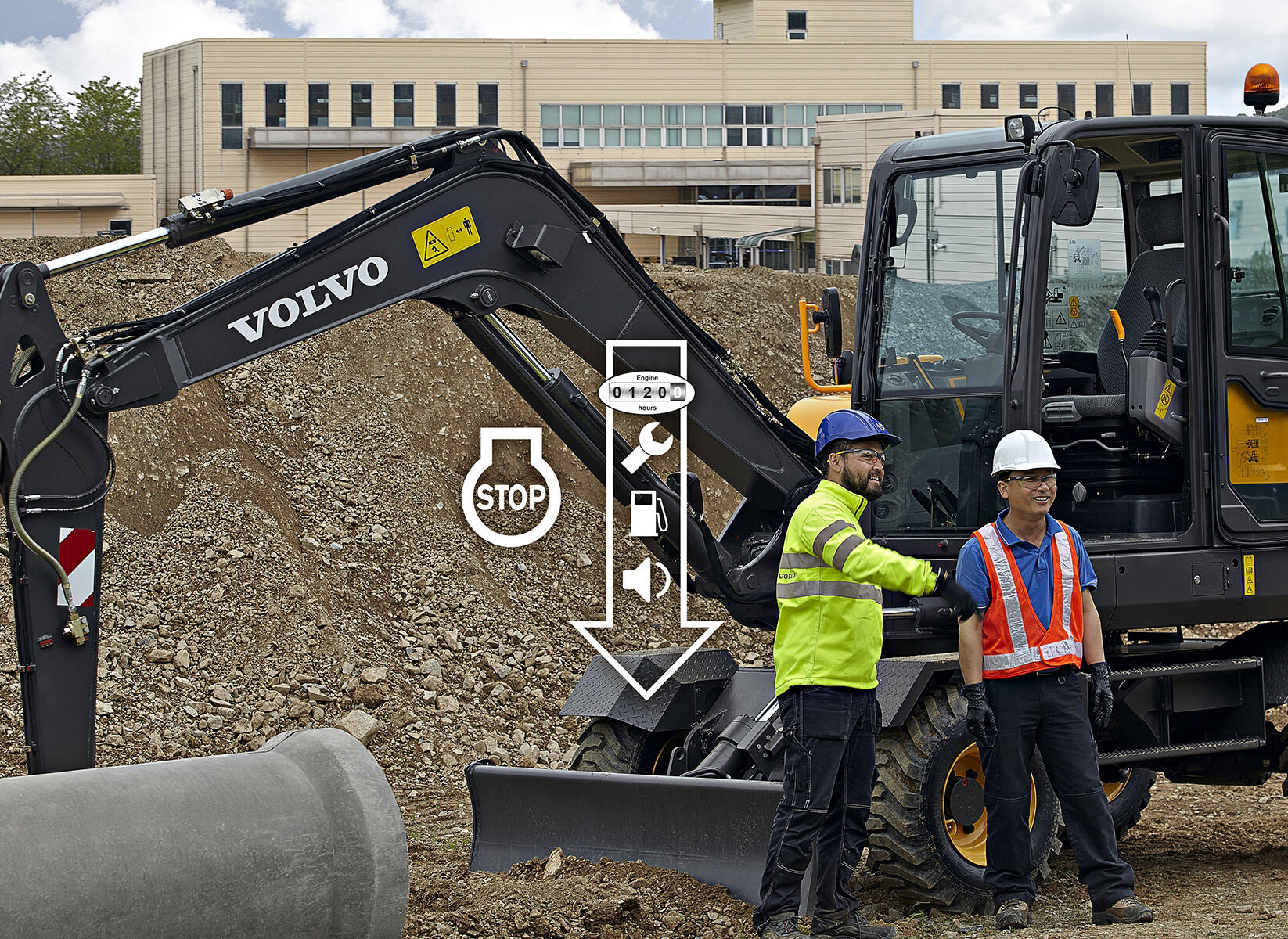 The EW60E is equipped with a number of features.
The new Volvo engine complies with forthcoming Stage V regulations. With the auto engine shutdown option – a unique offering from Volvo – the engine stops automatically after a pre-selected time, lowering fuel costs and noise. A consequence of the engine being inactive is reduced maintenance costs and improved resale value of the machine.
The EW60E is equipped with a number of features combined to increase machine availability and reduce downtime. Ground level service access and convenient greasing points reduce service time and maintenance costs. Service intervals can easily be monitored via the in-cab screen, which shows reminders when maintenance is needed.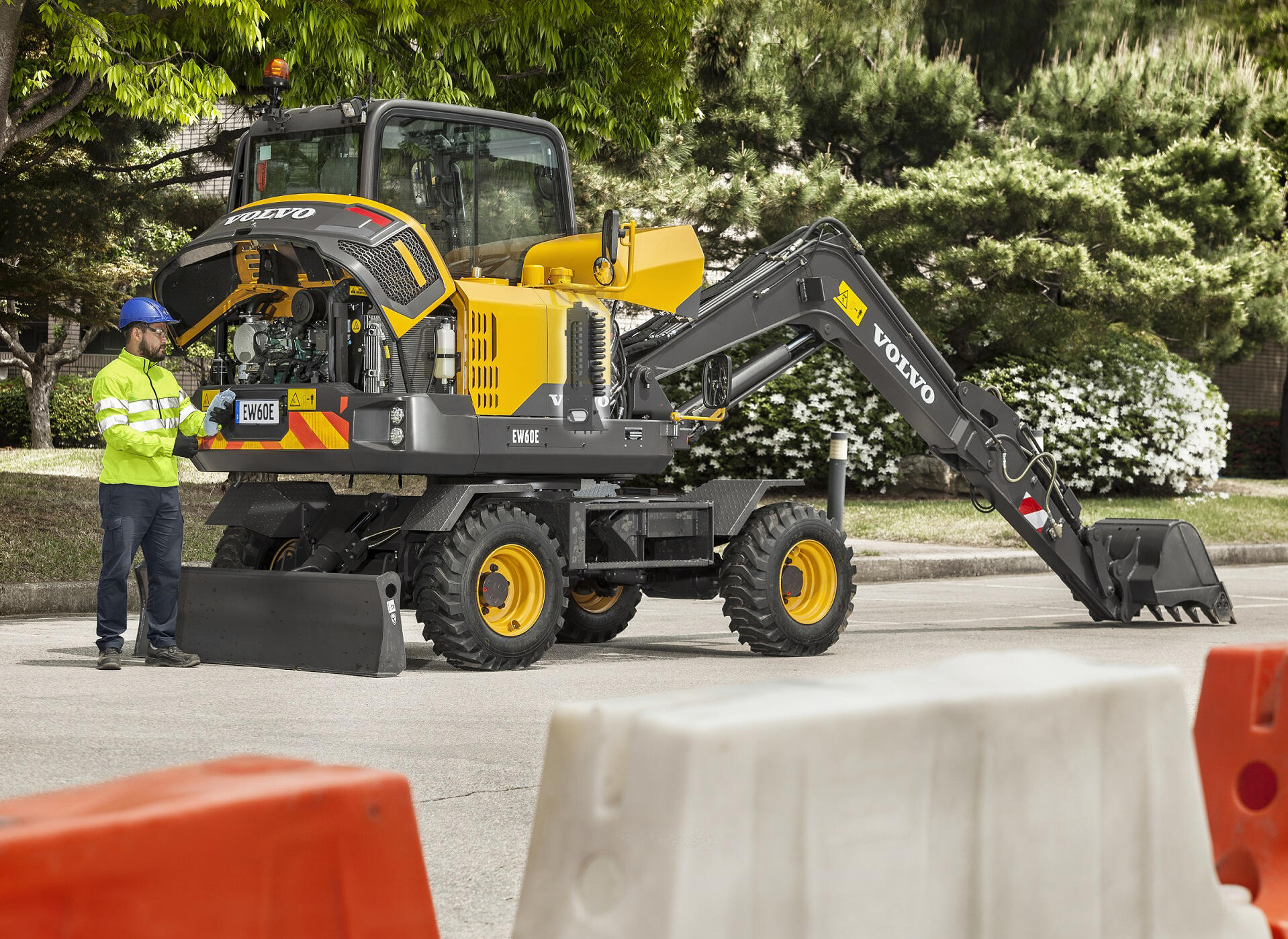 Service intervals can be easily monitored via the in-cab screen.
This excavator is equipped with Volvo MATRIS software that analyzes operator behavior to improve efficiency, boost productivity and reduce fuel and maintenance costs. Volvo also offers the VCADS Pro diagnostic system, making it easy to control the machine.
Key specifications: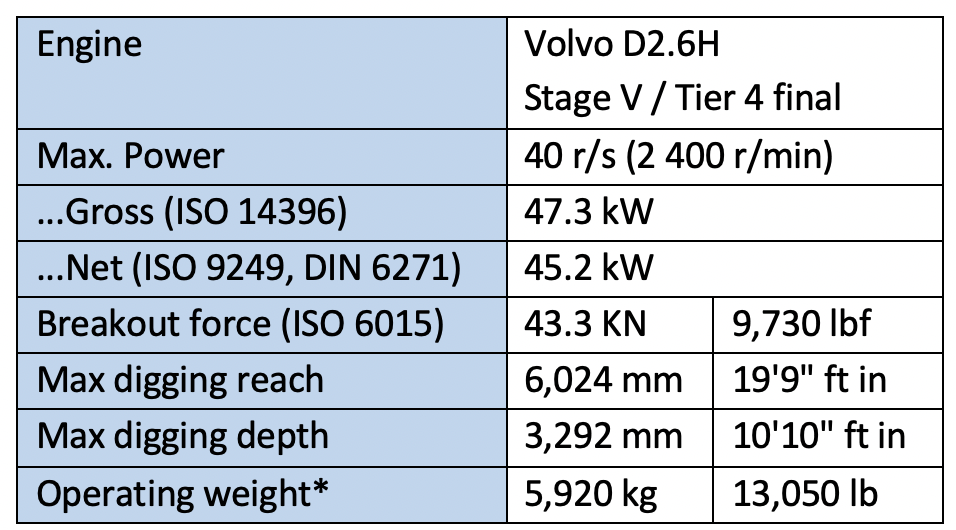 *Machine with 2.9m boom, 1.6m arm, 0.142 m3 bucket, Standard counterweight, Dozer blade