WGBW organizers World Green Building Council (WorldGBC) defines a 'green building' as a building that, in its design, construction or operation, reduces or eliminates the damage caused by climate change – and instead creates a positive impact on the environment. But it is not just the end product and the building's operational use that needs to stand as a testament to sustainability. Especially for OEMs like Volvo CE, it is important to consider the whole building process to ensure efforts are taken to eliminate embodied carbon throughout the construction lifecycle.

Mitigating embodied carbon – CO2 that is accumulated through the construction and demolition of the building, and even the making, transporting and assembly of materials – can be difficult but is not impossible. As Niklas Nillroth, Vice President of Sustainability & Public Affairs at Volvo CE, says "developing technology and building partnerships to alleviate embodied carbon" is our best way forward. And as we learn here, sustainability is about more than cutting carbon, it's about building lasting legacies for communities around the world.
1. Eco-Mosque – Cambridge, UK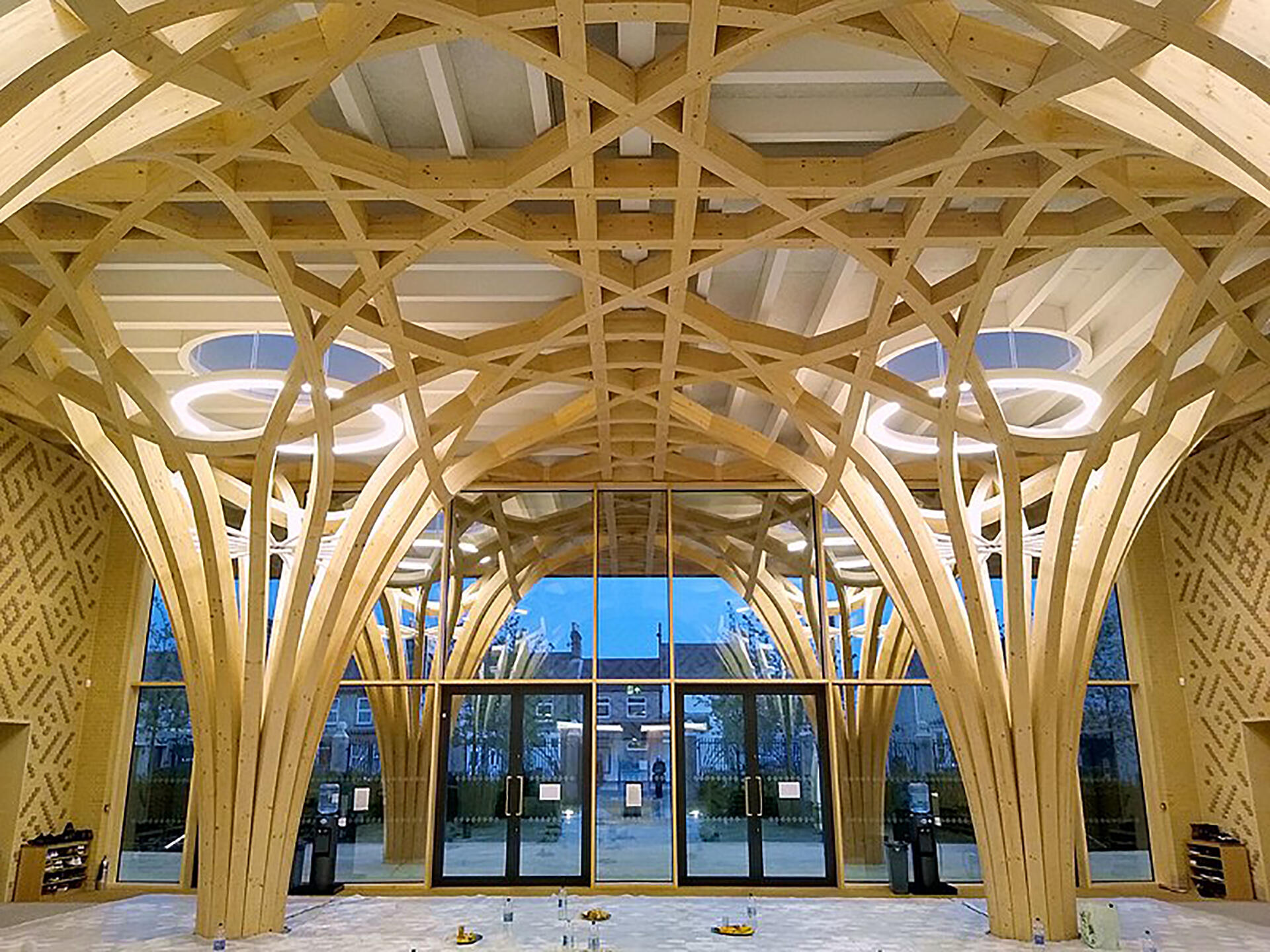 The interior of the mosque on Mill Road, Cambridge. Credit: Wikipedia
Marks Barfield Architects, who designed the iconic London Eye, are the masterminds behind what is thought to be the UK's first eco-mosque. Costing £23 million and funded by over 10,000 donations, this mosque can hold up to 1,000 worshippers and has an underground carpark for 82 vehicles and 300 bicycles. Designed to be a "calm oasis" for worshippers, architects reasoned that eco-friendly ambitions should be in line with the aims of modern faith and spiritual traditions. Twenty new cypress trees have been added to the community garden to create a "permeable green edge", while the mosque itself is naturally lit throughout the year with large skylights. In terms of its construction, materials have been sustainably sourced, while the energy used to power the building is locally generated from renewable energy sources. Even rainwater is harvested for flushing and irrigation.
2. Bamboo School – Bali, Indonesia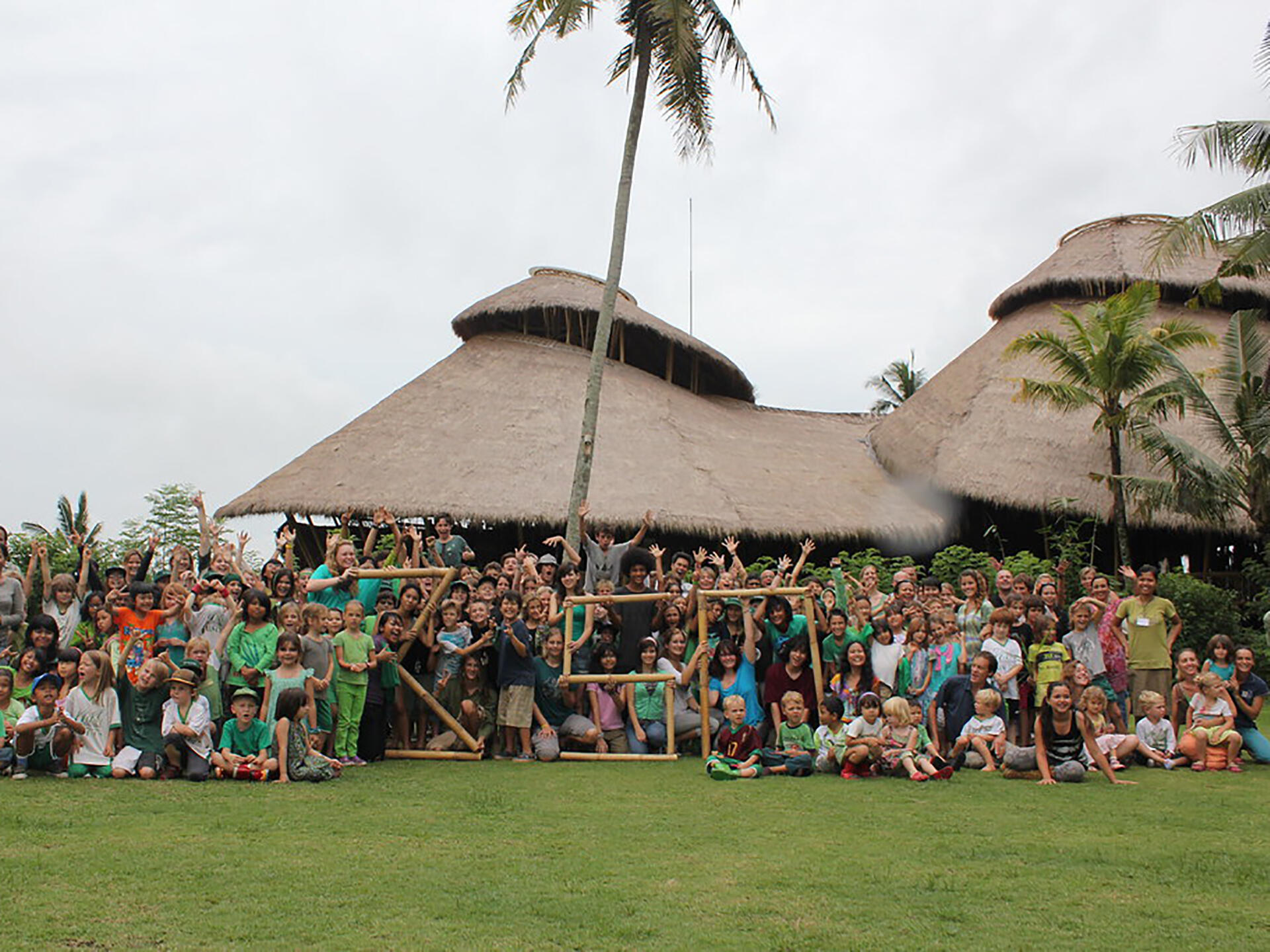 The Green School and its students in Bali, Indonesia.
The brainchild of husband and wife duo John and Cynthia Hardy, their Green School is set in the heart of the jungle and rice fields of Bali, Indonesia. Employing the tried-and-tested construction techniques of the local Balinese community, the school's structure is made entirely from bamboo – including the building's flooring, seating, tables and other fixtures. Mostly open plan and making great use of natural sky lights, the school is also built in the heart of the area's rice fields, to ensure that the surrounding land is fully integrated with the classrooms so that they can be used as recreational areas for the children. The sprawling campus is connected via bridges and interweaving roofs, ensuring it is sympathetically connected to its environment. Other sustainable elements include outside compost toilets and musical instruments such as harps, which have been physically carved into some of the bamboo pillars.
3. Green Towers – Nanjing, China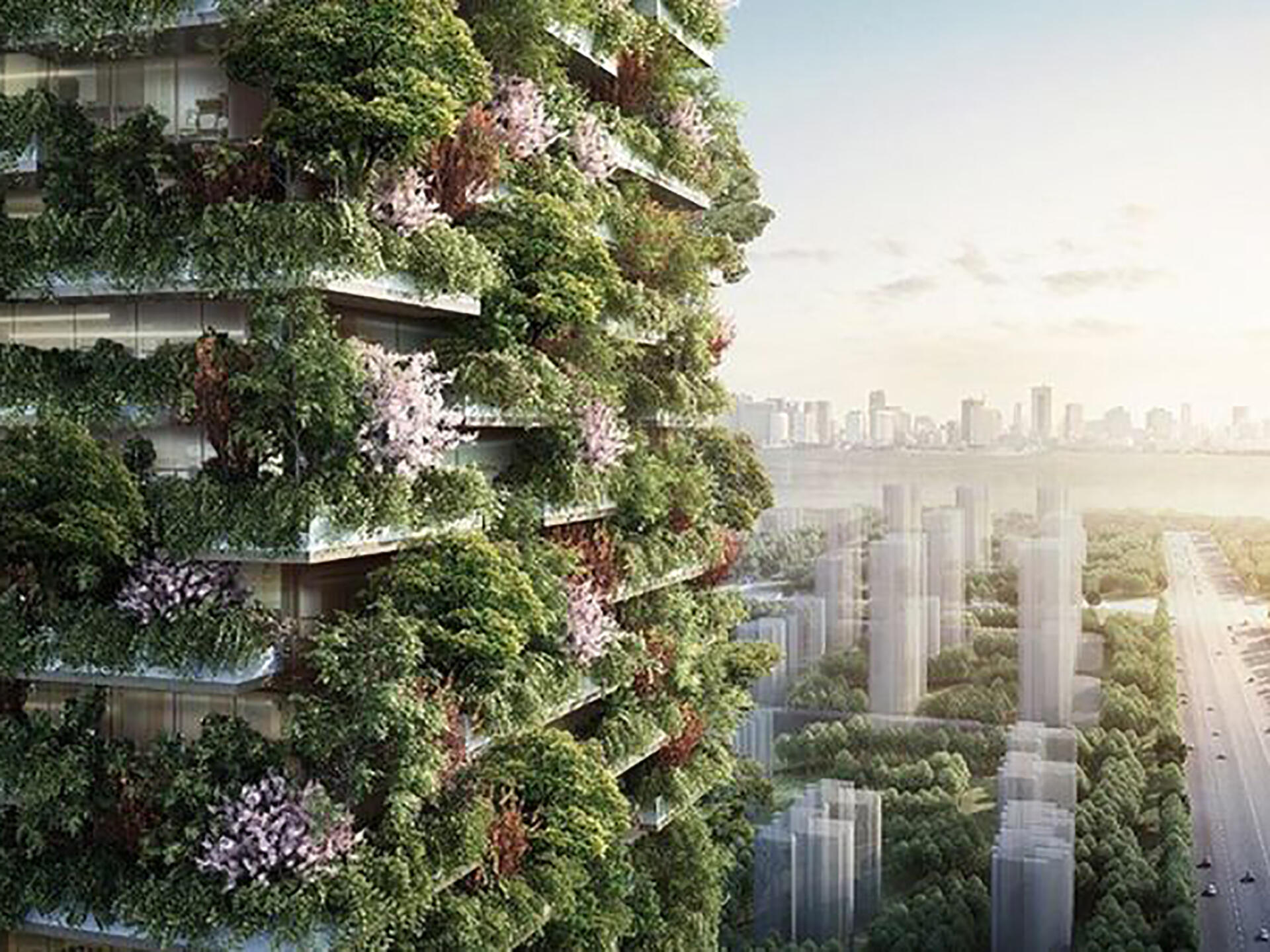 China endures some of the worst levels of air pollution in the world so fighting back against the challenges of climate change can be an uphill struggle. Yet one Italian architect hopes a vertical forest, set to be completed at the end of 2019, will go some way to fighting back against this pollution. Stefano Boeri has designed two green buildings, one a hotel and the other a museum, office and architectural school, for the Chinese city of Nanjing. And they will be very literally green buildings, with flourishing plant life set to be incorporated into the buildings' facades. The idea is that the plants, set to be more than 1,000 trees and 2,500 shrubs across both buildings, will absorb some of the pollution in the air and then filter it to make the air cleaner. If successful, it could absorb up to 25 tons of carbon dioxide a year and produce about 60 kg of oxygen every day. With plans to build more of these green structures in other Chines cities such as Chongqing, Shijiazhuang, Liuzhou, Guizhou and Shanghai, they could be the future for sustainable construction in less leafy urban centres.
4. Sydney Opera House – Sydney, Australia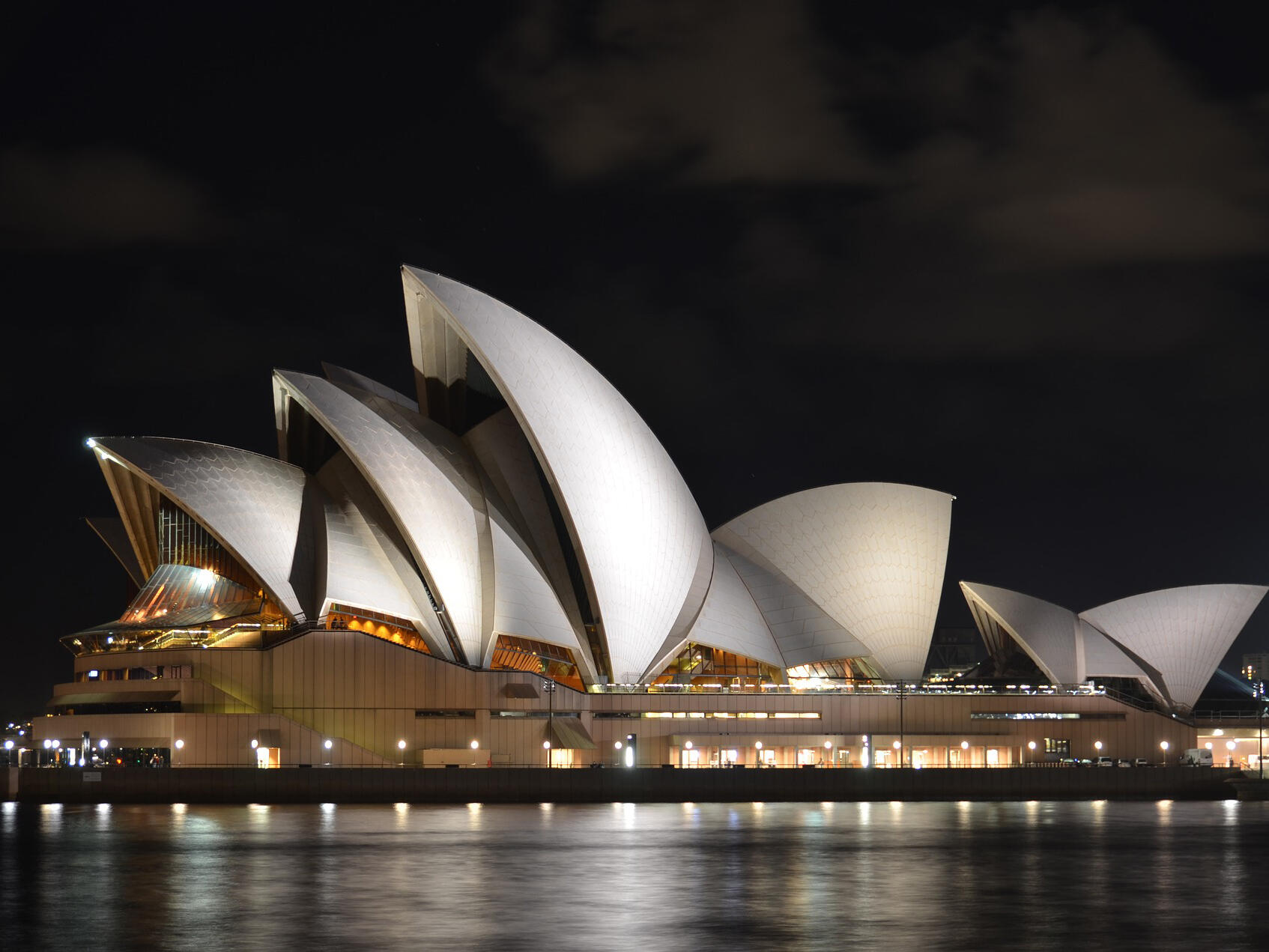 The Sydney Opera House sets out guidelines to help protect the marine ecosystem in the harbor.
Even old buildings can go green. And in fact, it's usually better for the environment than building new. WorldGBC notes that renovating existing buildings, taking an intelligent approach to energy and exploring ways to engage users in reuse and recycling – all to make the building more environmentally friendly for lasting generations – is often more sustainable than demolishing a structure and building again. Which is why the Sydney Opera House in Australia, one of the most famous UNESCO World Heritage Sites in the world, is such a notable example. Blending heritage with sustainability, the iconic performing arts venue employs a comprehensive recycling program which has helped raise its recycling rates from 20% in 2010 to now 65%. It has also switched out incandescent bulbs with LED lamps to light its halls and theatres, helping to reduce energy use by three quarters. In addition, the opera house also demands a lot from its suppliers – setting out guidelines which instruct maintenance companies to use cleaning chemicals with minimal environmental impact, particularly important for the neighboring marine ecosystem.
5. The Eco Berrini Building – São Paulo, Brazil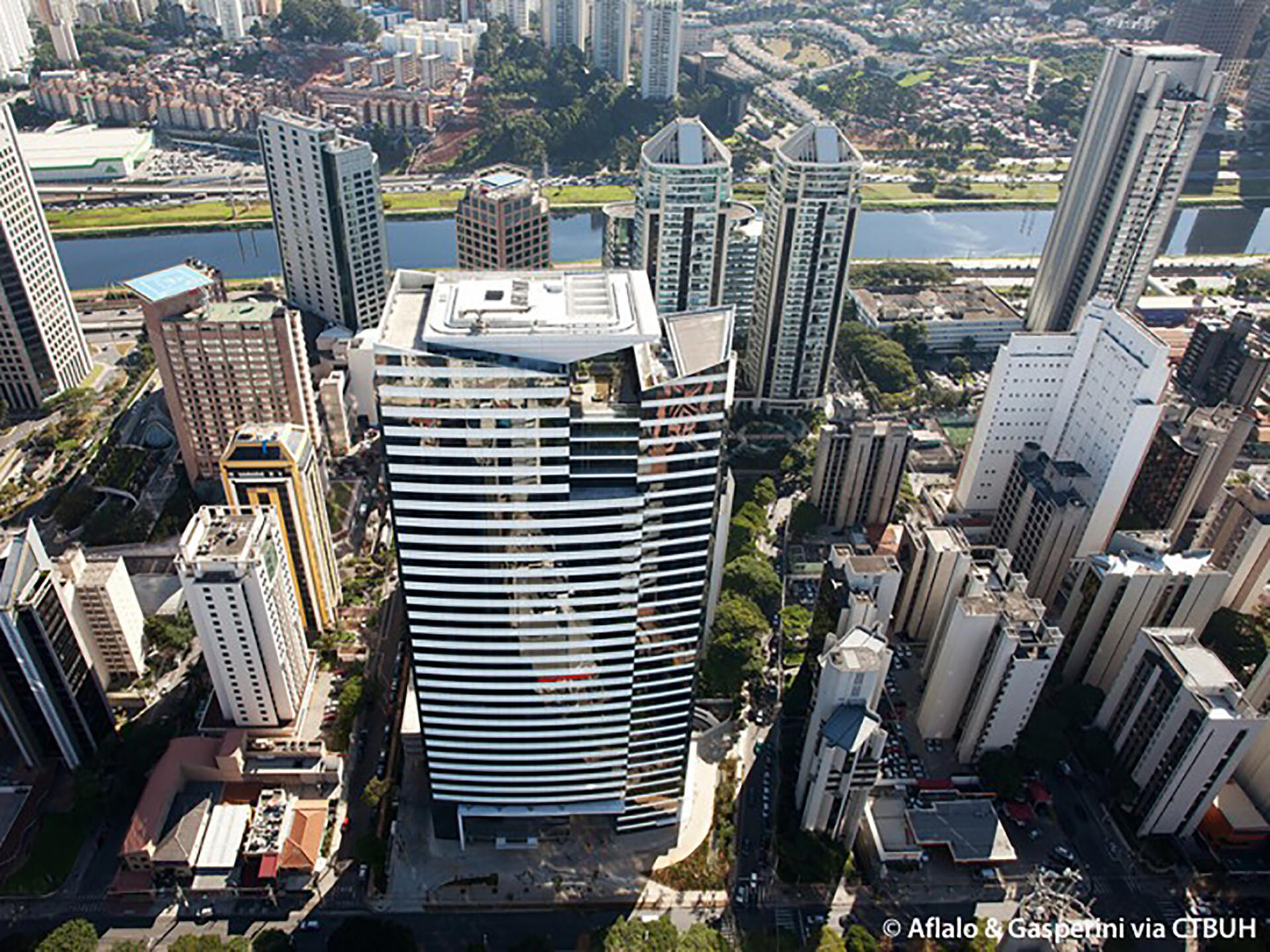 The Eco Berrini Building in Brazil. Credit: Aflalo & Gasperini via CTBUH
Making buildings green in an area undergoing rapid urbanization can be a challenge, but it also presents a great opportunity for sustainable progress. According to Evidence and Lessons from Latin America (ELLA), buildings in Latin America produce 25% of carbon emissions and 65% of waste, but by transitioning to green buildings the sector could actually reduce energy consumption by half and carbon emissions by 39%. The Eco Berrini corporate tower, is an example of this sustainable progress in action. The designers of the 47,000 m2 tower were careful in their construction to consider ways to eliminate embodied carbon. They did this by designing glass facades away from direct sunshine in order to reduce the need for air conditioning and employing sustainable building materials during construction. Equally, operational use is considered with water conservation, treatment and reuse of grey water, and a smart waste management system. The US$330 million building now enjoys a lower environmental footprint, saving 40% in water and 30% in energy compared to similar commercial buildings.