Volvo Construction Equipment (Volvo CE) and LEGO® Technic construction toys have joined creative forces with a team of children to design a futuristic, autonomous construction machine. The result: The LEGO® Technic Volvo Concept Wheel Loader ZEUX set, scheduled for release in toy stores in August 2018, and the digital prototype for a real-world autonomous machine.
What started out as a fun, informal team building event to inspire The Volvo CE and LEGO® Technic design teams in 2016, gradually evolved into an idea for an actual LEGO® Technic product. Their goal: Design the construction machines of the future. And now the collaboration has led to number of potentially revolutionary patents.
Arvid Rinaldo, (Brand Communication & Partnerships) at Volvo CE, explains why it is relevant for their designers to work on futuristic construction machines with LEGO® Technic:
"We have enjoyed a truly fun and productive collaboration with the LEGO® Technic team over the past few years. It allowed us to test ideas for new types of construction machines for the future, both in terms of functionality, scale, design and interaction. This model may seem futuristic now, but autonomous, connected and electric construction machines are already starting to be a reality. The Volvo Concept Wheel Loader ZEUX is a realistic next step in the exciting evolution of our construction machines."
Speaking about the collaboration between the two Scandinavian brands, he adds: "We wanted to cooperate with a premium toy manufacturer, just as we are a premium player in the construction equipment sector. Volvo CE and the LEGO® Group together create a perfect match, both culturally and in what we try to achieve in our products – exploring together how we can build tomorrow"
Autonomous lawnmowers and vacuum cleaners are already a familiar sight in homes around the world and are generally considered safe to be around. And as the first self-driving cars were tested on roads, the gear wheels were turning in the heads of designers at Volvo CE in Sweden and the LEGO® Group in Denmark, as they worked to find new ways to increase safety and bring a more human aspect to the artificial intelligence in big construction machines.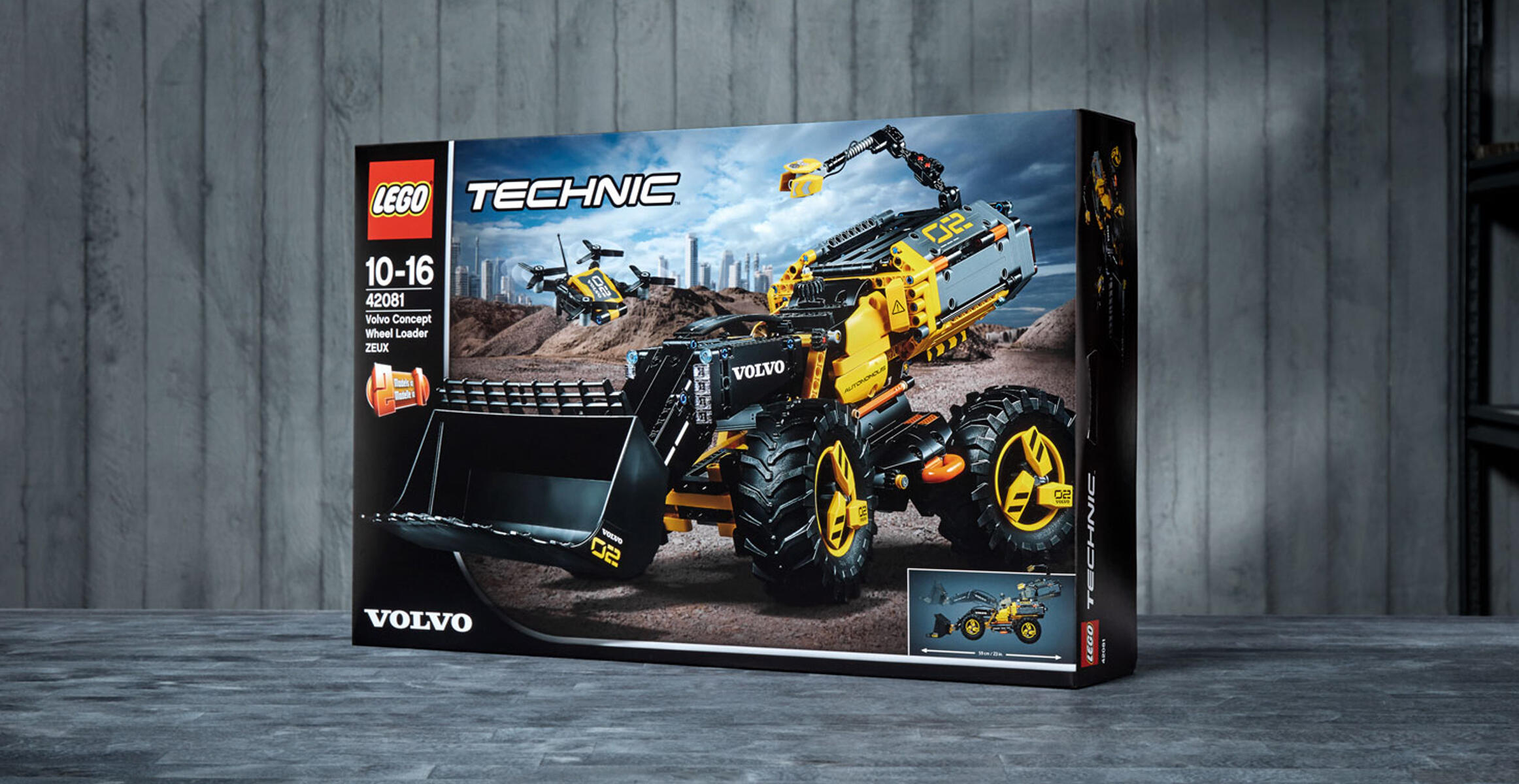 A focus group consisting of children helped out in the process creating the ZEUX. Looking at early drawings and models, the group gave feedback that led to the development of new, unique features. Two main features that the group decided on were the scout drone and the adjustable "camera" boom mounted on the roof of the vehicle, called the Eye. In addition to the scout drones and built-in sensors a real-life model would have, the Eye illustrates a new and inventive feature: it will show exactly where the vehicle's "attention" is directed, which means it can make "eye contact" with humans and acknowledge their presence.
"When you cross a busy road, you watch out for dangers and try to make eye contact with drivers in your immediate vicinity. It's an instinctive reaction that lets you evaluate your next move", says Andrew Woodman, Senior Design Manager for LEGO® Group. "Should you stay where you are, or is it safe to move? It's usually an easy assessment. With autonomous vehicles, you don't have that interaction because you can't see all the sensors that allow them to navigate around both stationary and moving objects. It's not intuitive for us to decode what the vehicle's next move is, where it's going, or if it has seen us. While the Volvo Concept Wheel Loader ZEUX will not be driving on roads, it would be interacting with workers at a construction site. So we set out to create features and functions that make the interaction between humans and machines as safe and intuitive as possible."
One of the core LEGO® Technic design values is the "AFC promise", which stands for "Authenticity, Functionality and Challenging building". Models have to look as close to their real-life counterparts as possible, be fun to play with, and inspire builders to try new building techniques. So how does a futuristic model fit into especially the Authenticity part of the promise?
Workshops in Billund, Denmark, video meetings, and exchanges of concept sketches and sketch models allowed room to test wild ideas throughout the development process. As a result, you can see a lot of very interesting features like an extendable counterweight, raising and lowering chassis, 4-wheel steering and many other great ideas that fits all design values.
Andrew Woodman: "Volvo CE and the LEGO Group share the same values when it comes to our requirements for quality and usability, while at the same time pushing the boundaries of creativity and functionality. It has been very motivating helping Volvo CE to develop what could be the future of construction machines."
Facts about the 42081 Volvo Concept Wheel Loader ZEUX:
• Futuristic LEGO Technic concept model developed in collaboration with Volvo CE
• New, inventive Eye function to illustrate intuitive interactions between humans and the machine
• Working boom and bucket
• Moving counterweight by raising and lowering chassis
• Comes with a mapping drone
• Articulated four-wheel steering
• Building instructions for an alternative model, a Volvo Concept Hauler PEGAX, will be available online
• 1167 elements
• Facilitates co-play: the main and alternative models are both designed for construction site play so the two can work together.
Notes to editors:
• The LEGO® Technic Volvo Concept Wheel Loader ZEUX set will be available in all markets from August 2018 – prices vary.
• LEGO® Technic and the LEGO logo are registered trademarks of The LEGO® Group 2018 The LEGO Group.
• The VOLVO trademarks (word and device), the PEGAX and ZEUX trademarks are registered trademarks of Volvo Trademark Holding AB and AB Volvo and are used pursuant to a license.