The Delta Companies Inc (Delta) is a site development and highway contractor specializing in asphalt paving and road construction materials, including aggregates. Delta operates five quarries and a sand and gravel pit. One of those quarries is located in Cape Girardeau, Missouri, near the Mississippi River. The Delta SEMO Quarry in South East Missouri has been a leading supplier of limestone to the local construction industry for more than 40 years. SEMO typically produces between 700,000 to one million tons a year from a 200 acre property with an open pit that is now over 400 feet deep. It is a solid business with ample reserves to keep serving customers for decades to come.
Delta knows its business and has a plan for the future but was not satisfied with that. As a subsidiary of the
Colas Group
, Delta can leverage benefits from the special relationship Colas has with Volvo CE as a global key account customer. One benefit is access to the manufacturer's site assessment program provided by its Global Key Accounts Management team.
In this program, the Volvo CE Key Accounts Solutions team dispatches specialists to review all aspects of a site operation. The team provides a deep analysis of current and future business, lifts up best practices and uncovers potential areas of improvement. This is an extended dialogue that concludes with a prioritized list of recommendations which the customer can factor in to its immediate and strategic plans.
Delta worked closely with Volvo CE to explore how to reduce costs and make its SEMO operation even more efficient. Taking a closer look at the customer's machine fleet is just one aspect in the complimentary site assessment program. Drilling, blasting, crushing, stockpiling – all were included and considered during the team's one-week site visit. They also looked at safety practices, site layout, business planning, reserves planning, environmental aspects and maintenance practice.
From left David Nus, Director of Global Key Accounts at Volvo CE, Will Gmerek, Sales at dealer Rudd Equipment Company, Mike Martin, Aggregates Area Manager of Delta Companies Inc, and Craig Griffiths, Manager of Customer Solutions at Volvo CE
Taking the (over)burden out of mining
While SEMO operations were running well, little tweaks were suggested to boost things further. The assessment team – led by David Nus, Director of Global Key Accounts at Volvo CE, and Craig Griffiths, Manager of Customer Solutions at Volvo CE – focused on an overburden project already underway and suggested ways to develop and maintain work benches and haul roads in an efficient and safe way.
Other suggestions included aspects of maintenance and fleet management for their mobile fleet, as well as tips for operating a new Volvo
EC750E
recently delivered to SEMO. This work complemented the day-to-day support provided by the Volvo CE dealer, Rudd Equipment Company.
"Our main role at Volvo CE is to sell mobile equipment, but that's not our only role," says David. "In these site assessments we want to be able to add value to our clients' operations, highlight what's important and advise organizations how to think strategically for the future. If Volvo CE can contribute in any way to a customer's success, we become more than just a supplier, we are a true business partner."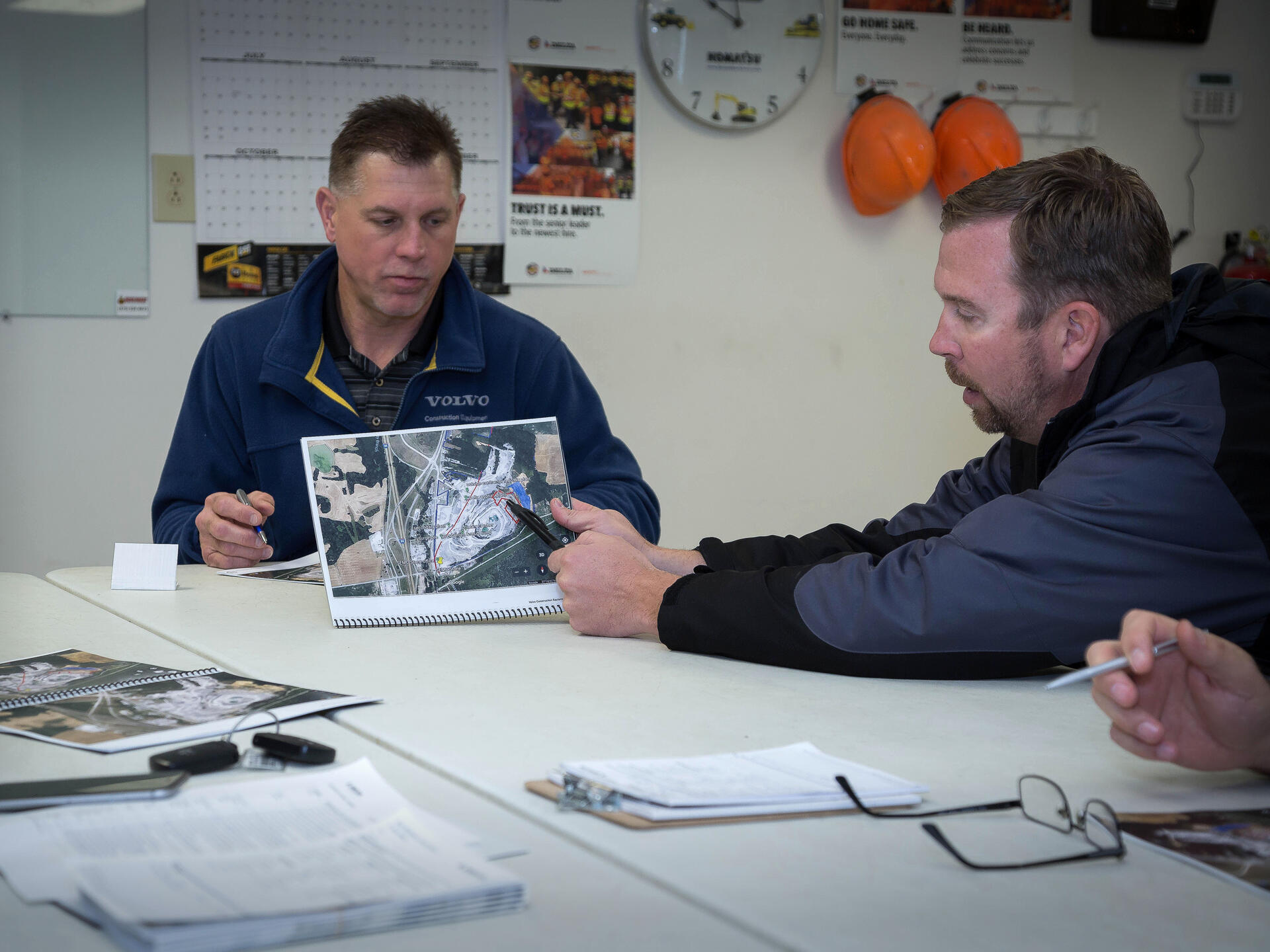 Will Gmerek and Mike Martin discuss site aspects
Small changes that make a big impact
SEMO is using a new Volvo EC750E excavator as a primary loader for its overburden removal though it does serve in limestone production as well. The excavator loads rigid dump trucks as well as articulated haulers, including a Volvo
A40D
articulated hauler that dates back to 2005 and boasts over 16,000 hours. The site assessment works well because it advises customers on the best way to use machines like these, to ensure the equipment is appropriate for the job at hand.
The findings from site assessment vary from client to client. Some require more input in the day-to-day operations on site, while others are looking for ways to maximize future profitability. By taking the time to really understand the dynamics of a business, like Delta, Volvo CE is not only able to help its customers improve their operations but also improve the way Volvo CE designs and plans its own machines and services to maximize uptime.
Delta SEMO is operated by Delta Companies Inc, a subsidiary of civil engineering giant Colas, who in turn is part of the Bouygues Group and has more than 50 quarries in North America. Volvo CE's site assessment program with Colas has run more than three years and covered sites in four subsidiaries across two continents to date.
"Our collaboration with Colas is proving to be an overwhelming success," says Craig. "They are world leaders in their industries so have little need for help in how to run their business. Where we do add value is by suggesting small changes to their current operations that will pay dividends for the future."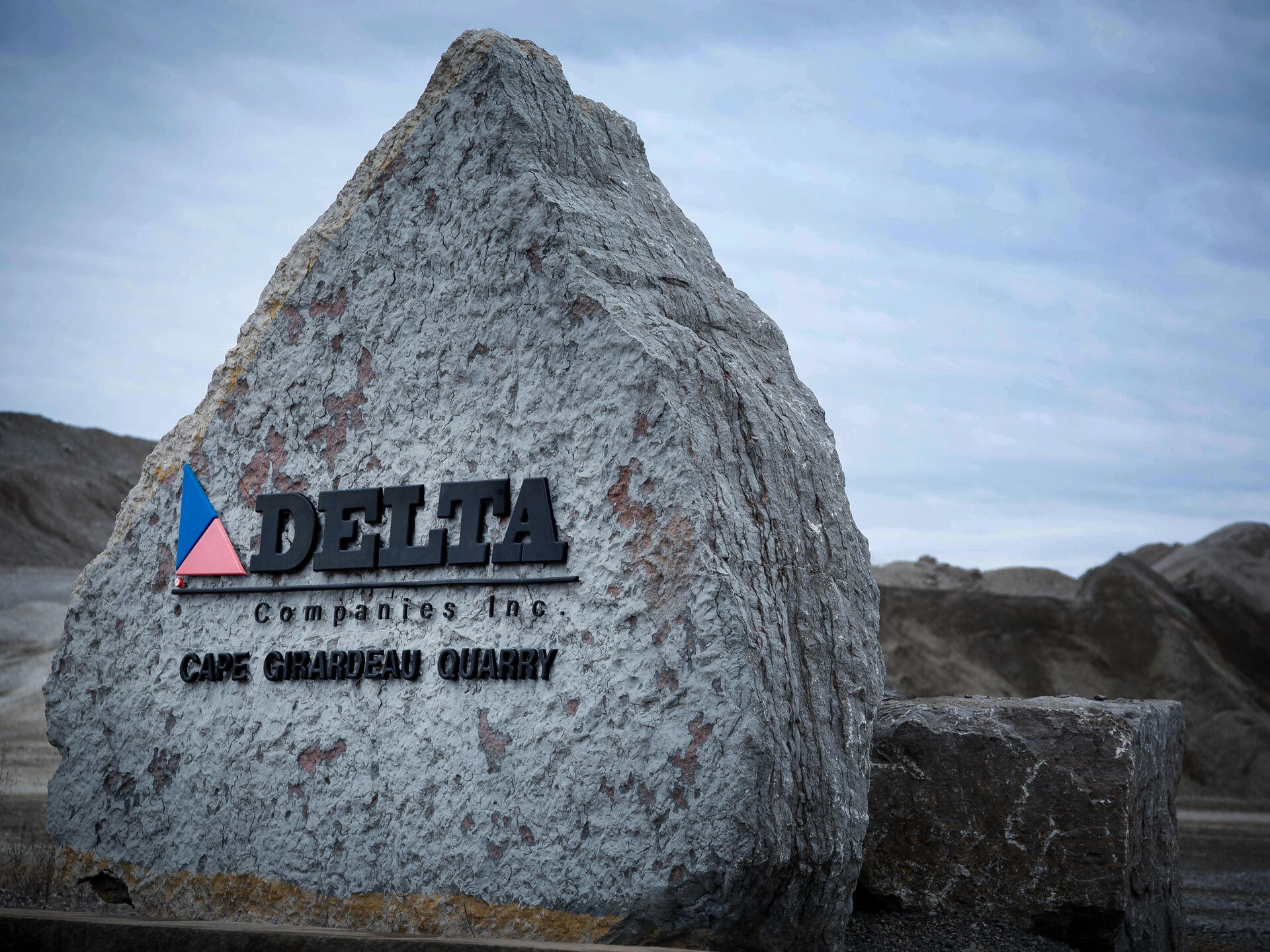 The entrance sign at Delta SEMO