The focus for the latest CCC Summit – hosted by the Volvo Construction Equipment initiative Construction Climate Challenge and Sweden Green Building Council – was the need to eliminate embedded and operational carbon from our global infrastructure. Leading industry figures from construction, academia and authorities gathered at the Clarion Hotel Post in Gothenburg to show how managing carbon emissions are the responsibility for all sectors of the industry.
Terri Wills, CEO of World Green Building Council, who spoke at the event, said: "We have a real issue with climate change and we all have a responsibility. While operational emissions are starting to go down thanks to a range of innovative solutions, the bad news is that emissions from building and construction is now going up and it's a global issue. We need to not only work on solutions ourselves but convince the rest of the world."
Independent environment expert Dr Paul Toyne, who moderated the summit added: "CO2 concentrations are the highest they've ever been. If we are to tackle the catastrophic impact of climate change we are looking at the huge challenge of reducing CO2 by 14 to 19 gigatons a year. We need to rethink our systems, have new approaches to design and employ innovations in material science."
Momentum is already growing across Europe. Sweden´s new Climate Act came into force 1 January 2018 joining other countries, such as the United Kingdom, who have been pioneering their own Climate Acts. The new Act will impact on all sectors of society, including the building and infrastructure sectors. Within these sectors several initiatives are under way and more will come to manage carbon emissions. The ultimate goal of the summit is carbon neutrality.
Agneta Wannerström, Senior Manager for Carbon Neutrality, of Skanska Sweden, discussed her work leading on the Roadmap for a Carbon Neutral Building and Infrastructure Sector, a framework to help all parties reach carbon neutral goals by 2045. She explained that 68 key players have already signed up, adding: "Clients want carbon neutrality and as a contractor we want to deliver. This (roadmap) is a game changer and we can be the ones to say to our children we helped to make infrastructure carbon neural."
As well as frameworks like this, the need to engage across the supply chain, set up financial incentives, push for green design and look for innovative construction models, such as reusing material and building off-site, were highlighted as potential solutions.
Mats Landén, WWF Sweden's Head of Corporate Partnerships, said: "If you want to set science-based targets, you have to start working together and share both the burdens and the benefits."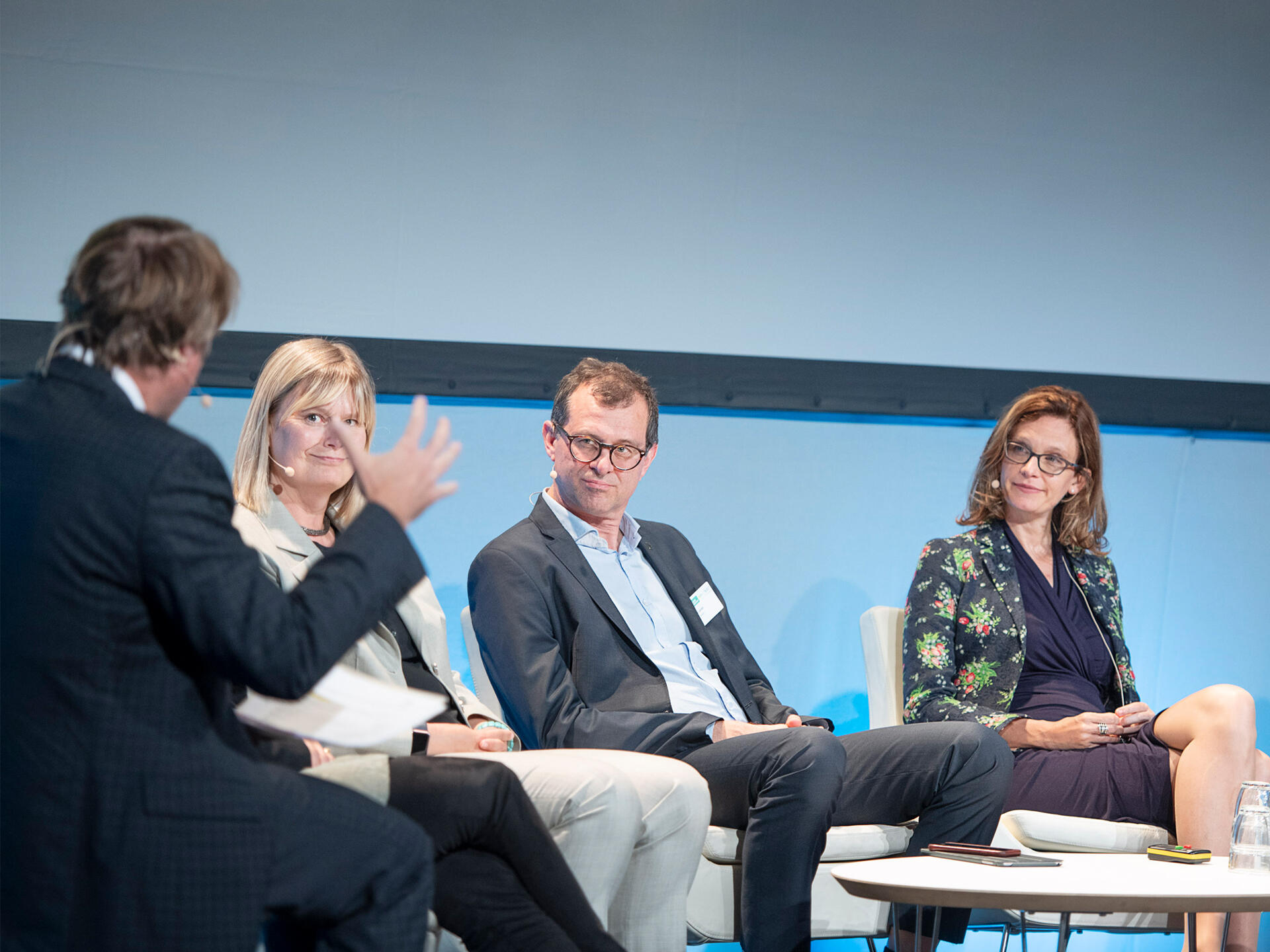 Our cities are a major contributor to our global CO2 emissions. According to the World Bank Group, approximately 70 percent of global greenhouse gas emissions are produced through infrastructure – anything from our power plants to our transportation systems. And this is not just from the day-to-day use of these facilities. Carbon is embodied in the entire construction life cycle. This includes the production of materials, the materials themselves, transport, construction all the way through to the full-scale operation and demolition of every piece of infrastructure. However, during the conference several real-life examples showed how reducing carbon also reduces cost.
Other speakers on the day also included industry heavyweights representing both the client's and the supply chain perspective from Anglian Water, Costain and Arup to the Swedish Transport Administration and Rijkwaterstaat in the Netherlands. Additionally, academics such as Professor Anna Kadefors of Royal Institute of Technology in Stockholm and Dr Matthew Brander of the University of Edinburgh Business School also addressed the summit.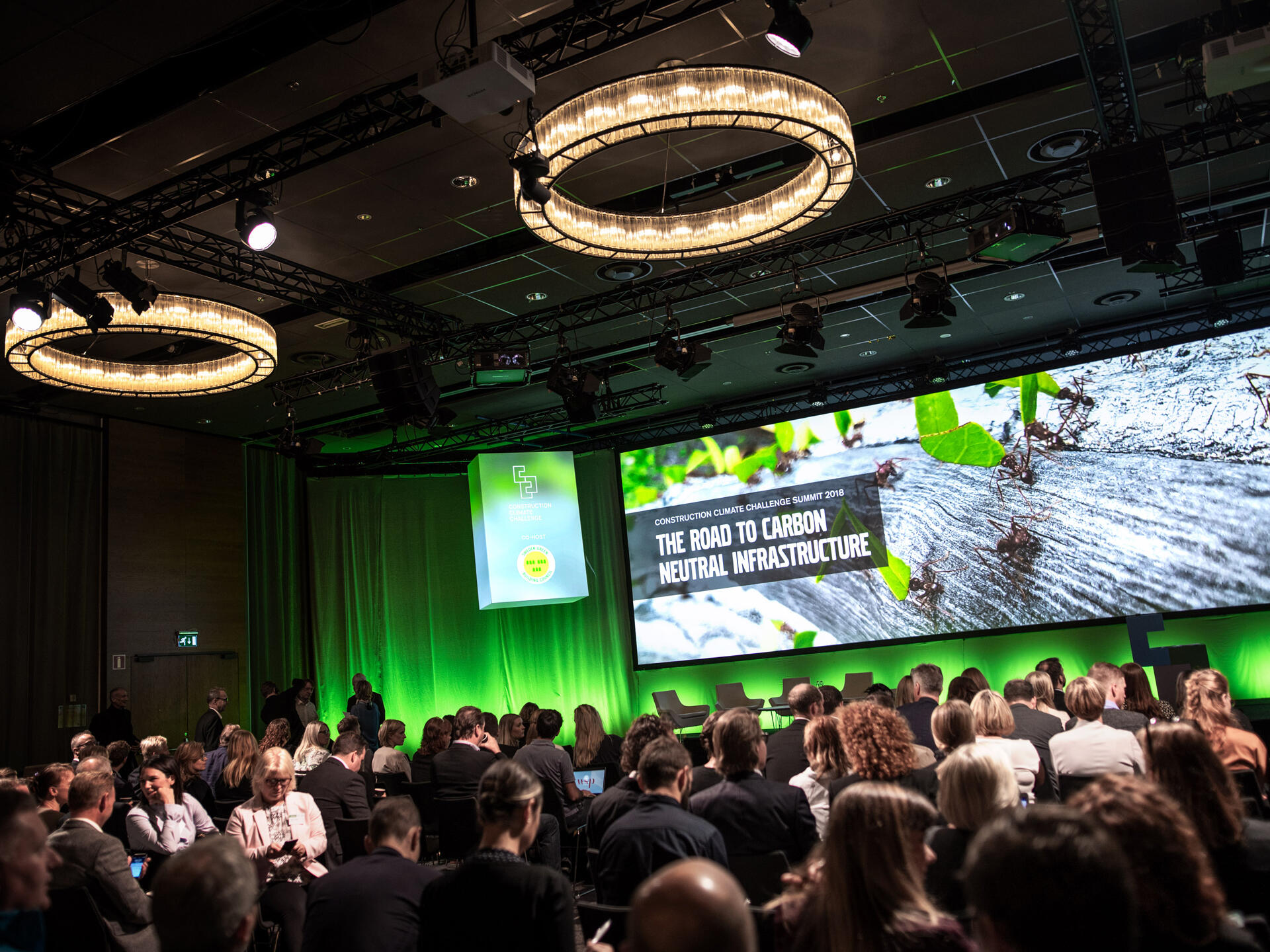 Collaboration across the supply chain was cited as one of the major drivers to achieving carbon neutral infrastructure.
Thomas Bitter, Senior Vice President of Marketing and Product Portfolio, at Volvo Construction Equipment, said: "We need to explore new ways of working if we are to take industry-wide action that tackles GHG emissions in infrastructure – not only for us but for future generations. This summit was a unique opportunity to come up with real solutions and not just words. Growing investment in infrastructure offers the chance to create a global framework for a more sustainable tomorrow."
Image 1: Dr Paul Toyne leads the panel discussion with (from left to right) Håkan Johansson, Swedish Transport Administration, Ingeborg Ligtenberg, Rijkswaterstaat, Ian Nicholson BRE and Rebecca Johansson, WSP
Image 2: Agneta Wannerström, Skanska Sweden
Image 3: (from left to right) Moderator Dr Paul Toyne, Christina Lindbäck, NCC Group, Mats Landén, WWF Sweden, and Terri Wills, WorldGBC
Image 4: Audience gathers for the CCC Summit