Volvo Construction Equipment (Volvo CE) unveiled the HX02, the latest development in the company's electric site solution, at CONEXPO/CON-AGG 2017. The prototype autonomous, battery-electric, load carrier is one element of an electric site research project that predicts up to a 95% reduction in carbon emissions and up to a 25% reduction in total cost of ownership. Volvo CE showcased the first-generation of the prototype HX machine, known as HX01, at the company's Xploration Forum in September last year. Since then, Volvo CE's engineers have been developing the machine. And while it may still look similar on the outside, it's completely different on the inside.

"The HX02 is fundamentally different to the HX01," says Uwe Müller, Volvo CE's chief project manager for the electric site project. "The HX01 was proof of concept. Once we knew it was feasible we updated the design requirements for the HX02 to incorporate shared technologies and components from the Volvo Group, such as electric motors, batteries and power electronics. Integrating a completely new drivetrain was crucial to take full advantage of the groundbreaking electromobility developments that are happening inside the Volvo Group. Another new feature is the addition of a vision system, which allows the machine to detect humans and obstacles in its vicinity."
A complete site solution
The electric site project aims to electrify a transport stage in a quarry – from excavation to primary crushing and transport to secondary crushing. It involves developing new machines, work methods and site management systems – together these things form a complete site solution. As well as a small fleet of HX02s, other prototype machines that make-up the electric site system includes a prototype electric hybrid wheel loader, and a grid-connected excavator. New technology encompasses machine and fleet control systems and logistic solutions for electric machines in quarries.

The LX01 is Volvo CE's prototype electric hybrid wheel loader – it was also unveiled at the Xploration Forum last year. The machine can deliver up to a 50% improvement in fuel efficiency, as well as significant reductions in emissions and noise pollution compared to its conventional counterparts. It is currently being field tested in the U.S. by Volvo CE's customer Waste Management – the largest environmental services and recycling company in North America. So far, feedback has been positive

The LX01 is a 'series hybrid' that incorporates a driveline that consists of electric drive motors mounted at the wheels, electric driven hydraulics, an energy storage system, a significantly smaller diesel engine and new machine architecture, including a new design of the lifting unit. It's this combination that enables the substantial gain in fuel efficiency. The prototype – which has 98% new parts and a fundamentally new machine design – can do the work of a wheel loader that's one size larger.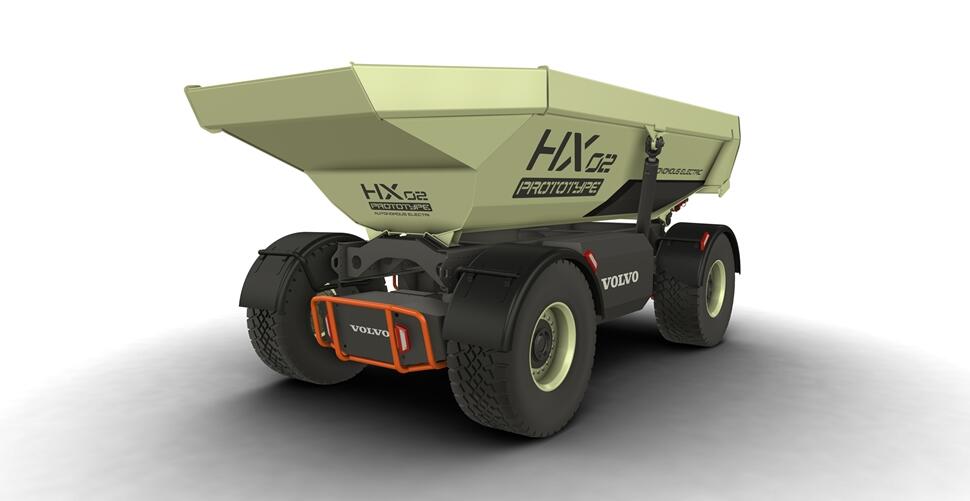 Collaborating for a sustainable future
Volvo CE teamed up with its customer Skanska Sweden, the Swedish Energy Agency and two Swedish universities – Linköping University and Mälardalen University – in October 2015 to collaborate on the SEK 203 million project. Volvo CE is coordinating the project and is in charge of developing the machines and systems. Skanska Sweden is providing logistical solutions, application relevance and job site knowledge. The Swedish Energy Agency – a government agency for national energy policy issues – is helping to fund the project and the universities are carrying out research. Two PhD students are looking at battery aging and energy management for electric vehicles, as well as functional safety.

Skanska Sweden will incorporate the demonstration machines into its operations and test the electric site concept at a quarry in western Sweden for 10 weeks at the end of 2018. After this, Volvo CE will examine the project results to see if the concept is viable for the industry. Currently this work is just a research project, with no plans for industrialization at this stage.

"Volvo CE is committed to pushing boundaries and exploring the technology of the future," says Jenny Elfsberg, director of emerging technologies at Volvo CE. "The HX02 and the electric site project demonstrate how Volvo CE wants to work with its customers early in the development phase to improve total site performance and sustainability, while also saving customers money. By integrating customers in the development process, we can design the best solution for a task, application and environment together. The concepts being developed in the electric site research project are part of Volvo CE's long-term future vision, and they have the potential to transform the quarry and aggregates industry. By using electricity instead of diesel to power construction equipment in a quarry, we have the potential to deliver significant reductions in fuel consumption, CO2 emissions, environmental impact and cost-per-tonne. The electrification of construction equipment will produce cleaner, quieter and more efficient machines – this represents the future of our industry."