Based on a proven design, the ECR35D and ECR40D short swing radius compact excavators are designed to work with power and precision in tight spaces. The more conventional EC35D, meanwhile, features similar architecture and delivers high levels of comfort, performances and versatility. Easy serviceability, versatility and greater efficiency all help the new models be more productive in a range of applications.
The new three and four tonne class Volvo excavators feature sturdy, spacious and comfortable cabs, which are FOPS, TOPS and ROPS enabled. The large door and three-point-access allows safe ingress and egress, particularly useful on these smaller machines where operators often need to get in and out of the cab regularly. Inside, the multi-adjustable seat and console are mounted on the same suspension and move in unison – providing shock and vibration absorption, reducing fatigue and aiding machine control regardless of ground condition. Both the conventional model and its short swing radius counterparts provide superior all-around visibility.
Small machines, big productivity
The EC35D combines a new D1.8A stage 3A Volvo engine with a hydraulic system that delivers high performance with smooth operation – allowing customers to do more for less in all applications. The intuitive fingertip controls allows ease of operation, enabling operators to enjoy the high digging and lifting forces, or operate powerful hydraulic attachments with ease.
Thanks to the short swing tail radius and positioning of the boom cylinder on the left below the cab, the new Volvo ECR35D and ECR40D excavators are ideal for tight working conditions and can be used on restricted jobsites, while reducing risk of damage to the machine and its surroundings. The swing post and cylinder stay within the tracks when in an offset position and the slew and offset movements are controlled simultaneously, for easy and fast positioning of the machine.
Operator interface tailors performance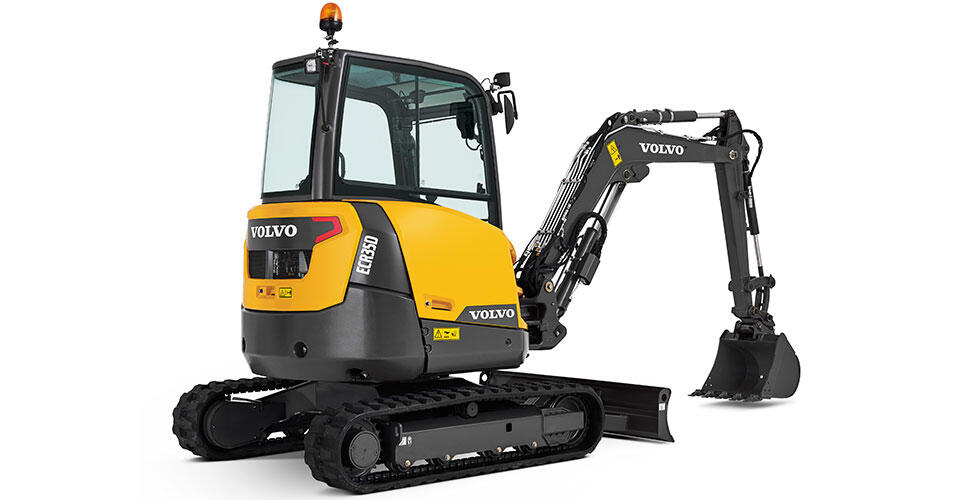 Each machine is available with an electronic system that enables operators to fine tune functions and settings through a keypad and monitor. Up to three profiles can be saved in the system, adjusting machine behavior to suit application/operator preferences. The system also includes:
Four attachment-specific buttons that allow for precise adjustment of hydraulic flows from inside the cab.
An ECO mode that reduces fuel consumption by up to 10%.
Two (user adjustable) pre-selected engine speeds, for applications such as grading or lifting.
An Auto idle system reduces noise disturbance and decreases fuel consumption.
The Auto Engine Shut-down cuts engine hours, maintenance costs and machine depreciation.
Service reminders.
For those preferring greater simplicity, the ECR35D, EC35D and ECR40D are also available in more traditional guise without this electronics package.
Whatever version is selected customers can rely on a long list of standard features that enables efficient daily operations. Equipped with good tractive force and effective blade design, the new excavators deliver high performance when dozing. The float function of the blade also enables precise finish in grading applications, while the automatic two-speed travel reduces repositioning time.
To reduce the risk of theft, an optional start prevention system is available. Up to three user codes can be entered through the keypad to start the machine. (The 4-digits codes are user selectable.)
Servicing made simple
To maximize uptime, these new compact excavators from Volvo CE are designed to provide a low total cost of ownership, thanks to a combination of a number of efficient features. Wide-opening hoods allow good access to the filling points and daily checks, while at the rear the fuel and hydraulic filler pipes are well protected. The hydraulic oil check and fill is made through a transparent bowl, which allows early detection of contamination and acts as a filter when the tank is topped up.
All filters are installed in-line for easy maintenance and service check points are accessible from ground level. Greasing intervals have been extended to 50 hours, minimizing daily maintenance.
Tools for the job
Volvo provides a comprehensive range of attachments and Customer Solutions to support these new machines. These include mechanical or hydraulic quick couplers, hydraulic thumb, breaker or ditching bucket – all ensuring flexibility and efficiency.