Equipped with a range of market related features designed for success in the Chinese construction sector, the new EC200D from Volvo CE delivers outstanding performance in a wide range of applications, shift after shift. This robust machine combines of optimal engine power and hydraulic pressure, to provide superior digging forces and fast cycle times, while minimizing fuel consumption and operating costs. The powerful Volvo engine works in harmony with the optimized hydraulic system that delivers a gross engine power of 123kW, as well as with the auto-idle function to deliver good fuel efficiency. This makes it an ideal choice for customers looking to get the most out of their machine. Furthermore, Volvo's intelligent ECO mode is designed to optimize flow and pressure while maintaining digging power and swing torque, contributing to the machine's overall improved fuel efficiency.
Not only a highly efficient machine, the Volvo EC200D also brings productivity to the fore – starting with operator comfort and control. The EC200D comes equipped with a spacious and safe operator environment that offers good all-around visibility, an adjustable seat and ergonomic controls. Visibility is improved further with the new I-ECU monitor that displays a range of information including fuel consumption details, service interval alerts and an Attachment Management System (AMS) for the most efficient operation. The ergonomically G4 work mode affords operators with the choice of the best mode to suit the task at hand, allowing for better versatility and increased productivity. All of these features combine to provide operators with one of the most productive environments in the industry.
Increased versatility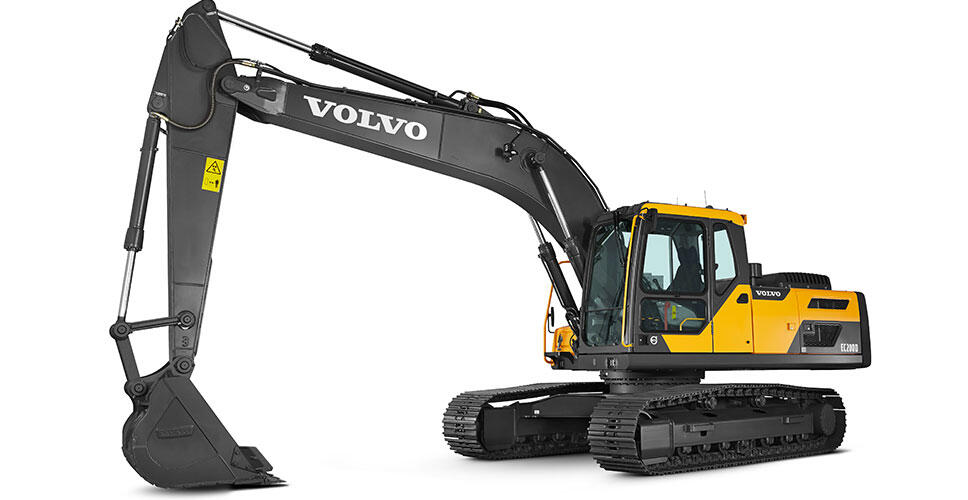 Beyond operator comfort, the EC200D's impressive productivity is achieved through excellent durability and simple service and maintenance requirements that promote a high uptime. The EC200D is compatible with a selection of high performance buckets that allow the machine to change applications with ease. This makes the EC200D the perfect choice for digging and re-handling soft to medium materials, thanks to Volvo's general purpose bucket. The exceptional design combined with high durability ensures optimum results every time with customers using the EC200D in a range of applications including general construction and road building. Furthermore, the hydraulic flow settings can be saved from the monitor inside the cab, providing storage for up to 20 different attachments. The robust auxiliary lines ensure the correct flow and pressure for special, hydraulic attachments.
Built for all-round performance
The Volvo EC200D engine delivers high torque at low engine speeds for the ultimate combination of performance and fuel efficiency. Delivering superior operator comfort, the EC200D features increased hydraulic flow for responsive, accurate control in grading and combined operations. Additionally, the new Volvo excavator is compatible with a selection of general-purpose buckets, allowing the operator to adapt to a wide range of applications with ease.
With the Volvo EC200D, the operator is equipped to deliver smooth and consistent results, whatever the job or task.