At the Nuremberg Toy Fair in Germany, held January 29 to February 3, 2014, global toy giant LEGO Group unveiled the latest flagship model in its LEGO® Technic line: a Volvo L350F wheel loader.

The remote-controlled model, consisting of over 1,600 individual pieces, is the result of eight months collaboration between the LEGO Technic team and Volvo Construction Equipment. As if that weren't good enough, the model is more than the sum of its parts – being able to be reconfigured into an equally impressive A25F articulated hauler, as an additional challenge.

"We wanted to cooperate with a premium toy manufacturer, just as we are a premium player in the construction equipment sector," says Mats Bredborg, global director of brand management at Volvo CE. "Volvo CE and the LEGO Group together create a perfect match, both culturally and in what we try to achieve in our products."

LEGO Technic is a 37-year-old sub-brand of the LEGO Group, popular for its innovative and technically-advanced models. In contrast to the main LEGO lines, the bricks are supplemented with a wide variety of interconnecting plastic rods and parts, including gears, axles, pins and beams, to create complex movable elements. The models aim to replicate both the form and function of their real-life counterparts as closely as possible.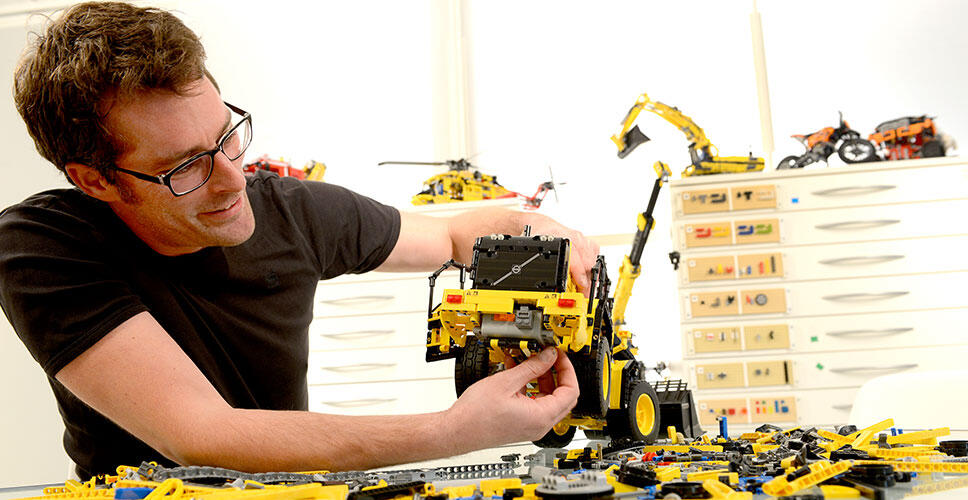 In order to capture a true likeness of the L350F wheel loader, the LEGO Technic designers studied the Volvo machines in great detail, taking the time to visit a construction site and have a go at operating them.

"The Volvo team readily offered helpful suggestions and gave us greater insight into how the real machines are built and operated. Both parties are perfectionists who are keen to get it right," says LEGO Technic design manager, Jeppe Juul Jensen.

The result, which arrives in shops in August, is a highly sophisticated model that drives, steers, lifts and loads, even over difficult terrain. In addition, the filters can be removed, the radiator swings out, the pistons move and even the engine is painted green – just like a real Volvo L350F.
Mini marvel
The robust model's loader arm can lift more than 1kg – and the bucket is the largest individual element ever created by LEGO Technic.

"We are extremely happy with the outcome, both from a functional and design point of view. LEGO Technic has captured the profile, expression and power of the machines in an incredible way, as well as including lots of cool features like a heavy lift boom and high dump height. The LEGO Group also shares our core value of safety, and these machines have been thoroughly tested," says Mats Bredborg.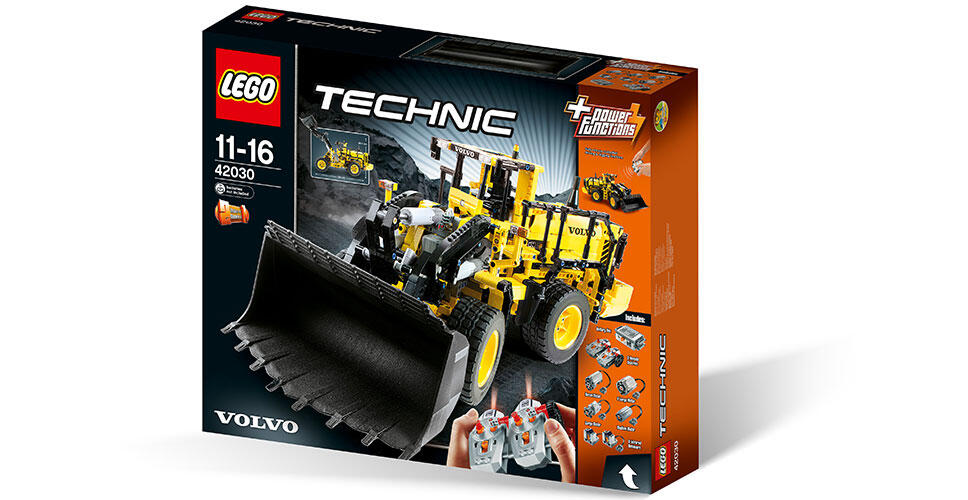 The LEGO Technic Volvo L350F wheel loader is aimed primarily at children between the ages of 11 and 16 but will most likely also appeal to adults. In fact the LEGO Technic line already attracts a wide adult fan base, with a loyal following among those who appreciate the complexity and ingenuity of the designs. It was just such an appreciation that helped trigger the L350F cooperation in the first place. After a joint Volvo/LEGO project, in which LEGO Technic elements had been used to create a production line concept demonstrator at Volvo, a friendship struck up between Volvo engineer Johan Sahlström and LEGO engineer Anders Gaasedal Christensen. Thanks to their prompting, the idea of cooperating on an actual Volvo model was born, and the first L350F will roll out of the factory in Billund, Denmark in August this year.


"Like Volvo CE, our reputation has been built on yellow machines – and the Volvo L350F carries on that tradition in style, pushing the boundaries of creativity and functionality even further," Niels Henrik Horsted, head of marketing for LEGO Technic, concludes. "Not only will the L350F/A25F be our star machine for 2014 – it may even be our best seller ever."