Volvo Construction Equipment has significantly updated its EW wheeled excavator range with the launch of its new D-Series. These rugged, quality machines are highly mobile, productive and flexible – both on-road and off.
Trench digging, concrete breaking, grading, craning, hole boring – the wheeled excavator is one of the most adaptable tool carriers in construction equipment, with the additional benefit of being able to move independently between job sites at speeds of up to 35 km/hr (22 mph). It gets the job done fast – whatever it is – with no fuss. But being a 'jack of all trades' has not meant that the EW wheeled excavators are masters at none; far from it, they are renowned for their strength, balance, comfort and reliability.
The new four model range consists of the EW140D, EW160D, EW180D and EW 210D, and range in weight from 14 tonnes to 21 tonnes. The improvements in these multi-purpose, flexible, fuel efficient and comfortable models' can be found in almost every significant element of the machine: new engine, cab, hydraulics, substructure, boom/arm, controls, servicing and environmental impact. That said, the most exciting changes relate to the engine and the operator environment.
A powerful combination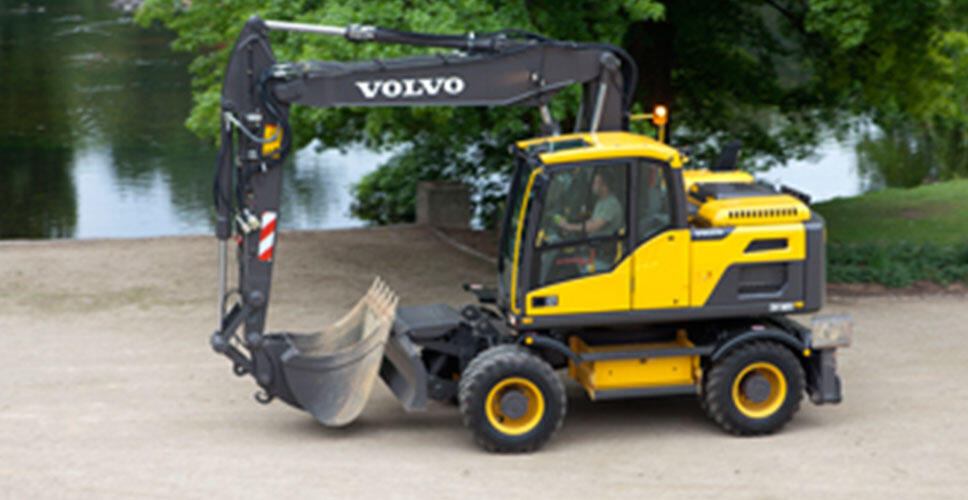 The D-Series offers more powerful Stage IIIB/Stage 4i compliant Volvo engines, delivering lower emissions and exemplary fuel efficiency. Featuring Volvo's acclaimed V-ACT technology, these four cylinder (on EW140D) and six cylinder units produce high torque at low engine speeds. This combination gives more power and low fuel consumption, meeting the needs of both efficiency and environmental care. These engines work in fuel efficient harmony with intelligent, advanced hydraulics and well matched components. Fuel efficiency is further enhanced by the introduction of Eco mode, which has been added to the choice of work modes available. Engines are also fitted with a fuel saving automatic idling and shut down system. The idling system reducing the engine speed if the controls are inactive for a preset period (between 3-20 seconds), or shutting the engine off, again if inactive for a preset period.
The EW range is available with a mono boom, a two piece boom, a mono boom offset, and a two piece offset boom providing flexibility and versatility in coping with a wide range of applications. Increased break out and digging forces are thanks to increased hydraulic pressure, optimized hydraulic cylinders and arm/boom geometry. An optional tilt rotator acts as a wrist between the arm and bucket, combining a 360o rotary motion with 40o tilt action – ensuring further flexibility.
A high torque swing motor means faster cycle times when working on slopes or placing loads. A strong undercarriage, meanwhile, firmly anchors the machine for digging, lifting and precision operations. Robust dozer blade and wide gauge outriggers allow the EW to lift, load or grade as required. To improve machine stability the new D-Series features optional increased counterweights over the C-Series models they replace.
See more. Do more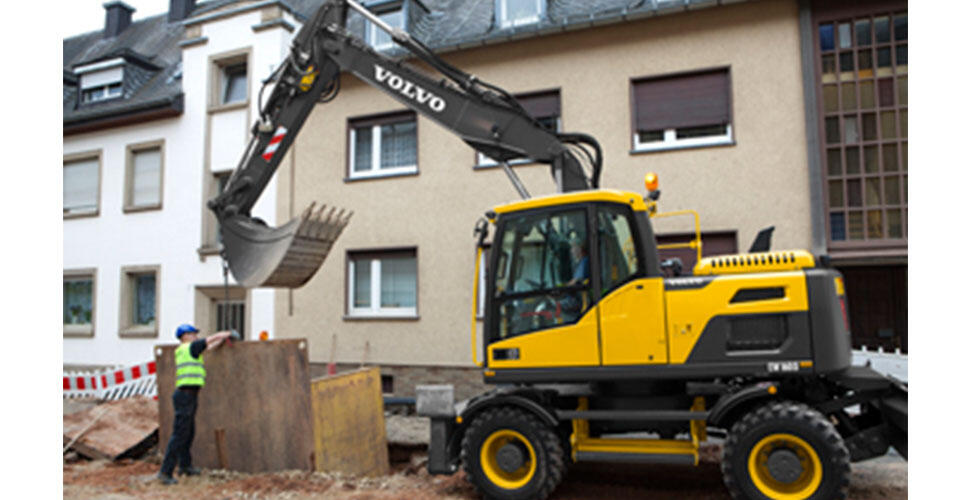 The new D-Series is fitted as standard with a rear view camera, displayed via a high quality I-ECU color monitor in the cab. An optional side view camera is also available for additional safety. These are just two features of the spacious new ROPS-certified safety cab fitted to these new machines, offering excellent all round visibility as well as ergonomic and easy-to-use controls. Digging, lifting or craning, the operator has the cleanest line of sight for safe, confident maneuvering. The windshield wiper cleans a wider area – including both upper corners.

With ample room for big site boots to work without obstruction and plenty of storage space, the cab increases convenience and comfort, while reducing operator fatigue. The cab features automatic climate control, which is fitted as standard, and delivers cool (or warm) filtered air through its 14 vents for increased comfort. Operator convenience is increased further thanks to a slim, adjustable and unobtrusive steering column and a clear, bright and easy-to-read I-ECU display, the latter delivering important diagnostic and machine performance information. Multi-adjustable seat, pedals and joystick offer the perfect operating position. The enhanced suspension system reduces operator fatigue and whole body vibration. In-cab noise levels are also reduced thanks to the low revving engine and to the pressurized insulated cab itself.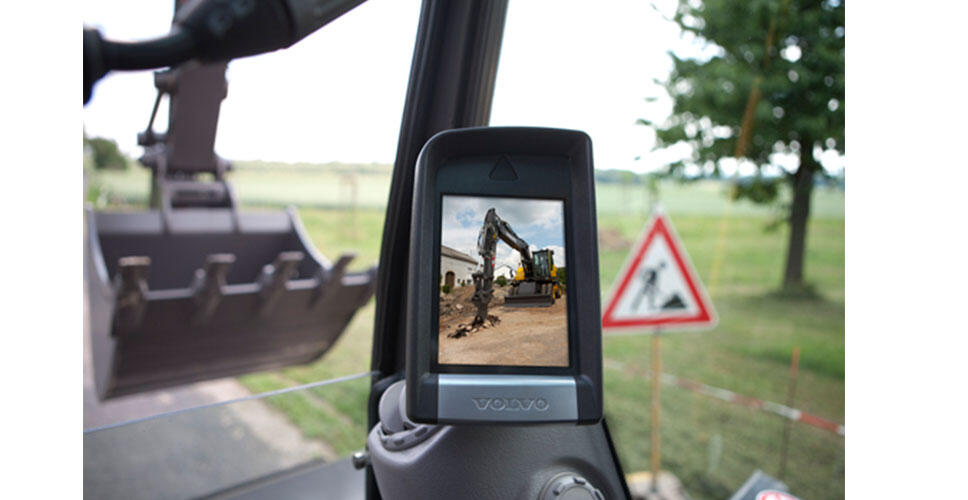 Outside the cab the attention to detail – and safety – continues. LED lights on the rear counterweight are bright and fast acting, as well as having a longer service life. All steps and platforms feature punched steel plates for superior grip, even in wet or icy conditions.
Productivity is also enhanced with the operator able to infinitely adjust, without leaving his seat, flow and pressure to suit the particular tool fitted. Easy, safe, tool changing is also possible; the EW range can work with three types of quick fit (S-1, S-6 or Universal). Morning inspections of engine oil, coolant, hydraulic oil and filters can be done via the easy to read, in-cab control monitor, and the standard-fit CareTrack GPS system conducts a self-diagnostic routine, alerting the operator – or the fleet manager back at the office – should a fault be detected. CareTrack also offers a range of other important information – from fuel consumption to when the next service is due.
Maintaining standards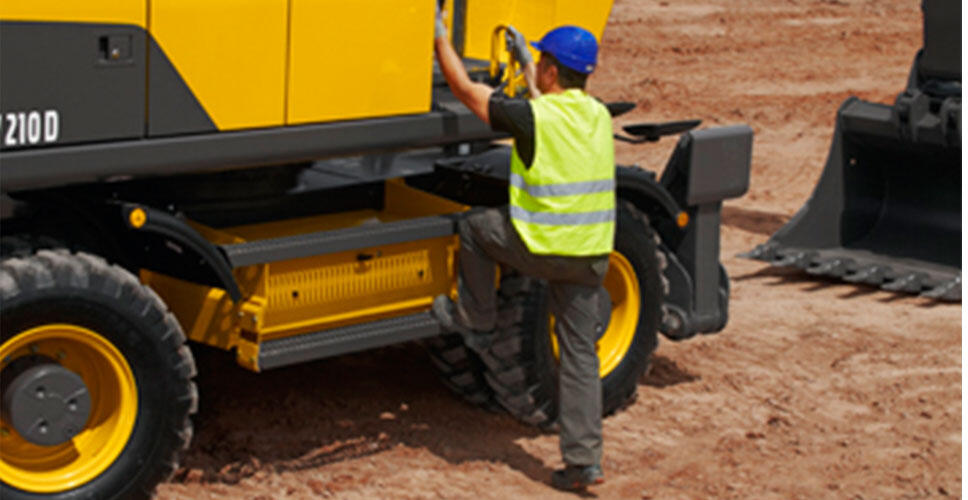 Serviceability is built into the new EW range from Volvo. Grouped, ground level access via large wide-opening doors makes inspection and service convenient, straightforward and safer. Centralized lubrication points, accessible radiators and long service intervals reduce downtime. An optional auto greasing system will also supply the correct amount of lubricant to all greasing points on a timed basis.
Offering mobility, ease of use, comfort, safety and adaptability, the D-series of EW wheeled excavators from Volvo CE offers more and less: more tools, more tasks, more comfort and more control – using less fuel and less time.


EW140D

Specifications

Engine

Volvo D5H

Max. power at 2,000 r/min,
ISO 14396 gross

105 kW (141 hp)

Bucket capacity

0.56-0,87 m3

Maximum digging reach

9.27 m

Maximum digging depth

5.71 m

Operating weight

14.4-15.8 t
| | |
| --- | --- |
| EW160D | Specifications |
| Engine | Volvo D6H |
| Max. power at 1,900 r/min, ISO 14396 gross | 115 kW (154 hp) |
| Bucket capacity | 0.60-0.93 m3 |
| | |
| Maximum digging reach | 9.8 m |
| Maximum digging depth | 6.2 m |
| | |
| Operating weight | 16.2-18.2 t |
| | |
| --- | --- |
| EW180D | Specifications |
| Engine | Volvo D6H |
| Max. power at 2,000 r/min, ISO 14396 gross | 129 kW (173 hp) |
| Bucket capacity | 0.70-1.03 m3 |
| | |
| Maximum digging reach | 9,84 m |
| Maximum digging depth | 6,31 m |
| | |
| Operating weight | 18.0-20.1 t |
| | |
| --- | --- |
| EW210D | Specifications |
| Engine | Volvo D6H |
| Max. power at 2,000 r/min, ISO 14396 gross | 129 kW (173 hp) |
| Bucket capacity | 0.70-1.1 m3 ( |
| | |
| Maximum digging reach | 10 m |
| Maximum digging depth | 6,6 m |
| | |
| Operating weight | 19.9-22.2 t |