When Volvo Construction Equipment (Volvo CE) began delivering its first fully electric compact machines in North America last year, no one could have predicted the wide variety of work these excavators and wheel loaders would do or the overwhelmingly positive response they would receive.
Now that machines have been in the North American market for several months, Volvo CE is sharing several key learnings from early customers.
"Our first year getting electric equipment out into the market has gone well, and we look forward to that continuing to grow in 2023 and beyond," said Stephen Roy, president, Region North America at Volvo CE. "The input we've received from these first users will be vital as we develop more electric machines."
Key Learnings So Far
The introduction of Volvo CE electric machines in North America confirmed the environmental and performance benefits that had been seen in earlier pilot projects both here and in the European markets. Key learnings include the following:
1. The zero emissions and lower noise are proving to be difference-makers for customers. As a growing number of jobs require more environmentally friendly equipment, Volvo CE electric machines allow companies to bid on jobs they may not have been able to take on before. The significantly lower noise levels improve jobsite communication and safety while also allowing owners to work in places or at times they normally could not.
2. Electric equipment costs more than diesel, but customers say the reduced maintenance and elimination of fuel help lower the total cost of ownership. Some have also been able to take advantage of government incentives to lower their purchase price.
3. The performance of Volvo CE electric wheel loaders and excavators has matched that of their diesel counterparts. Customers report being able to dig, lift and move material with the same power and efficiency they're used to with diesel machines.
4. Many applications don't require eight straight hours of machine operation, so the four to six hours Volvo machines can run on a full charge allows customers to get in a normal day's work in many instances. Charging and run times will continue to be areas of focus for Volvo, with a goal of speeding up charging and increasing the run time.
5. These electric compact machines are beneficial for a wide variety of applications because of their size, versatility, maneuverability, quietness and fume-free operation.
As a new year begins, here's a sampling of projects where Volvo electric machines made their mark in 2022 — and where they're heading next.
Setting Sustainability in Stone
In November, Cleary Stone in Vermont became the first to receive a Volvo CE electric compact wheel loader, the L20 Electric. As a stone company that works primarily with landscapers, they knew the environmental impact was worth the switch.
"It felt like a no-brainer because we see the industry moving that direction and want to be on the
forefront of that," said founder and part owner John Cleary.
They appreciate the loader's maneuverability and versatility because they utilize an array of attachments throughout a shift. An overnight charge is typically more than enough to get them through the day, with the occasional lunchtime charge providing a boost. The team is excited about how much less time and money they will spend refueling.
Cleary's dealer rep also helped them navigate a rebate with their electric company, subsidizing the purchase price based on the amount of power they'll use. As more cities and states, along with the federal government, set stricter emissions regulations, incentives like this will continue to help companies harness the power of electric heavy equipment.
Bringing Noise Levels Down
One of the applications Volvo specifically had in mind when starting the electrification journey with compact equipment was indoor demolition, and D'Amato Construction in Connecticut was on the same page. The company specializes in interior dismantling, trenching and other specialty work.
"The facilities we work in require both day and night work," said Joe D'Amato, superintendent. "Off hours cost the customer more, and downtime at night is harder because suppliers and technicians are unavailable, so the ability to do more day work with quiet, fume-free electric machines makes it cheaper and faster for our customers."
D'Amato said their team has not had any issues with battery life on their ECR25 Electric compact excavator, and they look forward to larger models becoming available.
Preparing for the Future
After legislation directed them to switch their vehicles from carbon-based fuel to more efficient or alternative fuels, the Vermont Agency of Transportation determined that it wasn't only their light-duty and passenger vehicles that should make the move.
Late in 2022, they purchased an ECR25 Electric compact excavator and immediately started using it on multiple projects.
"This technology is changing rapidly and many of our employees are unfamiliar with it, so giving them the opportunity to try it on a smaller scale helps us ease into the conversion," said Todd Law, deputy division director, District Maintenance and Fleet Division.
"Feedback has been very positive, and our plan is to purchase another one in the next few months and share them among the 50-plus garages across our agency."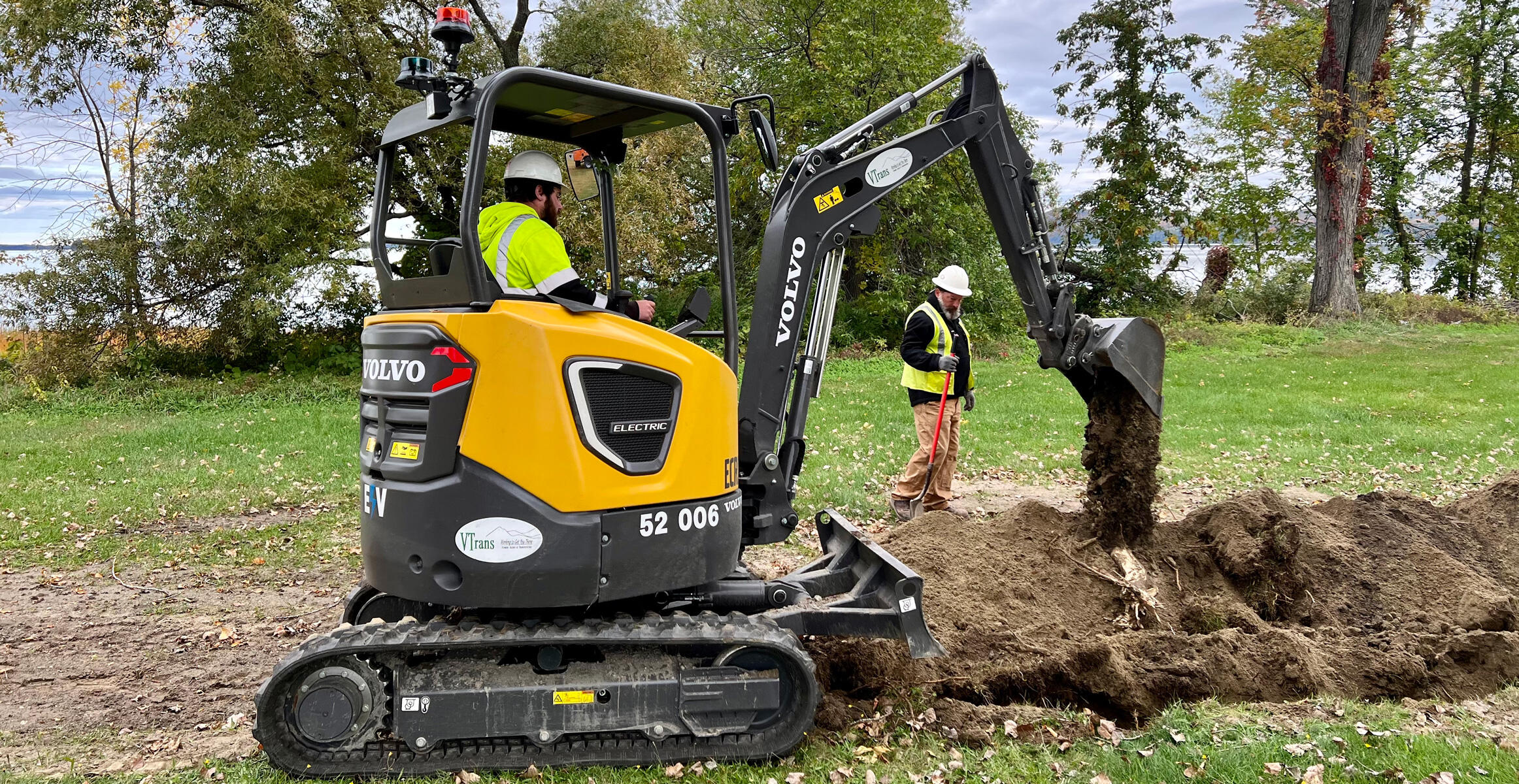 Putting Nature First
One of the most notable early learnings has been the use of electric machines in a variety of segments outside of construction. In fact, in July, Walden Hill farm in Massachusetts became the first North American customer to receive a Volvo electric machine: an ECR25 Electric compact excavator. The owners' focus on nature and sustainability in their farming and forestry practices made the machine a great fit.
"Minimizing our carbon footprint is critical, so we try to do that with every decision we make," said Jennifer Milikowsky, who co-owns and operates the business with her husband. "The thought of buying a diesel machine in 2022 that we would use for a decade or more was too hard to accept."
They use the ECR25 Electric for a variety of tasks, including adding culverts to forest trails, site prepping for a sugar house where they process maple syrup, and gathering acorns to feed pigs. Milikowsky said the diminished noise and exhaust around plants and animals has been a rewarding change for them.
Additional Volvo electric machines have been tested and/or purchased by a zoo to feed buffalo, an independent rental house, a city installing EV charging stations, multiple nursery/landscaping operations, a federal nature reserve expanding their trail system, and others.
The Electrified Future Is Bright
Beyond the compact electric machines already in use (and with more in development), Volvo CE is also working to electrify a mid-sized excavator, the EC230, which will be in the Volvo booth at CONEXPO-CON/AGG in March. Additional equipment categories will come online soon, with the DD25 Electric compactor, introduced on Wednesday, leading the charge.
"While we received mostly positive feedback last year, we also learned of improvements we can make in future models," said Dr. Ray Gallant, vice president, Product Management and Productivity, Region Americas at Volvo CE. "We also know that as charging technology and infrastructure continue to improve, the electric construction equipment market will grow. It's a very exciting time."
Volvo CE has five electric machines available, and potential buyers can configure their ideal machine and get a price estimate by clicking the "Build & Quote" button above each product listing on the website. Volvo and its network of dealerships can also help buyers find financial incentives for electric equipment.
Several of Volvo's electric machines will be on display and available for test drives at CONEXPO in Las Vegas, March 14–18, in booth F8926. Those unable to attend in person can participate online during the "Volvo at CONEXPO LIVE" virtual event March 14–17.