More than half a century after they invented the concept, Volvo Construction Equipment recently celebrated the production of the 75,000th articulated hauler. Having produced more than half of the articulated trucks ever made, a staggering 50,000 Volvo articulated trucks are still in regular use around the world.

The 75,000th articulated hauler – one of the new generation A45G full suspension articulated trucks – rolled off the production line in late June at the factory where the first hauler – the DDR631 or 'Gravel Charlie' – was made, in Braås, Sweden. And although Volvo articulated trucks can be found all over the world, the 75,000th hauler is staying relatively local, going to Norwegian customer Leonhard Nilsen & Sønner AS.

In typically Swedish style, the landmark 75,000 articulated hauler was marked modestly – with factory workers celebrating the achievement with ice cream. Then it was back to work, to meet the demand that is seeing Volvo take a bigger lick of the articulated truck market.
Unrelenting development
It's no surprise to see why Volvo CE has made more articulated trucks than all other competitors put together. Over the last 51 years, the models have increased in size and sophistication. The first 15 tonne capacity machine built in 1966 can fit into the haul body of the A60H – Volvo's flagship 55 tonne articulated truck.

More than half a decade of experience is built into every Volvo hauler. A high hitch gives better stability and ground clearance, hydro-mechanical steering offers high speed stability, while 100% dog clutches and automatic switching between 6X4 and 6X6 drive not only powers through any conditions, but does so with minimal wear and maximum fuel efficiency.
Heritage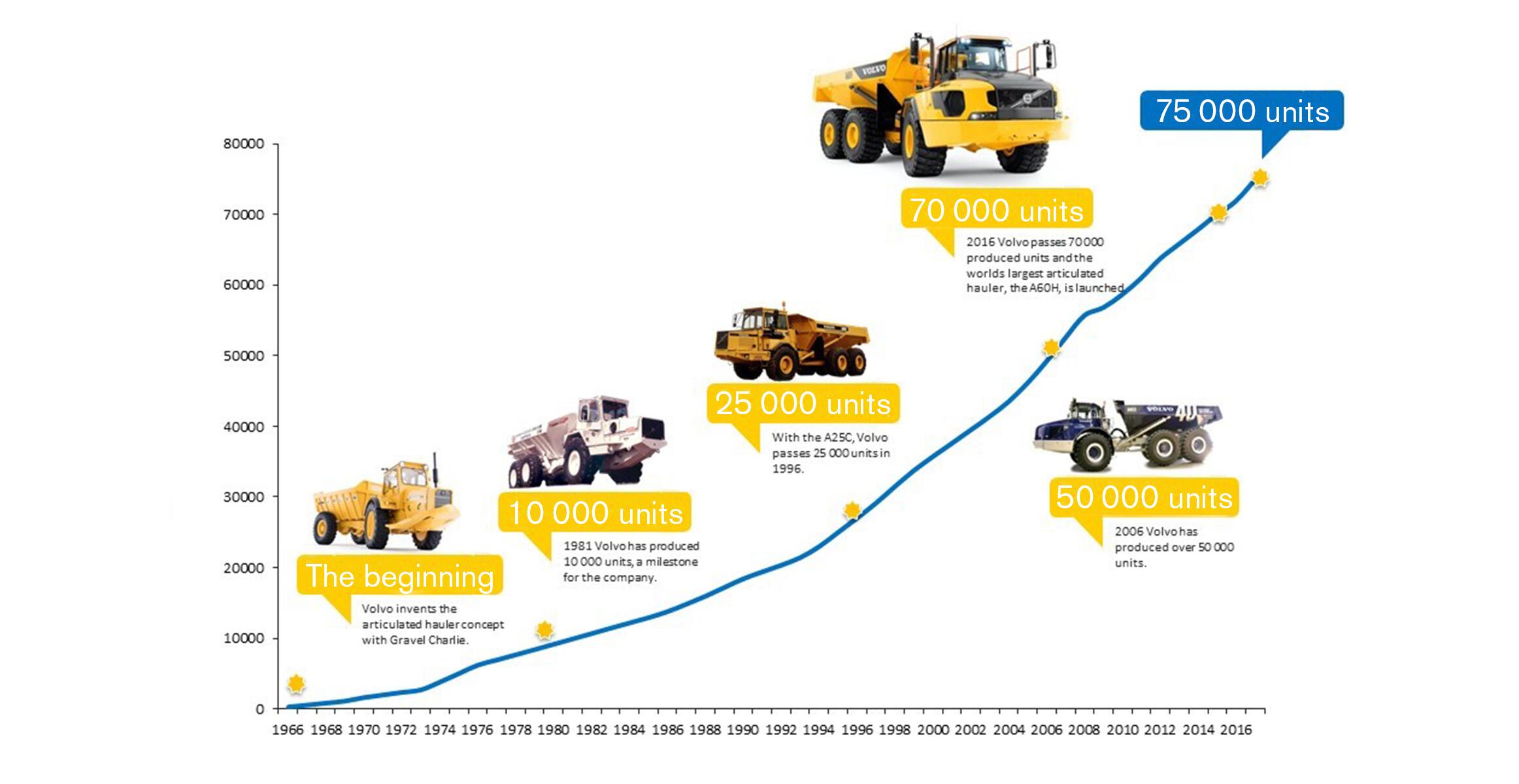 "There's no question that we have the best product, says Esbjörn Fritzell, Vice President of Volvo CE' Trucks business platform. "The fact that so many of our haulers are still working around the world is a testament to their usefulness and durability – it's almost impossible to kill a Volvo articulated hauler!"
Don't stop me now…
While it took a while for the world to fully appreciate the benefits of articulated trucks, the machines are now in demand as never before, finding work as production machines in mines and on all types of infrastructure projects. This is driving the trend for larger machines – such as the newly introduced 41 tonne class size of the 75,000th machine, the Volvo A45G. Volvo CE's A60H is the largest on the market, and can deliver 40% higher production than Volvo's previous largest machine – the A40G – with hardly any increase in the ongoing cost of ownership.

"There's not many companies can say that they are still the market leaders half a century after they invented a concept," says Håkan Ask, business platform leader for Trucks at Volvo CE. "Having made 75,000 machines we are still showing the way, building more productive and fuel-efficient machines that are the envy of the industry."