Equipped with the latest Volvo D13J Tier 4 Final engine, the Volvo PL4809E pipelayer delivers lifting capacity that outperforms the largest traditional side booms in its size class.

With a maximum 242,000 lbs
(110 metric ton) tipping capacity, heavy-duty tasks such as loading and offloading, tie-ins, and feeding pipe-bending machines are performed efficiently and swiftly. The pipelayer's design provides unshakable stability and smooth hydraulics to work safely across rugged terrain and on slopes of up to 35 degrees — beneficial for lowering-in applications.

"The PL4809E is not only the most efficient and productive pipelayer introduced by Volvo to date, but it offers a number of unique advantages over traditional sideboom pipelayers, including additional versatility," says John Duff, product manager, oil and gas pipeline construction at Volvo Construction Equipment.

Through an impressive 360-degree swing capacity, the operator can safely rotate the superstructure to lift and place large, heavy pipes anywhere around the pipelayer with ease. The unique platform reduces positioning time when laying pipe, thereby boosting productivity.

Two machines in one
In as little as 4.5 hours, the PL4809E pipelayer can be converted into a standard excavator by switching the pipelayer boom for an excavator alternative included in the optional digging kit. By offering the benefits of two machines in one, customers get the most out of their investment. Hydraulics matched for both pipelaying and digging applications result in no loss of power in either configuration. Unlike traditional sideboom-dozer-type pipelayers, Volvo's PL4809E can easily be transported between or around job sites on a trailer or lowboy without having to disassemble the boom or counterweight.

Pre-prepared booms allow for quick and easy installation of an optional boom extension. This extension provides the same lifting capacity but with more versatility for improved reach and hook height. It is ideal for pipe unloading, stacking and tie-ins. A durable boom pad protection along the boom structure helps avoid machine damage when pipes are touching the boom. Pads added on right-hand side of the boom and an anchor point on the adaptor offer further protection.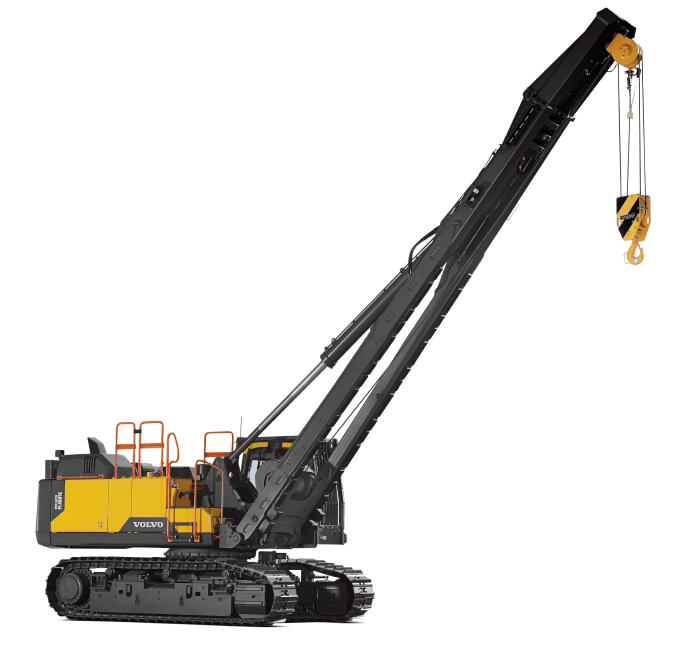 Commanding workplace
The hydraulically elevated, ROPS-certified cab provides a commanding view of the jobsite and trench. From the adjustable seat, the operator is in total control of comfort in the spacious, noise- and climate-controlled environment.

Featuring the Load Management System (LMS), operators are able to manage and monitor loads and receive alerts when the limit is reached through visible and audible warning signals. Operators are able to see what they can safely pick up relative to the slope, as displayed on an impressive 7-inch color monitor. The LMS light bar has three different colors of lights on either side of the boom to indicate the pipelayer's load status to other operators and the lowering-in foreman. An anti-two-block system also includes a sensor to prevent winch blocks from coming into contact during lifting, resulting in increased safety.

Side and rear view cameras show the hidden area behind the machine, increase visibility on the right-hand side and reduce blind spots. A cab-mounted, right-hand wiper system is also fitted, ensuring visibility and safety during lowering-in tasks.

Ease of maintenance
To track machine location, and remotely monitor machine health and performance, the PL4809E pipelayer can be fitted with Volvo's telematics system, CareTrack, helping the fleet manager better plan service intervals, avoid unscheduled downtime and improve operator training.

Maintenance and service checks are quick and easy thanks to the PL4809E's grouped greasing points and filters accessible from ground level. Handrails, guardrails and anti-slip plates provide superior grip for unrivaled safety during service.

Dealer support
Along with advanced telematics, Volvo offers customizable support agreements (CSAs) from their North American dealer network. Creating strong relationships between a dealer and customer, CSAs are tailored to a customer's needs and beneficial to their profitability and productivity, enabling full optimization of the fleet.


| | |
| --- | --- |
| Model | PL4809E |
| Engine | Volvo D13J Tier 4 Final |
| Operating weight | 129,000 – 142,500 lb (58,600 – 64,600 kg) |
| Engine gross power | 372 hp (278 kW) |
| . . . at engine speed | 1800 r/min |
| Max. tipping capacity | 242,000 lb (110 t) |
| Rated capacity | 110,231 lb (50 t) |
| Std. boom length | 30'2" ft in (9,2 m) |
| Extended boom length | 36'9" ft in (11,2 m) |
| Max. working slope | 35° |