On Wednesday, April 6, approximately 25 students from the automotive program at Broughton High School and the Diesel Tech program at Wilkes Community College visited ASC Construction Equipment USA LLC in Raleigh, North Carolina, to learn more about how they could be a solution to what has become a near-crisis skills gap in North America.
The event is part of an ongoing partnership between Volvo Construction Equipment North America, Volvo dealerships, SkillsUSA and Skills Canada — organizations dedicated to improving the quality of North America's skilled workforce — to bring attention to the skills gap issue in the construction industry.
A Golden Opportunity to Close the Gap
Leveraging the 50th anniversary of its invention of the articulated hauler, Volvo is traveling throughout North America with a golden-painted articulated hauler, stopping at dealerships and welcoming in local chapters of SkillsUSA and Skills Canada students to learn more about what the construction industry has to offer.
"By 2020, we expect there to be a 10 million-person shortage in our skilled workforce," said Peyton Holland, Executive Director for SkillsUSA North Carolina at the event. "That's what makes this partnership with Volvo Construction Equipment so tremendous — students get to meet real people, learn about real careers, and hear real stories about how people developed their own career paths."
Growing awareness about the issue and helping bridge the gap between students, training and professional opportunities is an imperative for construction equipment dealerships like ASC. According to an Associated Equipment Distributors report released this year, the economy is losing out on $2.4 billion every year as a result of dealers' inability to find and retain skilled workers.
"These students have chosen to study a trade, and I commend them for that," said James Crane, ASC regional branch manager. "The more they continue to learn, the more opportunities will open up for them. The education they're pursuing now is setting the pace for the future."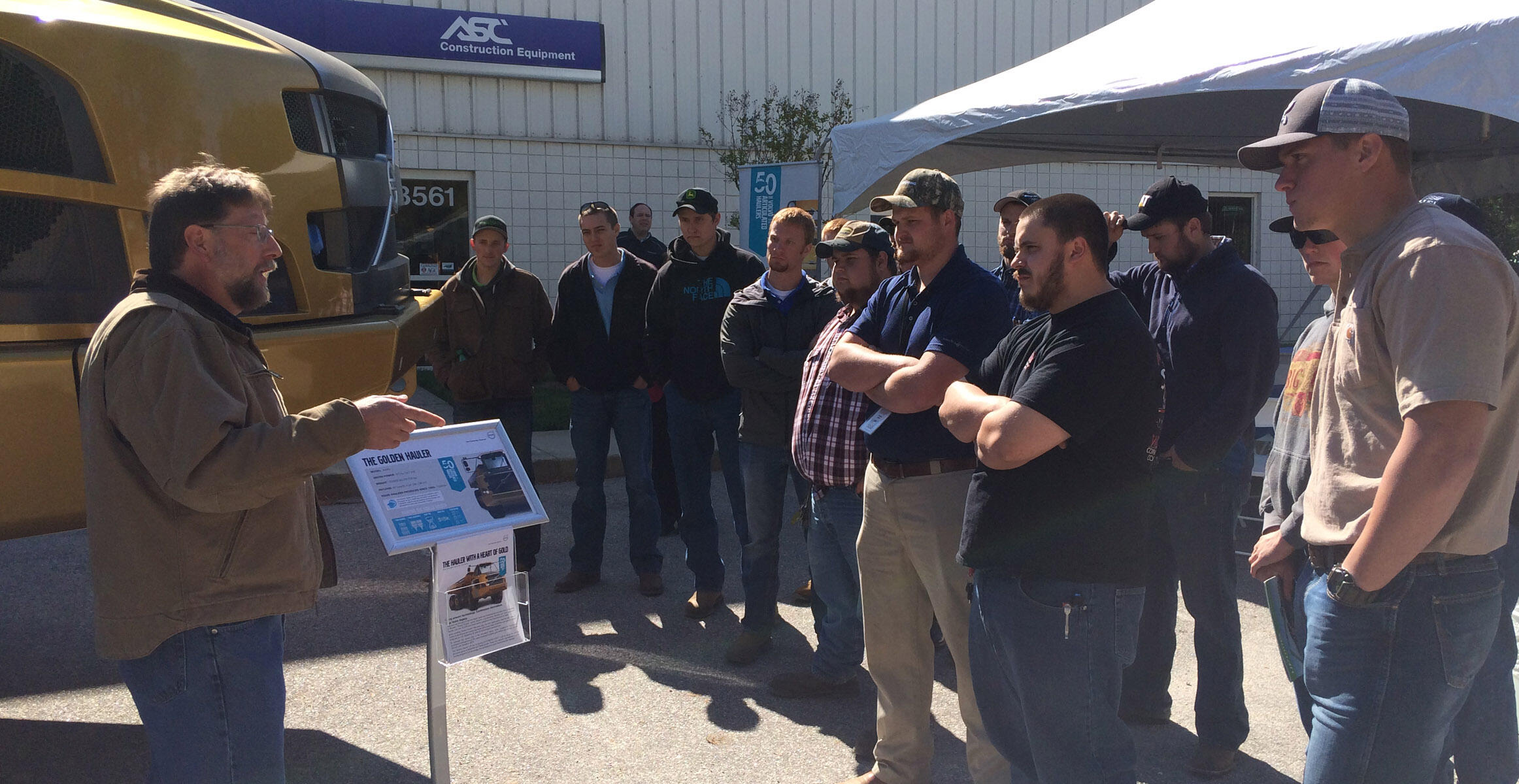 A New Era for the Trades
The event included a tour of the workshop where students had the opportunity to gain insight regarding the important role technicians play in keeping equipment up and running so that contractors can keep infrastructure and new building jobsites moving. It also included a tour of the telematics bay. Telematics is a newer area of the construction industry — offering remote monitoring of machines, predictive maintenance, and more — giving students who are moving into the trades an opportunity that didn't exist just 10 years ago.
"The best part of this event was the one-on-one interaction we were able to have with the employees," John Martin, a Broughton student said. "We were able to hear about their experiences first hand, on a more personal level, and really understand what drives them to do what they do."
One of the advantages of this ongoing partnership is the awareness that the program continues to bring to teachers about construction industry opportunities — perhaps the strongest conduit to helping students understand the breadth of opportunity available to them in the industry.
"I didn't realize how technically advanced off-road equipment is," said Ron Morris, automotive teacher at Broughton. "All of the computerized engine control is very much like what we teach in the automotive program. It was very beneficial for me and the students to see how what we're studying translates into heavy equipment."

An Auction to Benefit SkillsUSA and Skills Canada
Volvo Construction Equipment and its golden-painted articulated hauler will continue to travel throughout North America in 2016. The hauler will end its journey at global construction industry trade show CONEXPO-CON/AGG in March of 2017, where it will be auctioned off, with proceeds benefitting training programs that encourage new generations to enter the construction industry, including SkillsUSA and Skills Canada.