The nickname stuck, and the Octopus proved its worth digging by ditches, setting culverts and clearing trees. Today, the wheeled excavator is indispensable for Precinct 2 and all of Rusk County.
Says operator Jeff Rumbo, "We have rented tracked excavators in the past and they are great for what they are meant for, but they can't run down the road. Even with a rubber track excavator, it would still take us six hours to cross the precinct. There's nothing we've found that the wheeled excavator can't handle."
Wheeled excavators are still a rarity in the United States, roughly 3% of the overall excavator market. They are more common in the Northeast region and larger cities, valued for their mobility on paved roads and ability to minimize traffic disruptions. Increasingly, rural counties are making the switch to wheeled excavators from backhoes or traditional truck-mounted telescoping boom equipment. And seldom is the standard application straight excavation.
Says Jerry Connor, Precinct 2 Foreman, "The main jobs for the wheeled excavator are placing culverts and clearing ditches and trees. It does a better job than a backhoe for pushing and cutting limbs and moving them to the side of the road. The variety of work is limitless."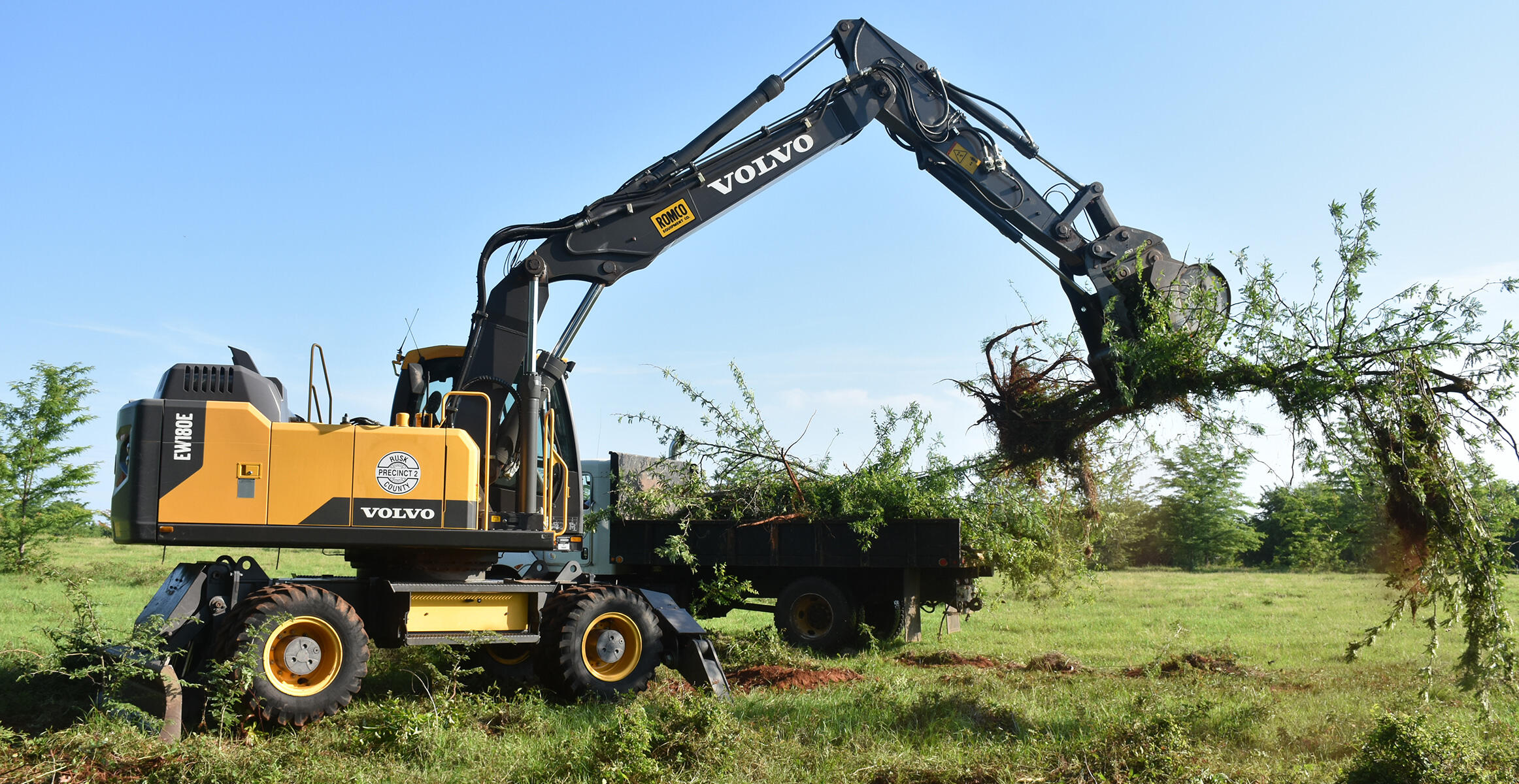 The Storm Chaser
With over 55,000 residents and 938 square miles, Rusk County lies two hours southeast of Dallas, one of the five counties that form the East Texas Oil Field. Texas counties are divided into four precincts, each with their own commissioner and road department. In Rusk County, Precinct 2 maintains 208 miles of secondary roadways.
The Gulf of Mexico, just 200 miles south, brews up wicked storms and tornadoes that frequently down trees, block roads and nix power across the county.
"One of the biggest challenges we have is bad weather. We have to work with the electric companies to help clear debris on power lines. If we have a lot of rain, we get road washouts or sinkholes. It's unpredictable," says Tammy Pepper McLain.
A 2016 Volvo EW180E is the first line of attack, fitted with a Volvo thumb to deftly grab fallen brush and trees to open roads within minutes, not hours.
Says Jeff, "With the wheeled excavator, you don't have to load it on a trailer to transport. That's a big benefit to get to a location fast. Our precinct is 35 miles wide, so we can travel anywhere within 35-40 minutes without a trailer."
Connor explains how the crew used the wheeled excavator with a thumb attachment to pull up an entire parking lot at a local school (the precinct then used the asphalt millings for road base). The excavator is the preferred choice over a wheel loader to load move rip rap and sand from yard stockpiles to trucks. "It works a lot easier than a wheel loader for us," he says, due to the two-piece boom that gives height and dexterity.
Tammy explains, that with the two-piece boom, they can navigate up, over and around power lines and utilities when clearing roadways. It also provides broader access to cleaning under bridges, due to the boom's ability to retract and articulate.
The two main attachments the Precinct needed were a ditch cleaning bucket that would tilt and a hydraulic thumb with pin grabber so they would not have to leave the cab to switch attachments. Plus, the Volvo wheeled excavator has four hydraulic functions so an operator can be using a pin grabber, thumb and tilt bucket and still have one hydraulic lever free.
The daily jobs the EW180 performs are hard evidence for why Rusk County chose the machine. But total cost of ownership weighs heavily in the buying decision for Tammy. "My first consideration is price. That is important because we work on a budget. After that, can it provide for the needs we have?"
The precinct's operators and mechanics are the top influencers for what equipment is ultimately purchased. Adds Tammy, "After our first wheeled excavator, we knew it was a necessity."
Behind price and functionality is service. Steve Breeden with ROMCO Equipment's Longview branch was a frequent visitor to their maintenance barn.
When Precinct 2 began their equipment search, Tammy's late husband, Mike Pepper, was Commissioner.
Steve says, "I met regularly with Mike Pepper, Jerry and Jeff. They showed me what they wanted and I told them about Volvo. They never owned Volvo and were not familiar with the brand or equipment. I took them to look at two different excavators (with neighboring counties). They wanted to know how the machines were holding up, that was their main concern - the service and uptime."
The three men were tenacious in their review. Jeff, who had the most seat time in their previous wheeled excavator, was skeptical. He says, "We were looking at dependability, but we had never owned a Volvo. We talked to the crew in neighboring Anderson County and got a feel for what the machine was capable of, but we just didn't know the Volvo name. As we did more research and worked with Steve and ROMCO Equipment, we realized some of the small differences with Volvo (versus a competitor brand we owned) ended up being a big plus, like the two piece boom. That blows us away - what we can do with the Volvo that we couldn't do before. The outriggers give it good stability. It's not like a tracked excavator, but it's very solid. I've had it buried in mud up to the top of the tires and it pulls itself out."
Precinct 2, like most rural municipalities, performs its own maintenance on all equipment. For Jeff, the Volvo habit of grouping filters and grease points is a major benefit over other competitor machines. "Everything is easy to get to, it's much easier to grease because all grease points are grouped, and all filters are easy to access. Nothing is hidden; the grease zerks are where we need to get to them so you don't have to move the excavator seven different ways to access."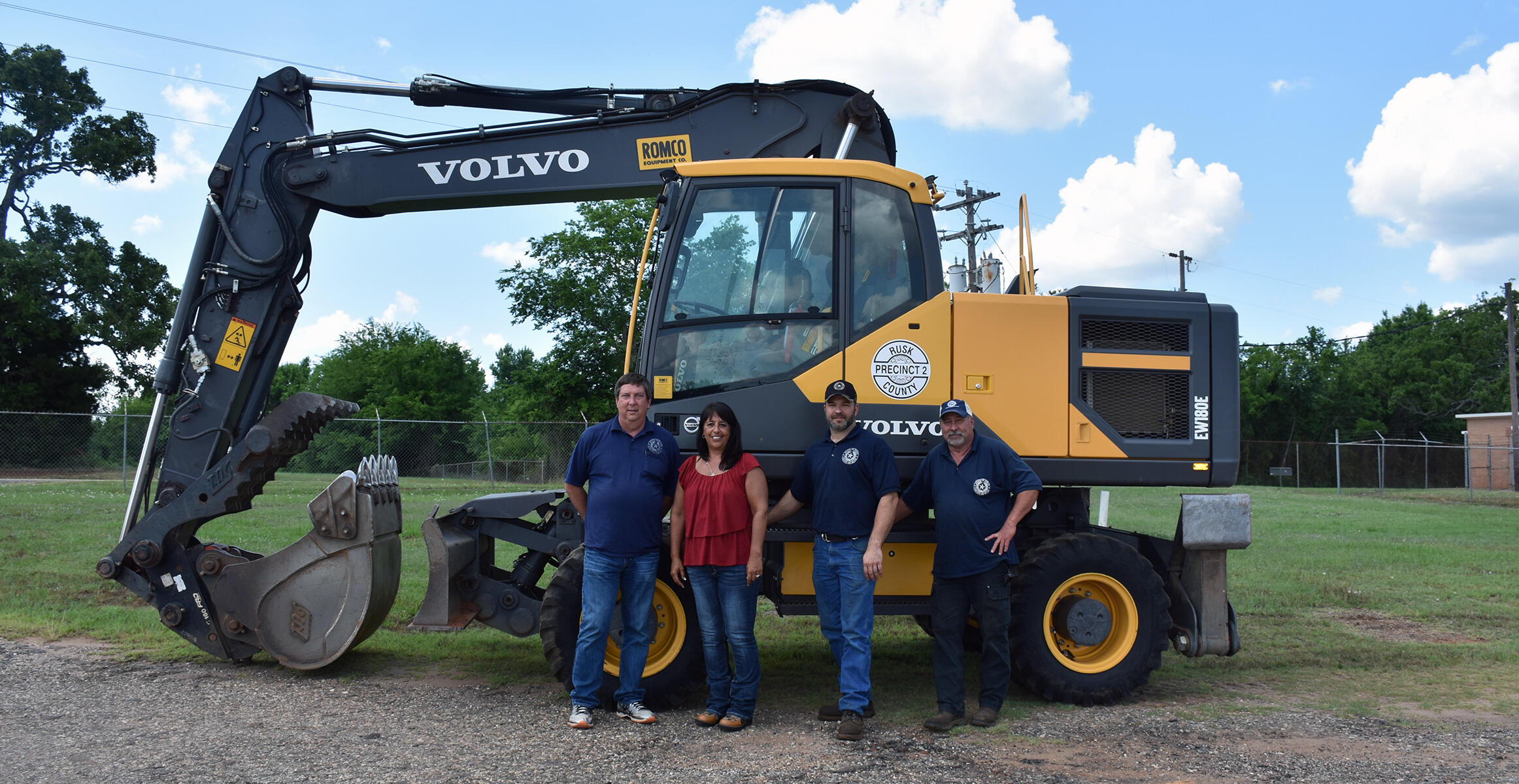 Going the extra mile
When Mike Pepper passed away, his wife, Tammy, was appointed to fill his term. She went from managing an event venue on their family farm to managing several hundred miles of roads and maintenance equipment and a crew of 13. It was familiar territory, as Mike and Tammy had also owned a dirt and demolition contracting company. Plus, these were the roadways her neighbors relied on to take them to their houses and travel to work. And it was also Mike's request that she fill out his term. Tammy later chose to run for the office and became the first woman in Rusk County elected to County Commissioner since the mid-1800's.
One of the items Tammy finalized, along with Jerry, was the purchase of the new Volvo EW180 using the HGACBuy program. Municipalities work with dealers and manufacturers who have partnered with these buying boards. The buying contract allows the Precinct to select machines with pre-contracted rates in order to avoid having to obtain quotes and go out to bid.
Tammy says, "The reason we choose ROMCO and Volvo is because of their personalization. Steve does the footwork for us in researching equipment, asks what we want, and always has something to show us if we are interested. Volvo had the machine to do what we needed, and Steve was able to help with pricing and using the HGACBuy board."
The Volvo is also used regularly by the other three Rusk County precincts, who will call over to ask Jerry for the excavator and operator because they have a job they can't do with their backhoe.
Adds Jeff, "One thing you commonly hear around here is 'Where is The Octopus?'"