The Volvo high reach excavator line has the capacity to handle attachments from 5,500 – 7,720 lbs., including grapples, shears, pulverizers, and hammers.

Maneuvering the Volvo high reach demolition excavator into position was eased by the hydraulically retractable undercarriage, which can expand from 7' 10" - 11' 1'' to simplify transport and increase stability and production when working. An additional 8,370 pound counterweight anchors the excavator to allow a wide operating range without diminishing control, power or stability.

"The operators absolutely love the Volvo high reach for its comfort and control. The cab tilts up to 30 degrees to prevent straining and with the on-board rearview cameras you have 360 degrees of sight. There is less mental and physical fatigue and that makes for a much less stressful job," Lloyd adds.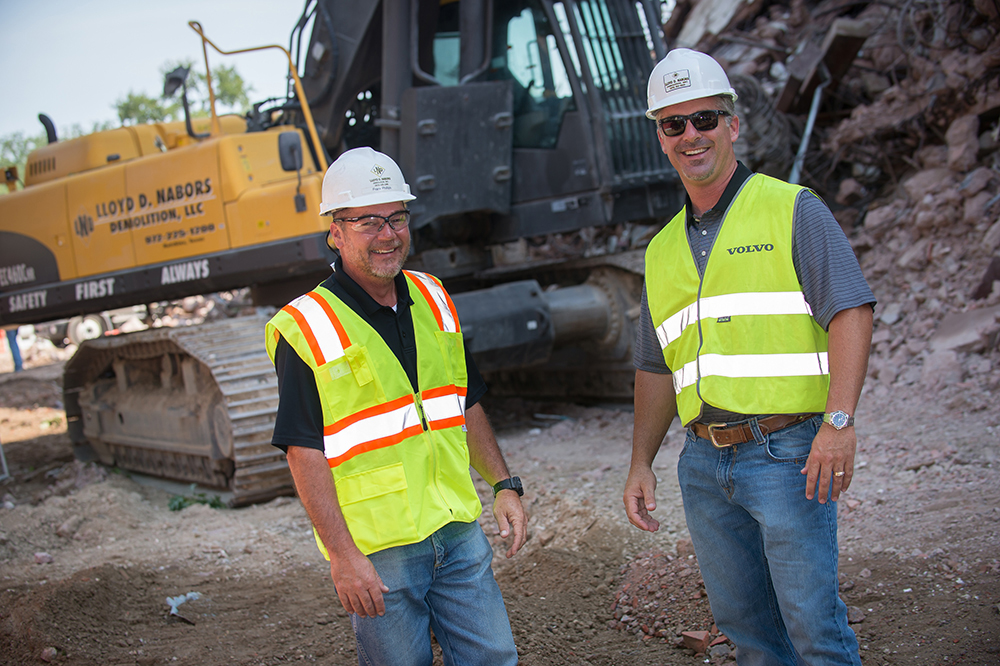 During the later stages of the project, crews worked up to 10 hours a day seven days a week, with the high reach doing 99% of the tear down work and a Volvo EC380D and EC360C with grapples partnering to separate and scoop debris into hauler trucks. "Despite the heavier operating hours, we are using substantially less fuel than with our previous competitor high reach and seeing up to 15% savings over our previous high reach excavator," says Lloyd.

Lloyd Nabors was born into the demolition business, the son of a prominent demolition contractor.

In 1997, he ventured out to establish Lloyd D. Nabors Demolition LLC in Hutchins, Texas. There is continuity and competency that are central to any successful business. "Most of my employees, from operators to estimators to managers, have been with me for ten years or more," says Lloyd. The company has grown from a skeleton crew to more than 55 employees today.

Lloyd D. Nabors Demolition has evolved into a full service demo company which includes bridge demolition and asbestos abatement. Jobs take them throughout Texas, New Mexico, Louisiana, Oklahoma, and Arkansas. "We do a lot of travelling," Lloyd says, downplaying the preparation entailed in shuttling crews hundreds of miles to demo sites.

These logistical and equipment versatility demands are what sold him on the EC460CHR.

"We had a competitor excavator with a modified long arm. It was eight years old with high hours. There were a lot of upkeep and repair issues, plus changing out the standard boom to the long arm could take up to four to five days. It was costing us in downtime and lost job opportunities," says Lloyd. "Then Jarred told me about a Volvo high reach excavator on the ROMCO lot in Fort Worth."

Says Jarred, "It was a classic case of they had a need and we had the right machine. Walter Reeves (demolition segment manager for Volvo CE) approached us about the high reach excavator and the first person I thought could benefit was Lloyd. We put him at the controls so he could feel the stability of the machine. Then, Walt and I showed him how to switch out the high reach boom to the digging boom in less than one hour using the modular joint system. That sold him. He had the machine on a job site two months later!'"
"Huge for us."
The Volvo line of high reach excavators use an innovative hydraulic modular joint system to efficiently change from the high reach boom to the digging boom. The modular joint allows the digging boom to be either in the straight or bent configuration for more reach height or digging depth.

"The modular joint boom has allowed us to be more diversified. When you don't need the high reach, in less than one hour you can revert the machine to a standard excavator. It is really like having two machines in one," Lloyd says.

In the demolition field, safety stays top of mind. In the heart of Fort Worth business district, that means no risk to neighboring historic structures and minimizing impact on daily governmental business.

"Scaffolding with netting was draped over the Courthouse and plywood nailed to the windows facing the southwest side to protect from overflying small debris. And a safety director is always on site," Lloyd says. Monday through Friday work concentrates on the north and east sides of the property that do not face the streets. On weekends the teardown kicks into aggressive mode with the framing streets blocked to traffic and pedestrians.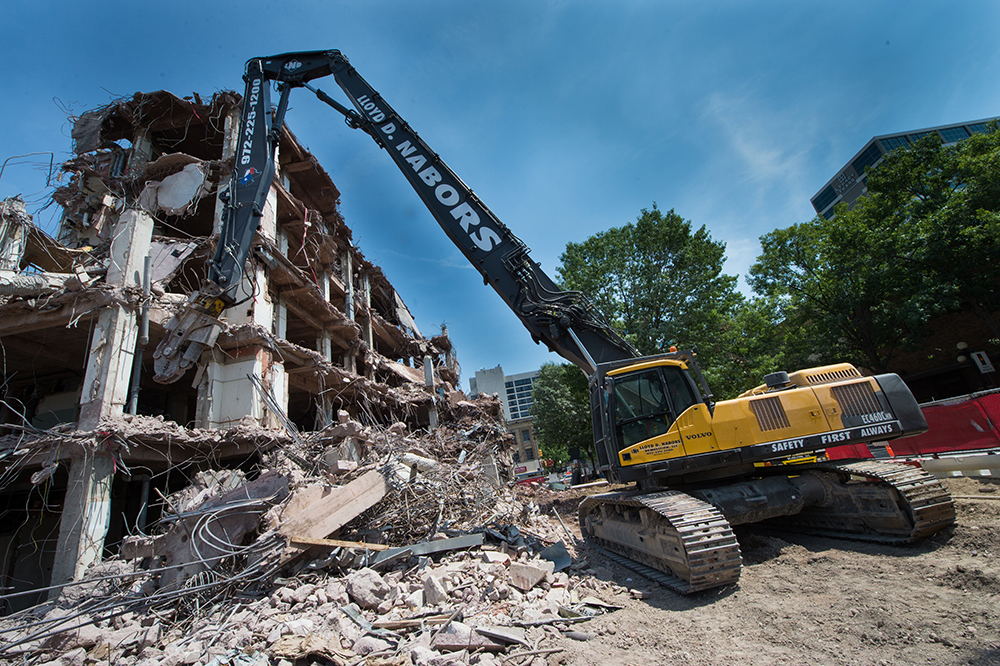 To minimize dust, a supersize DustBoss oscillating fan, mounted onto a truck and attached to a 1 ½" fire hose, shoots water 4-5 stories into the air, dampening the powderized concrete that hangs in the air.

Lloyd D. Nabors Demolition is a green certified demolition company, committed to maximizing the amount of demolition materials that are recycled. This certification also allows them to contract for numerous LEED (Leadership in Energy and Environmental Design) projects, which give tax credits to projects that divert at least 50% of their construction waste to landfills.

"We treat every job as if it's green certified," says Lloyd. "It's an advantage to us environmentally by reducing waste and economically in landfill fee savings. All concrete from this site is going to a local recycler where it is turned into road base. The rebar and steel columns are also recycled."
Trusted name
Jarred met Lloyd through a mutual contractor friend who ran a Volvo fleet. Lloyd was interested in the full demo guard package factory fitted by Volvo, and subsequently purchased it on his first Volvo demolition excavator, a EC210B. This includes heavy duty side doors with screen, swing ring cover, heavy duty undercover for the superstructure and side impact protection. The excavator is still active in his fleet and operated by his son Colton.

"ROMCO and Jarred are exceptional in their support to make sure we stay running. And the way Volvo stands behind their equipment and service is outstanding. That is so important to a customer and a rare experience with many companies," says Lloyd.

With CareTrack telematics activated on several units, including the EC460CHR, ROMCO service technicians receive maintenance and operational alerts so they can bring the right parts out to the job site on the first trip and improve uptime. The CareTrack system also allows Lloyd to monitor fuel consumption and operating hours in real-time and review machine diagnostic history.

Today Lloyd D. Nabors Demolition counts ten excavators in its fleet, including one EC460CHR, three EC380Cs, three EC360Cs, one EC340C, one EC290, and the original EC210B. All were purchased through Volvo Financial Services to provide low interest rates and flexible payment options with the convenience of "one stop shopping."

Along the way he has made a Volvo convert out of his father and is also changing the minds of demolition colleagues who bid against him for jobs. "I've had competitor demo contractors call me up and ask, "Hey, what do you think about that Volvo?'" says Lloyd. "They see us on job sites running these machines and want our honest opinion."

Adds Jarred, "Lloyd is a well-respected contractor in this state and across the Southwest. People pay attention to what he does, what equipment he chooses to use. We can't place a value on the power of that type of customer testimonial."

Customer sentiment is equally prized by Lloyd.

"What gives me satisfaction is making the customer happy and completing a job on time. I count success as having the opportunity to do work for the same customer twice," he says.

It's a value also shared by ROMCO Equipment and Volvo.