In the final week of October 2012 Hurricane Sandy was making her windy, watery presence felt from Cuba to Canada. The superstorm hit land at New York City on October 29, causing mass chaos and damage, flooding streets and subway tunnels and wiping out power. The resulting $65 billion (USD) in damage left millions of people facing a hopeless feeling of loss and devastation.

Hundreds of thousands of vehicles sit ruined by the surging flood waters. Some sit where they were last used or abandoned, others displaced and tossed about like toys at the beach. Insurance claims flood into call centers. This isn't one windshield broken by a vandal or a 3-car fender bender. This is a mass catastrophe affecting large populations of vehicle owners.


Tow the line
Before the insurance companies can process the individual claims, they have to access each vehicle. This is where Insurance Auto Auctions (IAA) steps in, partnering with the insurance companies that don't have the capacity to tow or deal with the damaged vehicles once processed.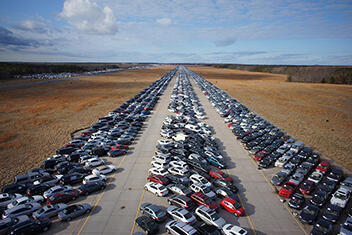 With Hurricane Sandy, and in other mass catastrophes, the first priority is getting all the vehicles out of their final resting places. Neighborhoods, tight backyards, flipped and wedged up against buildings, parking garages, narrow streets and more. Single hook tow trucks, 900 in action at the peak of the Sandy effort, fan out into assigned coverage areas to get each claim. Vehicles were brought to staging areas, then onto 18 holding yards in the New York and New Jersey metro areas. Vehicles are loaded onto car haulers by Volvo L90G wheel loaders fitted with 15' long fork attachments.

From here the car haulers from all the strategically-placed holding yards head to Calverton Executive Airpark, a former military airfield with a 10,000 foot paved runway. Calverton became an ideal contingency plan for IAA due to its size and location in Long Island. From here all the insurance carriers could come to one location to inspect and access the vehicles for their companies. A large, new fleet of the Volvo L90G loaders helped make that possible, removing each vehicle from the car haulers and methodically grouping and neatly lining them up by insurance carrier.

Of the estimated 230,000 damaged vehicles processed by IAA, over 60,000 of the vehicles were deemed "total loss." But this is not the end of the line for these vehicles. They are not headed for a small, compacted cube of metal spit out by the car crusher. Each vehicle, from initial tow truck pick up to each time it's lifted by the Volvo loader, is handled with extreme delicacy to preserve its as-found condition. Condition is everything, for two reasons: proper insurance claim assessment and in determining what type of new life the vehicle will have after selling at one of IAA's auto auctions.
Sold!
Before vehicles are auctioned they are cleared by the insurance companies and reported to the National Insurance Crime Bureau (NICB) which checks for vehicles reported stolen or involved with insurance fraud. Vehicles are auctioned as is. There are no surprises to buyers of vehicles that now carry a "flood title." IAA only sells to licensed buyers, part of what makes this a highly-regulated industry with rules that vary at the federal level and from state to state. Across North America IAA operates at over 160 locations, where vehicles are auctioned at a rate of 25,000 per week, or 1.5 million vehicles per year. Buyers are global, representing 110 countries, 30% of which are overseas. Bidders are generally made up of scrappers, dismantlers for parts and rebuilders, joining the auction live in person or online.
Gearing up
Catastrophes are not new to IAA. According to Jeanene O'Brien, Vice President, Provider Marketing for IAA, the company is there and ready wherever a catastrophe strikes, be it clean up for recent tornados in Oklahoma, floods in Calgary or other large-scale hurricanes like 2005's Katrina in New Orleans. "We always have plans in place throughout the country to anticipate and be ready for disasters of this nature," said O'Brien. "But Sandy was unique in many ways compared to Katrina, starting with the size of land mass affected and the requirements for additional towing companies needed to clear the area."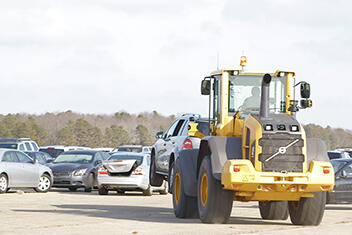 The biggest challenge was moving the largest amount of vehicles for one IAA event and doing it in one of the most densely populated urban areas in the world. New York City has a population density of 27,290 people per square mile, compared to New Orleans' 1,965 people per square mile as experienced with Katrina.

The other required move, of the vehicles off the car haulers and around the large yards and airfield at Calverton was handled by the Volvo loaders. Nationally IAA has a fleet of about 400 loaders, most of which are Volvo. But for an event of this magnitude, the company needed more, and fast, buying 34 new Volvo L90G loaders from Malvese Equipment, the Volvo dealership covering the New York metro market.

"The L90G is a strong machine for us and we required more to accommodate the need, because at the peak of this operation we were moving 3,500 vehicles per week," said Gonzalo Quiroz, IAA Vendor Relations Analyst. "The model L90G's are perfect for us because they have the flexibility to maneuver well in the yard and the capacity in one machine to handle virtually every vehicle we pick up, from the smallest compact to the largest cargo van."

Each Volvo is fitted with a pair of 15' long vehicle carrier forks. The wheel loader operator approaches each vehicle, averaging 1 to 1.5 tons each, from the front or back and carefully moves it with precision not to damage the undercarriage, exhaust system or gas tank. Typically the Volvo loaders have three touches per vehicle, at the unloading of the transport vehicle, when putting it into storage and finally into the sales area at the time of auction.

The loaders are also fitted with Volvo's CareTrack telematics system, a GPS-enabled remote machine monitoring system that allows all fleet machines to share data with dealers and customers.

"It's one of the best systems I've seen," continued Gonzalo. "We like that we can see what kind of service the machine needs, as well as track how operators are using the machines. This allows us to modify behaviors if operators are, for example, changing gears at a high speed."

IAA stays on top of the CareTrack results by viewing the data from local laptops and with their own national service advisors. IAA likes to use CareTrack to see if machines are idle for extended periods of time, where they can be moved to more useful, busier locations.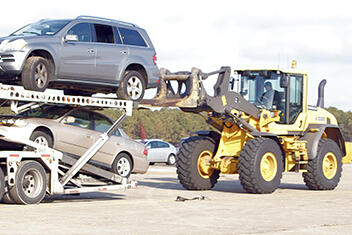 Tony Lauro, Vice President of Customer Service, has been with Malvese for 37 years. Hurricane Sandy was challenging on a lot of levels, including sourcing that many new Volvo L90G's for one customer at one time. "We tried to be there for them in all phases of their needs, from sourcing the machines to being on call and ready for their maintenance and upkeep needs 24/7," said Tony. "IAA is a first-class operation. We're glad we were ready to assist them. In my experience this was right up there with some of the largest scale projects we've been involved in with needs for equipment and service."

"Malvese, and Tony in particular, were always there when we needed him," added Gonzalo. "He was our on-the-spot guy, always with us in the trenches. We'll keep looking to Malvese well beyond the Hurricane Sandy event."

IAA said the 34 Sandy loaders have now been dispersed throughout its other operations around the country. But there's need for more Volvos, as the company uses them all year round, including snow cleanup in the Northeastern yards.

So as the water recedes and things return as much to normal in the affected areas as possible, IAA and their Volvo loaders will keep on moving vehicles, doing their part to help life move forward.