Shortly after sunrise each morning when General Manager Stuart Sharpe and his team arrive at the sprawling Tervita Metals Recycling worksite, located in north-east Red Deer, Alberta, Canada, their gaze is met by tonnes and tonnes of what others would call junk but they see as treasure.
This massive 17-acre (7ha) site is the headquarters of Tervita's metal recycling operation and is a jumbled maze covered with every type of scrap metal imaginable. To the casual visitor it might appear to be organized metal-recycling chaos. There are damaged railcars, rows of worn-out railcar wheels, 'dead' city buses, kilometers of used gas-field piping, expendable parts from oil wells and drill rigs, bitumen concentrators, cooling radiators, heating units and parts from gas refineries.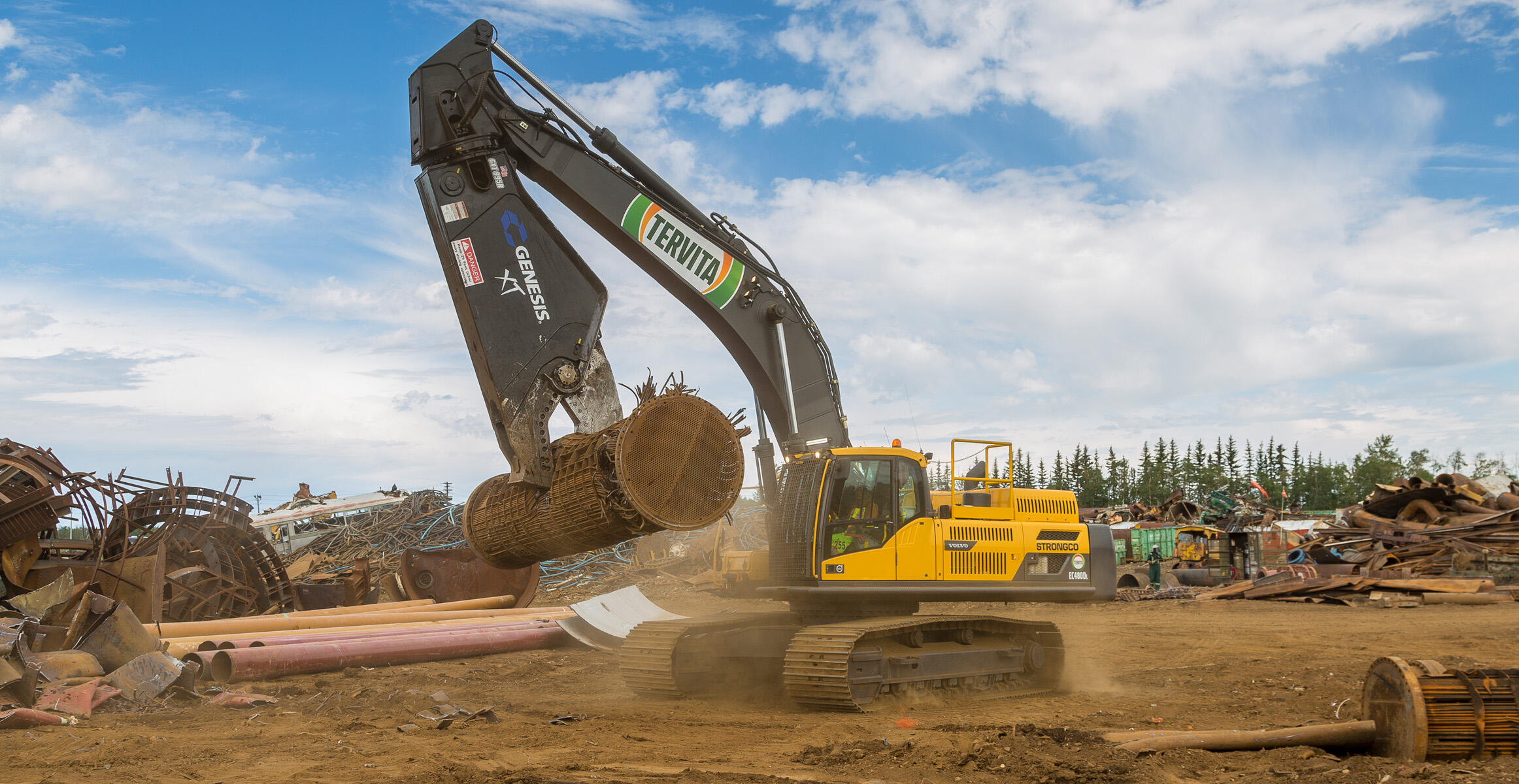 If it was made from metal and has served its purpose it is likely to be found here. The company also carries out satellite metal-recycling in Peace River and Fort McMurray, Alberta.
Tervita Metals Recycling is a division of Calgary, Alberta-based Tervita Corporation. With more than 2,000 employees in Canada, Tervita is a leading environmental solutions provider and a trusted sustainability partner to an ever-growing number of oil, gas and industrial operations, as well as mining companies.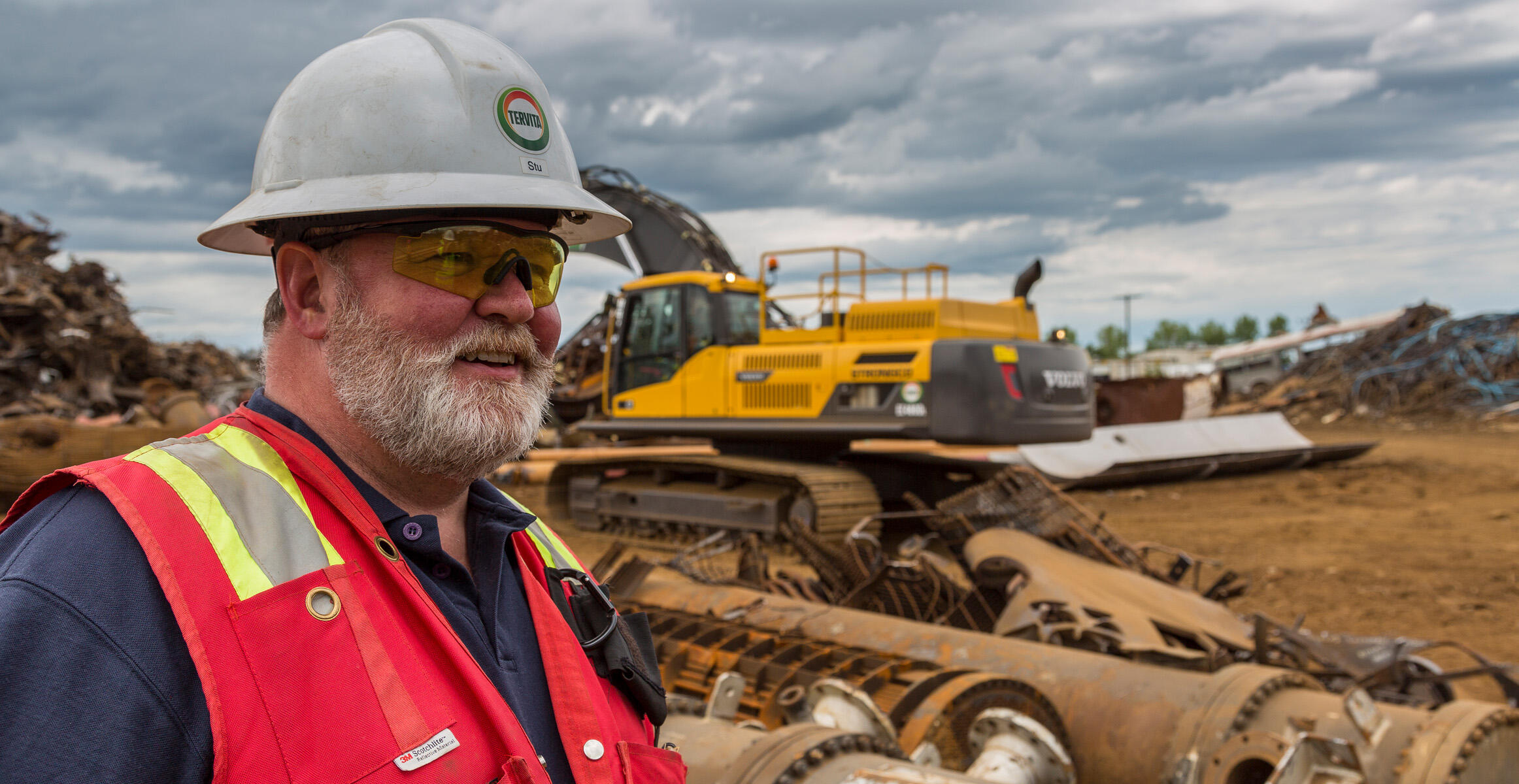 SOURCE MATERIAL
The company collects the scrap metal in various ways. It manages a series of dumpster-style bins placed at strategic locations throughout central Alberta, carries out on-site demolition and metals reclamation, and also purchases scrap metal from the public.
Tervita's rail-salvage operation is unique. This division is currently under contract to Canada's two major railways, Canadian Pacific and Canadian National, and is on standby 24/7 – time is always of the essence. Should there be an accident or derailment, the company gets the call to head out and clear the track and salvage the damaged railcars and rails. In addition, it provides on-site demolition and metal-recycling services for a number of the country's major oil and gas producers, including Cenovus, Suncor and Shell.
When the scrap metal is brought into the yard, it is weighed and checked for contamination, including radiation. Once cleared, it is sorted into ferrous and non-ferrous material. It is then processed and cut into marketable dimensions, bundled, sold and shipped by rail to mills in Canada, the United States and by rail/ship to offshore smelters.



ON TRACK
It is at this sorting and cutting stage that the heavy, tracked equipment comes into play. Currently in Tervita's Red Deer yard, there are five track-mounted hydraulic shears and four large track-mounted material handlers. It is here that Volvo Construction Equipment and its dealer group Strongco play important roles. The last four crawler excavators purchased by Tervita are by Volvo CE and include the EC340D, EC350E, EC380E and their most recent purchase, an EC480D.
When asked what the company looks for when considering buying a new tracked carrier Sharpe says: "Typically in the past we have run 45-50 tonne machines, but since the hydraulic shears have improved and become lighter and more powerful, we can now run good solid shears on smaller carriers. These lighter machines are more fuel efficient and easier to transport and maneuver as we chase the scrap."
The next obvious question is, with such a wide variety of tracked carrier manufacturers available today, why does Tervita favor Volvo CE. Without hesitation, Sharpe explains: "As part of a large corporation we have to go out to all of the manufacturers to bid when we are looking for carriers for our shears. The last four machines we purchased have been Volvo and the reason for that is the exceptional value we received for the dollar we spend. They are very competitive and give us extremely reliable machines with low operating costs. Based on that, Volvo has won the bid for the last four competitions."
Currently, the company owns 10 tracked carriers for their hydraulic shears as well as a number of pieces of support equipment, including material handlers, balers, front end loaders and skid steer loaders.
Wade Englesby, Tervita's Operations Manager is especially pleased with the recent Volvo purchases. "To be successful in this business you need to be cost efficient," he says. "In dealing with Volvo there were some strengths in terms of fuel economy as well as in the size and weight of the machines. We move a lot of machines offsite and Volvo was better than the other brands in those areas. We decided to give Volvo a try, so we brought one machine in and you know what, the fuel economy was great but, more important, so was the customer service. That is very important to us because downtime on a machine is very expensive. I want to minimize any downtime and increase my machine utilization, and that is the formula we have been getting from Volvo and Strongco."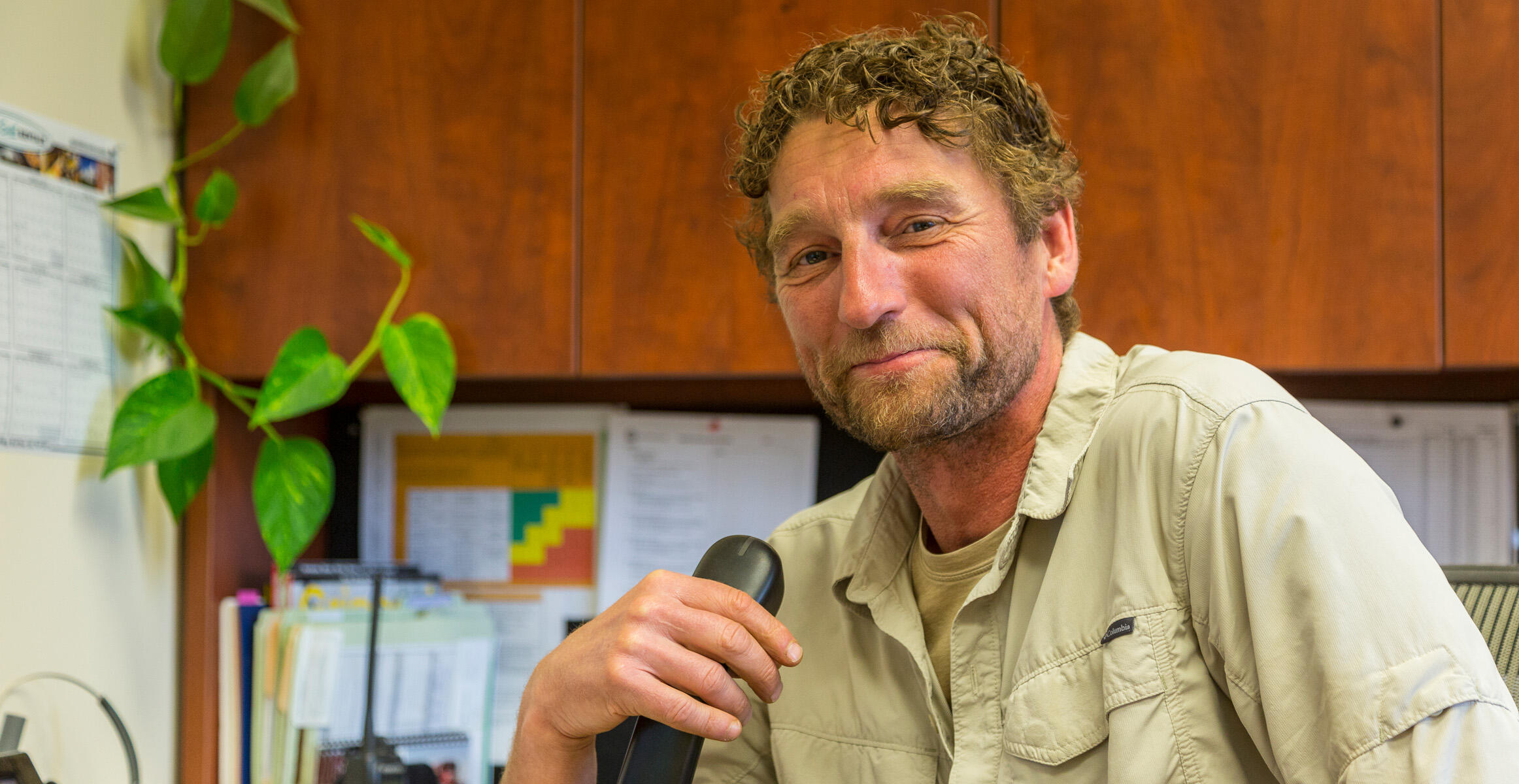 REAL OPERATORS
It is certainly advisable to get answers to such crucial questions about their Volvo purchases from the company's management team. But what about those people operating the machines, who spend eight to ten hours a day in 'their office'.
Quang Nguyen, who has worked in scrapyards in his native South Vietnam as well as Hong Kong, Macau and China, and for the past 30 years in Canada, has been operating excavators and tracked shears for more than 35 years. He is a respected expert on the combination of crawler excavators and hydraulic shears, so much so that Genesis Hydraulic Shears and crawler excavator companies, including Volvo CE, go to him for advice and direction.
Today, Nguyen is operating Tervita's latest purchase, the Volvo EC480D. "I've operated all types and brands of machines. The Volvo is good for me, I like it. It has a lot of power to operate the shear; it works for me. And the cab is excellent – I can see everything. The seat is also great – I'm just a little guy; the Volvo is great."
The 50-tonne, 373hp Volvo EC480D crawler excavator has the reach and lifting power as well as more than adequate hydraulic pressure, making it the ideal shear
carrier for Tervita. With an overall width of only 11 feet, 11 inches, (363cm) it is easy to transport and works well in tight spaces.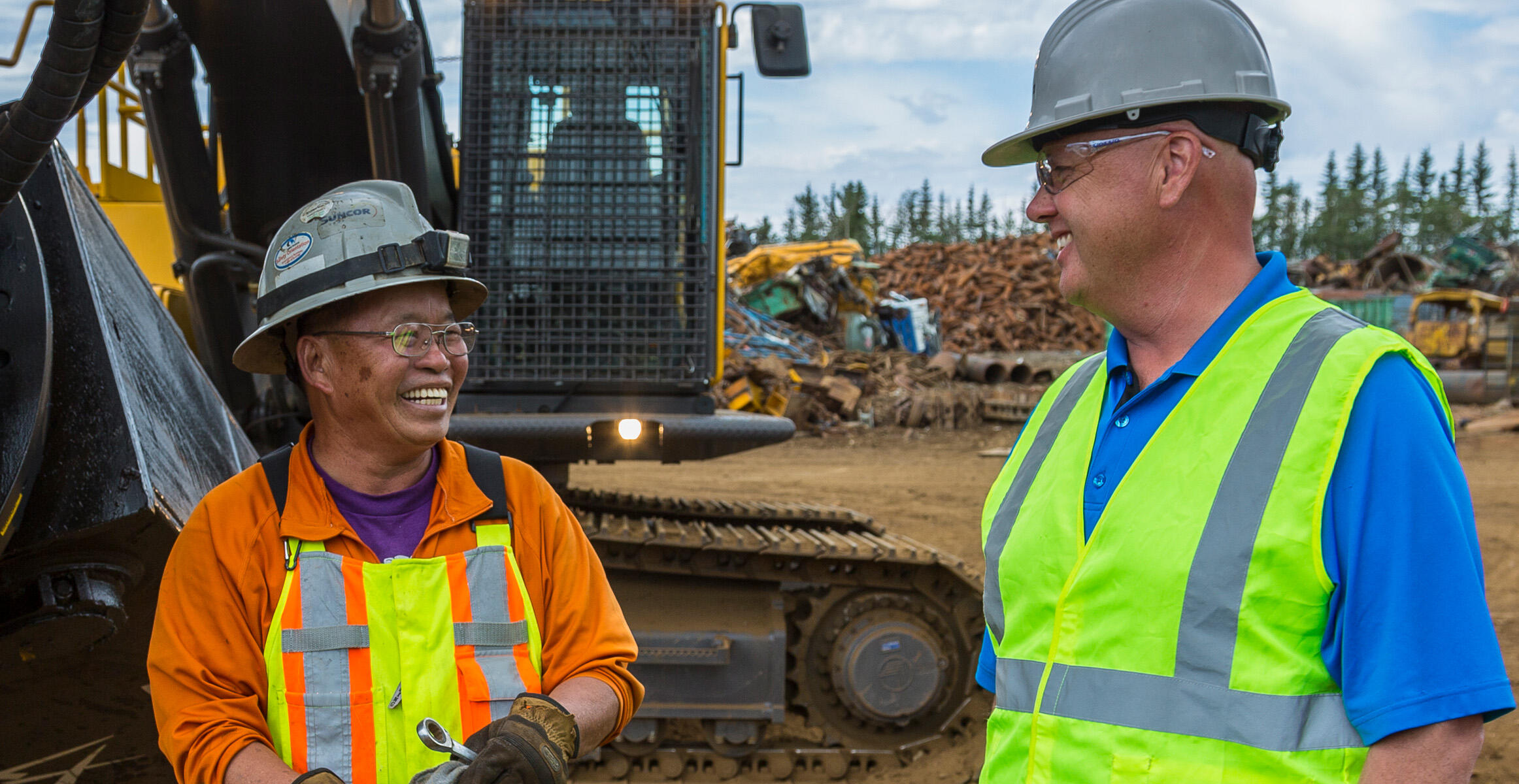 INTERESTING TIMES
Interesting is certainly one word that can be used to describe a recent job completed by Tervita's Rail Salvage Division. Last winter saw the team called out to Churchill, Manitoba, on the shores of Hudson's Bay in Canada's far north, to deal with a legacy rail accident for the Hudson Bay Railway Company. The company loaded its Volvo EC380E mounted with a hydraulic shear and moved it across three Canadian provinces to Churchill where they cleaned up the accident as well as decommissioning a number of outdated railcars. The scrap was then loaded directly onto Tervita's own railcars and shipped south to the mills in the USA.
It was a challenging job: the machine and crew were 30km south of Churchill in the wilderness, it was minus 30º Celsius, and at that time of the year, at that latitude, the battle between daylight and darkness added to the crew's challenge list. But the EC380E performed perfectly and the job was completed in record time.
Sharpe sums it up: "We have been deliberately moving from the larger machines. The new generation of shears is lighter and very powerful and can be run on the 35-40 tonne machines. This gives us lower initial capital outlay, lower operating costs, much better fuel economy and just that agility to move quickly to the scrap – I know that gives us a competitive advantage in this business. We are very happy with Volvo CE and dealer Strongco."