In 2009, the Saltmarsh team started off doing primarily municipal and state work because, according to Jesse Saltmarsh, the private sector market was not thriving. Despite the floundering private sector, the company began to grow. Since 2015, they have been able to concentrate on private sector projects and have tripled their fleet size.
Saltmarsh industries has since grown their fleet to 16 machines — 12 of which are Volvo machines, including three compact track loader models: the MCT125C, MCT135C and most recently, the MCT135D.
Originally, the fleet included a Caterpillar D4 bulldozer. However, once Tony Brignoli, vice president of Saltmarsh Industries, saw the Volvo compact track loader and Caterpillar bulldozer run side-by-side, he knew that the track loaders were the best option for the Saltmarsh Industries fleet.
"I don't have a small bulldozer. The tracked skid steers are my bulldozers," says Brignoli. "For cab comfort, versatility, size and power, I felt that I could get more done with the tracked skid steer than I could with a bulldozer."
In fact, the Saltmarsh Industries decided to sell their bulldozer and now use tracked skid steers year-round for many applications, including snow removal, parking lot grading, roadway grading and moving pipe.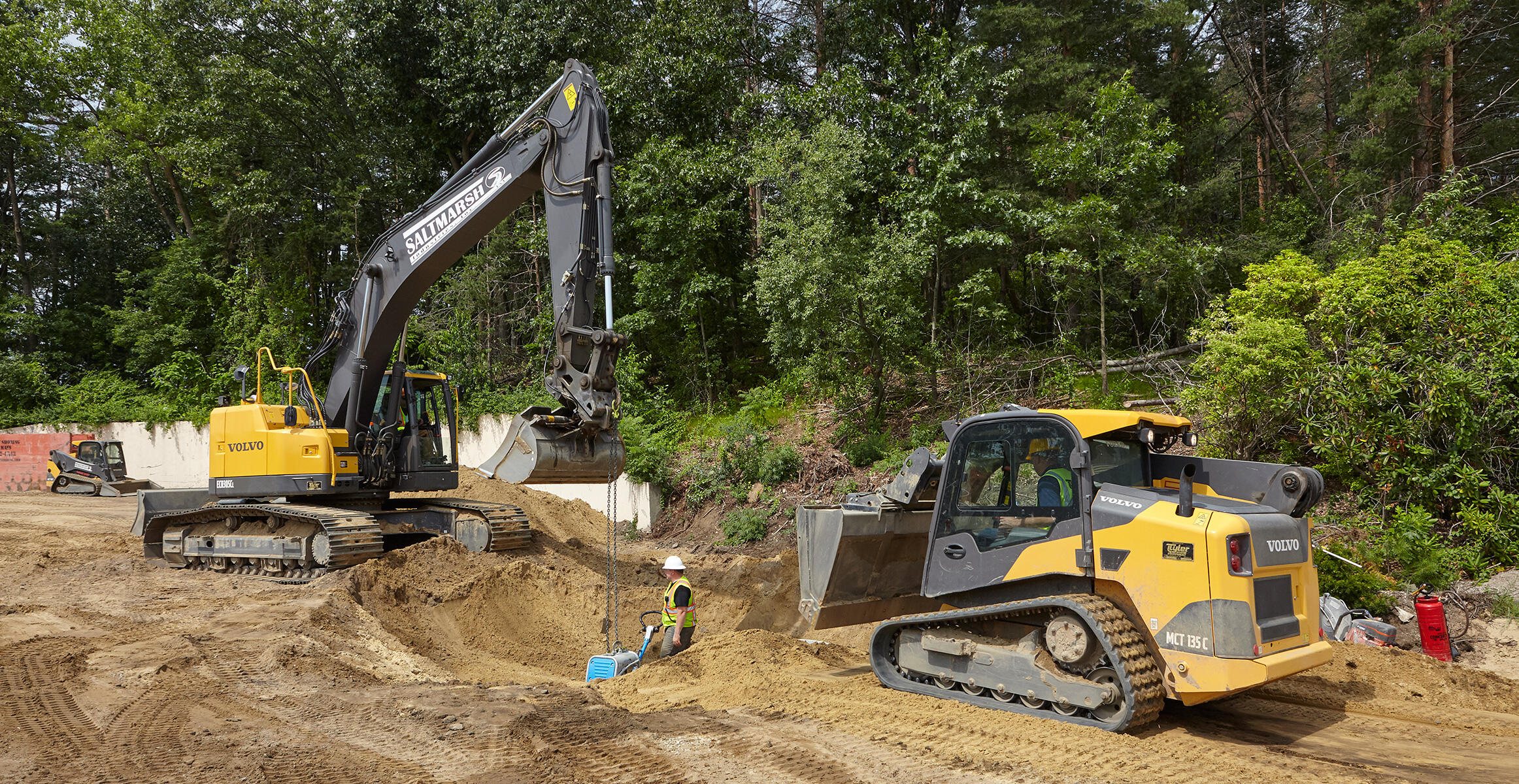 Prior to deciding that Volvo was their brand of choice for their tracked skid steer, Saltmarsh Industries tested the Bobcat T750.
"I drove it into a low pile, and the machine stalled on me. I tried a different one, and the machine stalled on me again," says Brignoli. "The machine would go fast but it didn't have the power that I needed."
That's when they were encouraged by their dealer, Tyler Equipment, to try a Compact Track Loader from Volvo. They were impressed by the machines right away because of their single-arm design, side entry and versatility.
"Just watching how much safer it was for my guys to get in and out of the machine — with or without attachments on — was already a home run. But then I got into it myself, and I could use it like a mini bulldozer. It's like an all-in-one machine; I can bring this one machine and do all the work with less tools and one less guy," Brignoli says.
Beyond safety and versatility of the Volvo compact track loaders, Brignoli was impressed by the machine's performance.
"The machine is a staple for my workforce because the engine is matched to hydraulic flow, while staying at a lower horsepower threshold to meet Tier 4 emission requirements without regen or DEF," Brignoli explains.
When given the opportunity, Saltmarsh Industries tested and purchased a new MCT135D in October 2017. After seeing the improvements over the C-Series machines, Brignoli knew they wanted to make an upgrade.
"The way it's built with restructured quick attach is great, and the way the arm is recut and reshaped has improved visibility, which is huge," says Brignoli of the D-Series improvements.
As their fleet continues to grow, Saltmarsh Industries will continue to trust Volvo Construction Equipment to provide them with innovative equipment solutions for every application.