Over the past 15 years, the SRPMIC and its development arm, Salt River Devco, have been at the forefront of the metro area's most signature commercial projects while staying true to their heritage.
This included opening the 36-hole Talking Stick Golf Club and Talking Stick 4-Diamond Resort and Spa and Casino Arizona, all owned by SPRMIC peoples. Outside corporations have been attracted by lower taxes and sun-soaked vistas. The Arizona Diamondbacks and Colorado Rockies major league baseball teams transplanted their spring training fields on SRPMIC land. Most recently, McKesson, the largest health care company in the U.S. serving over 50% of hospitals, is relocating its corporate headquarters and 2,000 employees from San Francisco to a new office complex on 32 acres of SRPMIC lands.
The goal is clear: sustainable, controlled growth to ensure the social, economic and environmental health of current and future generations of the Pima and Maricopa peoples.
Over 12,000 acres of SRPMIC land, almost 25% of the total area, is under cultivation for commercial crops including cotton, melons, tomatoes, potatoes, onions, broccoli and carrots. The Community also contracts with non-members to lease lands for farming.
All this activity places heavy demand for non-potable water, which is sourced from the high mountain lakes and man-made dams that frame the Community.
Shuttling irrigation water to farmers and private water users across the Community is the job of the Salt River Pima-Maricopa Indian Community's Public Works Department.
Dean Emerson is the Irrigation Operations Manager. He says, "We are responsible for 130 miles of irrigation canals and underground pipelines. To keep the channels flowing and free from debris is a constant cycle of dredging, brush-cutting and laying pipe."
The maze of canals crisscrosses the 101Freeway and Arizona 87 north-south connectors as well as dense retail districts, adding to the challenge for Dean and his crews.
Dean's crew relies on one piece of equipment for the diversity of work: a Volvo EW180E wheeled excavator. Wheeled excavators, sometimes called rubber tire hoes, are still rare in the U.S. but a common sight on the Community's property. With a travel speed up to 22 mph on highway and the ability to hitch a trailer, the excavator is a self-contained unit.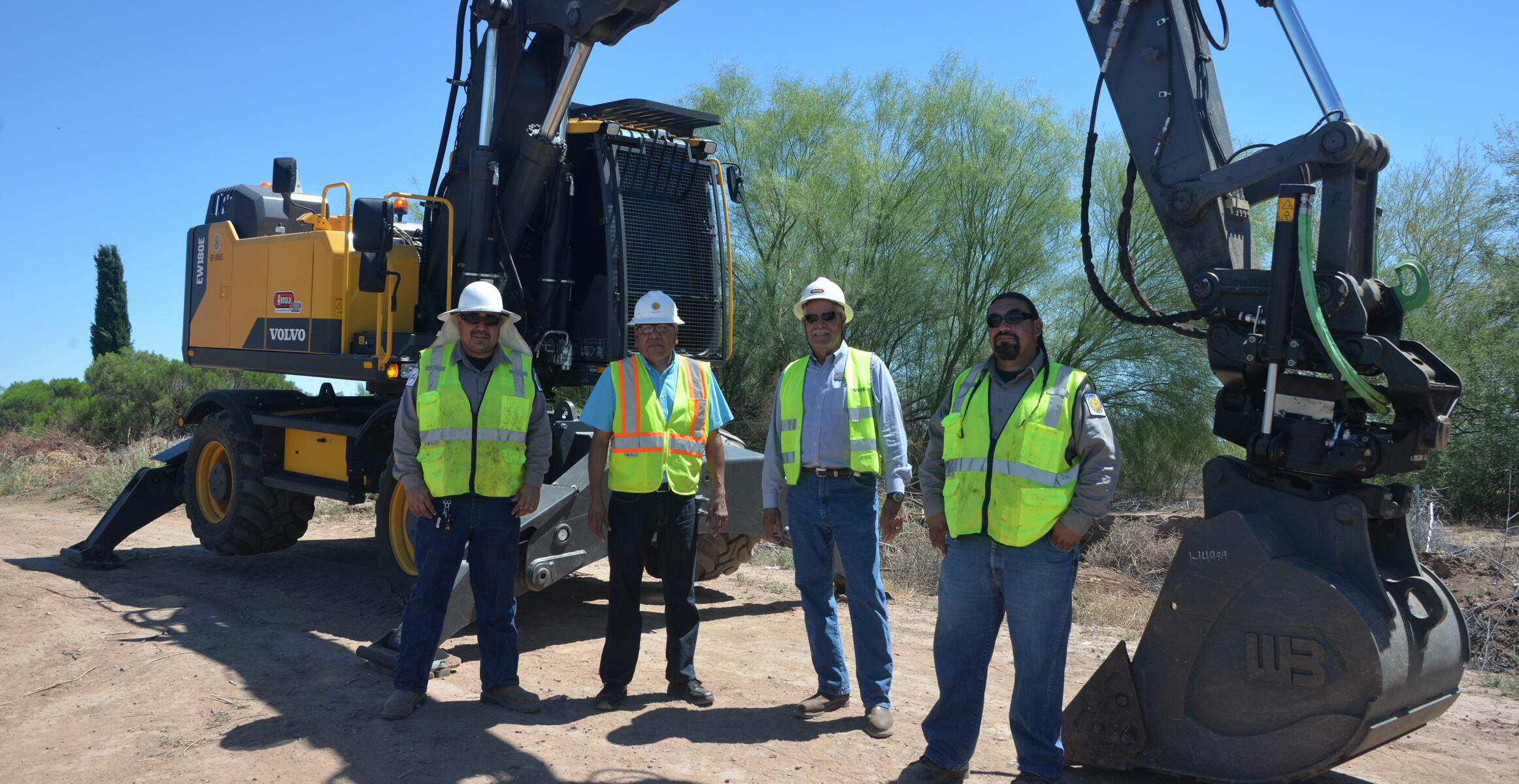 He says, "We have used wheeled excavators for many years. With a tracked excavator you can't do the same amount of work. The wheels allow us to twist and turn to get into tight spots along the canal banks, whereas with a traditional track hoe you have to slide the tracks and it is not always an easy fit. The counterweight and four outrigger stabilizers gives it perfect balance so we can maintain stability whether we are clearing or lifting pipe." The EW180E has a max lifting capacity of 21,605 pounds.
The Volvo 21-ton wheeled excavator is the same size class as previous competitor models used by the Department but generations ahead in terms of capabilities. The approach SRPMIC used to research and customize their new excavator is also a generational change.
Ramon Montiel, Irrigation Maintenance Supervisor, represents a new era of equipment operators who are turning online before they turn to a traditional dealership to make buying decisions.
"I spent a lot of time on the Volvo CE web site and YouTube channels. I saw how big wheeled excavators are in Europe and the full range of Volvo models offered globally. The way they are being used in different applications around the world was very intriguing," he says.
One attachment in particular caught his eye: the Steelwrist tiltrotator. Tiltrotators were originally designed in Europe in the 1980s and today are equipped on over 90% of excavators between 3-30 tons in Nordic countries. As its brand name implies, it works as a 'wrist' between the boom arm and attachment to give 360-degree rotation and +/- 45 degree tilt for greater flexibility. The Steelwrist can power buckets, breakers, augers, or in Ramon's situation, a brush cutter.
When SRPMIC was ready to make their virtual excavator a reality, they contacted Mike Douglas with local Volvo dealer, Arnold Machinery Inc. in Phoenix.
Says Mike, "The Community had a very clear focus of what they wanted. This is a very professional group. They met with Volvo and three other competitor equipment suppliers. They really had a vision for what they wanted this machine to be and what it would do, and Arnold just worked with them from that vision."
Arnold Machinery's 'whatever it takes' attitude sums up their Silver Service® philosophy- making sure each customer receives better service from Arnold than they will find with any other equipment dealer.
SRPMIC put this tagline to the test when they sat down with Mike to spec the machine.
The list of options factory-fit to the EW180 included:
2-piece, 17' 11" stretch boom for a larger digging envelope
Four outriggers for extra stability on uneven terrain (in lieu of dozer blade)
LED strobe lighting package and flashers and rear light bar. Says Ramon, "I am very safety conscious since I travel through schools zones, shopping areas and residential neighborhoods. On a typical day, I drive the excavator over ten miles on highways."
Single super tires instead of duals to prevent river rocks from lodging and damaging tire spacers. Ramon explains, "When a rock is stuck you have to deflate both tires on that side to dislodge the rock and there goes your day."
Additional toolbox for tools and fluids
Auto-lube system
Outrigger pads to protect asphalt
Front cab and fender guarding
Reversible fan to expel debris and prevent engine overheating, a necessity in 120-degree Arizona summer temps.
Steelwrist Tiltrotator
Says Mike, "The Steelwrist allows Ramon to work in any angle without repositioning the machine. He can work from one side of the wide irrigation canals without having to travel to the other side. It suits their needs. It is very versatile."
Ramon says it is better than a backhoe, often used for similar tasks, because the entire cab swings 360 degrees and the Steelwrist allows you to dig sideways and in reverse, essentially transforming it into a mining tractor.
The Steelwrist's third lever hydraulic controls were a knack for Ramon, who compares them to a video game. "To me, it's like playing Xbox. You have to separate your mind from the excavator. That's where a lot of operators get confused; they hit that block mentally," he says, "Don't let a fear of technology rule your mentality. You have to be open-minded. If not you will miss out. The joystick controls with the Volvo are right at your fingertips, it's all for your benefit."
The second critical attachment on the EW180 is a Slashbuster brush cutter model HD480B. With an 18" diameter and 52" wide cutting swath it shreds and mulches in place nuisance trees and brush along canal banks.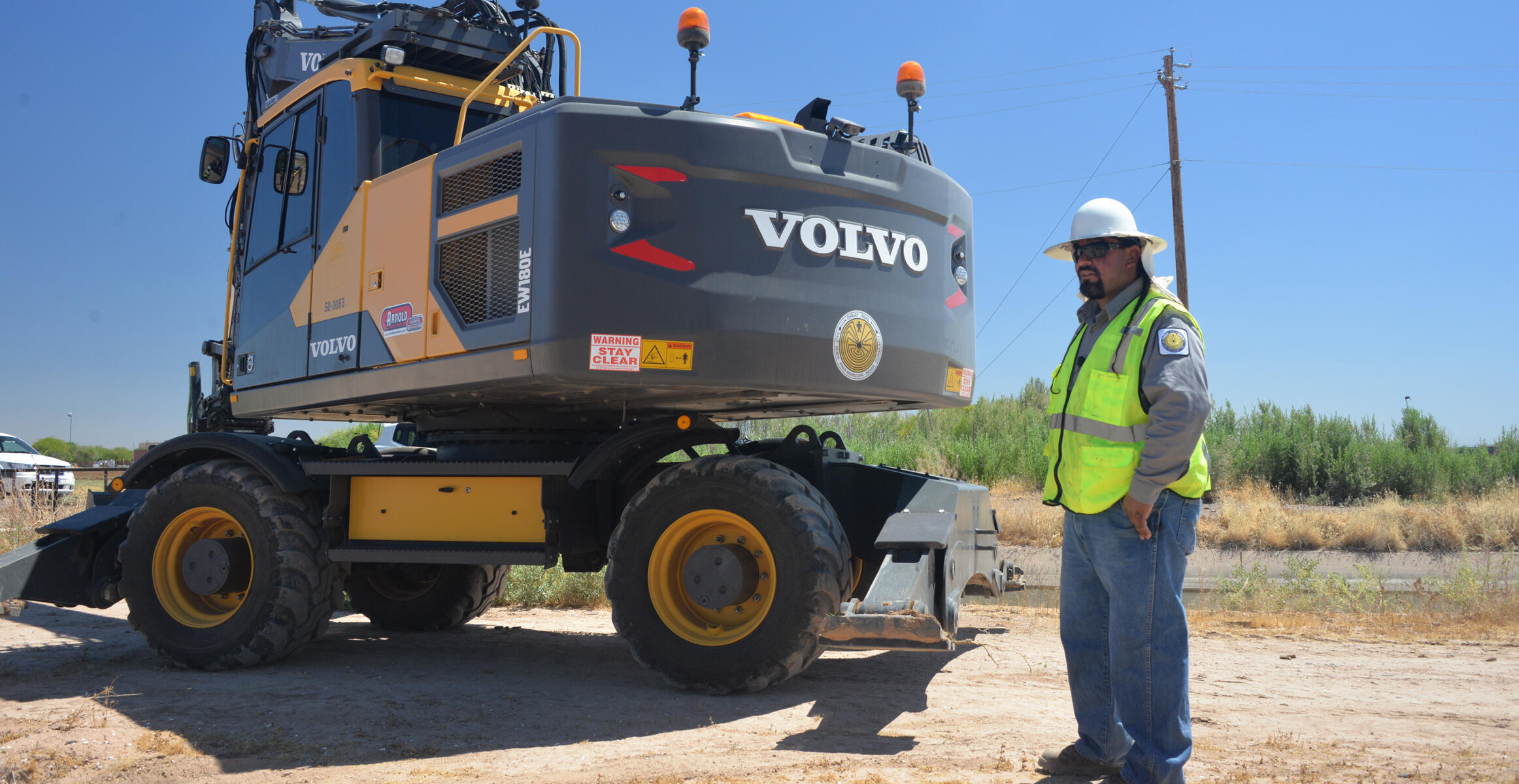 Inside, the EW180 stays a chill 61 degrees despite broiling outside temps. Climate aside, Ramon appreciates the cab's overall comfort. He says, "As a person who has been operated on three times for my back, when I ran the other brand it would beat me up after 10 hours. Not once has that happened with the Volvo.
Mike says the EW180 is a Swiss Army knife in terms of functionality and that is why it was chosen by SRPMIC.
Adds Dean, "This machine gets you safely to the job and has superior stability and load charts when you are on the job. The fuel consumption is far better than other wheeled excavators we have had, and there's nothing easier to maintain."
And in turn, nothing easier to use to maintain constant water supply to the Salt River Pima-Maricopa Indian Community.
Volvo EW180E Standard Specs
| | |
| --- | --- |
| Operating weight | 40,124 - 44,753 lbs. |
| Gross power | 175 hp |
| Bucket capacity | 1.14 yd³ |
| Max lifting capacity | 21,605 lbs. |
| @reach / height | 14.8 / 9.8 ft. |
| Max. digging reach | 32′ 9″ ft. in |
| Max. digging depth | 19′ 8″ ft. in |
| Breakout force, ISO (Boost) | 30,574 lbf |
| Tail swing radius | 8.4″ ft. in |