Over four decades, not a lot has changed in this pocket of southeastern Arkansas that hugs the Mississippi River. Agriculture drives the economy year in, year out, specifically rice and soybeans which are byproducts of the rich silt loam soil. Riceland Foods, the world's largest rice miller and marketer, is based in Stuttgart, Arkansas.
Where Casey, now superintendent of operations, and Chuck White, company principal and estimator, have seen shifts is in the requirements states' and local municipalities' demand of infrastructure projects.
"Our clients are getting stricter on the smoothness of the ride and compaction density of the asphalt, which puts pressure on the contractor to have the right skills and equipment to deliver on those specs," Chuck says.
The same terrain that makes the Delta prime farmland is what challenges Riley Paving. Poor sub-base and drainage make roads prone to potholes, ruts and waviness. It's also why they have stuck with Volvo equipment and its legacy brands to deliver better quality roadwork.
In the 1980s, Riley Paving traded in their Barber-Greene paver for a Blaw-Knox. Says David Jordan, territory manager with Volvo dealer Hugg & Hall Equipment, "By the mid-1980s, they were hooked on Blaw-Knox, particularly the PF-510. Blaw-Knox was the paver to have."
Says Casey, "The first Blaw-Knox we had was a 510. It laid really good asphalt and was user-friendly. We had an Omni screed on the 510 then when we purchased the Blaw-Knox 5510, we went to the Ultimate front extension screed."
The company places 100,000 tons of hot mix a year on average, clocking close to 1,500 hours annually on its pavers. Riley still operates that BK 5510 tracked paver with over 15,000 hours, as well as Ingersoll-Rand, and later Volvo, asphalt compactors, including DD90, DD35 and DD38 models.
Riley squeezes maximum life from their equipment owing to a diligent maintenance routine, but after becoming a subcontractor for aggregates supplier Pine Bluff Sand & Gravel, the increased workload mandated a fleet upgrade.
After Riley bought their Blaw-Knox 5510, Volvo CE acquired Ingersoll-Rand and the Blaw-Knox paver line. David Jordan and Hugg & Hall also transitioned to becoming a Volvo dealership.
That choice was confirmation enough for Riley Paving. "David and all of Hugg & Hall have always given us good service, if we need them, they are here. And we've had good experience with the Blaw-Knox and now Volvo. That's why we made our decision."
Today, a P7110 10-foot paver is at the core of Riley's paving train, supported by a Volvo DD110C double drum breakdown compactor and DD35B for finishing.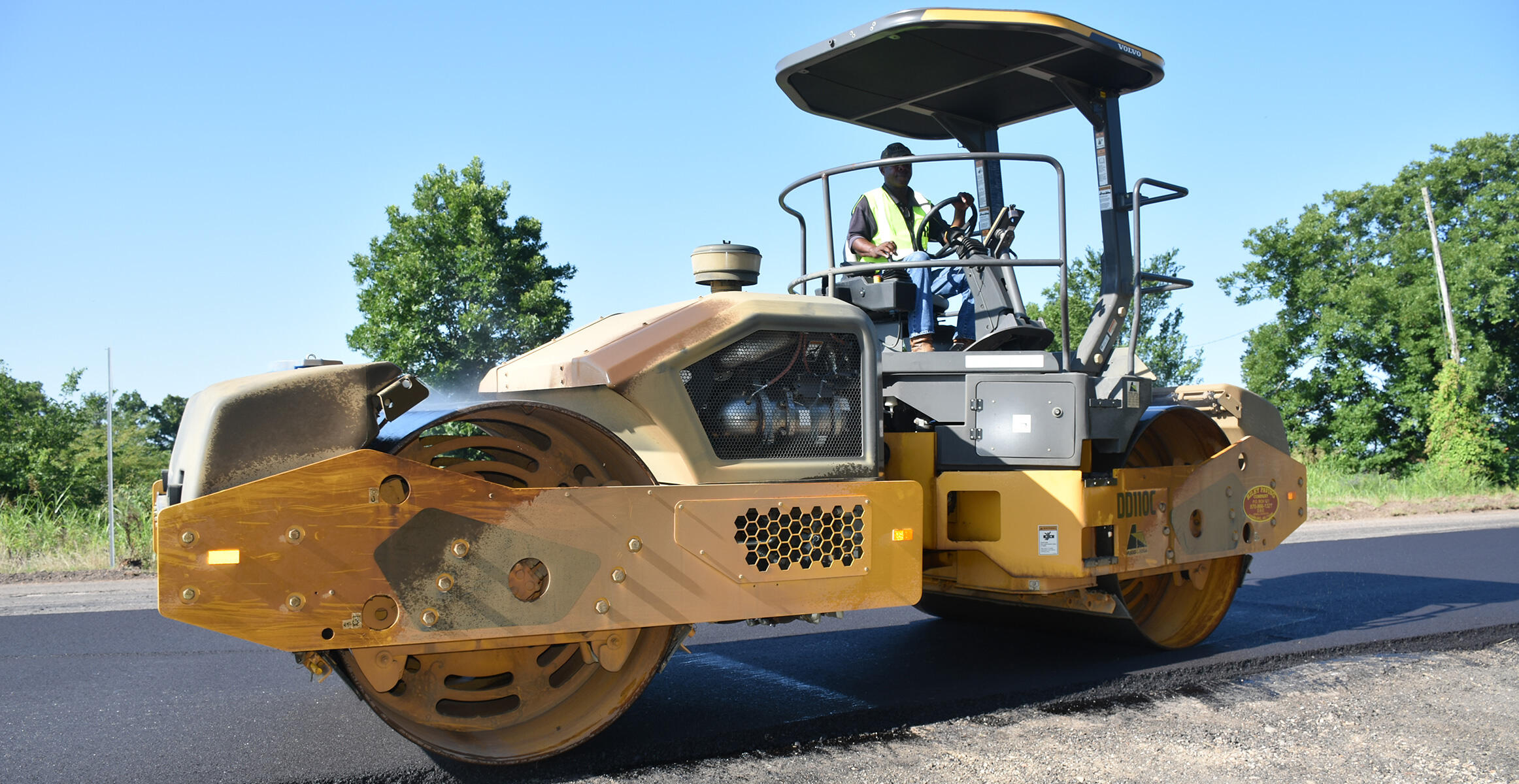 Jumping from the 5510 to the 7000 was not a major transition for their operators, and the improvements have made a 10-hour day under the brutal Arkansas sun immensely more tolerable.
Says Casey, "The slide-out operator station lets the operator easily see his marker lines and around the entire machine, along with the backlit control panels and the improved service access. Volvo has come a long way with these machines." Fuel consumption is nearly 50% less than with the 5510, with the 7110 using half a tank a day.
On the current job located on state Highway 4 in Desha County, Riley Paving is reconstructing the subgrade on a five miles stretch that runs straight to Arkansas City and the Mississippi River. It calls for a 4-inch binder, followed by 2-inch intermediate, then topped with a 2-inch final lift. "It's a standard job for us, with the surface compaction requirement to be a minimum of 92%, not to exceed 96%. We'll lay 850 tons of asphalt today, but it's not unusual to lay 2,000 tons a day."
The Riley team makes every job look "standard" because they've made paving 100% of their business model. "We pave as far into the year as weather permits. We've paved in 40 degrees on New Year's Eve and days like today when it's pushing 100. No production is no money. David at Hugg & Hall understands we're not like the dirt guys. If our machines go down, it's urgent because we've got a lot at stake."