Robert Perez is the owner and president of RAP Engineering, and he had been patiently anticipating the release of the all-new 8-foot wheeled paving machine. "We have relied on Volvo pavers and their Blaw-Knox predecessor for more than 20 years. These are top of the line paving machines, and we are very excited about all of the special upgraded features on our new Volvo 5170 (P5170B) paver," says Perez. "I knew that we had the perfect market for this machine, and I made the decision to buy the 5170 quite a while ago. We were lucky to have Michael Burrell, (Volvo Construction Equipment and Services) and Jeff Keller, (Volvo Road Sales Manager) by our side through every aspect of this new purchase."
Robert explains, "Michael invited us out to Volvo Days 2019 at their headquarters in Shippensburg, Pennsylvania, where the 5170 is built and we were able to get a close-up look and feel for this new Volvo paver. Not only did everyone have a lot of fun, but I was very impressed with the entire Volvo team and their operation. From top to bottom, this is a great group of people to work with."
Robert Perez purchased the assets of JD Paving, Inc. in 2011, after managing the operations for close to ten years. The company had been around since 1995 and operated as a general engineering firm specializing in grading and paving projects. The owner passed away in 2010, and the family spent the following year putting together a transition plan while deciding whether to close or seek out a buyout scenario. "My wife, Angela, and I talked and decided to throw all of our poker chips in the middle and just do it," says Perez. "We purchased the equipment and the work at hand, retained every single employee, and endeavored to move the business model forward under the name, RAP Engineering, Inc."
RAP Engineering, Inc. primarily works on public works contracts for schools, cities, and agencies throughout San Diego County. They also perform private commercial work in the greater San Diego area and up into North County and as far north as Temecula. Their professional staff of 35-plus employees includes two paving crews that operate with four job-specific paving machines. The company's fleet of other support equipment includes motor graders, skip loaders, skid steers, rollers and mini excavators. According to Perez, these machines include a Volvo 4410 with a Blaw-Knox nameplate, a Blaw-Knox 3172, a Super 700 trench paver, and their new Volvo P5170B 8-foot wheeled paving machine.
The all-new Volvo P5170B 8-foot paver was designed and manufactured at Volvo's factory in Pennsylvania to include all of the experience of its Blaw-Knox heritage. This easy-to-maintain machine includes the UltiMat160 screed that ensures the highest quality mat performance with a low cost of ownership. ActiveCare Direct with CareTrack® is Volvo's telematics system, and it comes free for one year with the purchase of any new Volvo paving machine. "This is truly a top of the line paver with a ton of special features. It is just a beefier full production machine with two operator stations, power assist front wheels and an amazing screed design," says Perez. "This paver is fully digital and required a bit more training than your average paving machine. Volvo had their people on-site to make sure that everyone was trained properly, and both Michael Burrell and Jason Pellegrino were there to walk us through operations, telematics and diagnostics."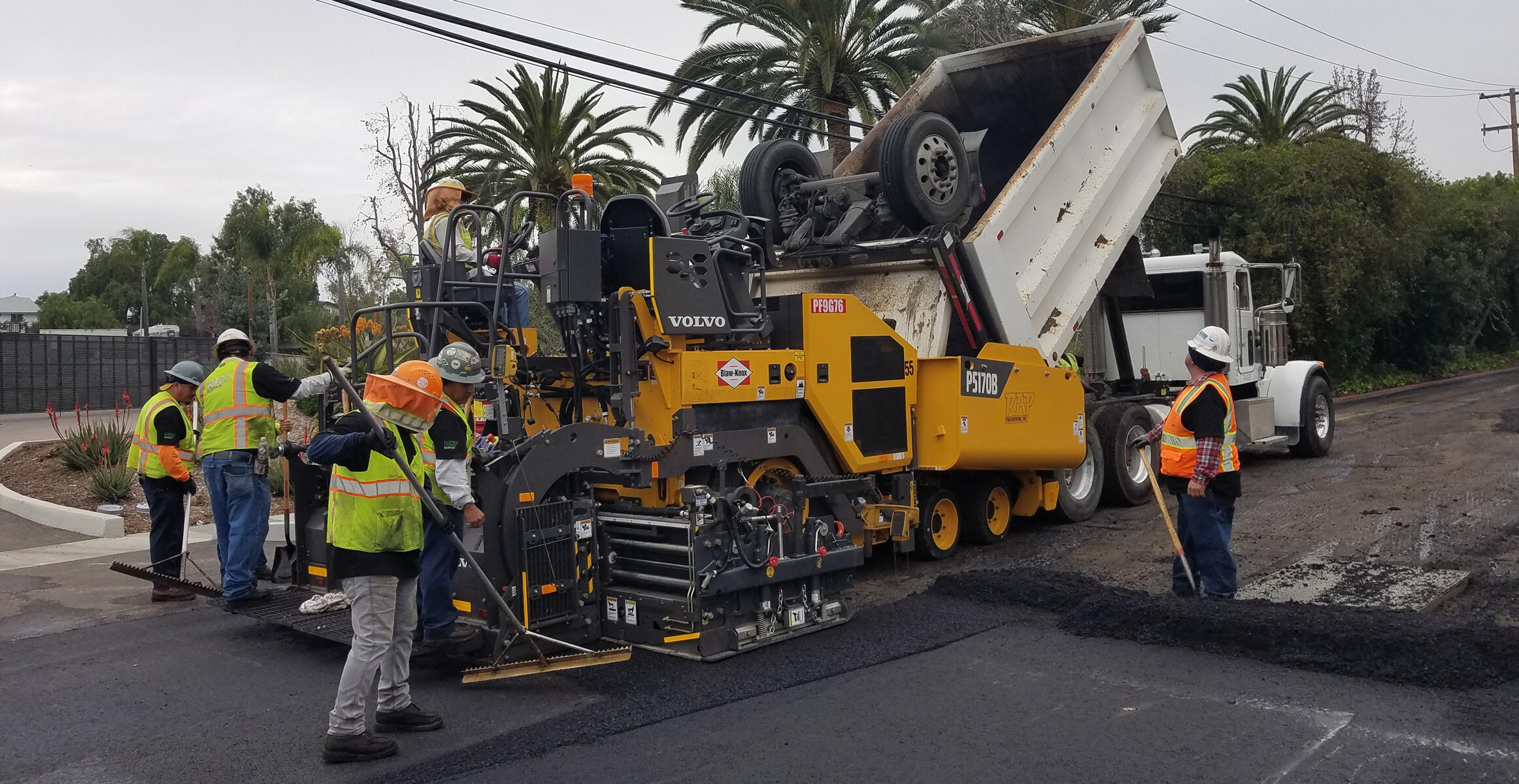 The Volvo P5170B paver is an agile, high production machine that offers rapid adjustability of paving widths, making those tight curves and obstacles much easier to work around. "We purchased this machine for its versatility. It is perfect for one of our large, heavy commercial projects and equally ideal for a smaller, school parking lot project." RAP Engineering went right to work with their new Volvo P5170B on both small and large projects. One of these projects was for the City of San Diego on a contract for Water Group 764 and 821 in Point Loma. "We removed a combination of four inches of asphalt and subgrade, recompacted the subgrade and then paved over native on select approved streets. We then placed 3,100 tons of asphalt over four days with our Volvo P5170B wheeled paver and our 4410 track machine for more stability," says Perez. This is the beauty of having a complete fleet of Volvo and Blaw-Knox pavers that can handle all terrains and any job."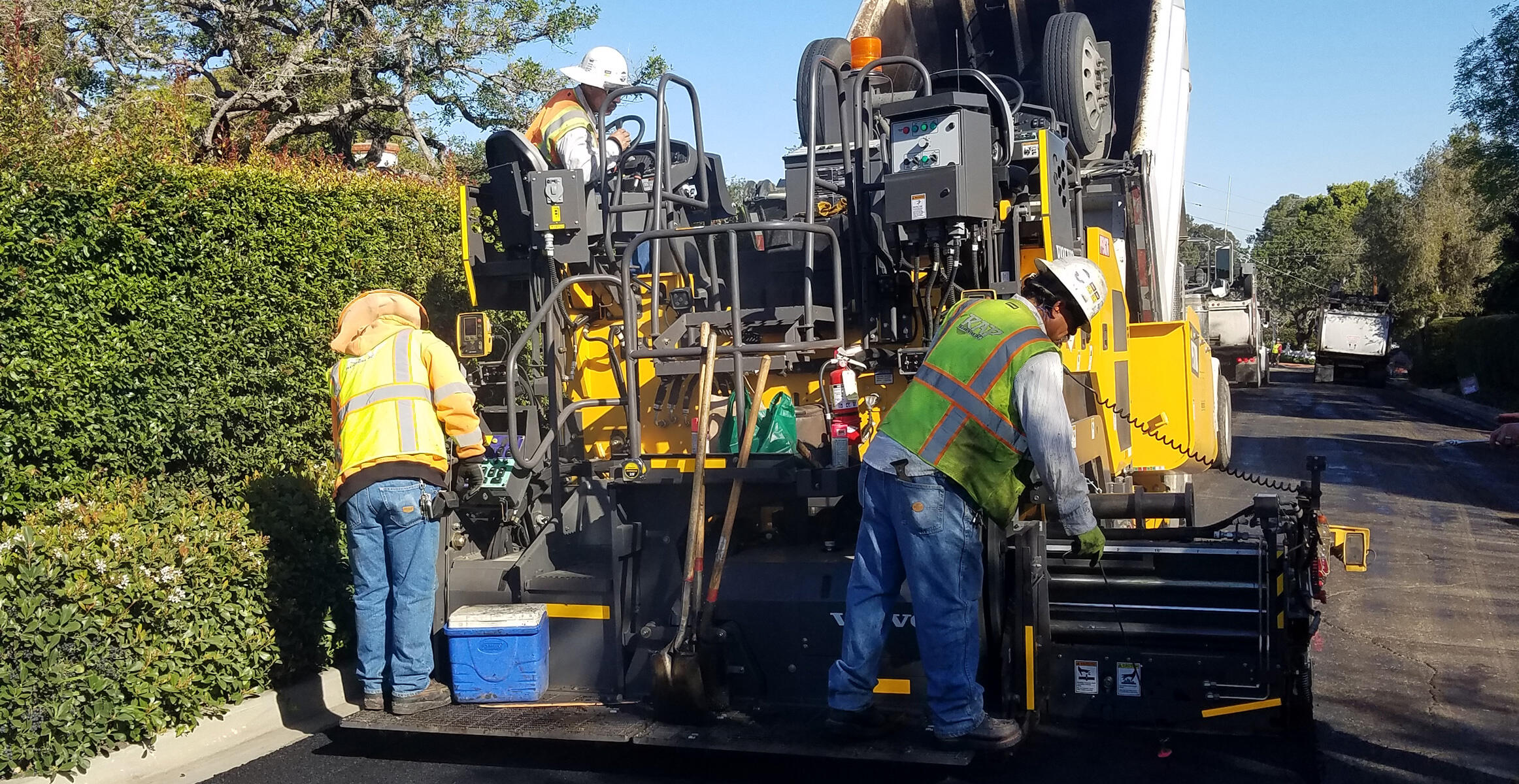 Perez says that they initially utilized their new Volvo P5170B paver on a couple of smaller projects where they put down a couple of hundred tons of base pave. "We used our Volvo 5170 (P5170B) paver at Palomar College, where we installed 220 tons of asphalt on the Comet Circle resurfacing project," continues Perez. "School district jobs have been accelerated due to the current larger window of work capability. We will be getting most of this work done over the next few months with the use of our new Volvo 8-foot paving machine. We have a great list of customers and are working with exceptional vendors like Volvo Construction Equipment and Services. This gives me great hope for the future, and I look forward to continuing success here in the greater San Diego area."
Article and Photo credits: Kerry Hoover, CalContractor Magazine, February 2020.