Single-stream recycling, common for household and commercial refuse, collects all recyclable materials in one container instead of separating receptacles by solid type. Statistics have shown this method to boost residential recycling by 30%.

As recycling gains traction in the construction and demolition industry, contractors are also seeking easier ways to be green. This industry generates more than 480 million US tons of waste materials annually, according to Construction & Demolition Recycling Association (CDRA) stats. That statistic includes concrete, asphalt, asphalt shingles, gypsum wallboard, wood and metals. A full 70% of this waste stream is recycled, but not without pain points. Contractors often rent multiple roll-offs and juggle limited space to park containers on active job sites. And valuable labor time is diverted to sorting materials instead of actual construction/deconstruction work.

Paul Kuhar, Vice President of Champion, heard this collective complaint from contractors large and small.

"For years, our commercial customers were telling us they wanted a hauler who could provide a recycling program where they don't have to separate construction materials," Paul says. "A big driver is LEED certification. More building projects are going for LEED certification and to achieve that involves separating materials. If you have cross-contamination you can lose points. It was very frustrating for these contractors."

LEED, or Leadership in Energy & Environmental Design, is a green building certification program that recognizes best-in-class building strategies and practices, based on a points scale.

Champion Waste & Recycling Services is a family-owned operation founded in 2002 by Paul and his wife, Michelle, and in-laws Frank and Carol Giannattasio. They pooled over 55 years of waste and recycling experience along with two trucks and a handful of containers.

Fourteen years later, Champion provides a gamut of container waste and recycling services (roll-off, front/rear load, compactor) and recently opened the region's first C&D single stream materials recovery facility in the Dallas suburb of Celina.

LEED, or Leadership in Energy & Environmental Design, is a green building certification program that recognizes best-in-class building strategies and practices that is based on a points scale.

The Texas commercial construction boom triggered Champion to green light the Town & Country Material Recovery Facility (MRF). "The timing felt right and we knew if we didn't open a single-stream C&D facility here, someone else would," Paul says.

He scouted single stream MRFs facilities from California to Florida to analyze operations and processing systems. He found that configurations vary based on the material composition unique to each construction climate. For example, in Chicago and Detroit, where demolition is king, the waste stream is heavy in metal scrap and concrete. Florida, where new construction rivals Texas, sees more green lumber and sheet rock in its material makeup. Florida is also where Paul met a pioneering C&D single-stream recycler who became a mentor to the Champion team.

"We had a ton of questions, one of the biggest being what brand of heavy equipment is the best to move the materials?" Paul says. The staple machines of MRF facilities are wheel loaders, excavators and skid steer loaders.

The Florida operations manager was direct.

Paul says, "He told me, 'We've used them all but by far Volvo is the best, hands down. I am telling you - don't waste your time on other brands of equipment." The Florida recycler spelled out the exact models Paul would need based on estimated volumes. "If you can't move material fast enough it is going to hinder your processing time. They learned through trial and error to size machines right," says Paul.

Paul called local Volvo Construction Equipment dealer ROMCO Equipment. "Jarred Walker at ROMCO was phenomenal in giving me hands-on support, even bringing machines out to the facility for us to demo."

Champion's first-string fleet includes a Volvo L120G wheel loader with 5 cubic yard bucket and L110H wheel loader with grapple attachment that are used to load the metering bin and transport bales.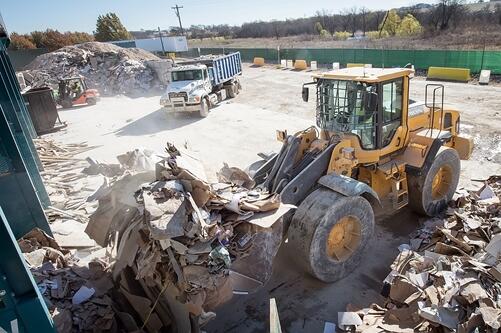 An EC250D crawler excavator works the tipping floor, equipped with a hawkish Nye 2-over-3 grapple. The excavator's hydraulic system is optimized to match the engine power, reduce power loss, and improve controllability and response time.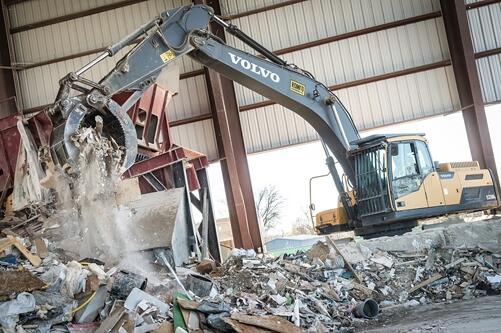 All equipment is factory-fitted with solid rubber tires and guarding protection. That includes two MC135C skid steer loaders with a rated operating capacity (ROC) of 3,012 pounds. "We used to run (a competitor brand) before Jarred brought one of these Volvo skid steers out to demo. The comfort of the cab and single-arm design of the skid steer is a huge deal because you have more clearance for the operator. We immediately bought two new ones," he says.
These five units are supplemented by an agile L30G compact wheel loader with high speed option and high ground clearance. "It's a little Johnny Workhorse for wood grinding or loading out plastics. It's the perfect size small loader for those applications."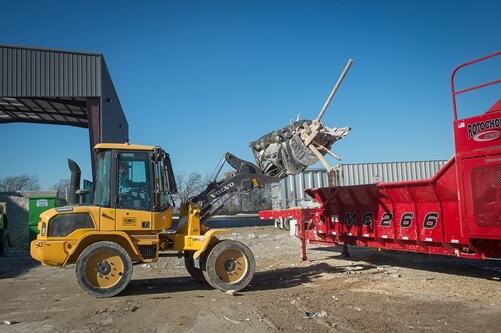 Town & Country's 40,000 square-foot facility has the capacity to process 450 cubic yards of C&D material per hour. That includes wood, concrete, sheet rock, metals, plastic grades 1-7, glass, cardboard and bricks. Recyclables range in size from 3 foot slabs of concrete to 18 foot lengths of PVC pipe. In total, more than 1500 tons of material is moved through the facility each day.
Paul refers to the Town & Country MRF as "the ingredient maker for the baker."
"What blows my mind is that prior to having this facility, all of the material you see here was going to landfills. To see the loads come in, be sorted and extracted into their own bunker is impressive," Paul says.
Wood is ground into multiple sizes depending on end user preferences. A-wood (dimensional lumber) can be used for playground padding or mulch to feed boilers. A-wood is also cut to size and donated to the local Habitat for Humanity chapter for new construction. B-wood (presswood or plywood) is ground for road base at landfills. Concrete and rock are repurposed as construction fill or road base or remixed into new concrete. Metals fetch a respectable price on the scrap market. Plastics, paper and cardboard are directly recycled.


The single-stream MRF was not an overnight field of dreams. Paul and his team knocked on many project office trailer doors to make superintendents and stewards aware of the new C&D facility and sell the efficiency of a one-stop drop. They got a major endorsement boost when general contractors for the Dallas Cowboys stadium and Toyota North American World Headquarters signed on with Town & Country MRF.
Paul says, "When sourcing new clients we found that the most effective way to make them believers is to bring them in for a tour of the MRF. The tour is what blows them away. When they see the volume that comes in and how little actually goes to the landfill once the sorting is complete, they realize this is a game-changer for them. They see the writing on the wall."
Customer advocacy is a cornerstone of Champion's service offering. Paul and his sales team obtained LEED Green Associates certification, proving their understanding of green design, construction and operations as it relates to recycling. "We are big believers in practicing what we preach. We talk about being sustainable and diverting materials, trying to differentiate who we are and what we do to take recycling to next level," he says.
Champion's commercial consulting services include analyzing contractors' programs to determine diversion metrics, waste and recycling audits, and reporting and training assistance.
Four Takeaways:

Define your market's core C&D recyclables to accurately spec processing equipment
Select the right material moving equipment for the volume of materially spec processing equipment
Concentrate on customer and community outreach (tours, association involvement)
Consider value-adds for your customers (LEED Green Associate certifications, program analysis, training)