Source: Spirit Magazine
By Carol Cassidy

The Barton family mining business started in 1878, harvesting garnet, a mineral known for its hardness and sharp edges.

At the time, miners worked with picks, shovels, and dynamite. "They used to do hand drilling, load the holes with dynamite, light the fuse – and run," says Chief Operating Officer Chuck Barton. "Now it's much more sophisticated. We have 3D models so we can understand the deposit and efficiently access the garnet."

His great-great-grandfather, company founder Henry Hudson Barton, started his career working in a jewelry store. The dark red gemstone, garnet, was one of the minerals he studied. Barton later married into a family that operated a sandpaper business.

"Back in 1878, everything was wood. They needed a better abrasive, for sandpaper," Barton says. "My great-great-grandfather reflected on his experience with garnet, and how hard it was, and how the edges were very sharp."

Barton says his ancestor researched and discovered a good garnet source in the Adirondack Mountains, in New York State. "He ended up buying an entire mountain," Barton says.

In the old days, workers used horses, wagons and winter sleighs to collect and move the garnet ore for processing. Now they operate sophisticated machines from Volvo Construction Equipment to excavate, load and transport a much greater volume of garnet ore.

Chuck Barton and his team made the decision to invest in Volvo machines with the help of a cutting-edge computer program called Site Simulation. Volvo CE Product manager Eric Yeomans worked closely with Barton employees to build the highly detailed, computer-assisted report and simulation.

REAL-LIFE DATA
The simulation analyzes site-specific data and maps out the unique terrain of each job location. The results include animation representations of the site, and information covering the proposed machines at work there. The animations are used to show the equipment at work and the resulting reports outline equipment information, such as cycle times, fuel consumption, operating and maintenance costs and future requirements.

"In Barton's case, the simulation was quite complex because it included four different haul roads with different road surfaces, grades, angles, curves, and even potholes. We used GPS to accurately capture the haul road information," said Eric Yeomans. Also taken into consideration were site specific information including speed limitations, work schedules, density of the materials, and other
relevant information.

After analyzing the data, Kevin Fish, Barton's Quarry Manager says he was happy to recommend Volvo machines. "It was very informative for us," Fish says. "It helped show how we could improve with the new Volvo equipment in today's operating environment, and also where we could go in the future."

The simulation created estimates for how the mine site would evolve in the near term as well as the future.

According to Fish, "The equipment meets our needs now – with a little extra capacity – and will satisfy our goals as we look down the road. The Site Simulation was a big part of the decision-making, for sure."

Territory manager Jeffery Osborne, of the Volvo CE dealership Vantage Equipment, says Site Simulation helped him show how Barton could make good use of articulated trucks. Osborne says he suggested the Volvo A40G full suspension articulated trucks for Barton because they adapt to the specific rigors of a particular site.

"On Volvo's full suspension truck," Osborne says, "the full suspension system is an active leveling system – each wheel has a hydraulic cylinder that is connected to an accumulator. The hydraulic cylinders raise the truck, and constantly adjust the suspension to payload. The pressure in the cylinders is used to monitor the payload via the on-board weighing scales. Each wheel has its own individual hydraulic cylinder, and each wheel moves independently. It's a much smoother ride. It's less stressful on the truck, the drivetrain, and most importantly, on the operator."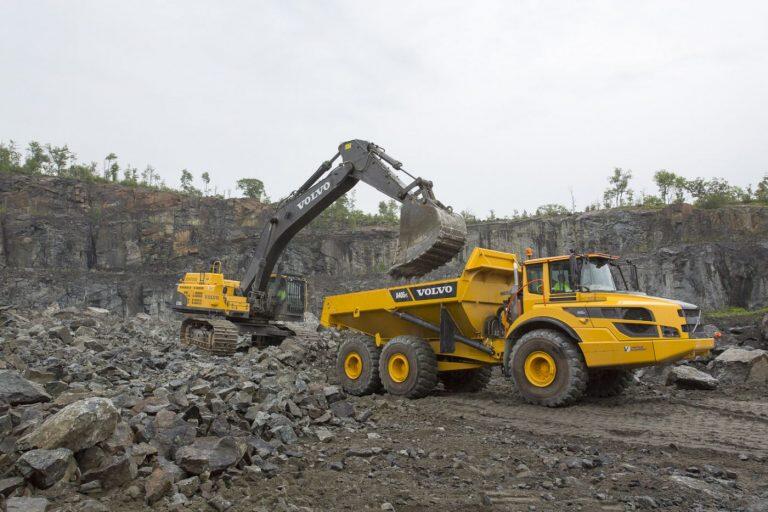 SMOOTHING THE WAY
Colby Gage, an operator on the Barton site, says: "We used to have old rigid frame trucks. They had no suspension and they would virtually bounce you out of the seat. The Volvo articulated trucks are smooth and quiet in the cab. They float and adjust themselves as you drive. You stay in the seat." Gage has also operated the Volvo EC480E and EC700C excavators on site. He calls them "fluent in motion, nice and smooth".

Osborne comments that a large excavator was definitely the right machine for loading the articulated trucks. "When the rock is blasted there is oversized material that won't go through the crusher," he explains. "We were able to prove that it was easier to sort the oversize with the EC700C and set it aside."

In addition to smooth operation, other factors figured in Barton's decision to invest in Volvo CE machines. Financing was an important consideration.

Paul Voutrin, a district finance manager for Volvo Financial Services, helped craft a lease agreement that makes sense for Barton's specific needs, including maintenance and flexible terms associated with hours of usage. "Every month they know what their cost is, including normal service intervals. It's all in their lease payment. It's easy and they can forecast with that number."

Voutrin says financing has become more technical, with evolving market demands and an unpredictable economy. He explains that current conditions "call for more flexible lease opportunities and more creative ideas to better suit the customers and to help them with their purchases".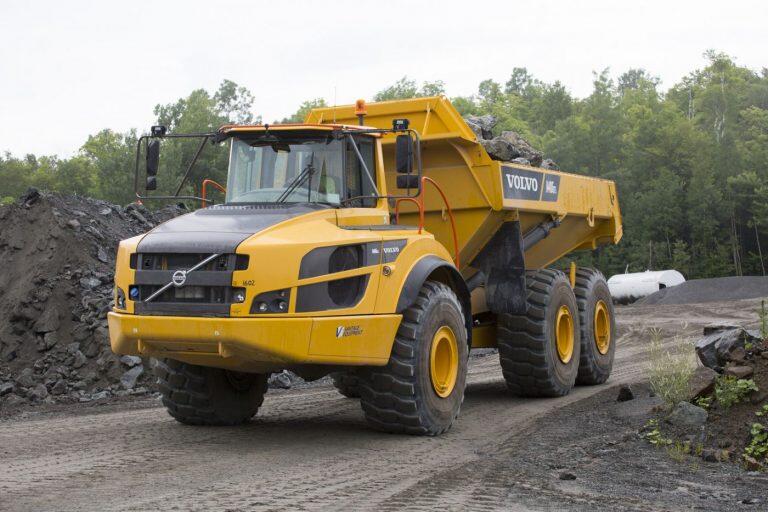 MAKING DECISIONS
Safety was another important factor in Barton's equipment decision. "Anytime you get a new piece of mobile equipment, you always get the new technology, and whether it is a restraining system, warning systems, or back-up cameras, it is technology which admittedly will cost a little bit more," Barton says. "But it's a safer vehicle for the operator and the people around the operator. With the Volvo equipment, the safety features have been absolutely outstanding for us."

Because the company has a strong sense of environmental responsibility, Barton says fuel efficiency and the quality of emissions were also factored into the decision. "There's no doubt that those Volvo machines help with our environmental objectives."

Barton continues: "All of these factors rolled up to a decision that, at the end of the day, was actually a little bit easier than we expected. Volvo really did shine. Volvo's maintenance program, with all its bells and whistles, the financing program and the flexibility there, the safety aspect – the Volvo equipment clearly was the winner."

Barton still mines and processes garnet for abrasives in the Adirondacks. Over time, the Barton family has developed the business to include new markets, products and applications. The company produces and distributes garnet primarily for water-jet cutting and blasting media.

Barton says he's grateful to his great-great-grandfather for starting the family business and he wants to honor his memory by passing on a thriving company to the next generation. "There's special pride in being part of the business," Barton says. "There's also an enormous responsibility to make sure that the business grows as the family grows. I think my great-great-grandfather would marvel at where the business is today and how the markets and technology have evolved. I think he would be quite surprised at what the business has done since he started it 138 years ago."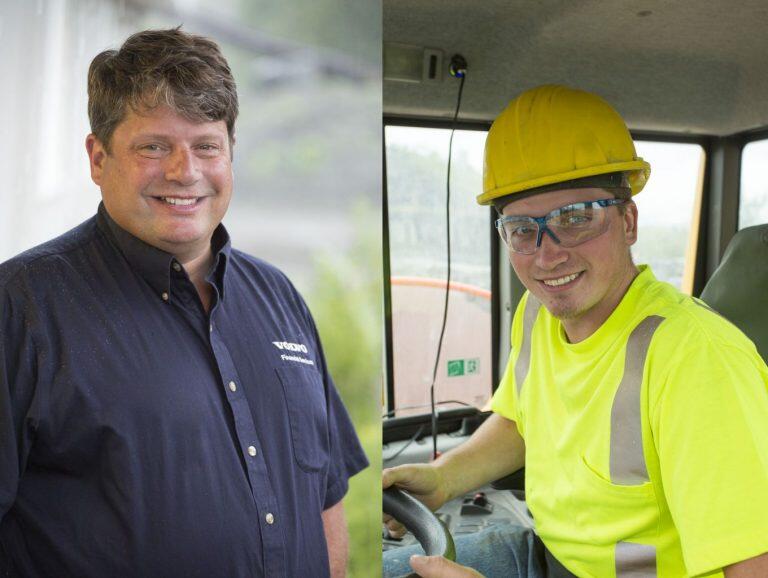 Photographs by Dan Bigelow