Bradford 'Brad' Picking and John Sayles merged years of experience working from opposite sides of construction blueprints to form Janz Enterprises in 2014. In three short years, the commercial developer and retired civilian construction manager grew Janz into a top excavation contractor in the Mt. Hood Corridor east of Portland, Oregon that is built on a foundation of Volvo equipment.
The towns that dot Route 26 toward towering Mt. Hood are expanding at a rapid clip. The region lures those seeking a slower pace and the proximity to mountains and year-round recreational activities. With the influx comes the natural demand for improvements to infrastructure and amenities. For native residents of towns like Sandy, Boring and Gladstone, growth strikes a delicate balance with preserving the region's idyllic spirit.
Against that backdrop Janz Enterprises began as many ventures do, with a spark of an idea put into words.
The Sayles family has generations rooted in the area and Brad has made it his home since 1973. John retired after a 30-plus year career in civil construction, from operating equipment to overseeing multi-million dollar projects. Brad was also in the next phase of his life, having sold his business, Janz Berry Farm, and splitting his time between managing commercial development interests around Sandy and Boring, Oregon, and his second home and first love, deep sea fishing in Hawaii.
The two pooled their expertise into a construction company centered on projects to improve the communities where they were personally and financially vested.
Says Brad, "I've known John for what seems like forever. He's very knowledgeable about all aspects of construction and he has many connections. And with my background, obviously I, too, have a strong interest in the industry."
John recalls the conversation more concisely. "I needed a reason to wake up in the morning; I missed construction work and I realized I just couldn't walk away from it. Brad said, 'Let's get into excavation,' so that is how we got started."
With a blank slate, Brad and John were able to shape their company from best practice principals gleaned from years of experience, beginning with their choice of equipment.
Says John, "Our first project was backfilling a deep canyon along Route 26 outside Sandy with over 30,000 yd3 of material, then grading and compacting to make it a usable piece of property. That site is now occupied by Johnson RV. After completing that job with a fleet of well-worn machines, we realized we could not continue without a major upgrade to our equipment."
Now a co-owner, the cold truth of finances hit John in the wallet as he compared equipment purchases. "Suddenly it's the little things that matter like fuel costs, machine efficiency, speed, performance and reliability," he says.
That search led John and Brad to Ed Kanable with PacWest Machinery in Portland. After reviewing models and application usage, Ed settled Janz into their first Volvo, an EC160E 36,000-pound crawler. That purchase was followed with an ECR88D compact excavator, an EC300E and ECR145E and EC305C short swing models.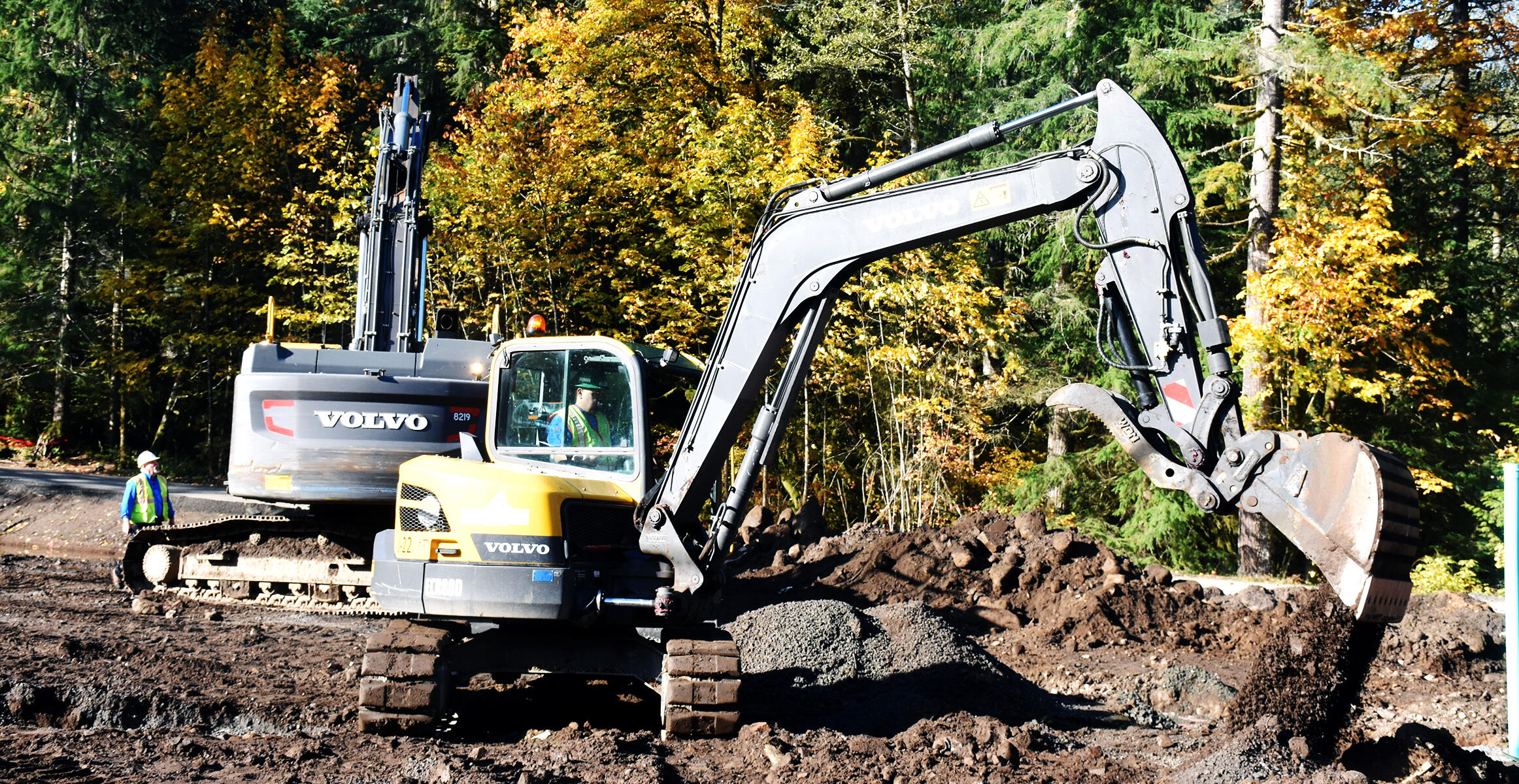 Janz concentrates on land clearing and utilities work so their excavator size line-up gives the breadth to handle any project from several thousand to several million dollars. The excavators are supported with Volvo SD45 and SD115 soil compactors and Volvo articulated haul trucks.
John, who is still in the operator's seat daily, was impressed by the Volvo's bullish power. "With a Volvo, you can tell that the machine likes to work. There's no shortage of power due to the two pump system and matched hydraulics," he said. In addition, Volvo's four work mode settings — Idle (I), Fine (F),General (G) and Heavy (H) — channel power while conserving fuel. Volvo excavators allow the operator to dial in the exact amount of power and control for the task at hand, while burning as little fuel as possible. Similarly, the operator is able to set the excavator to automatically switch to idle when the machine is inactive for a predetermined amount of time — anywhere from three to 20 seconds.
The Mt. Hood Corridor weather is its own microclimate due to the atmospheric sways of the 11,200-foot dormant volcano. The challenges of working in torrential rain, boggy mud, snow and ice are compounded by steep grades. Janz puts the stability of the Volvo excavators to a litmus test. In lieu of haul trucks on some mountainous terrain, John explains, the excavators move dirt in a assembly line style uphill for fill. Upper plate, side plates and lower plate are up to ¼-inch thicker and coveredby a Lifetime Frame and Structure Warranty. The deal was sweetened with a financial package through Volvo Financial Services.
"There are three key factors for me in choosing equipment," says John, "Longevity of the machines, price, and dealer support. PacWest and particularly Ed Kanable and Tim Hurst, Branch Manager, have provided great service and responsiveness."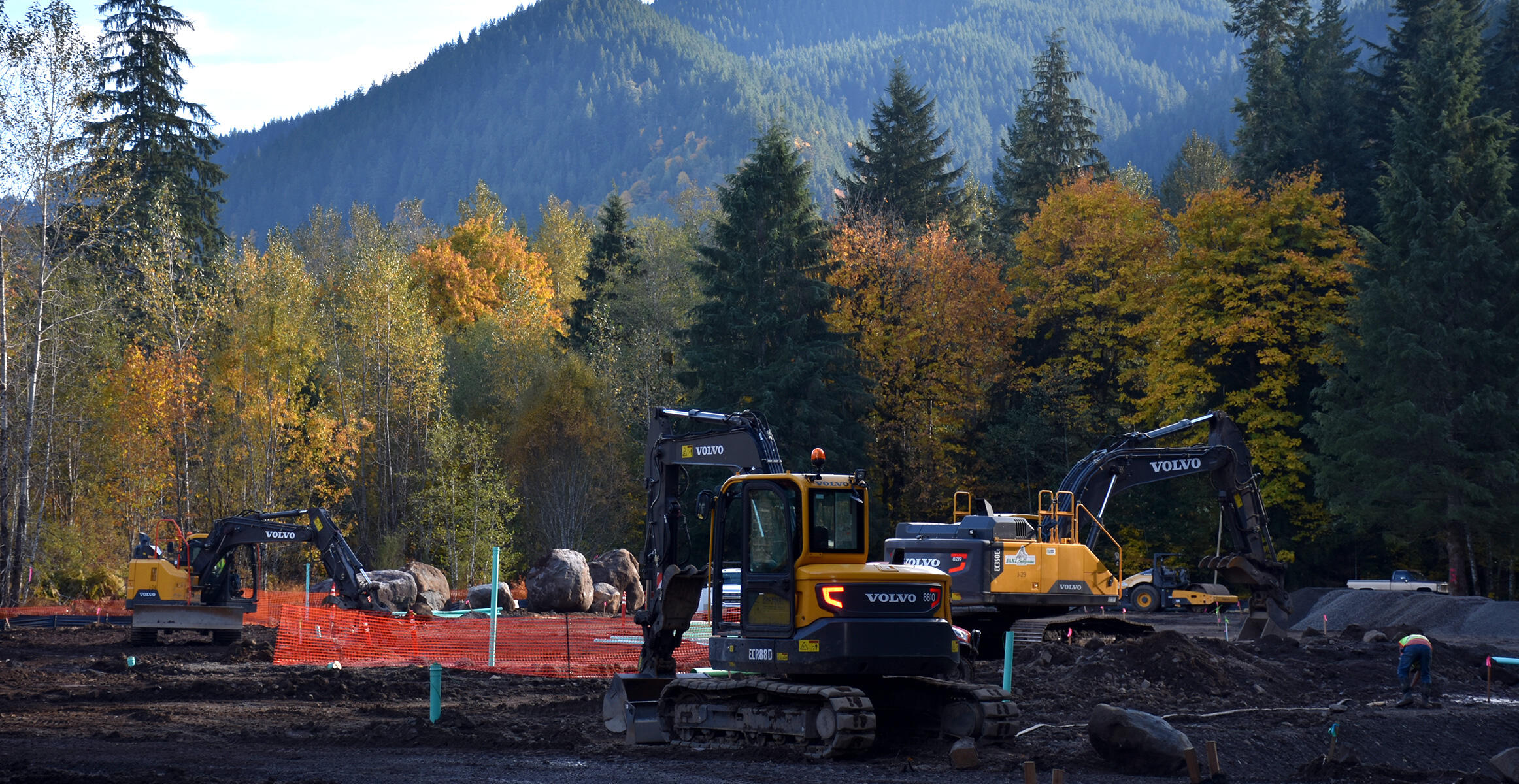 Name recognition and reputation have placed Janz top-of-mind with their customers, but for Janz, location is king. "We classify jobs by location more than dollars," says Brad. "We try to stay east of 82nd Avenue to avoid heavy Portland traffic so we work in less congested areas and it is easier to get equipment on and off the site. Ninety percent of what we do are fast-turnaround jobs, under $100,000, so location more than dollars is what we look at."
After three years of accelerated growth, Brad and John's future vision for Janz Enterprises is to develop their employees and put in motion a succession plan. "We want to grow the depth of our employees. This is a very competitive job market and most of our operators come from other local contractors. Having equipment that is powerful, comfortable and easy to operate can help sway them to stay and invest with us long-term. We want to give them the experience and confidence to carry on the company," says Brad.