Carlo Gagliardo Volvo Financial Services; Carl-Heinz Pfaff, IVP Forestry Products; and Vince Bowers, Ascendum Machinery.
"IVP are the initials of my daughter, Ingrid Virginia Pfaff," said CEO Carl-Heinz Pfaff. "We've been in business together for 15 years, and I've been in the logging business for 40 plus years."
Carl-Heinz manages production at the U.S. location, while company owner Ingrid – who goes by Ginny – manages finances and export documentation from Austria. The duo makes it work across time zones and reaps the benefits of European and American knowledge about logging equipment.
"When I came here from Europe, I saw all these other brands," said Carl-Heinz. "But Europe is very Volvo-friendly, and I wanted to bring that here. I'm in love with Volvo. I think I was the first in this area to bring in a Volvo log loader."
His preference for Volvo machines led to a close partnership with their Volvo Construction Equipment dealer, Vinson Bowers of Ascendum Machinery, about 10 years ago; and Volvo Financial Services (VFS) district finance manager Carlo Gagliardo in more recent years.
"Building a relationship with Carl-Heinz has been great, and working with them and VFS has been a real team effort," said Bowers. "IVP prefers our product over everybody else because the grapples are designed for this kind of work and we can tailor to their needs."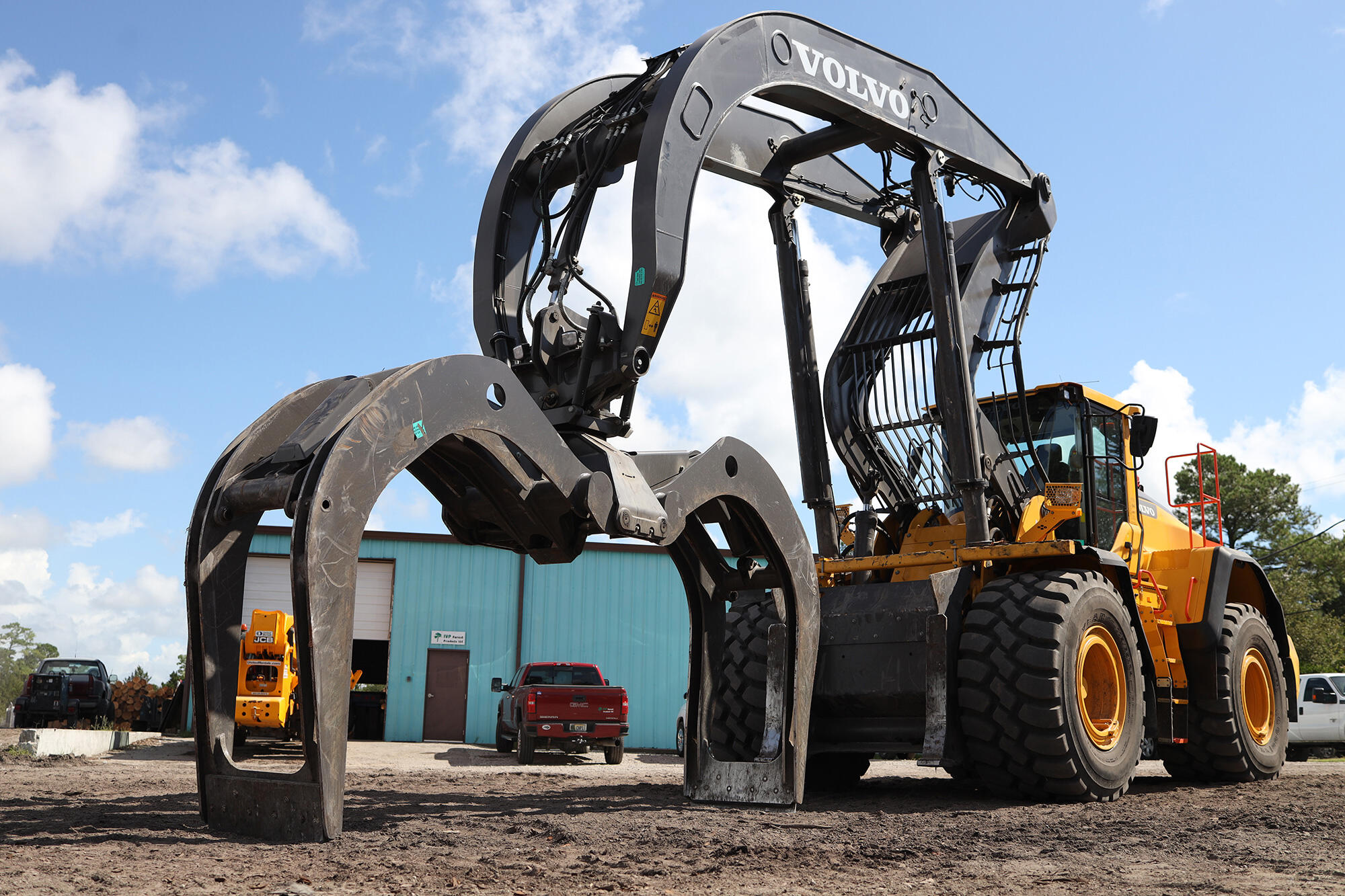 The Volvo L180H HL with massive grapple can hold up to 20 logs in one "bite" and gives the operator great visibility.
Unique Solutions for Specialized Work
In mid-2020, IVP purchased a Volvo L180HHL – a high-lift machine with a wheel loader base but purpose-built for log handling. The machine is more common in Europe, but Carl-Heinz is excited about what it can accomplish here.
"This machine will do a lot for us," he said. "I've always been in contact with people in the industry in Austria and Germany, which gave me the idea that this could move a high volume in a very quick and efficient way. Plus, we can stack higher, so our yard space is utilized better."
Buying any machine in the middle of a pandemic when in-person interactions are limited would create an unusual set of circumstances. But that's even more the case when the machine is relatively uncommon like the L180HHL. Communication and trust and were critical for all involved with this deal.
"This is a specialized piece – the first one sold by Ascendum Machinery in North America," Gagliardo said. "To see Volvo CE, VFS and Ascendum come together to put this out there for our customer is a very special moment."
"In times like this, it can be a little scarier to lend money, but that's the difference between VFS (as a captive) and a bank," he continued. "We're going to be here in good times and bad times, and we're still going to be able to provide financing solutions for our customers."
As a captive finance company, VFS is a wholly owned subsidiary, which means economic downturns don't keep them from lending quite the same as they do for a bank.
Ginny said that's exactly why she and her father appreciate working with Volvo.
"Whatever challenges we had, we were able to work them all out," she said. "It gives me peace at night that somebody I trust is over there."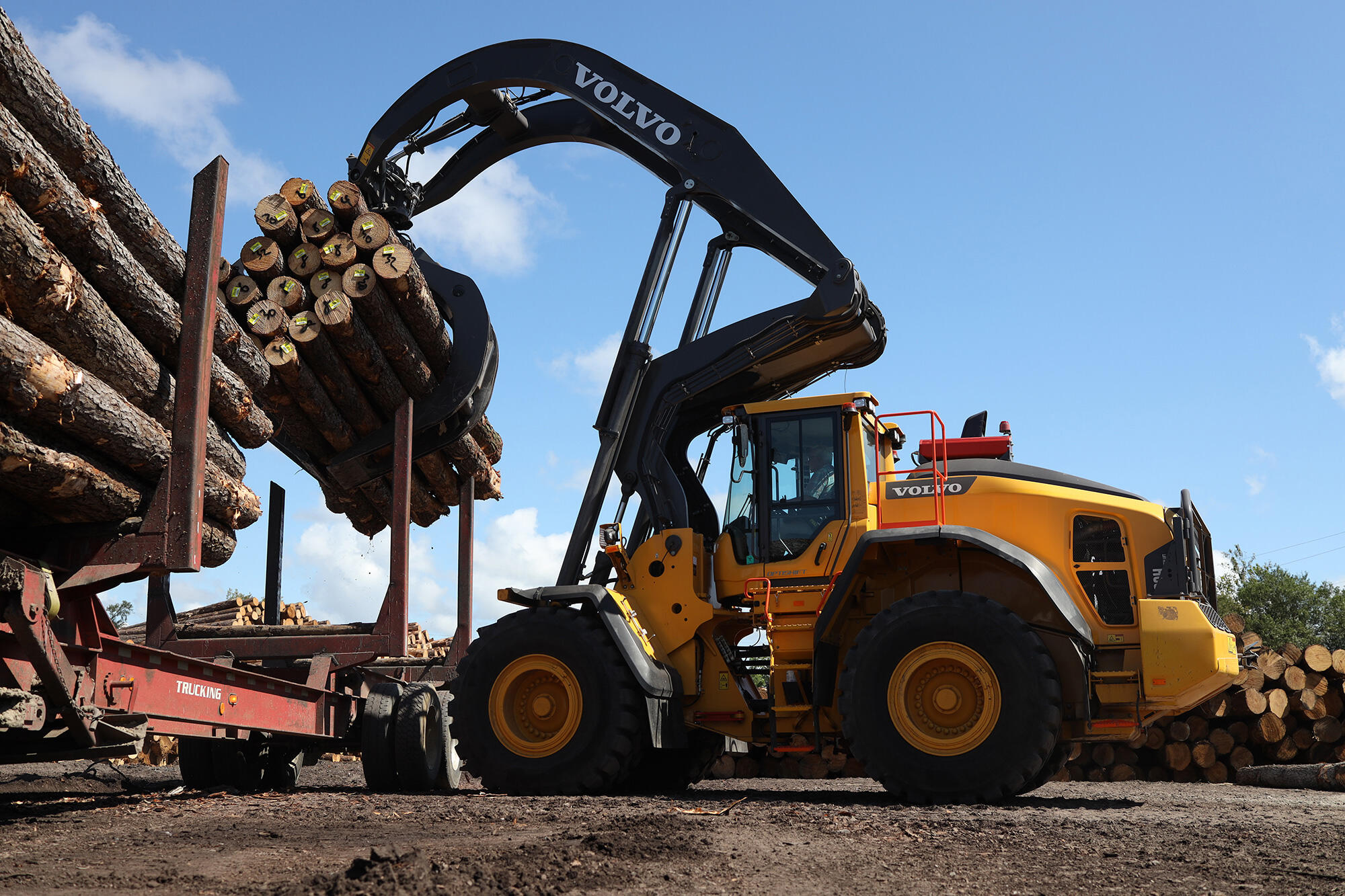 Working with Austrian and German loggers, owner Carl Pfaff knew the capabilities the Volvo L180H high lift would add to his North Carolina operations.
Logging and Leading by Example
Bowers says moving from the L120 wheel loader to the L180 high-lift made sense given IVP's emphasis on efficiency and uptime.
"You can put more logs in stacks and into containers much faster with the 180," he said. "And this grapple can unload more smoothly and not damage the logs."
Carl-Heinz explained that their process is done on a tight schedule, which is why they rely on quality equipment and a strong maintenance team.
"There could be 30 containers in one booking on one vessel, and it's a rough environment, so any little thing that happens could shut us down," he said. "I like to have all my equipment from one company if possible, so the same service people come out here and know our people and our equipment."
Several features made the L180HHL a smart choice for IVP. One is its excellent stability and long reach of 9 feet, 11 inches, allowing operators to stack logs up to 21 feet, 4 inches high. This can help timber yards save space and improve production. Also, the larger rotating grapple allows operators to unload a log truck with two "bites" instead of four, and it can load a container even faster.
"Instead of having, like, three logs in a grapple, we have 20," said Carl-Heinz. "So if we want to, we can load a container with just a few bites instead of 20."
While IVP has a couple of operators trained on the L180, Carl-Heinz still runs it pretty often as well.
"It's a beautiful operator environment and the control system is very user-friendly," he said. "It took me about a week to get used to the grapple but it's good."
Noting the yard's rough driving conditions, Carl-Heinz said he appreciates the smooth hydraulic system on the machine as well.
"It's rare that the customer is also the operator, but he wants to be able to do everyone's function so he can fill in if he has to," said Bowers. "I think that's a great way to manage."
The partners' respect and appreciation for each other extends outside their work at the port as well, and both look forward to continuing that relationship.
"We are getting older together," said Carl-Heinz. "Maybe in the coming years we'll go fishing instead of selling equipment to each other."
To see the L180HHL at work in IVP's log yard, watch this video: