Ellwood City, named after a founder of barbed wire, became known for its foundries and steel car works. The four shuttered storefronts framing Lawrence Avenue have changed along with the town. Once housing a dance hall and later a hardware store, the most recent tenant was an upscale restaurant that closed in the late 1980s.
Ellwood City is reinventing itself once again, and companies like Continental Construction & Demolition and owner/operator Blaze Lambing are in short supply as downtowns revitalize and remarket their potential. Says Borough Manager Bob Villella, "We want to take advantage of the companies that no longer want to locate in shopping malls."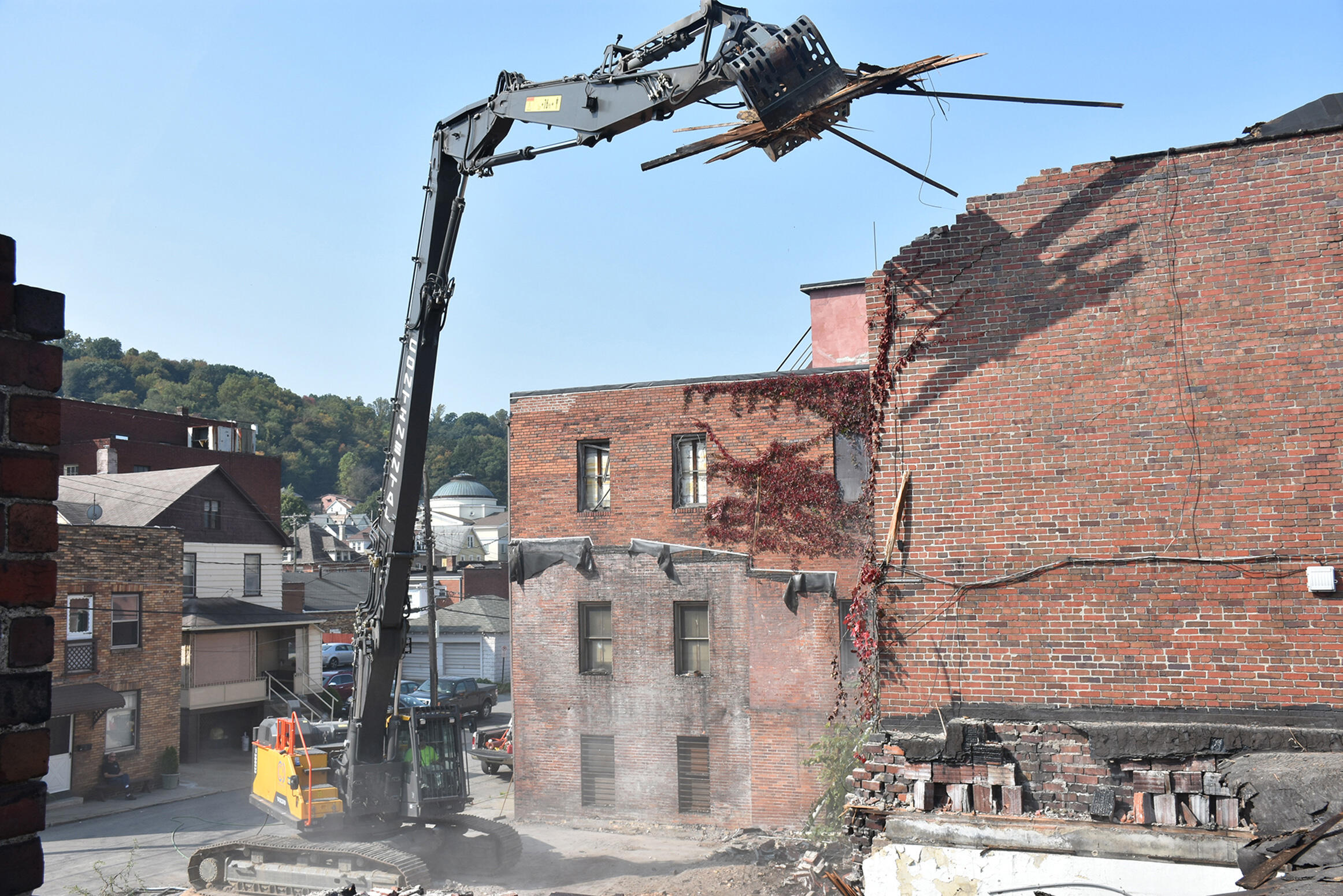 Steel giant
Local governments and the private sector are setting more stringent standards for demolition projects. The lowest bid is no longer a guarantee of an award, particularly within the parameters of space constraints, questionable structure integrity and minimizing impact on the surroundings.
The EC380E HR ultra-high reach demolition excavator gave Continental an advantage in securing not just the Ellwood City job but similar projects across Western Pennsylvania. "It's an entirely different style of wrecking versus using a traditional track hoe," says Blaze.
Continental specializes in demolition and abatement projects ranging from single family dwellings to decommissioning of industrial sites. The typical projects are commercial buildings 50,000-100,000 square feet that are being removed for rebuilding purposes. Continental also performs on-site concrete recycling operations.
Says Blaze, "I have gotten real good at doing jobs others don't want to do. This is a difficult demo because the buildings are anchored against two other structures. With the high reach and tilting cab, I can sit at ground level and pick down the whole roof. Safety is improved because we do not have guys in the building hand-cutting beams, which in this case, are up to 18 inches in diameter. Using the Volvo high reach makes us more efficient and safer."
Blaze's EC380E HR was the first high reach sold in western Pennsylvania through local Volvo dealer, Rudd Equipment. The "smallest" of Volvo's three high reach product offerings, it was selected because its size and dimensions are the best fit for downtown job settings. But the true worth of the machine is its impressive lift capabilities. At a max pin height of 76 feet, it can power attachments weighing up to 6,600 pounds. This makes the EC380E HR a heavyweight performer on par with much larger size machines.
Says Blaze, "On the Volvo 380E we run a 360-degree rotating sorting grapple by Kinshofer and LaBounty 1000R shear plus a LaBounty MDP27 concrete cracker. This allows us to reach high and still do concrete building demolition and use the shear for structural steel buildings."
The high reach removed the top 50 feet of the structure and used the material to form a pad to gain added elevation for the excavator while working further into the building toward Lawrence Avenue. The variable undercarriage expands to 11' 8" to give additional stability while working from the pile. Dust, an unavoidable byproduct of concrete demolition, is quenched by the Volvo's dust suppression system. The system's 8 gallon-per-minute hydraulic lifting pump eliminates the need for a separate solution. Two or four programmable nozzles provide a fine mist that traps dust, and the water system can also be used for cleaning the machine with the high-pressure water gun mounted behind the cab.
Says Scott Ransdell, Branch Vice President with Rudd Equipment's Pittsburgh location, "Blaze was looking for a high reach excavator that was completely manufactured by one company, and there are few that offer a factory-fit machine for demolition. He would have gone with an EC700 high reach excavator – Blaze likes to go big – but the EC380 is a better size to give him the flexibility to move into tighter spaces. He needed to also have a comfort level with his local dealer."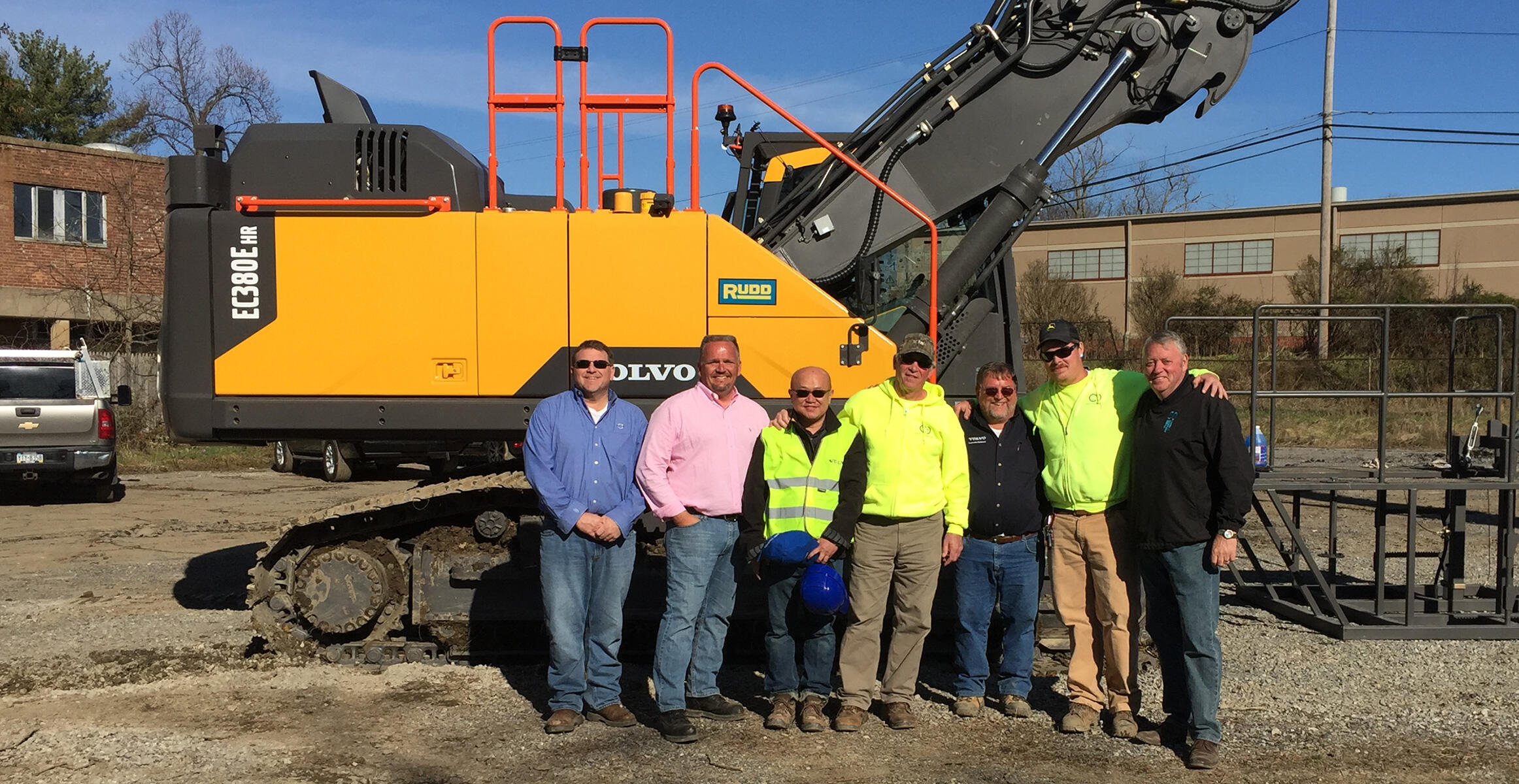 The people behind the iron
Blaze literally grew up in the construction field with his grandfather, father and mother, who founded the family's site-work business, Continental Construction, based in Bethel Park.
After playing football at James Madison University, then earning a business degree from Penn State University, Blaze worked as a scrap broker in western Pennsylvania where he bought from major demolition contractors. Blaze returned home when the scrap industry turned south around 2006. Demolition seemed a natural fit for their business model, and Continental Demolition was born.
A conversation with Blaze is heavily dosed with mentions of his family and their impact on his company and himself. Blaze's mother serves as Continental's bookkeeper and payroll manager. He also credits his business acumen to the encouragement and advice he received from his extended Italian-American connections. This includes his uncle, Dennis Franks, a western Pennsylvania native and iconic NFL legend who played for the Philadelphia Eagles in the late 1970s and now runs a national marketing company. Another uncle, Donald Franks, owns auto franchise JL Freed Honda in Philadelphia.
Blazes' reliance on the personal factor played into his deal with Rudd Equipment and the Volvo high reach, which he first saw at a National Demolition Association expo. He researched online, then contacted Rudd. Hands-on experience renting high reach demolition equipment gave him a clear picture of the features he would cherry-pick for a purchase machine.
For Blaze, the most important thing is relationship. "Volvo and Rudd take the time to figure out what your needs are and treat you as an individual. Dealing with other manufacturers, when they are focused on selling iron, a lot of times the small guy gets lost in the numbers," he says.
With contained demolition projects filling a larger part of Continental's portfolio it became more cost effective for Blaze to buy than rent. "I know what makes Volvo stand out. The dust suppression system, you just hit the button and have water. The variable undercarriage gives me good stability. And the ease of changing out the front booms — two guys can do it in 40 minutes. We need a machine that can reach five to eight stories and the digging pin and high reach booms have two pin settings, so when you need the height, you can get it up into the air."
Since its purchase in June 2017, the EC380EHR has been the primary tear-down machine on several key regional demolition projects. Says Blaze, "Having the high reach added to our arsenal of equipment allows Continental to stand apart from other contractors – customers know we have the right equipment available when they need it to do their jobs."