While many advances are aimed at confined space demolition work, these tools also have a place in traditional projects. Contractors with these capabilities in their wheelhouses are earning more bids. Ian Bartels, president of Budget Demolition in Hamilton, Ontario, Canada, counts himself among this astute group.
In October 2017, Budget Demolition brought down the original Taylor Field Stadium in Regina, home to the Canadian Football League's Saskatchewan Roughriders. Constructed in 1936 and owned by the City of Regina, the open-air stadium grew to a maximum seating capacity of 32,848. In 2016, the $278 million Mosaic Stadium was built in Regina with architectural features like a curved design to prevent snow from accumulating on the roof and partially enclosed northwest sections to shield spectators from biting winds.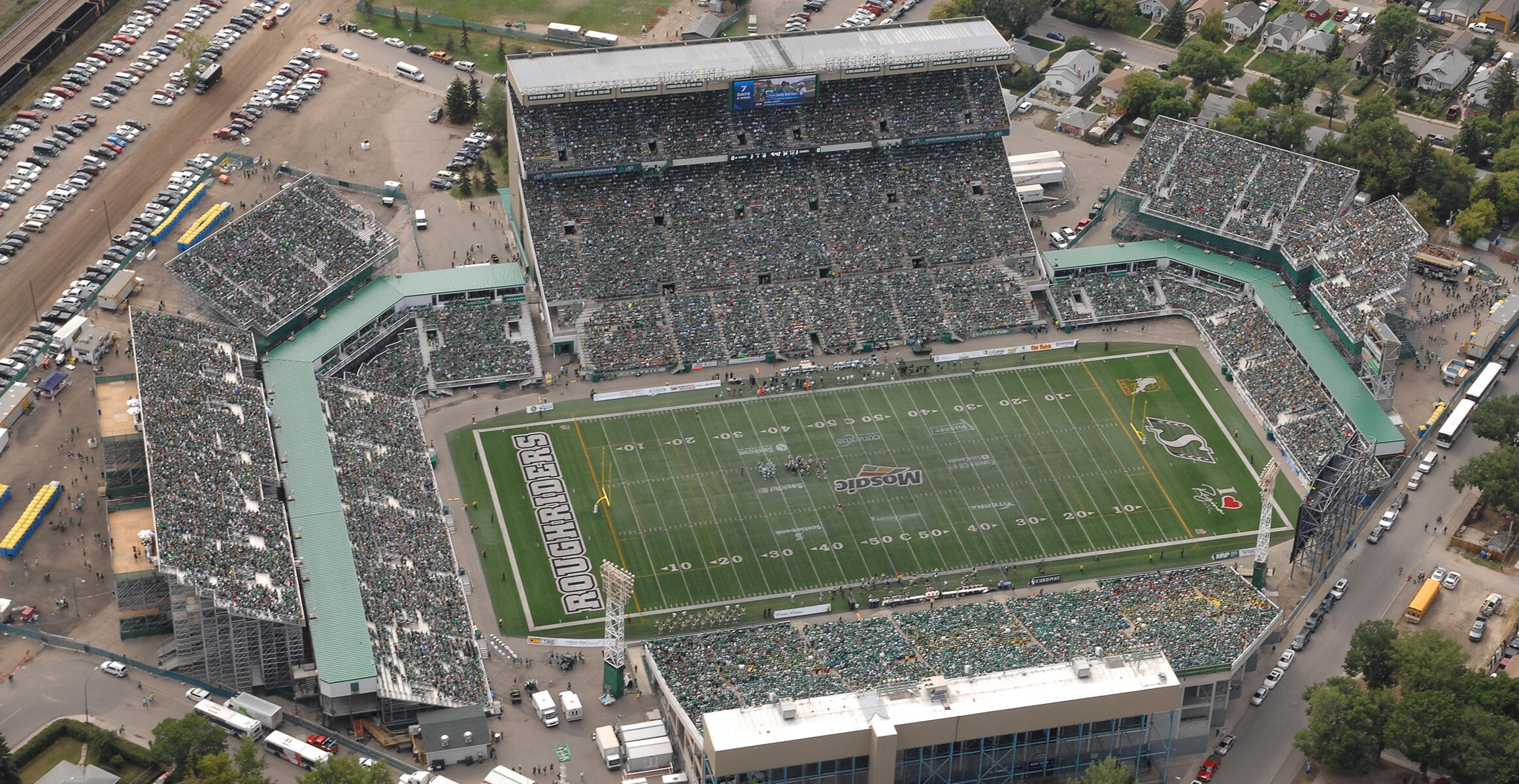 A signature of the old stadium was the upper-level grandstand, known affectionately as the "shady side," roughly 100 meters wide, 40 meters high, and 17 meters deep, with 14,463 prime seating spots. The RFP hinged on the contractor proving the safety of the overall demolition method and using an alternative to implosion to bring down the grandstand, so as not to affect residential neighborhoods in the vicinity.
He adds, "The challenge was to not blast, so we proposed using a Volvo EC460C high reach excavator that could easily reach up to the top of the structure to make pre-cuts into the steel. We also used seismic monitoring and engineering studies to determine the potential impact of the main structure hitting the ground."
Budget Demolition is one of Canada's leading decommissioning and demolition companies. Established in 1994, they boast a strong safety culture, a professional and experienced team, and industry-leading efficiencies. Budget Demolition is a division of Budget Environmental Disposal.
A few years prior, as a guest of Volvo Construction Equipment, Ian attended the World Demolition Summit where Applied Science International (ASI) was one of the presenters..ASI uses 3D modeling to predict how buildings fall in terms of natural disasters and applies to the demolition stage.
A connection was made at the Summit, and Ian now consults with ASI for predictive analysis to support his demolition plans.
"We provide our demolition concept to ASI and they plug the variables into their predictive program to confirm what is expected to happen," says Ian. "They give us an exact strategy of where to make pre-cuts into the structure, where to pull, and determine pulling forces."
Ian's proposal landed Budget Demolition the $2 million project, creatively financed in part by auctioning off 883 seats and 114,500 square feet of Astroturf from the stadium to Roughrider fans.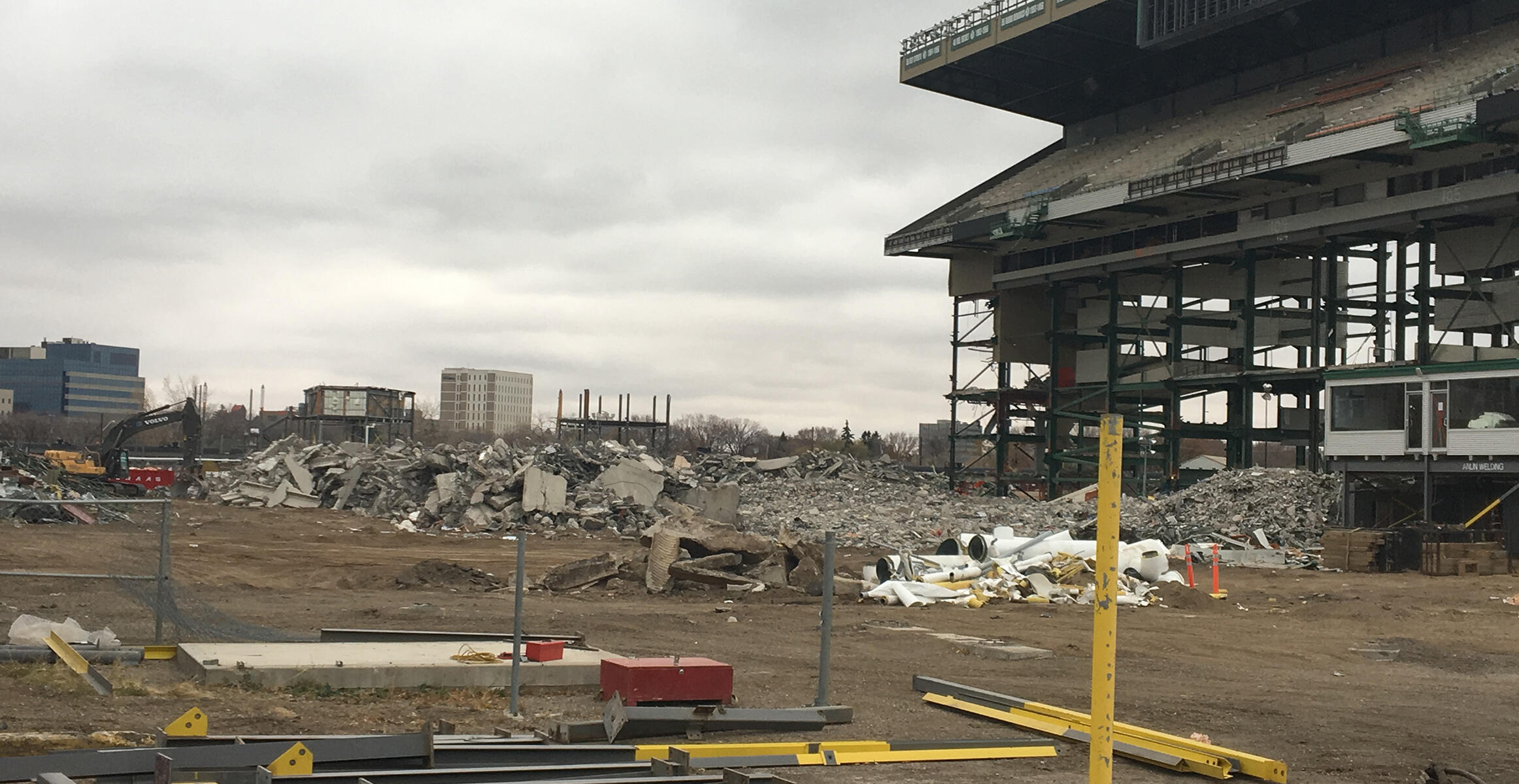 A fleet of Volvo excavators deftly deconstructed the stadium section by section, and were the workhorses pulling the west grandstand to the ground in a controlled collapse.
Over 90% of the materials, such as scrap metal and concrete, were recycled. The vacant 20 acres of land will be transformed into a mixed-use community within walking distance of the new Mosaic Stadium.
It was the second Canadian Football League stadium demolition for Budget, the first being Wynne Stadium in Hamilton.
Says Ian, "Our first excavator was an EC290 that we retired in 2017 with over 14,000 hours. We bought the EC460 high reach because we felt it was the most targeted for our industry with features like the guarding package, HEPA filters, quick conversion to a standard excavator, and just the conscious effort by Volvo to design specifically for the demolition industry."
Today, the Budget fleet counts 10 Volvo excavators, including the high reach, EC380E, ECR305C, and EC300.
Ian rewards loyalty with loyalty. "We look for a partner in the industry and that is why we have stuck with one brand. We look for someone we have confidence in, and who brings a high level of customer service. We have that in our local Volvo dealer, Strongco. They are very engaged," he says.
While Ontario is home, Budget can rely on a consistent Volvo dealer network wherever across Canada their jobs take them. In Regina, Budget was supported by Volvo dealer Redhead Equipment.