It is for Monte Taylor, President of Amarillo Utility Contractors, whose company places more than two million feet of water and sewer pipe each year.
Amarillo sits in the crosshairs of Routes 40 and 287 and is a waypoint between Albuquerque and Oklahoma City. The area is rich in cowboy culture and mementos of its Route 66 heyday, best symbolized by the Cadillac Ranch planted just west of the city.
It is semi-desert country, where the lazy clouds drop less than 20 inches of rain each year and temperatures peak at 111 degrees. Prolonged drought shriveled the primary Ogallala aquifer and Lake Meredith and the Canadian River that supply Amarillo's 190,000 residents have likewise dipped too low to siphon water.
As a conservation effort, the city recycles effluent and sells back more than four billion gallons per year to regional electric utilities as cooling water for generators. Most recently the Potter County Wellfield was drilled to help sustain residential and commercial growth. (Quick fact: a quarter of the U.S. beef supply is processed in Amarillo).
Over 1000 miles of wastewater lines and 130 miles of storm water drainage snake below the city. Most of the water and sewer mains date to the 1950s and are made of clay that is prone to cracking and leaking with age.
Digging deeper
The city's ongoing investment in infrastructure improvements is a boom for Amarillo Utility Contractors.
Says Monte, "When I started the company in 1999 our projects were relatively small and shallow. Over time we have taken on more challenging projects. Today the average size of pipe we lay is 12-inch water and 8-inch sewer line at a depth of between 10 and 26 feet deep," he says. "On the extreme side, we just completed a project for the City of Amarillo to replace 17,000 feet of 30-inch sewer main that was 36 feet deep," to serve future expansion west of town.
With a lean fleet of 13 machines, equipment right-sizing and uptime is critical to containing costs and hitting deadlines. "Our excavators clock around 2,000 hours per year," he says. In the past, Monte stayed in the 210-240 midsize range. But it was time for a fleet upgrade with deeper trench depths and a hefty workload on the horizon.
"We reached the point with our older excavators where they were racking up the hours and it was time to update. We initially looked at three manufacturers," said Monte.
Angling for the competitive edge, Monte was curious about the Volvo rotating pipelayer. Greg McGibboney, Northern Territory Manager for Volvo dealer ASCO Equipment, brought Monte to the Volvo factory in Shippensburg, Pennsylvania for their Volvo Days customer event to demo a pipelayer and get hands-on operation of the entire product lineup. In the end the pipelayer, which converts to a standard excavator, did not give Monte the digging depth he needed but another machine squarely fit the bill. "This EC350E crawler excavator is the right size for 95% of all projects," Monte says. The 35-ton EC350 has a max dig depth of 25 feet and 303 hp Volvo Tier 4 final engine.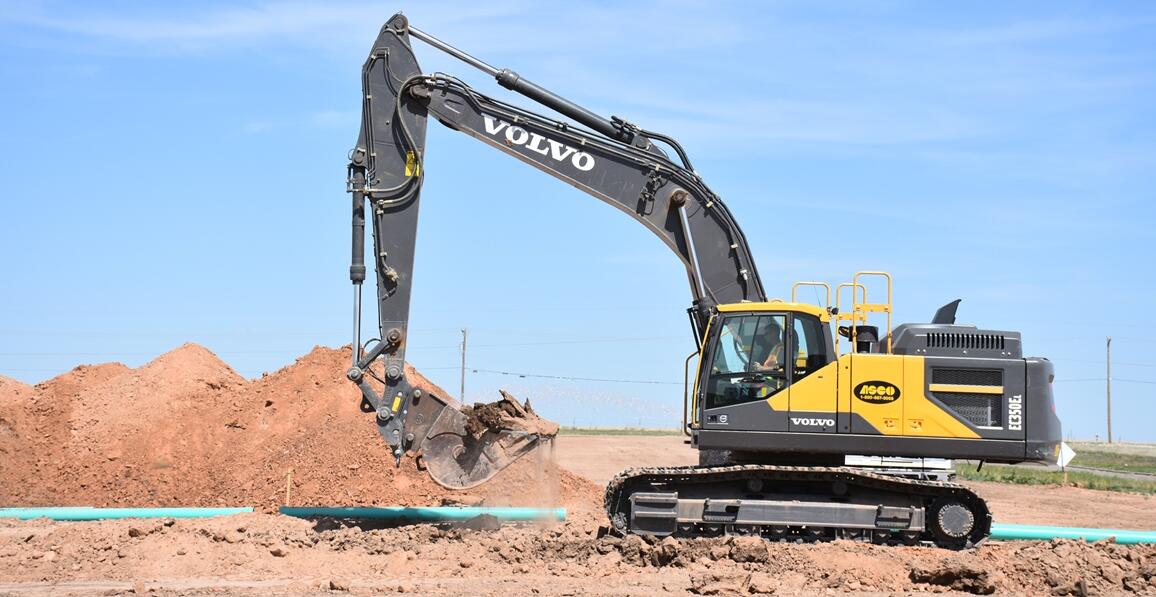 The sure thing
"What drove me to Volvo was first, the price, as they were more competitive, and then I called in the local dealer principals from ASCO Equipment and wanted assurance they could service and support the Volvo excavators. Not only did I get that assurance, but they have provided stellar support not only for the Volvo machines but also for equipment we own from other manufacturers," he says.
What really hurt Monte in the past wasn't just the cost of repairs on the older equipment; it was also the resulting downtime on projects. ASCO's wrap-around maintenance for Monte's entire fleet gives him peace of mind that he made the right decision.
ASCO's guarantees won Monte's vote and the deal for three EC350E crawler excavators. These machines represent a fleet upsizing to match the deeper trenching and larger pipe requirements of city projects. On a good day the EC350E can trench, place and backfill 1800 feet of pipe.
Says Mike Nail, Superintendent for Amarillo Utility Contractors, "Overall, since have been running the Volvo EC350s we are noticing faster cycling times and we have more reach than we did before. Our lifting capacity is greater and the ability that we can bolt together parts on the ground and lower in one piece versus individually placing is speeding us up tremendously."
Monte's crew modified the bucket's attachment bracket link to further boost productivity.
"One issue we had was that we were not able to trim a vertical wall more than five feet deep due to bucket overcurl," says Mike. "To get the additional depth we used a customized bucket with the Volvo quick attachment coupler. This small change opened the bucket up to gain substantially more vertical dig depth. We can now go 23-24 feet vertically and dig within 15 feet of the machine without compromising trench stability, so we move the excavator less. On our current sewer main job we reduced excavation time from six hours to two hours," he said.
The Volvo excavator is also a more operator-friendly machine.
Notes Mike,"The daily maintenance is easier and faster. For example, the single cabin air filter is easily accessed; you don't have to take it apart to get to it. The grease blocks are set up so you are not hunting lubrication points. You do not have to be an operator intimately familiar with the machine to do service checks."
Operator Rusty Wilkinson speaks from experience. "Compared to other excavators I have run, I really like the Volvo controls. They are very responsive," he says. "When you want to stop it stops and when you want to dig, you dig. The cab is also very comfortable to sit in for long hours. Being comfortable when you are in the seat eight to ten hours a day is a big thing."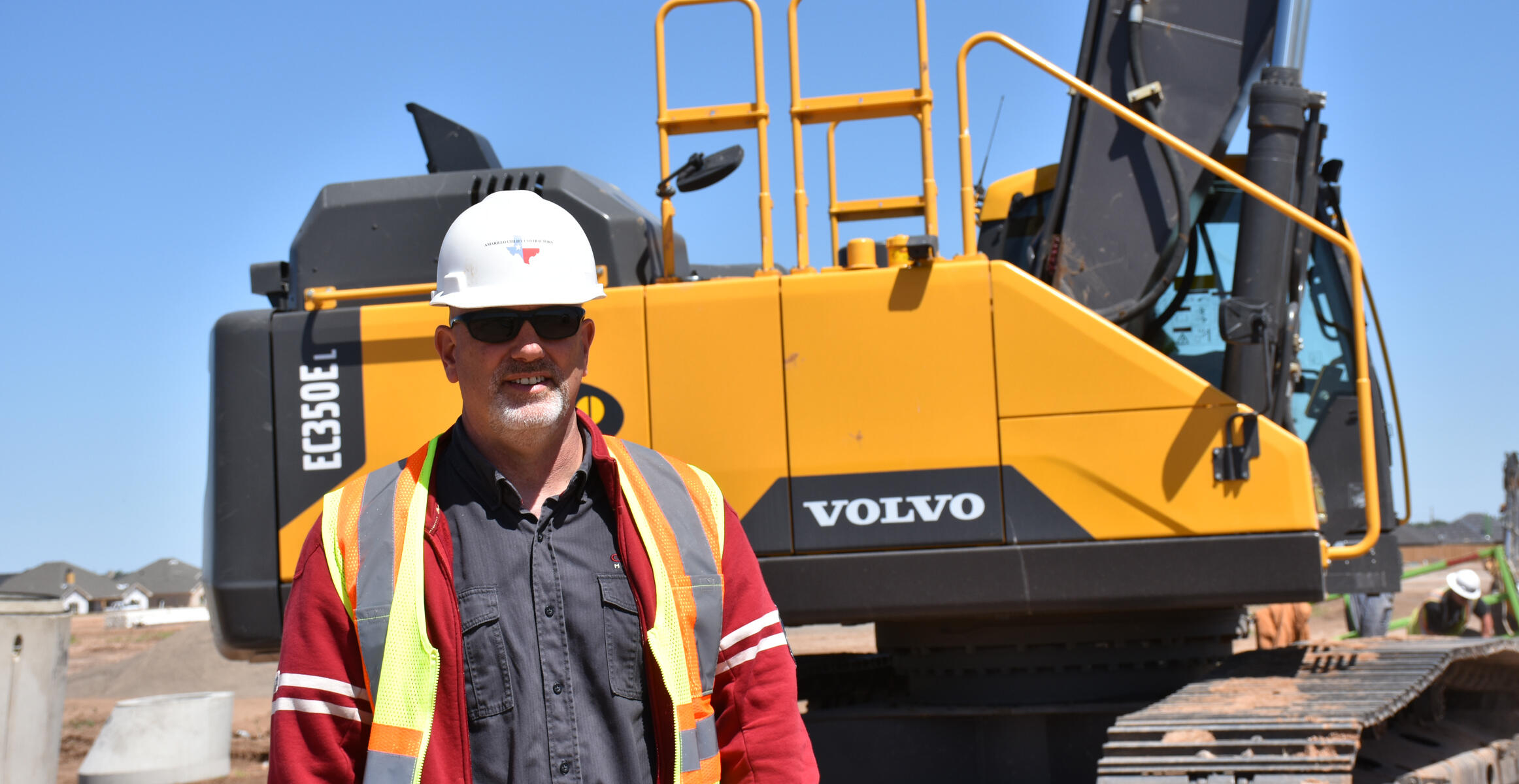 Living the brand
Monte is a vocal brand ambassador, both for his equipment and matters a little closer to his heart. Step into his office and you are surrounded with Indian motorcycle memorabilia, a legendary America manufacturer that is experiencing a revival and converting enthusiasts from that 'other' US cycle brand. Monte is quick to talk of his Springfield and the road trips he takes with his wife. His second passion is also in the open air — 15,000 feet up. A seasoned pilot, Monte hangars his Piper Malibu at nearby Amarillo International Airport, just a few minutes' drive from his office and home.
Step onto his job sites, and boldly placed alongside the Amarillo Utility Contractor logos are verses from the Bible, hand-selected by Monte.
"We run our company on Christian values. Not only do they drive my decisions but I hope they impact others in a positive way. We treat all of our customers with honesty and integrity and fair pricing. So far that has given us a lot of success, not just monetarily but in every aspect of our lives," he says.