By: Leslie Maynes, Two Rivers Marketing
Shortly after 2010, a problem that had been growing along the streets of North Port, Florida, became too cumbersome to be ignored. Originally paved in the 1960s, roadways had fallen into severe disrepair. Each year, the city was working to keep up with maintenance and rehabilitation, but the job was becoming too big to manage against budget constraints.
On November 6, 2012, nearly 60 percent of voters approved a referendum authorizing the city to obtain a bond up to $46 million to upgrade 266 miles of substandard roads in the city.
The funding from the bond would be used to upgrade substandard roads over the course of three years, with current resources re-directed toward a viable, ongoing road maintenance program to improve North Port's overall road quality. In addition, 210 additional miles of roads would receive maintenance.
To jump-start the six-phase project, more than 8,300 postcards were mailed to community members educating them about the first three phases. The postcards promoted the project as the "Coffee Cup Test." 'Once done, you should be able to drive down your neighborhood roads with a coffee cup in hand and not spill a drop the postcards stated. The community also hosted a neighborhood celebration on June 28 to kick-off the project.
While the neighborhood was celebrating, road repair teams were firing up their own coffee cups, preparing for some early mornings and hot afternoons
One such team was Ajax Paving Industries of FL, LLC.
The right company, equipment for the job
Founded 65 years ago by Herb Jacob, the company received its name — Ajax — solely so it would be listed first in the phone book. But, it soon made the top of the list for other reasons. Word of mouth spread and the quality of work the company was producing moved the company to first choice on its own merits. One of the things for which Jacobs credited the company's early success was machine selection. Jacob believed in the following philosophy: If I provide my employees with the best tools to get the job done, they will provide the highest quality pavement work for our customers.
It's a philosophy that has provided the foundation for continued expansion — expanding the company from its roots in Michigan to opening the doors of a second operation in Florida.
Now, it was time for that philosophy to be put to the test tackling the North Port "coffee cup challenge."
Reliable performance, consistent support
Under a hot Florida sun, the Ajax team is working on a milling and resurfacing project as part of the referendum — it's a 120,000-ton project, and part of phase four of the six-phase project.
The team isn't taking the responsibility lightly. The days kick off at 7 a.m., heating up the screed, and within 30 minutes, the first load is arriving. Currently, Ajax is tacking the existing road, putting an inch-and-a-quarter of SM-9.5 overlay down. Over the course of each day's nine-hour shift, the team lays between 750 and 800 tons of asphalt.
Sticking true to Herb Jacobs' philosophy, of providing the best tools for his employees, there are several high quality machines helping Ajax get the job done. One such piece of equipment is a Volvo 7170 paver.
Dan Maitland, Equipment Operations Manager for Ajax, says the Volvo Million Ton Guarantee encouraged him to connect with the local Volvo dealership, Flagler Construction Equipment's Southwest Florida branch, where Dean Bengford was ready to help.
"Any guy in paving knows that machine has to be reliable first and foremost," Bengford says. "When Dan and I sat down, we wanted to talk through performance, sure, but we were also working to build a plan that included extendable warranties and walked through how we manage preventive maintenance."

Maitland says deciding on the Volvo 7170 came down to a few things, but among them was plain math. "I look at the cost of ownership throughout the life of a paver. We typically run a 5-year lifecycle, about 5,000 to 6,000 hours. I'm tracking our repair costs, our maintenance costs, and when I run analysis, for every meter hour of run time, the Volvo consistently ranks better than the majority of competitors."
Beyond cost of ownership, Maitland says preventive maintenance was crucial. "This thing cannot go down. We haven't had any major issues, but even oil changes have to run smoothly — we rely on [Volvo dealer] Flagler to keep us up and running."
"Our preventive maintenance technician does a full machine inspection and we report back to Ajax if we see anything that's a point of concern. Between the preventive maintenance agreements and the extended warranty, we can help Ajax get a better fix on operating costs and reduce downtime."
And Maitland says they've done just that. So much so, that they've added three more P7170s to the fleet that are hard at work on other sites throughout Florida.
Speed is crucial when drivers need a green light
While the team members and machines have been keeping the job on track, it certainly hasn't been without its challenges. As with any job moving through neighborhoods, you have your fair amount of challenges keeping the public patient and focused on the end result
Steve Ayers, Area Manager for Ajax said one of the biggest challenges has been keeping the job progressing while giving the public access points from their homes. The best way to keep them happy is to keep the job moving, and Clay Collins says the screed is helping them do just that.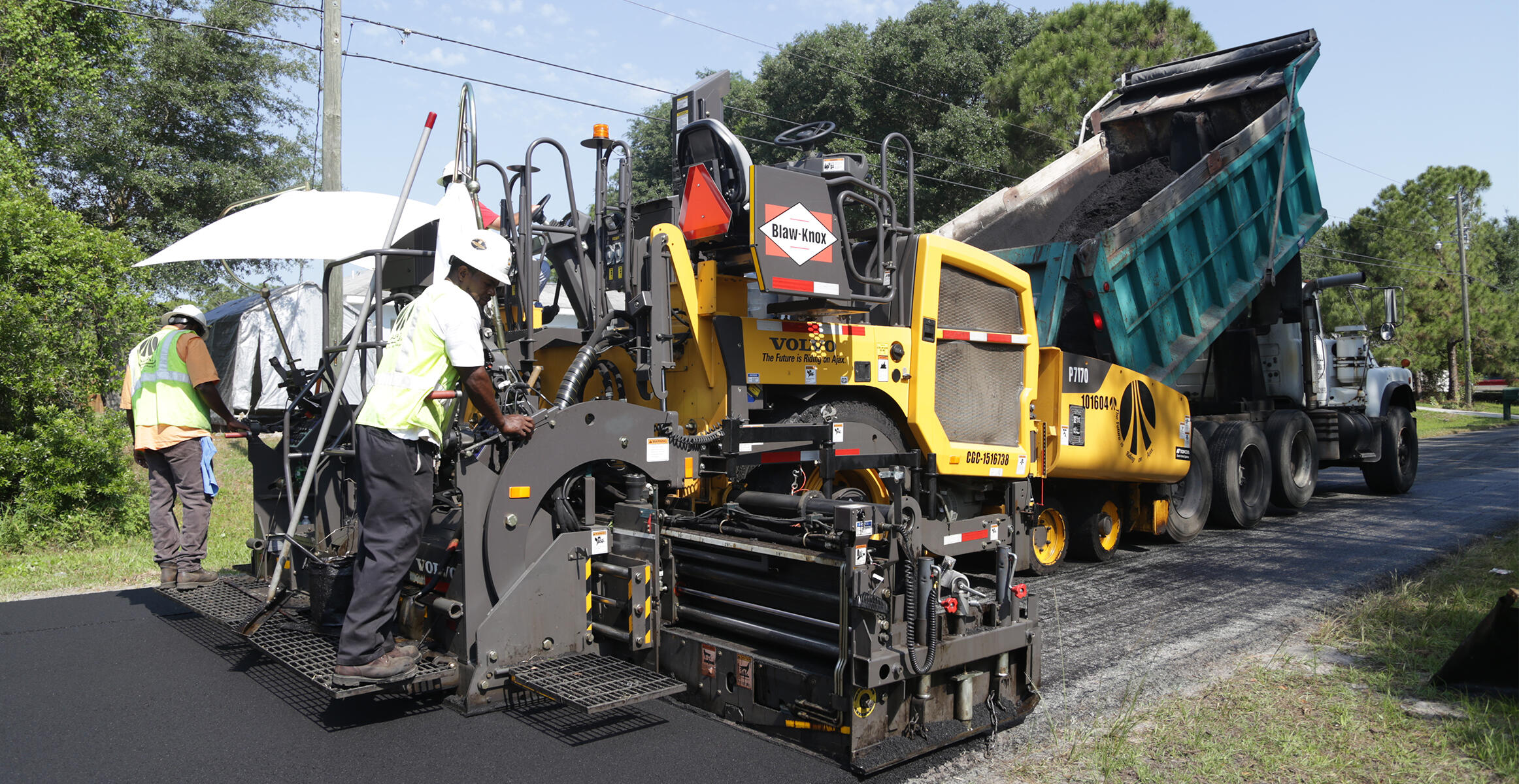 Ajax crew members use the Volvo Ultimat® 200 extendable screed, which allows the street to be paved in one pass instead of two.
"This is one of the industry's true 20-foot extendable screeds, meaning we can do this whole street in one pass instead of two — it's saving us time and money."
Bengford echoes Ayers praise of the Ultimat® 200.
"Ajax really likes the screed since it's a full 10/20-foot screed," he says. "A lot of folks advertise that promise, but they can't really, truly pull 20 feet like the Ultimat 200."
And, keeping them moving in a way that can help alleviate that neighborhood impatience. The crew's contract is scheduled for the end of December, but they're currently forecasting a finish date at the end of October.
A smooth finish
Ajax is delivering ahead of its promise in part because it says partners like Bengford and Flagler do more than keep theirs.
An early finish helped by a commitment to providing team members with the best tools to get the job done — when North Port morning commuters take a sip of coffee without a spill this year, Herb Jacobs will be nodding in approval.