The Mayon volcano near the city of Legazpi is one of the most active volcanoes in The Philippines. While volcano soil is extremely fertile for farming, lava flows are always a hazard. In addition, the wet season from July to December also poses challenges with the high volume of rainwater and debris it brings from the volcano.
Fear of eruption
To alleviate this, the local government is financing construction of a network of spillways around the volcano, to direct the flow of rain, debris and lava.
"The fear of an eruption is always present among the villagers and they are really grateful that these spillways are being constructed" says Joel Banzuela, project foreman at regional contracting giant Sunwest Construction and Development Corporation
At one of these spillways at the foot of the volcano, Sunwest is using four Volvo EC210D excavators to manage the construction work. The machines are working around 10 hours a day, removing earth, preparing the ground for foundations and working with pile hammers to drive steel sheet piles.
Great swing speed
"It doesn't matter how tough the job, the EC210D always delivers power, performance and reliability," said Noli Espartinez, operations manager at Sunwest Resources. "They are also really versatile and with great swing speed and stability.
Besides buckets and pile sheet hammers, the EC210D can also be fitted with a selection of hydraulic breakers.
"We like that the EC210D offers a variety of attachments to support different applications. This is important for us as we can use the machine on a wider range of projects," says Noli Espartinez.
Local service from Civic
Sunwest today has more than 80 units of the Volvo EC210D in their fleet alongside with a large number of other Volvo machines, including the new EC200D.
Service and support is never far away. Volvo´s distribution partner in Philippines, Civic Merchandising recently opened a service branch in Legazpi, to provide top-class service for Sunwest and other Volvo customers in the region.
"We benefit hugely from Civic´s strong presence in Legazpi" Noli Espartinez said. "Their local team is extremely helpful and always provide fast and good support when needed."
Easy to operate
The EC210D has a Volvo D5E engine, which combines with the machine's proven hydraulics to provide high torque at low rpm for superior performance and fuel efficiency. It is also equipped with five different work modes: Idle, Fine, General, Heavy and Power Max.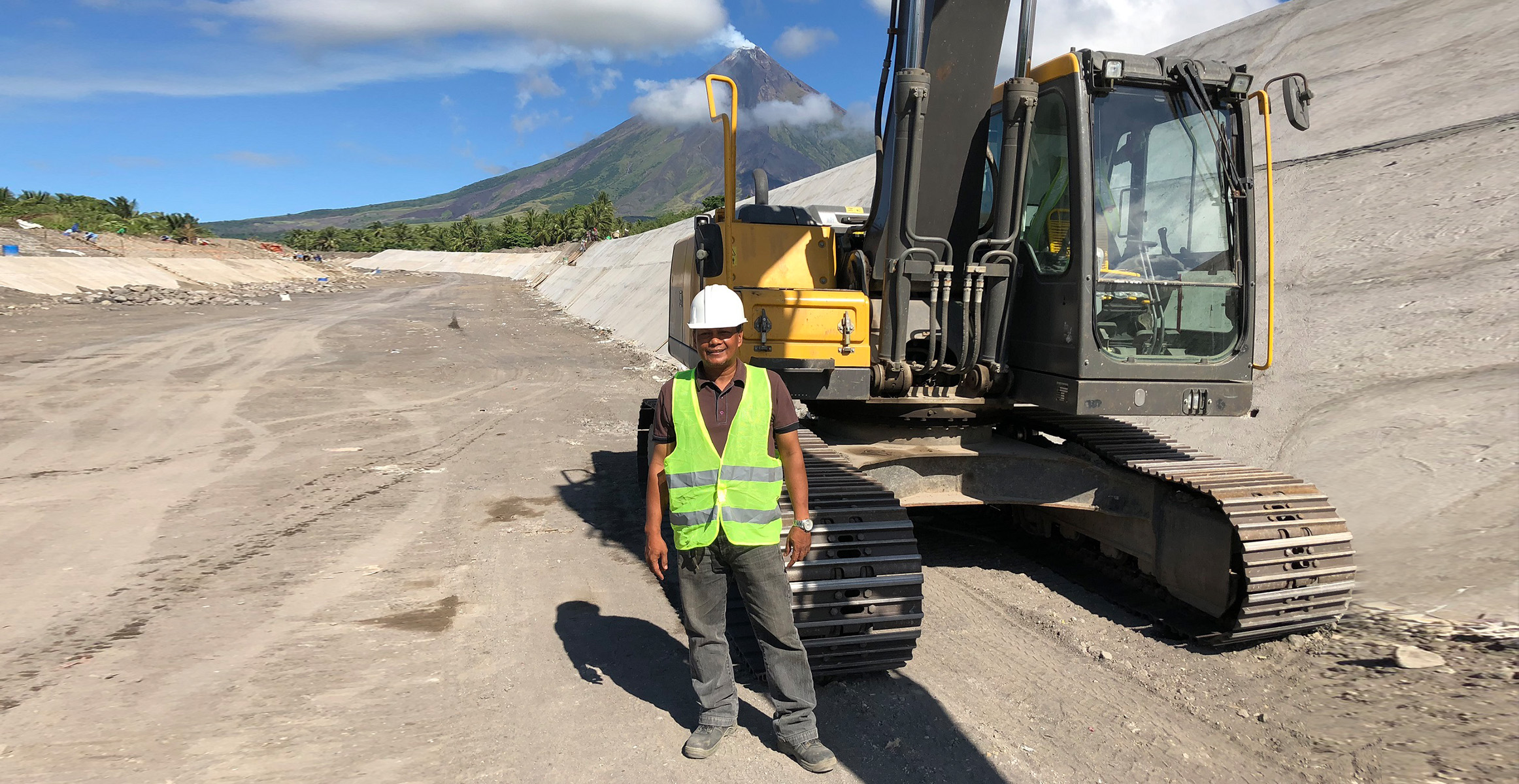 "Our operators enjoy working in the EC210D. It's not only comfortable but offers features that increase productivity and make it easy to operate," said project foreman Joel Banzuela.
High quality aggregate
This particular Legazpi spillway project is around 5 km long and it is expected to be completed in 2019. In addition to diverting rainwater and lava from the villages, the spillways will also preserve the sand and stone that erupt from inside Mayon.
This volcano aggregate, known for its extremely high quality, is collected and sold onwards to local construction industries.