Kwangsuk Jee, Global Product Manager, explained: "Delivering the type of durability and performance more commonly expected from a 60/65-tonne machine, the EC550E is a crawler excavator which truly punches above its weight. Customers in Tier 3 markets can get ready for up to 35% more productivity and 22% more fuel efficiency, combined with superb operator comfort and outstanding levels of uptime."
35% more productivity
Boasting remarkable levels of power and productivity, the EC550E is a machine perfectly suited for mining, mass excavation and large infrastructure projects. With the ability to fill a 35-40 tonne hauler or highway truck in just 4 to 6 buckets, the result is optimum pass-matching and high-levels of production at a low cost per tonne.
Short cycle times furthr boost productivity, made possible by digging forces and lifting capacity more commonly found in a 60/65-tonne excavator. This is complemented by the impressive engine power, reinforced boom and arm, as well as boom/swing and boom/travel priority settings. The long and wide undercarriage is also of 60/65-tonne calibre, providing superior levels of stability and durability.
Away from the machine, the EC550E is available with a range of optimum-sized heavy-duty rock buckets designed for use in abrasive conditions, with the Volvo Tooth System making easy work of teeth replacements thanks to its place, push and click functionality. Customers can further take control of their productivity with On-Board Weighing, helping to ensure the optimum amount of material is loaded. The optional system provides real-time information to eliminate under and overloading of haul trucks and also records total tonnage for complete production management.
A lower cost per tonne
Customers can take fuel efficiency to a new level thanks to the next generation electro-hydraulic system with Independent Metering Valve Technology (IMVT) and engine/pump optimization, which lowers engine rpm while optimizing power. The main control valve uses Independent Metering Valve Technology, the latest pioneering innovation from Volvo and the most high-performing hydraulic system in the industry. It provides significantly more precise control compared to a conventional system and contributes towards up to a 22% improvement in fuel efficiency.
To support the fuel-efficient performance of the machine, Volvo offer a range of services to help customers reduce the fuel expenditure and carbon emissions of their operations even further, including Fuel Efficiency Reports and operator training initiatives. Using Volvo Site Simulation, Volvo dealers can also help customers to optimize site productivity and lower their total cost of ownership, by providing recommendations on the best fleet configuration and site set-up to maximize profitability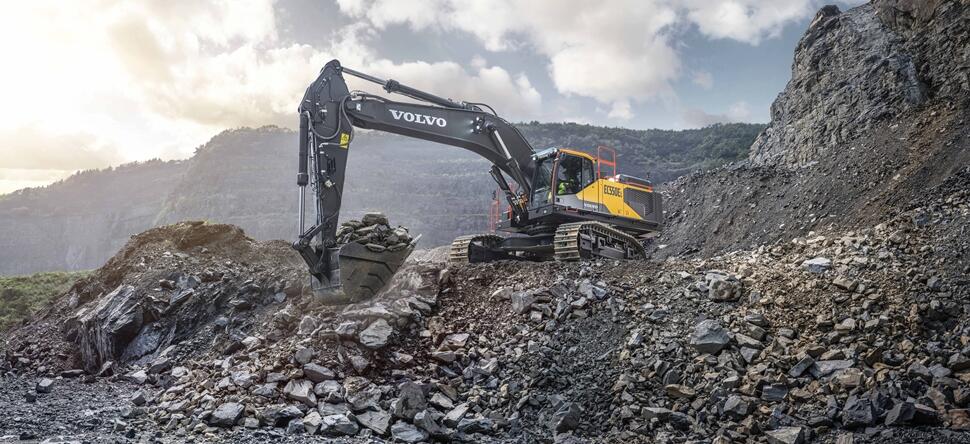 Outstanding comfort
For decades Volvo has been renowned for delivering the ultimate in operator comfort and convenience, and the EC550E is no exception. The ROPS cab exceeds industry standards for this class of machine, and with low noise and low vibration, operators will experience the highest levels of comfort. Boom and arm bouncing reduction technology dramatically reduces machine shock, resulting in a more comfortable and productive operator performance.
The already best-in-class visibility is further enhanced by the optional high visibility cab, one-piece front window, and rear and side-view cameras. Taking this a step further, the optional Volvo Smart View uses front, rear and side cameras to provide a real-time, overhead view of the machine, especially helpful when working in confined spaces.
Behind the controls operators can easily select and adjust a number of functions depending on their personal preferences and the task at hand, including boom down speed, ideal for precision tasks which require optimum control.
Work harder for longer
With a host of uptime-boosting machine features combined with the support of the Volvo dealer, customers can count on the EC550E to deliver maximum machine availability. With the optional delayed engine shutdown customers can keep their turbocharger working in top condition for longer. To avoid overheating, the intelligent function turns the machine off when the turbo charger has cooled down to the appropriate temperature. The EC550E can also be fitted with a high-performance fuel filtration system which delivers 99.7% water separation efficiency consistently over the full service life of the filter.
CareTrack, the Volvo telematics system, also helps customers to maximize machine uptime and reduce repair costs. Customers can choose to keep track of their machines themselves, or let Volvo take care of it with ActiveCare. The Volvo Uptime Center provides 24/7 machine monitoring, supplying weekly reports and notifying customers should preventive maintenance action be required.
When maintenance actions are required, grouped filters accessible from the ground level make servicing quick and easy, while the 3-point right-hand access ensures the upper structure can be accessed with confidence when needed. Industry renowned features such as bolted anti-slip plates, high visibility guardrails and handrails, as well as large walkways further ensure the highest levels of convenience when servicing the machine.