Joining the Volvo Construction Equipment wheeled excavator line up is the EW220E, boasting all the known features of its little brother, the EW180E, and more. Customers can take on demanding applications with ease thanks to a new heavy-duty two-piece boom, offering a high lifting capacity. Moreover, this powerful machine can also reach materials over 10 meters away.
The EW220E can carry out a variety of tasks, thanks to a range of flexible configurations and attachments. The machine is available from the factory in two styles, either road homologated or off-road – which has a heavier counterweight. Customers can also choose from a selection of high quality tires, available in both single and twin varieties, according to ground conditions. The proven travel motor provides the tractive force needed to climb gradients or travel over uneven ground, while the optional Boom Suspension System (BSS) automatically engages at 5km/h (3.11 mph), to absorb shocks and reduce bucket spillage.
The E-Series wheeled excavator can be customized with a range of Volvo attachments, purpose-built to deliver improved cycle times and fuel efficiency. The new ditching buckets make the perfect partner for landscaping, slope shaping or ditch maintenance, while the factory fitted Steelwrist® tiltrotator offers ultimate control. To get the most out of the machine, optional auxiliary lines provide optimum flow and pressure when operating attachments requiring a one or two-way flow.
Not only can the operator change attachments easily and quickly on the jobsite, they can also transport them easily from site to site. The optional trailer hitch can pull trailers weighing up to three tons – or eight tons with overrun brakes – and can be fitted onto the outriggers or parallel blade. Operators can also bring all their tools along with them in a special drawer-type tool box, which slides out from the undercarriage. First introduced by Volvo, the tool box can carry up to 130 kg. Box dividers, which can be adjusted into five different positions, help the operator stay organized, while a mechanical stopper prevents the drawer from sliding out during transport or operation.
Comfort and control
Commanding all-around visibility and an ergonomically positioned interface, it's no wonder the ROPS certified Volvo cab is an industry leader. Specially designed, the cab has generous leg room and ample storage, because a comfortable operator is a productive operator.
For added convenience, Comfort Drive Control (CDC) gives the operator the opportunity to steer the machine using only the roller on the joystick, up to 20km/h (12mph) – a new feature for the Volvo wheeled excavator range. Specific to the EW220E wheeled excavator and the material handler variant, the steering column can be removed for additional comfort; the operator can then control the entire machine – including the tilt rotator, blade and outriggers – using only the joysticks.
In addition to the standard rear view and side view cameras, the EW220E can also be equipped with the option of Volvo Smart View – three cameras attached to the frame that combine to show a real-time birds eye view of operating footage, to help navigate in tough situations. This can be integrated into the machine's display or as a standalone screen.
To make entering and exiting the machine easy and safe, handrails and steps are brightly colored and a 'welcome light' – controlled remotely – can be fitted as an option, helping to guide operators in the dark.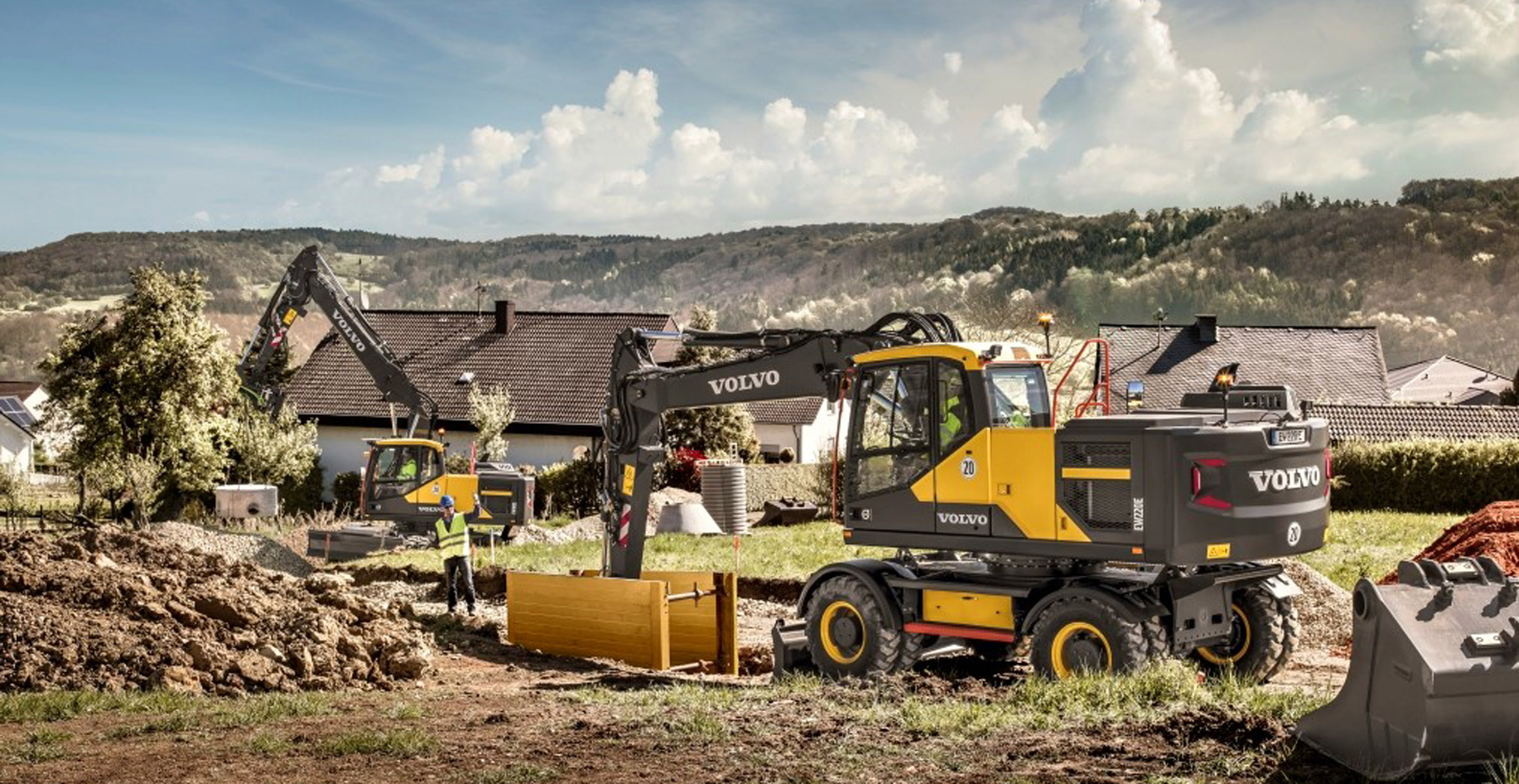 Made to move
Fitted with a powerful Tier 4 Final/Stage IV Volvo engine, which delivers high torque at low rpm, the EW220E offers superior performance. To reduce fuel consumption while maintaining productivity, ECO mode turns on automatically. This is enhanced by auto the idle and auto engine shut down features, which engage after a pre-set amount of time, also helping to reduce machine wear.
The wheeled excavator has been designed and tested to the highest standards of efficiency and reliability. The durably-designed undercarriage offers high clearance when driving over hard uneven ground, while robust axles – equipped with automatic or operator-controlled front axle oscillation – offer strength in demanding applications.
For smoother and more efficient operation, the EW220E can be fitted with the automatic digging brake, first introduced by Volvo over 10 years ago. The intelligent option automatically engages the service brake and locks the oscillation when the machine's speed is at zero.
To keep the machine up and running, the EW220E has been designed with ease of servicing in mind. On the entire E-Series wheeled excavator range, greasing points have been grouped together and filters placed behind wide-opening engine doors, all accessible from ground level. With improved access to areas such as the radiators and mesh, maintenance is made easy, helping operators stay on track, even when they are on wheels.
Volvo also offers a range of aftermarket services to avoid unscheduled downtime. Solutions such as Genuine Volvo Parts, machine monitoring or maintenance plans help to ensure Volvo wheeled excavators maximize return on investment for their owners.
Key specifications:
EW220E

Metric

Imperial

Engine

Volvo D6J

Operating weight

22 180 kg

48 898 lb

Gross power

129 kW

172 Hp

…at engine speed

1 800 r/min

Bucket capacity

1 m3

1.3 y3

Max. lifting capacity

8 500 kg front / 4 800 kg side

…at reach / height

6 m / 1.5 m

20 ft / 5 ft

Max. digging reach

10 150 mm

33'4"

Max. digging depth

6 310 mm

20'8"

Breakout force (ISO) (Normal)

132 kN

29674 lbf

Breakout force (ISO) (Boost)

117 kN

26 392 lbf

Max. speed

30 km/h

18.64 mi/h