For 365 days of the year, Rhinmilch's seven Volvo CE wheel loaders – six L30Gs and an L60G – barely take a break. From early morning until late in the evening, they travel through the cowsheds and across the company's giant 4,250 hectare farm to provide a total of 5,100 cattle (including 1,750 dairy cows) with clean, comfortable bedding, and fresh food.
Farmer's trusted companion
Shoveling hay into feed trolleys and collecting silage is all in a day's work for Volvo's adaptable wheel loaders on the Rhinmilch farm. Acquired by the company over several years through Swedish dealer Swecon, it's the machines' reliability that has ensured Hellmuth Riestock, longtime managing director of Rhinmilch, remains a happy customer. "Reliability and the quality of service is the most important factor when it comes to these machines, even more than cost," argues Hellmuth, who has been buying wheel loaders from Volvo for almost 25 years, purchasing the company's first Volvo machine, a Zettelmeyer ZL402 in 1992, just one year after the company was originally founded. Now with 87 employees, the Rhinmilch network consists of four companies specializing in agricultural produce. In addition to the seven Volvo wheel loaders, the company's fleet includes 16 tractors, two combine harvesters, a forage harvester and mowers, drills, balers and fertilizer spreaders.
Got milk?
While the company produces agricultural products such as grain, cattle feed, meat and bioenergy (created using the farm's manure, which is fermented in biogas plants), half of Rhinmilch's sales are generated by milk production. In Germany, there are almost 78,000 dairy farms, together producing over 38.4 billion liters (8.4 billion gallons) of milk a year. In 1980, there were approximately 5.5 million dairy cows in Germany, but this has decreased to about four million. In contrast to a decreasing number of livestock is the average milk yield of an individual cow. This has risen rapidly throughout the years, and Rhinmilch's 1,750 dairy cows now deliver an average of 11,600 liters (2551.6 gallons) of milk a year, compared to a third of that amount 25 years ago.

However, producing milk is a tough business, with low margins – making it essential for farms to be efficient. Creating an environment that ensures the highest volume of milk is produced is imperative to attain a profit. Happy, well looked after cows produce high milk yields. "Machinery that enables us to keep our livestock healthy and productive makes our business more successful," says Hellmuth.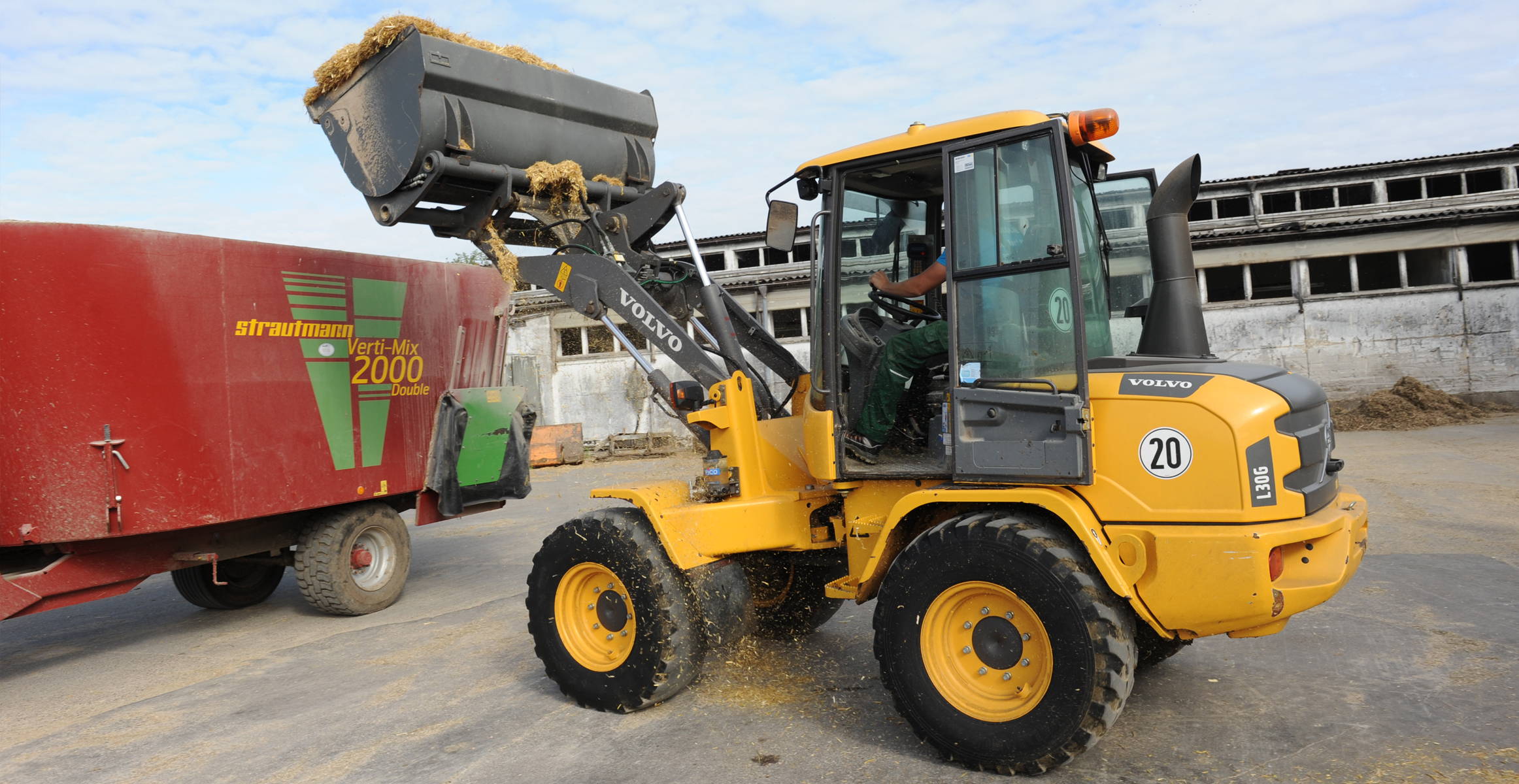 Both equipped with hydraulic attachment brackets, the L30G and L60G wheel loaders can switch between attachments quickly, allowing the machines to easily accommodate different jobs throughout the farm. Rhinmilch uses buckets that can hold up to 1.2 cubic meters (1.5 yd3) of manure. But, the feed bucket, on the other hand, measures 1.6 cubic meters (2 yd3). So whether the machines need to fit the width of the stable entrance to deliver hay for hungry cows, or provide the disposal of manure, Rhinmilch's Volvo wheel loaders provide a quick and easy transition between jobs.
Part of the family
In addition to reliable, productive machinery, service is a key factor in Rhinmilch's long-standing relationship with Volvo and its dealer, Swecon. "Great service is what defines our strong relationship with Volvo machines," emphasizes Hellmuth. "We have been working with Swecon salesman Frank Schmies for nearly 25 years, and it's like he's one of the family. He knows our fleet and our needs as a business."

Frank Schmies is based in the company's Nauen branch – located just a 30 minute drive from the Rhinmilch farm. He has not only grown to know Hellmuth, but also his team of operators, who praise the robust and comfortable Volvo machines. At Rhinmilch, every operator is personally responsible for their own machine, which Hellmuth believes guarantees a clear estimation of how the machines are performing and allows for maintenance of the wheel loaders on a daily basis. But knowing that he can rely on Swecon for support is a pivotal factor in running an efficient and successful farm. "It's a great relief having Frank and the Swecon technicians available around the clock, all year round, and for any emergencies. At Rhinmilch, there can be no standstill for our Volvo machines."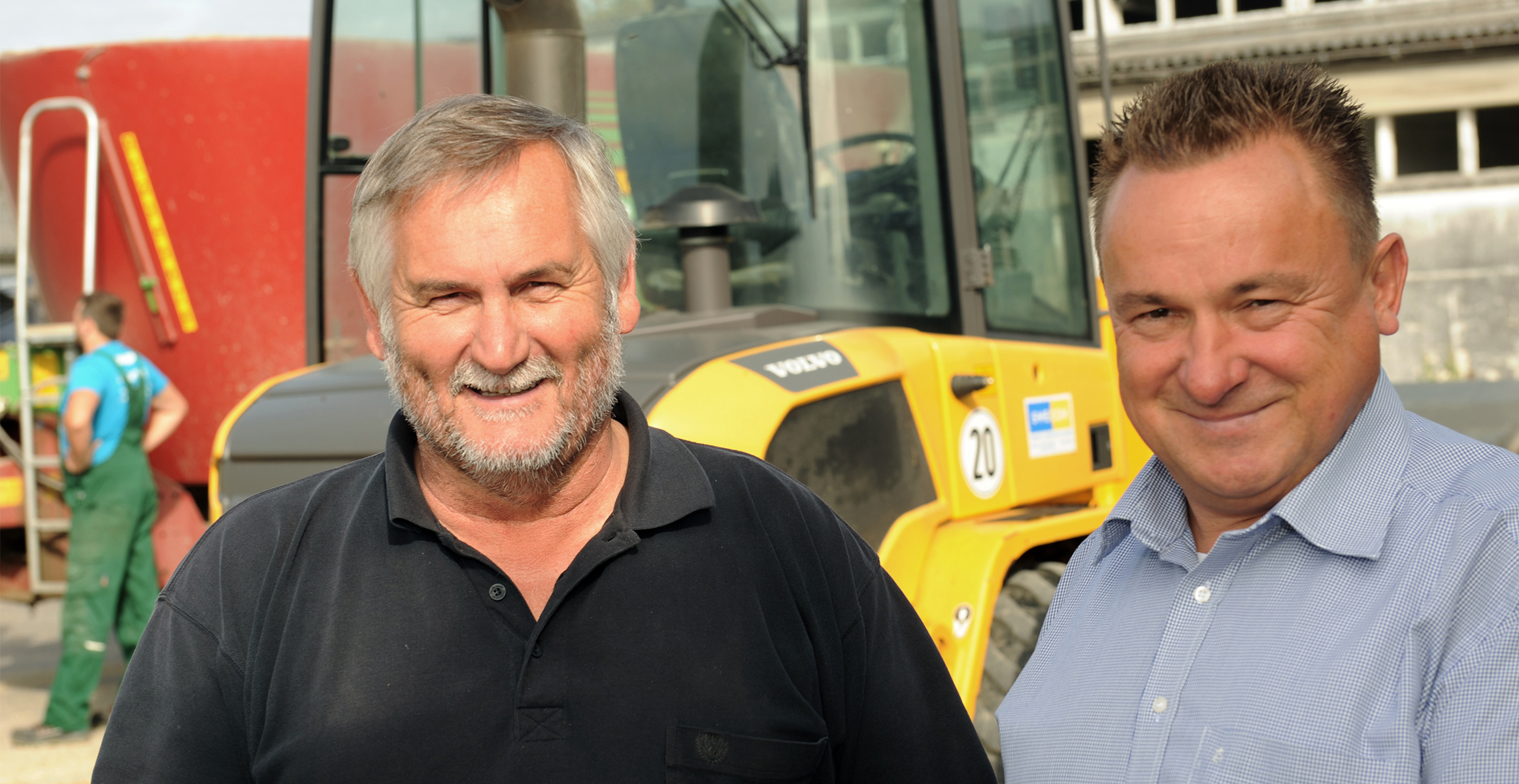 Caption 1: Volvo CE machines work 365 days of the year on the Rhinmilch farm.
Caption 2: A Volvo CE wheel loader working at Fehrbellin-based dairy producer, Rhinmilch.
Caption 3: Hellmuth Riestock, managing director of Rhinmilch and Swecon's Frank Schmies.