Northern Sweden is renowned for its evergreen forests, crystal clear lakes and white-capped mountains. Only by soaring high above the snowy peaks is it possible to truly appreciate the vastness of the land, speckled with cities and towns that are separated by miles of countryside. But despite its low population density of just up to 10 people per square kilometer, the picturesque northern regions now have access to some of the fastest internet in the entire country.

In fact, when it comes to broadband coverage, Sweden has the fifth highest number of wireless broadband subscriptions in the world. Capital city Stockholm has at least 95% coverage or more, but unexpectedly, the most northern territories of the country are even higher at 98% coverage.

Helping make this super-fast dream a reality is Aspåsnäsets Gräv AB. Established in 1989 by Karl-Erik Karlsson, the Krokom-based company has won a good reputation as a broadband installation specialist, along with excavation, urban landfilling and ditching services.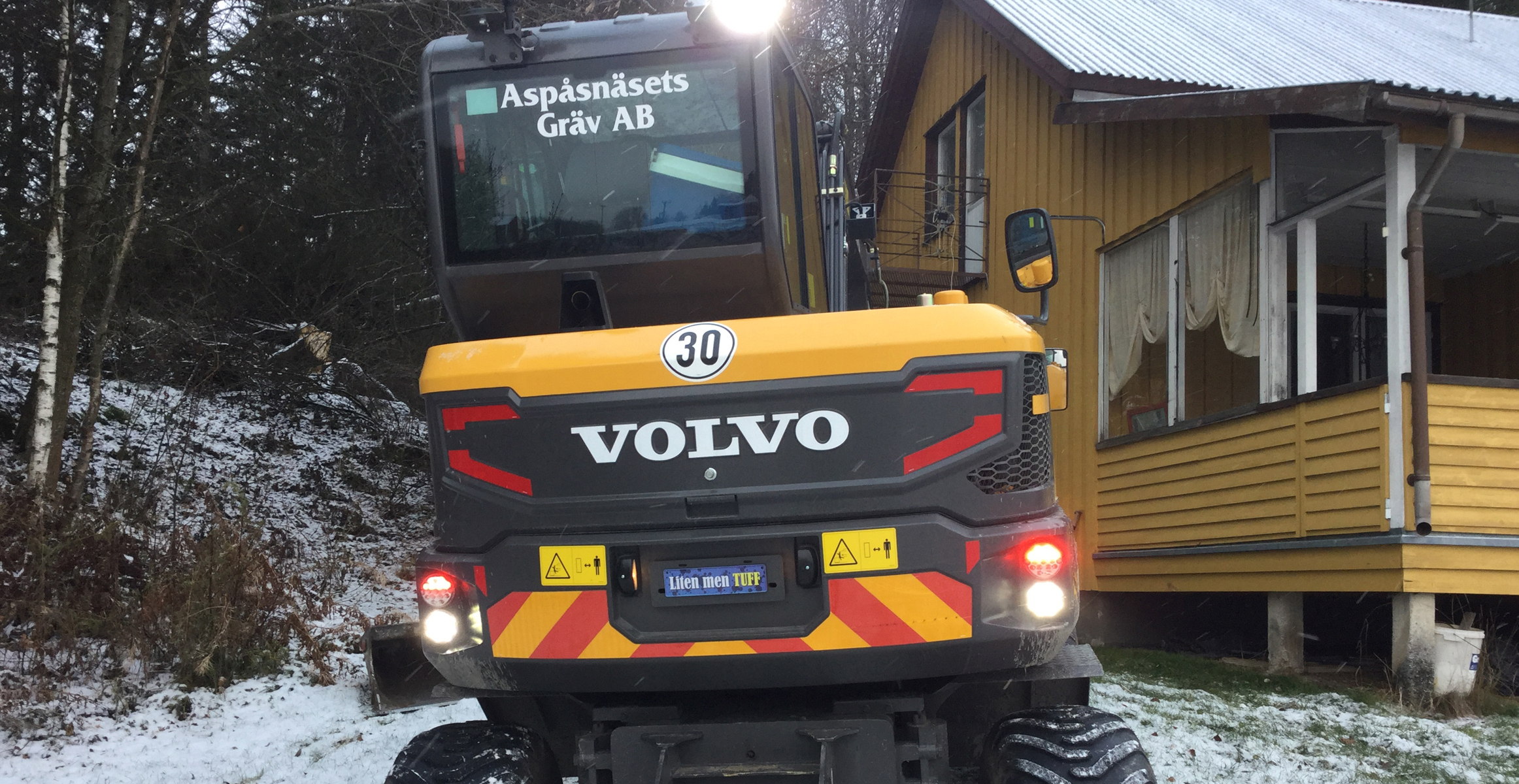 The company has a fleet of eight machines, seven of which are Volvo. The equipment has been supplied by Ulf Engström, a salesman at Volvo dealer Swecon Östersund, located just 21 km (13 mi) away. The fleet includes an ECR58 compact excavator, EW160 wheeled excavator, EC145 and EC300 crawler excavators, and an L120E wheel loader. The company also has its own transport trucks.

The best machine for the job
Joining the machine line-up is the EW60E compact wheeled excavator, which was purchased in 2016. The latest addition to the fleet packs a powerful punch, boasting a host of features that make it the ideal partner to serve customers in remote regions. As the new machine is predominantly carrying out small-scale, intricate tasks in harsh and remote rural regions – often with miles between houses – these features are ideal for Aspåsnäsets Gräv.

The powerful Volvo Stage IIIB/Tier 4 Final engine gives the EW60E a good combination of power and performance, allowing it to maintain high uptime in the challenging conditions posed by the Swedish climate. It also exhibits smooth operation through increased controllability, productivity and a comfortable operating environment (including a larger cab). What's more, the wide array of Volvo attachments available allows it to carry out a variety of jobs and applications. In addition to broadband installation projects, the EW60E is also used for maintenance projects in urban areas.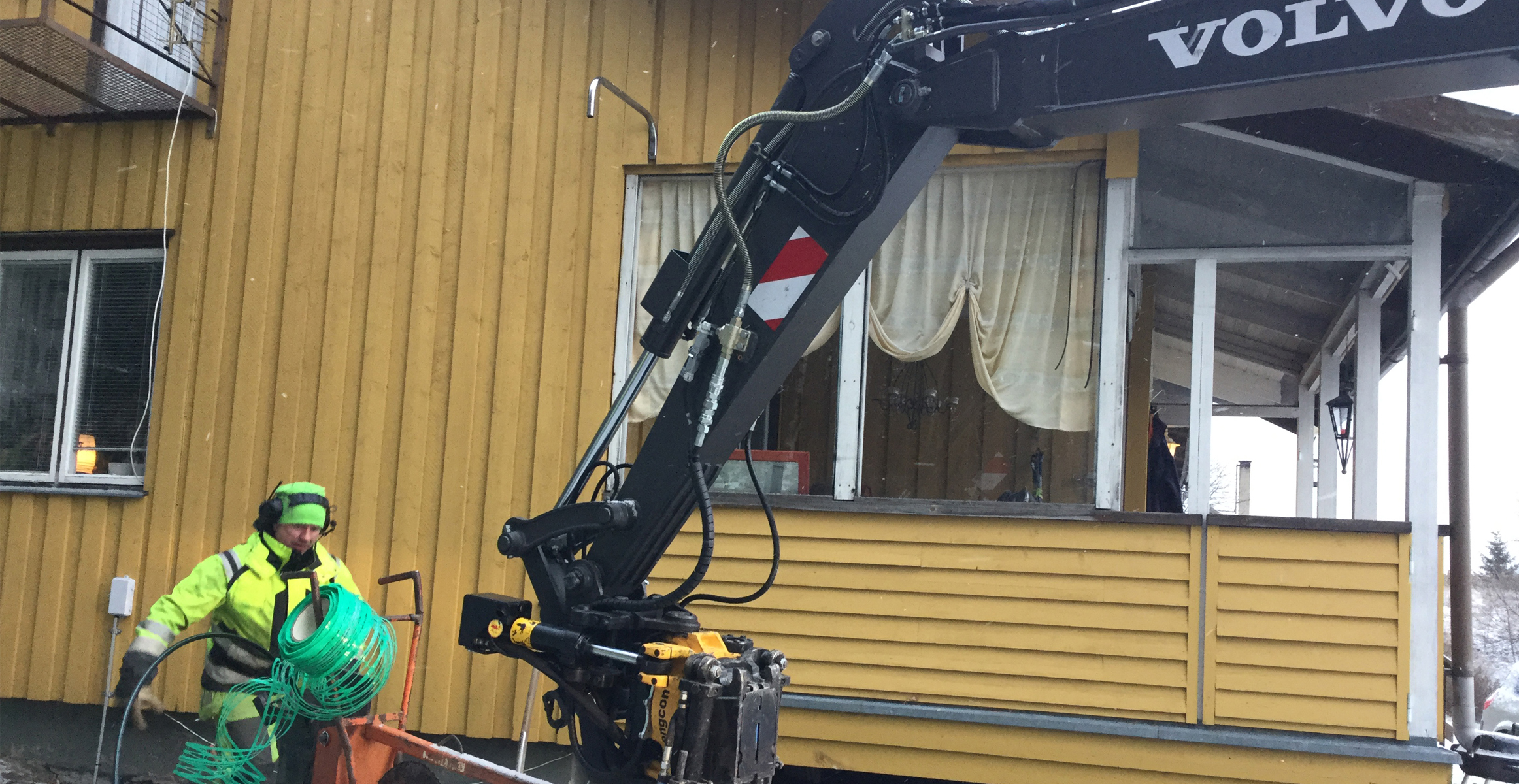 "We've already noticed a marked increase in productivity, mainly due to the go-anywhere ability of the machine," Karlsson says. With high mobility and a top speed of 30 kph (19 mph), the EW60E four wheel drive offers on and off-road travel with the front axle locking when driving on-road. This enables operators to easily move between locations and access hard-to-reach job sites.

"We have also noticed a decrease in fuel consumption thanks to Volvo's engine efficiency," Karlsson continues. Together, the new Volvo engine and improved hydraulics offer great fuel efficiency.

An innovative customer
The standard version of the EW60E is well suited for broadband installation, as Karlsson explains. "The machine offers excellent flexibility, low ground pressure, a good operator environment, and hydraulics just like a larger excavator," he says.

Aspåsnäsets Gräv has gone a step further by adding a customized tilt-rotator with grapple, wide base tires and a winch. The team use the winch to install the broadband cables in a very innovative way – the machine pulls a makeshift plow through the earth, while the broadband cable and a cable harness are then lain into the trench. Once complete, the trench is back-filled, making it difficult to tell that the earth has been disturbed at all.

Fiber-optic future
Thanks to a little help from Volvo, Aspåsnäsets Gräv is now in a prime position to secure further broadband contracts, providing faster and more reliable internet to the residents of Sweden.

Caption 1: Aspåsnäsets Gräv AB prides itself on creating innovative project solutions for its customers.
Caption 2: The Volvo EW60E compact excavator operates at full capacity, even in extreme conditions.
Caption 3: Aspåsnäsets Gräv AB uses a customized tilt-rotator to install broadband in an innovative way.