Amarillo, Texas sits in the crosshairs of America's Routes 40 and 287, and is a waypoint between Albuquerque and Oklahoma City. The area is rich in cowboy culture and mementos of its Route 66 heyday, best symbolized by the Cadillac Ranch, located just west of the city.

But beyond the tourist attractions, the semi-desert region of high plains in which Amarillo is located is the sunbelt of the south. The average annual rainfall is less than 60 cm (20 in) and the heat is often upwards of 43° C (110° F). With a number of droughts in recent years, water is in short supply. Lake Meredith, one of the city's main water sources is dwindling, placing greater demands on the Ogallala aquifer, the vast underground reservoir that supplies Amarillo's 190,000 residents.

As a conservation effort, the city recycles effluent and sells back more than 18 billion liters (four billion gal) each year to regional electric utilities as cooling water for generators. Recently, the Potter County Wellfield – the first major wellfield since 1956 – was drilled, bringing water to Amarillo to help sustain residential and commercial growth.
Great plans for the Great Plains

Working for the city is Amarillo Utility Contractors, a water and sewer construction company. Established in 1999 by Monte Taylor, the company has a reputation in the Lone Star state as a wet utilities specialist for many high-profile projects. Recently the company replaced 5,181 m (17,000 ft) of 760 mm (30 in) sewer main that was 11 m (36 ft) deep to serve future expansion west of Amarillo.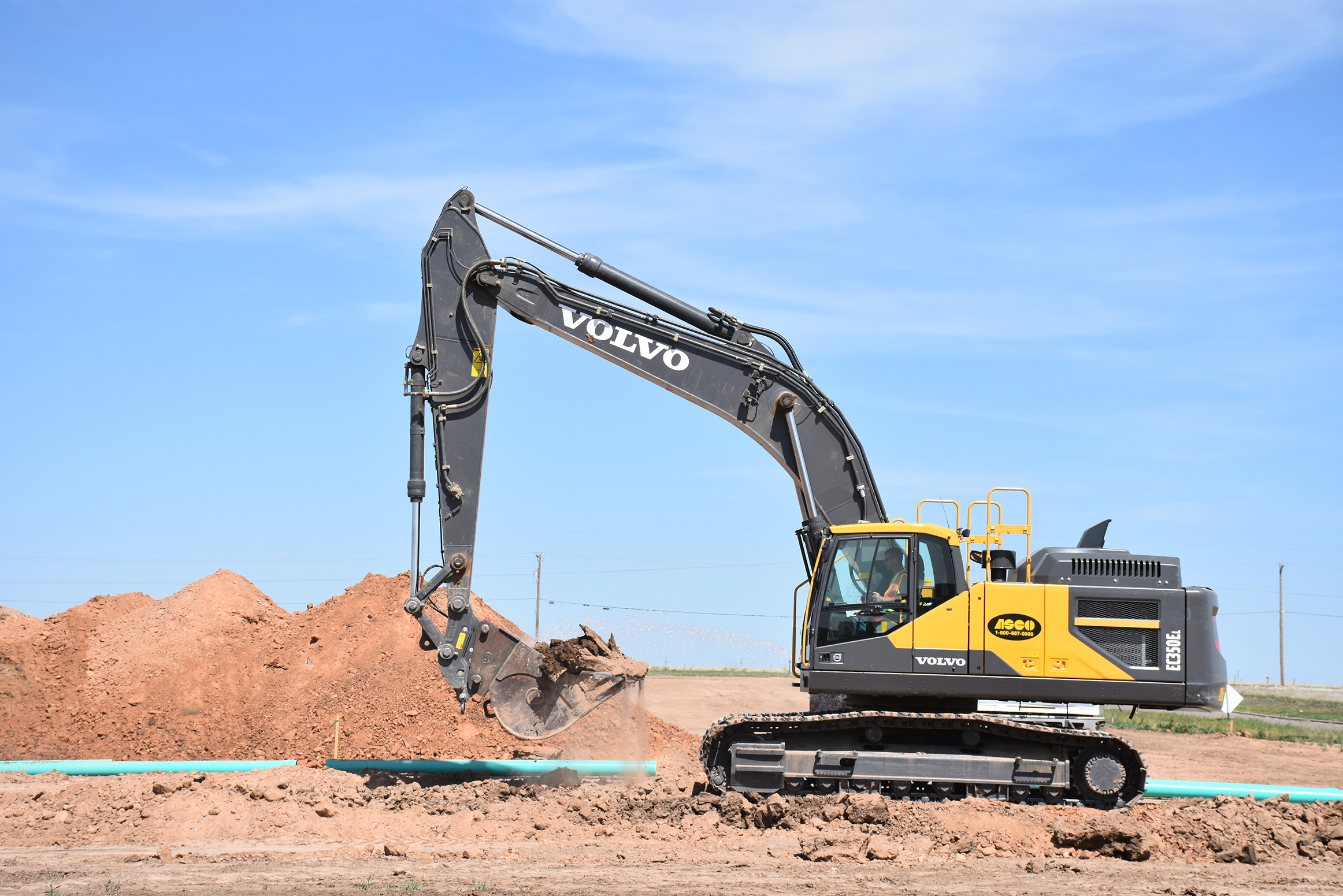 On average, Amarillo Utility Contractors places more than 600,000 m (two million ft) of water and sewer pipe each year. "When I started the company, our projects were relatively small and shallow," Taylor recalls. "Over time, we've taken on more challenging projects."

With over 1,600 km (1,000 mi) of wastewater lines and 200 km (130 mi) of storm water drainage snaking below the city, the company is hard at work to repair, replace and rehabilitate the water and sewer lines – most of which date back to the 1950s.
Cloud 'nein' construction

This kind of work is not without its difficulties. Unearthing, removing and replacing the cracked clay mains means cutting into streets, and navigating a maze of other pipes and underground infrastructure.

To match the deep trenching and large pipe requirements of urban projects, Amarillo Utility Contractors decided that it needed to upgrade its fleet. After attending the 2015 Volvo Days customer event in Shippensburg, Pennsylvania, Taylor added three Volvo EC350E crawler excavators to his fleet of 13 machines. The excavators have been supplied by respected local Volvo dealership, ASCO Equipment.
Digging deeper

The Volvo excavators are proving popular with Amarillo Utility Contractors. "The EC350E is the right size for 95 percent of all projects," Taylor says. The crew modified the bucket's attachment bracket link to allowing excavating at greater depths. "We can now go to depths of seven meters (24 ft) and dig within four meters (15 ft) of the machine without compromising trench stability," explains Mike Nail, company superintendent. As a result, "We've reduced excavation time significantly," he adds.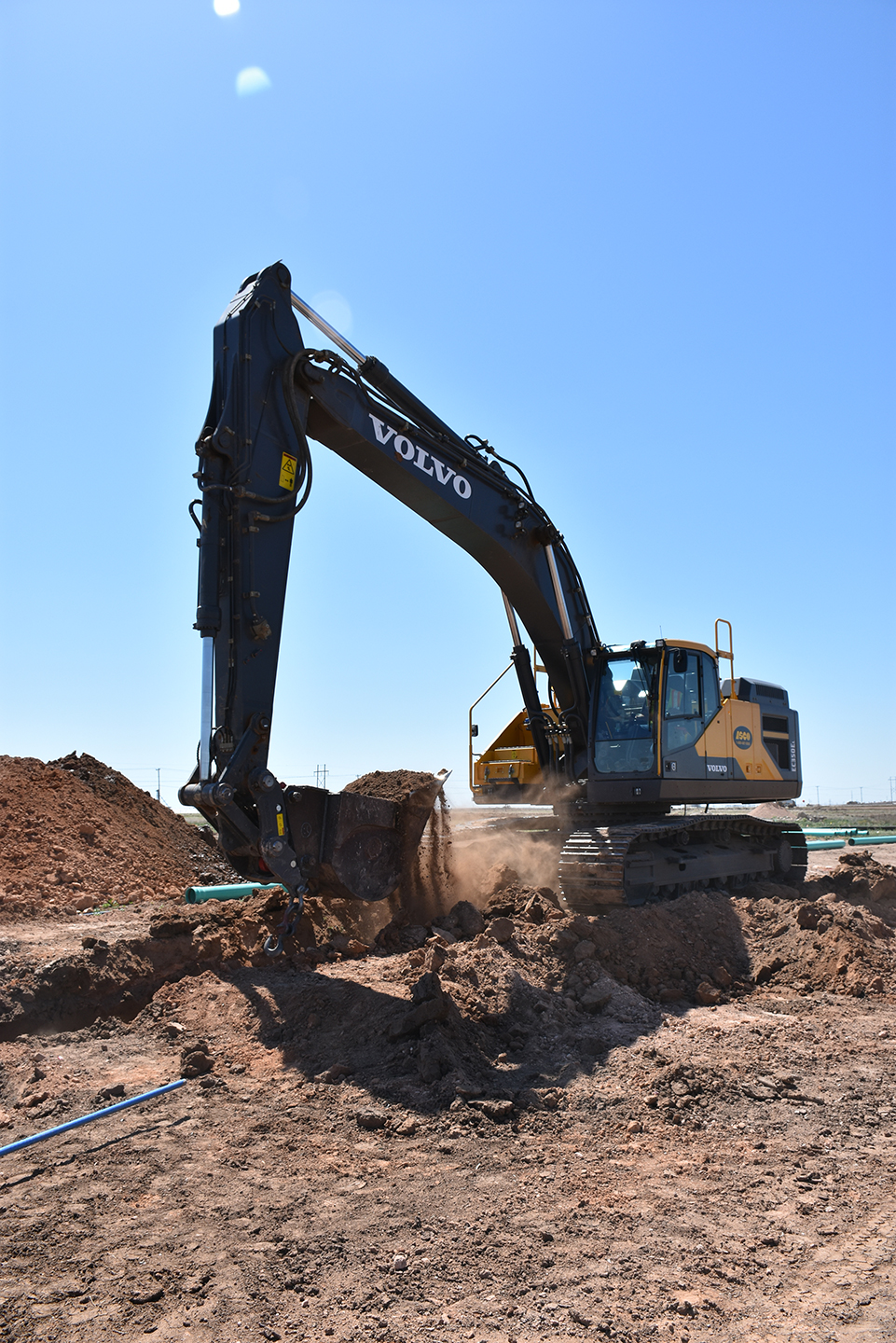 "The ability to bolt together parts on the ground and lower them in one piece, versus placing each individually speeds us up tremendously," says Nail.

Ensuring the machines are working at optimum levels is ASCO Equipment. "They have provided stellar support for the Volvo machines and existing equipment from other manufacturers," says Taylor.

"The daily maintenance is simpler and faster," says Nail. "The single cabin air filter can be easily accessed and doesn't require us to remove panels," he adds.

In addition to simple servicing, it is important for the operators to enjoy using the using the Volvo machines. Operator Rusty Wilkinson speaks from experience: "Compared to other excavators, I like the Volvo controls because they're responsive. The cab is also comfortable to sit in for eight to 10 hours a day."

Indeed, the Volvo additions are popular and productive. On average, the Volvo EC350E can trench, place and backfill 550 m (1,800 ft) of pipe each day. And, since the punishing drought shows no signs of abating, the new infrastructure projects will serve to replenish the parched land and the city of Amarillo. Texas may have been built on oil, but water will certain carve its future.



Image 1: With a max depth of 7.62 m (25 ft) and 226 kW (303 hp) Volvo D13 engine, the EC350E has the strength to get the job done quickly and efficiently.
Image 2: To maintain high performance in the extreme environment, the Volvo EC350E features a hydraulically driven, electronically controlled cooling fan, designed to protect machine vitals.
Image 3: The Volvo EC350E yields superior digging and breakout forces, making
it the ideal moneymaking partner for Amarillo Utility Contractors.

For further information, please visit: www.volvoce.com/global/en/news-and-events/company-stories