The moment many islanders, known as 'Saints', thought would never come was the day the first airplane landed on St Helena, one of the most remote inhabited islands in the world. A decade after the airport was announced, touchdown for this historic flight was exactly 13:44:25 on Tuesday, 15 September 2015.
"Runway's good, conditions are good, you have lovely facilities here," says Captain Grant Brighton, pilot of the Beechcraft King Air 200, having flown from Johannesburg, South Africa, refuelling in Angola for the four-and-a-half hour flight across the Atlantic.
"This may not sound a big deal to some but in St Helenian terms it is akin to landing on the moon," says local photographer Darrin Henry.
Discovered by the Portuguese in 1502, the island is where French Emperor Napoleon Bonaparte was exiled by the British in 1815, following his defeat at the Battle of Waterloo. Today, it is the second oldest British overseas territory (after Bermuda).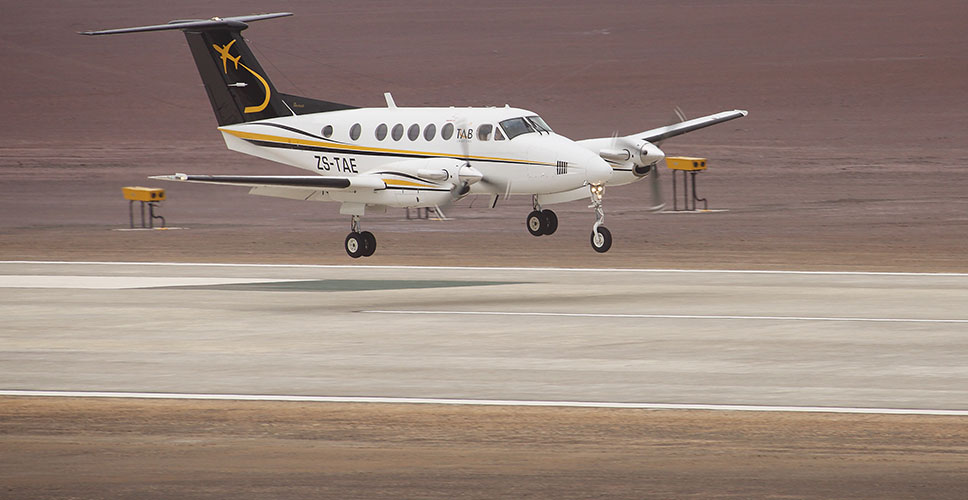 The test flight ends 500 years of isolation for St Helena, set in the middle of the South Atlantic Ocean, and until now only accessible by sea. Its only lifeline to the outside world were the monthly visits of RMS St Helena, a British Royal Mail ship, soon to be decommissioned, which sails up from South Africa.
Built by South African construction giant Basil Read, the airport on St Helena will open to commercial flights later this month. The company had to bring in all of the construction equipment by sea and the first machine to drive on to the island was a Volvo G940B motor grader. Another 65 Volvo units later followed, including EC700C crawler excavators, A40F-FS and A30E articulated haulers, EW140C wheeled excavators, DD24 and SD200DX compactors, EC380 and EC480 crawler excavators, and an MC115C skid steer loader, as well as more motor graders.
Volvo Construction Equipment customer support manager Leif Waad said: "It was clear that the equipment had to be of high quality, capable of operating safely in tough conditions while showing respect for the environment. This project was the perfect match for Volvo Construction Equipment."
Basil Read's Island director Deon De Jager and his wife Chrezelda were among those welcoming the test flight, witnessed by hundreds of islanders who had gathered to watch the landing. According to the plane's first officer, Dillan Van Niekerk, "The key part for me was seeing the island, seeing everyone on the mountain watching us."
Photographs by Darrin Henry
Picture 1: The heavy-duty Volvo machines work tirelessly on site, delivering maximum performance.
Picture 2: The Beechcrft King Air comes in to land on the runway.