Few sights are as captivating as seeing a great hulking block of concrete being neatly folded onto its footprint after having been dismantled by demolition professionals. Its a scene familiar to David Skillings, owner of UK-based company Skillings Crushing Construction, as he presides over his company's latest jobsite.
A reinforced concrete wall towers over the plot at a height of five meters (16.4 ft). After just a moment or two of resistance, the concrete starts to melt away like a slab of butter on a hot day.
"Proper kit, that is," Skillings says in his distinct Lancastrian accent, motioning to the Volvo excavators that have leveled the jobsite. "The machines have never been beaten by anything they've tackled."
The two Volvo excavators are dismantling four clean water-storage tanks near Doncaster, in the northeast of England. The foundations are also being drilled out to prepare the site for housing.
Lucky break
Such projects are the bread and butter of Skillings' business. Established nearly two decades ago by Skillings and his wife, Jan, the Burnley-based company built its reputation in the UK as a demolition and remediation specialist for large-scale projects. Experienced in the world of construction, Skillings set out on his own after spending his early career working for other firms.
"I was lucky," Skillings says modestly. "When I started out alone, the idea of building new homes on brownfield sites was just taking off. I was well connected to a contracting remediation company, so there was plenty of work right from the start."
Plenty of work called for a strong team and an equally strong fleet of machines. Today, the company employs 17 people, who Skillings credits for the company's continued success. "I am blessed with good men," he says. "They all want to do well for the company – it's all about doing a good, safe job." Skillings' employees operate a fleet of 20 machines, including excavators, two crushers and a tracked dozer.
Selling point
In the beginning, Skillings recalls: "I had been buying cheaper, new machines, but as prices increased, I thought: 'Why not buy the better equipment?'"
Skillings' first Volvo EC700 excavator was used to tackle a high-profile job in London. "It had done about 3,000 hours, and we also bought a hammer to tackle meter-thick reinforced concrete slabs and foundations," he says. "It was a breakthrough. The job went really well, and the machine never missed a beat. We then knew we had the firepower to sort anything out."
The EC700 is one of seven specially reinforced Volvo excavators in Skillings' fleet. Over the years, they have worked on a huge variety of projects, ranging from office blocks, factories and paper mills to power stations, nuclear bunkers and bombproof hangars at U.S. Cold War airbases.
Designed to demolish
Two of the larger excavators (EC700C and EC300E) work in unison, reducing thousands of tonnes of concrete to a mound of rubble without effort or pause. Bringing down the walls is the work of the 70-tonne EC700C while, the Volvo EC300E crushes the concrete into more manageable pieces and separates the mangled steel reinforcing bars. Both machines are fitted with quick-fit, hydraulic rotating pulverizers or 'munchers' that rotate 360 degrees, ensuring the material is held firmly in the pulverizer's jaws.
Later, the 5,000 m3 (6,539.7 yd3) of excavated material will be processed through one of the company's on-site crushers to produce a variety of aggregate products for reuse. Each year, the company deals with around 400,000 m3 (523,180.2 yd3), weighing 800,000 tonnes. The company processes the material on-site, which means fewer truck movements, saved fuel and reduced carbon emissions.
Ensuring the machines retain optimum uptime and long-term performance is Bill Holcroft, Volvo CE sales manager for northwest England, who supplied Skillings with his first full-service warranty. "This type of work is hard on machines," says Holcroft. "With our warranty, Skillings is benefiting from the strength of the Volvo service network across the country."
In addition to maintenance, rapid parts supply and technical help, Skillings ranks job satisfaction high on his list when choosing his brand of equipment. "I listen to the guys," says Skillings. "They have to be happy with the equipment."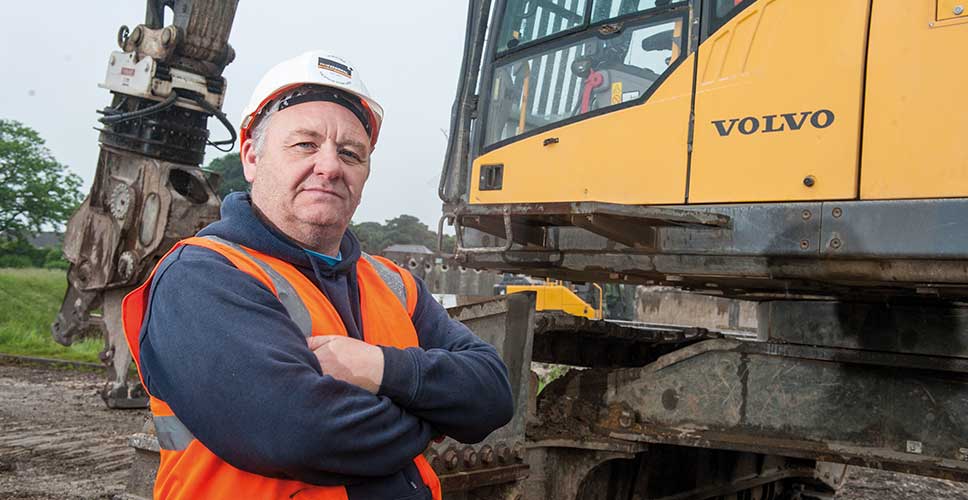 Ian Watkinson operates the Volvo EC700C excavator. "I love them, they're fantastic," he muses. "They sit really well, whatever the terrain, and make you feel safe. Turn on the key and machine starts instantly and every time."
Operating an excavator is a demanding job that requires full concentration. To work safely and maintain high levels of productivity, Skillings explains that one of the excavators' most important features is their high level of comfort, which enables the operators to meet the full potential of their productivity without distraction.
Fellow operator Matt Wright echoes Watkinson's sentiments. Among his favorite features are the smooth hydraulics, responsive controls and cab comfort. "I'm generally working on concrete, but the cab dampers and the air-seat mean there are no aches and pains at the end of the day," Wright says. "And if you don't get tired, you don't make mistakes."
Ends.
Picture 1: The Volvo EC700C has the power to tear through the reinforced concrete wall.
Picture 2: David Skillings, owner of Skillings Crushing Company.
Picture 3: The Volvo EC700C features a reinforced heavy-duty boom and arm built from high strength tensile steel, designed to work in harmony with the machine to maximize uptime and performance.
Picture 4: Ian Watkinson, Volvo EC700C excavator operator.
please visit: www.volvospiritmagazine.com