Simon Richardson Contracts is based in Langholm in the Dumfries and Galloway district of south west Scotland. The company employs 10 operators trained in forestry operations. In addition to tree felling and thinning, the company also undertakes road and track maintenance within Forestry Commission land and on private properties, tree re-planting projects together with land ploughing contracts prior to re-planting.

The eponymous Simon Richardson started out with a 14 tonne EC140BLC Volvo compact excavator. It wasn't long before a second EC140B was acquired and soon after that, he traded up to 16 and 18 tonne models, bringing his fleet of excavators to seven, four of which are Volvos.

In a bid to meet niche opportunities in the forestry industry, Richardson added a 16 tonne Volvo EC140D LCM to his fleet, together with a bespoke 'Tigercut 300' tree shear attachment. The LCM model variant features a heavy duty undercarriage that provides greater clearance between the tracks and the machine's superstructure, adding almost two tonnes of additional weight to the conventional EC140D.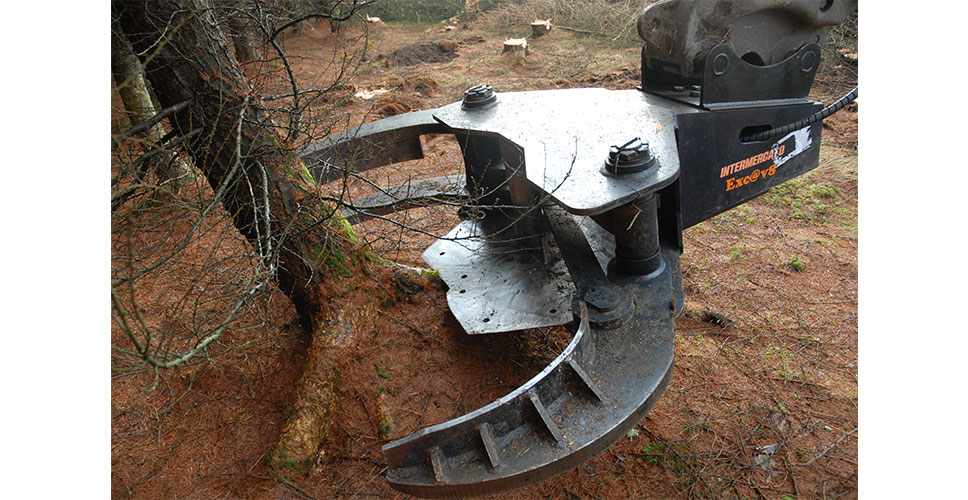 To provide lower ground pressure in boggy areas of forest plantations, Simon Richardson specified 900mm track pads for his latest machine. "The combination of the heavy duty raised undercarriage and wide track pads gives the EC140D LCM good floatation characteristics, which is essential for the work we do," he said. "We've made quite a few local adaptations to the machine as well, including heavy duty belly plates, additional track guides, protection on the dipper arm and for the check valves at the boom base, as well as guarding around the operator's compartment."

To finish the machine off, LED work lights to the cab, superstructure and equipment were also added. The 800kg tree shear was originally designed for smaller equipment but has been developed in conjunction with Simon Richardson to handle up to 15 inch diameter tree trunks on a 14 to 16 tonne excavator.

The idea behind utilising this type of equipment is to fell the more 'immature' trees within established plantations, which have either fallen to disease or are likely to cause the spread of disease to other areas of forest land, thus negating the need to use more expensive, bespoke harvesting machines for this purpose. In addition, this method of felling does away with the de-limbing process associated with conventional harvesters since the tree is taken down 'intact'.
Facilitating the replanting process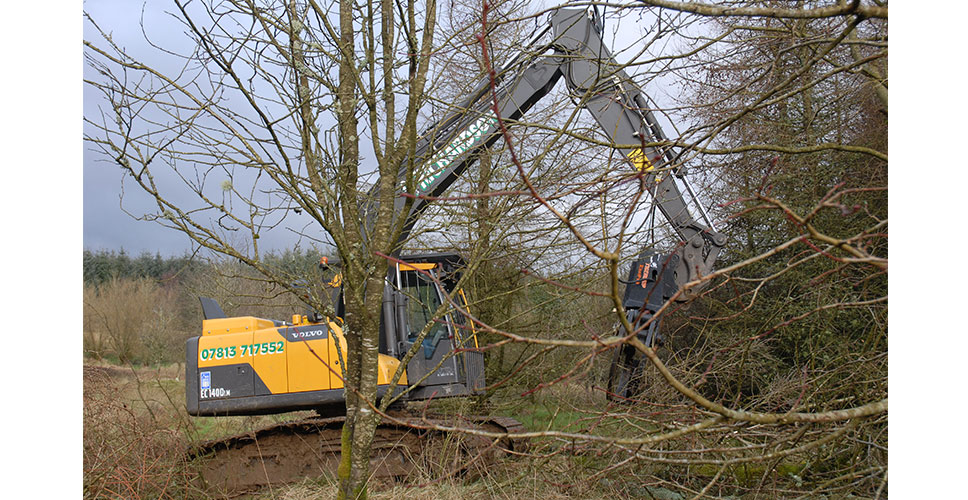 With the latest technology in heavy duty wood chipping machines and their ability to process larger limbs and trunks, as well as brush, forest areas can be cleared far more quickly and effectively, making it easier for re-planting. Working off the standard hammer/shear circuit, the shear generates a force of 80kN and simply uses this force to grab, compress and shear trees at their base and in their entirety.

According to Paul Heaton, who operates the EC140D LCM, the machine is right for the job. "It's certainly well-balanced and the extra weight from the undercarriage bringing it to just over 16 tonnes makes it very stable," said Heaton. "I can process around 136 trees in an hour and on a good shift that means about 1,000 trees in total. The machine is also very economical, using only eight to nine litres of fuel per hour."

"My Volvos have been first class machines to operate and the reliability has been fantastic," commented Richardson. "I'm impressed with the fuel economy, power and performance of my EC140D LCM and the combination of machine and this new shear concept definitely has huge scope in the market going forward."

The EC140D LCM is powered by a Volvo four cylinder D4H Stage IIIB engine developing 114hp, which contributes to an excellent performance being well matched to the machine's hydraulics.

The machine's 'Integrated work mode control' provides high efficiency, rapid dig cycles and low fuel consumption. This advanced mode control system ensures the maximum possible hydraulic horsepower available is delivered at a constant engine speed, under varying load conditions. Hose rupture valves are fitted as standard to the boom and dipper cylinders as are quick-fit hydraulics and a hammer/shear service.

Picture 1: Simon Richardson operates a 16 tonne Volvo EC140D LCM with a bespoke 'Tigercut 300' tree shear attachment for niche opportunities in the forest industry.

Picture 2: An 800kg Volvo tree shear is utilized with the EC140D LCM excavator for processing up to 1000 trees a shift.

Picture 3: The heavy duty raised undercarriage and wide track pads ensure the EC140D LCM is well-balanced for efficient tree felling.