Tiny it may be in terms of people (only 1,666 in 2010 census), but Wayne Township is the industrial centre for Clinton County and is one of its 13 such townships. The county is steeped in history – named as it is after General Anthony Wayne, the 18th Century US Army officer, whose fiery personality during the American Revolutionary War gave him the nickname 'Mad Anthony'. He was also a member of the House of Representatives and General-in-Chief of the US Army. More peacefully, Wayne Township is also known for its vast farm land, woods and industrial zones.
Situated in McElhattan, Pennsylvania, the Wayne Township Landfill is owned and operated by the Clinton County Solid Waste Authority. The landfill site in north-central Pennsylvania offers a variety of waste services, including solid waste management, waste hauling, wood grinding and compost production, contributing significantly to the surrounding community and helping to preserve the environment.
But industrial scale compost doesn't make itself, and so, the landfill is serviced by 22 Volvo Construction Equipment (Volvo CE) machines, including A35D and A40EFS articulated haulers, ECR58, EC140CL, EC330C, EC360B and C models, EC380DL, and ECD460C excavators, L30B compact wheel loaders, a G976 all-wheel drive motorgrader, and a selection of series of L150E, L220F, and L350F wheel loaders.
Brain and brawn
First thing in the morning, machine operators arrive at the site to begin a day's work – settling into their temperature-controlled, vibration-damped cabs. While they carry out their daily duties, the machines are being tracked remotely.
"As the operators fire up the machines, I log on to my computer," says Max Persun, operations manager at Wayne Township Landfill. If Volvo CE is the brawn of the Wayne Township Landfill, CareTrack is the brains.
CareTrack is Volvo's intelligent telematics system, which monitors and tracks machine data, designed to help businesses reduce fuel consumption, increase productivity and make the right decisions for their operations. CareTrack's daily hours report keeps track of how many hours a day machines work over any given period of time. These reports can be customized and automatically emailed on a daily, weekly or monthly basis. Fuel usage reporting is one of the most valuable tools available to any business owner or manager.
"CareTrack allows us to download information and compare productive and idle hours," says Persun. "After shifts I can discuss how to increase performance with the operators."
Going the distance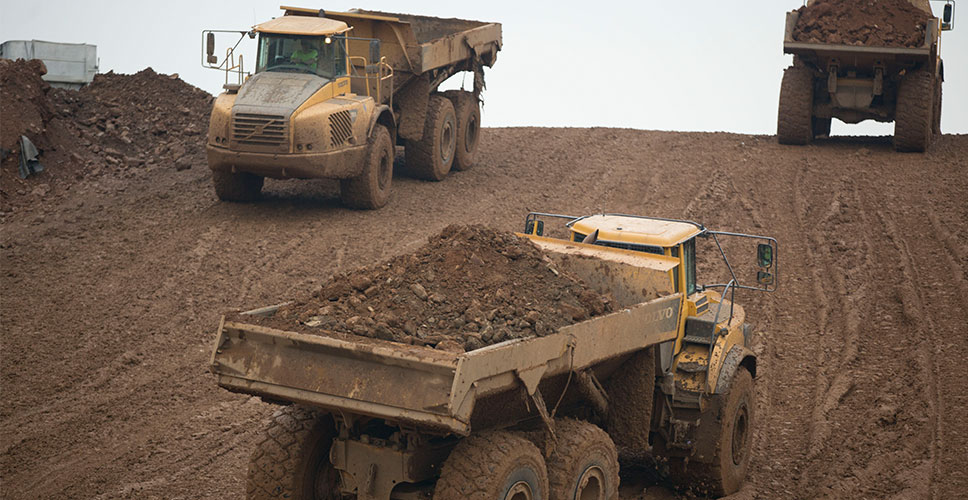 The landfill's Volvo dealer is also benefiting from CareTrack's intelligent technology. "I get CareTrack emails sent directly to my phone, notifying me when a customer's machine is coming up for a service." explains Dana Bernier, a service manager at Highway Equipment and Supply Company – Wayne Township Landfill's local Volvo dealer. "I can then contact the customer and prepare parts before the service is actually due. It benefits both the dealers and customers, helping to make our businesses a lot more efficient."

Picture 1 : Volvo team work

Picture 2 : A Volvo wheel loader treads easy over the site

Picture 3 : Hauling up hills made easy