Such is the breakneck speed of development, it's little surprise that the Arab Emirate of Qatar is at the heart of many economic and industrial development projects – from power and energy to education. Mesaieed, 31 miles south of Qatar's capital, Doha, is a coastal town on the banks of the Persian Gulf that regards itself as a sustainable city and gateway to the south. Masaieed is a desert oasis and caters to the needs of a diverse community and boasts a rich cultural heritage.

Saba Engineering is located along the coastline of Masaieed's industrial city, 50 kilometers south of Doha and is contracted by Qatar Steel to provide it with scrap metal.
Ships transport large bulks of scrap metals to Sabah Engineering's site every day from different countries, which is sorted into categories and transported to Qatar Steel where it is then reprocessed.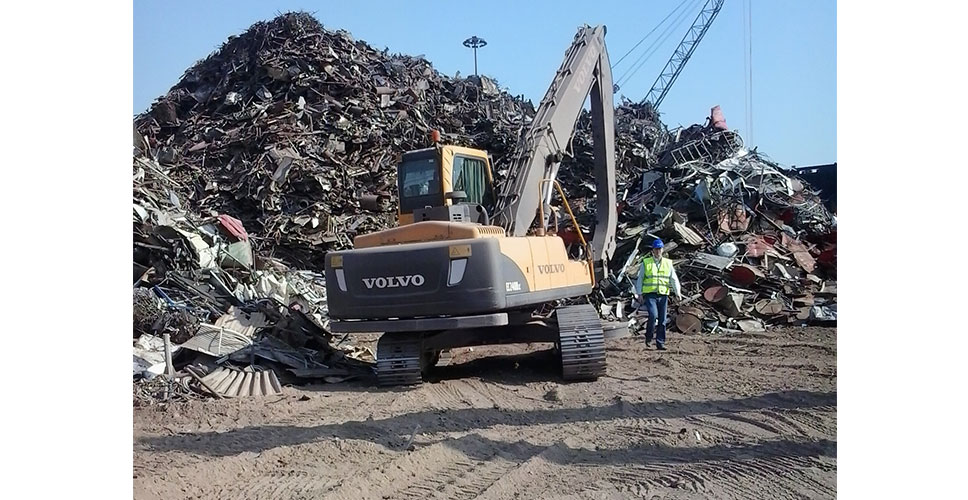 The Qatar Steel plant in the Arabian Gulf was established in 1978 but became wholly owned by Industries Qatar in 2003. The company takes small amounts of the scrap metal at a time and puts it through its furnace, casting and rolling process in order to produce sheets of recycled metal. The recycled steel will benefit Qatar Steel's production level and help with demand in the region.
Today, Qatar Steel is widely recognized as a leader in the steel industry with plans to extend its mill site in the heart of Mesaieed. To meet the growing demand for steel in the region, Qatar Steel has embarked upon a series of initiatives aimed at increasing its production capacity. The plant occupies an area of 707,000 m2 with a further 375,000 m2 reserved for future developments. It has a total of 1,650 employees.
Volvo Construction Equipment (Volvo CE) machines sort and handle the scrap metal, crushing and shearing the steel into smaller pieces to make it more manageable. The metal is then transferred to a hauler, which transports the loads to Qatar Steel's processing plant for melting. The machines are surrounded by different types of scrap metal, including hardened processed metals that will be re-processed and mountainous ready-to-use metals that are imported.
A magnetic work force
There are 16 operators on site using two Volvo EC240 B-Series excavators, one EC460 B-Series, two EC240 B-Series with magnetic plates attached to attract certain metals to the attachment (making it easier for the machine to sort through the scrap metal pile) and three EC240 B-Series excavators with specialized grabs.
"We use our Volvo machines 20 hours a day and each on average consume 300 liters of fuel every day," says Yameena Ahmad, site supervisor at Saba. "We have had the machines for six years and they are still in good condition and look new".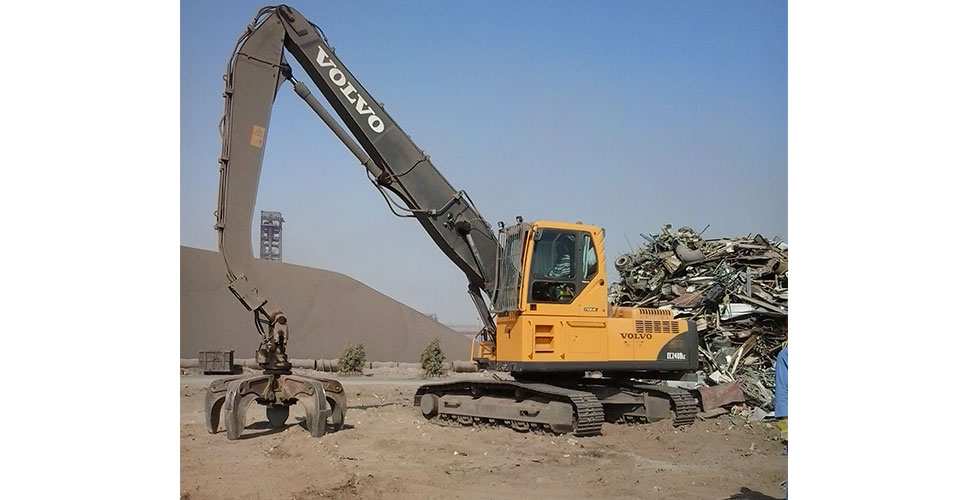 The EC240 B-Series has a turbocharged, 4-stroke diesel engine with water cooling, direct injection and charged air cooler. With 134 kW (180 hp), the engine has been developed especially for excavator use, providing good fuel economy, low noise levels and a longer life.Volvo CE's scrap handling excavators feature hydraulics ready-made for a range of waste and recycling attachments, including shears and grapples. Volvo offers 20 different attachments that can be programmed into the excavator's memory.

Saba has been working with Araco, Volvo CE's dealer in Qatar for more than six years and has established a good working relationship. Araco operates from one of the largest service and parts facilities in Qatar, supported by qualified field engineers.

Picture 1: The Volvo EC460 B-Series shows off its grabbing claw

Picture 2: The scrap metal waits to be sorted by the Volvo machines

Picture 3: The grab rests on the ground ready for another load