Construction machines, like clothes, don't always fit perfectly. Sometimes a little adjustment is needed, while other times it's better to create something from scratch to get exactly what you need. To meet these special applications needs, Volvo Construction Equipment (Volvo CE) has grown its number of official, third party suppliers over the past three years and is now further able to offer customers exactly what they are looking for. This has become an integral arm of the business and one dealer that has embraced this opportunity with special gusto is Norway's Volvo Maskin AS – with more than 70 special units sold to date.
"This allows us to get close to customers and listen to their requirements," says Knut Grepperud, manager at Volvo Maskin. "We look at all the opportunities that come our way with a 'can do' attitude and this helps us give customers exactly the right machinery."
Up to the challenge
Volvo Maskin has supplied a wide range of bespoke and modified machinery to its customers, including long reach excavators with additional counterweight, rail-road excavators, EW230C wheeled excavators with a hydraulic elevating and tilting cab, and an EC250D crawler excavator with drilling rig that can also be controlled remotely.
Another EC250D can be controlled remotely from up to an incredible three kilometers from the machine and via its connection to telematics; it can be monitored on a screen via cameras attached to the machine. This particular machine was commissioned to work around unexploded devices, so safety was a key factor in the build.
The EW160 wheeled excavator has also proven to be a popular base machine that has been used in many applications – rail-road units, as recycling machines and – popular in Norway – equipped with a trailer brake kit so operators can safely move around from one site to another towing a trailer carrying attachments and other equipment.
"We have been very successful this year with rail-road machines following state investment in railway repair and maintenance work", said Knut. "Next year the special demands could be something completely different."
The geographic diversity of Norway has played a beneficial role, with demand for drilling rigs in the rocky areas around Bergen and long reach machines for loading and dredging around the coast
Speedy response
"We have a flat, less hierarchical organization here in Norway and this speeds up our response time, allowing us to make decisions quickly," explains Knut. "Involving the customer from the beginning of the project makes them feel secure and listened to."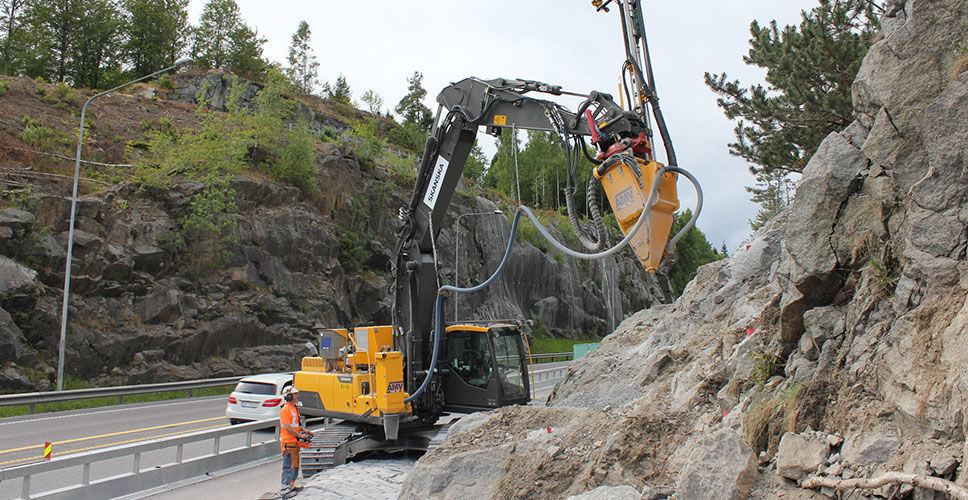 Volvo Maskin works mainly with Volvo partner CeDe Group in Malmö, Sweden, to develop special application machines and directly with factories to ensure the correct options are ordered for the base machine before any modifications are made. The normal reaction time from listening to a customer's requirements to being able to discuss an offer is around three weeks. If it involves repeating something already developed then it can be as little as one week.
All information on developed machines in terms of parts, options and special protection is saved and recorded so sales representatives around the country can easily access the details. In some cases, kits can be supplied by CeDe so that Volvo Maskin can carry out the work in-house.

Success breeds success
If a potential customer sees a special application it can spark interest so the machines can effectively promote themselves and help to develop future business.
"You need to have a good supplier and technical support, and everyone needs to be involved, from service, the order desk to parts", says Knut. "That's the key to success."
Picture 1: A modified EW230C wheeled excavator shows its high reach potential
Picture 2: A bespoke EW230C gets to work
Picture 3: A specially adapted EC250D crawler excavator