Brazil holds the largest reserves in the world of the rare and precious mineral, niobium. It's an important element used in specialist steels found in automobiles, aircraft engines, infrastructure construction, oil and gas transmission pipeline and large structures such as bridges and towers. The mineral has a property which refines steel, increasing its resistance while decreasing its weight.
CBMM is located within Araxá in the state of Minas Gerais, near Brazil's eastern coast. Araxá attracts tourists from all over the globe, seeking therapeutic properties from the region's thermal water and mud. Founded in 1955, the company's mine contains over 800 million tonnes of niobium – holding 82% of the world's niobium market share. Demand for niobium is projected to grow faster than the expansion of crude steel production.
Strength in numbers
CBMM has about 800 employees operating its mining and production facilities in Araxá, of a total workforce of 2,000. A conveyor-belt nearly two miles long (3.5 km) transports the mineral ore from the mine to the concentration plant. The concentration plant has a production capacity of 84,000 tonnes of refined concentrate a year and uses multiple processes including wet grinding, magnetic-process separation, deliming and flotation. CBMM then uses the niobium concentrate to manufacture its own products.

"Niobium still needs to be developed," says Mr. Jorge Luis Barreto, site manager in Comipa. "About 98% of the global reserves are in Brazil and CBMM explores 80% of them. The Araxá mine's reserves will last between 150 to 200 years."
Method to the metal
Volvo Construction Equipment (Volvo CE) supports CBMM in all stages of its metal exploration. The company's first Volvo machines were acquired in 1999 and now 20 Volvo units work night and day to ensure efficiency in the extraction and processing of the mineral.
CBMM's Volvo fleet consists of seven crawler excavators, 10 wheel loaders, one motor grader, a compact excavator and a skid steer loader, including the EC700 C-Series and EC460 B-Series excavators and L250 G-Series wheel loaders. The company has acquired the machines from Tracbel, Volvo CE's biggest dealer in Brazil that covers the states of Minas Gerais, Rio de Janeiro, São Paulo, other northern states as well as midland and southwest Brazil.
Volvo CE's largest excavator – the EC700 C-Series has a powerful 336.5 kW (451 hp) Volvo Tier 3/Stage IIIA compliant engine with V-ACT (Volvo Advanced Combustion Technology) offering high torque at low revs, leading to efficient fuel consumption. Its advanced hydraulic system is well matched for smooth, responsive digging and lifting, featuring high breakout force, crowding force and slew speed. The Volvo Care Cab, with operator protective structure, provides more space, increased safety, better visibility and reduced whole body vibration.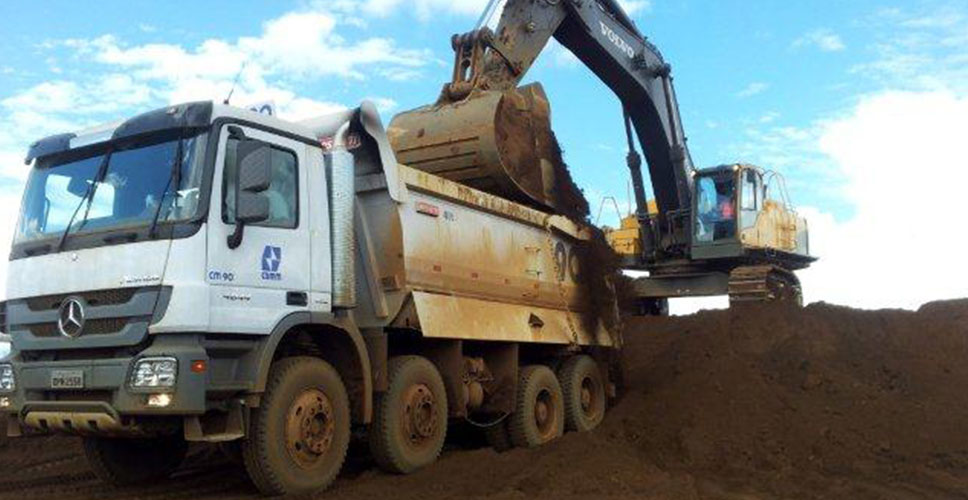 "Once we started using Volvo machines we never stopped," says Barreto. "Volvo machines show quality, durability and environmental care and safety – all of which our company demands."
"Besides the Volvo fleet that guarantees production demand, CBMM can count on our customer and uptime services," says Anselmo Fonseca, regional manager at Tracbel.
The company is investing over $400 million (€294 million) to increase its production capacity. While investing in research and development, CBMM has already developed 13 products with niobium as a base material – two of which are bucket attachments and truck bodies.
"After using our developed niobium metal on our trucks, we could increase loads by up to two tonnes, says Barreto. "We want to offer even more to our customers for the application of niobium."
Founded in 1965, CBMM is a privately held Brazilian company belonging to Grupo Moreira Salles – the main shareholder company. The state of Minas Gerais also holds shares as well as other companies in Japan, South Korea and China.
CBMM is the first mining and metal production company to have all its operations ISO 14001 certified because of its commitment to landscaping, conservation and ecological issues. This demonstrates the company's dedication to the environment and why it chooses to use Volvo machines.

Picture 1: The Volvo bucket gets its fill

Picture 2: The vast niobium quarry looks over green fields and landscape

Picture 3: Loading up into a fellow Volvo truck